This website may contain affiliate links and advertising so that we can provide recipes to you. Read my privacy policy.
Blackened Shrimp Avocado Burrito Bowls are the perfect way to ring in the New Year with big bold flavor and a healthy meal! These are packed with blackened shrimp, brown rice, corn, black beans, and avocado. They are also great for meal prep!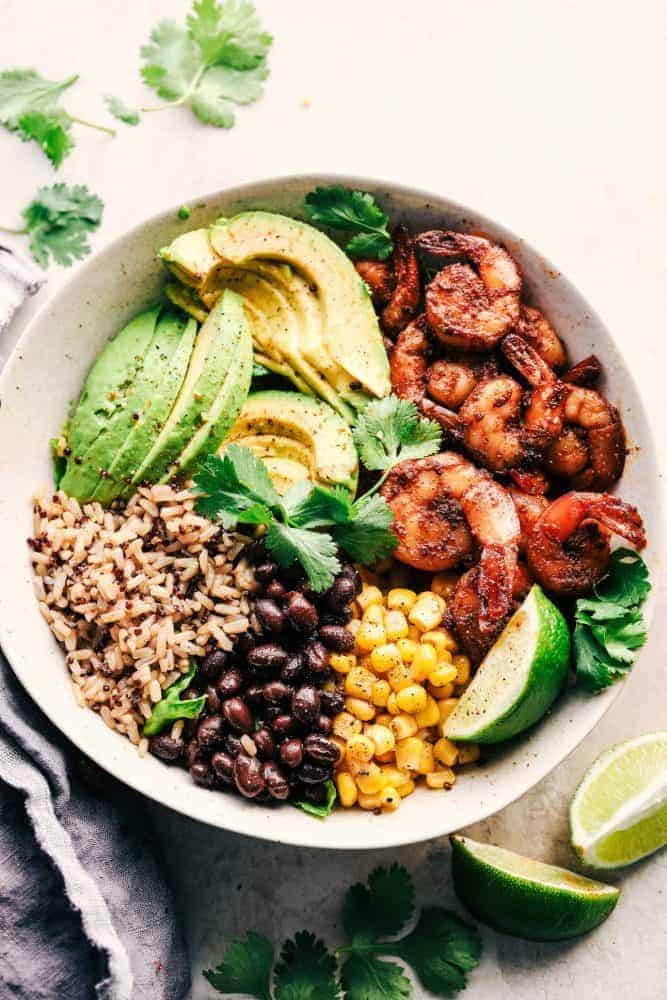 Happy New Year! We just got back from Disneyworld with our family. We surprised them on Christmas morning and left that day. We had an absolute blast. It was probably the best family trip that we have taken. We stayed at the Animal Kingdom resort and WOW! That was such an amazing experience. We would wake up each morning to giraffes and zebras outside of our room. My three year old would say good morning and good night to the animals every day. We spent the week in all of the parks in Disneyworld and ended the week at Universal Studios. What a fun way to ring in the New Year as a family!
Now we are back here in Utah and it is so cold and dreary! It is hard coming home to reality sometimes. My husband has a man cold so I am bracing myself for a long week. ? Although it was hard to come home I look forward to the New Year and making realistic goals. I get so tired of the holiday eating and treats that I love to start the year with fresh and healthy meals.
I am a huge meal prepper and spend every week meal prepping. With life as busy at is it I need to have meals ready at a moments notice to help me keep my healthy lifestyle on track.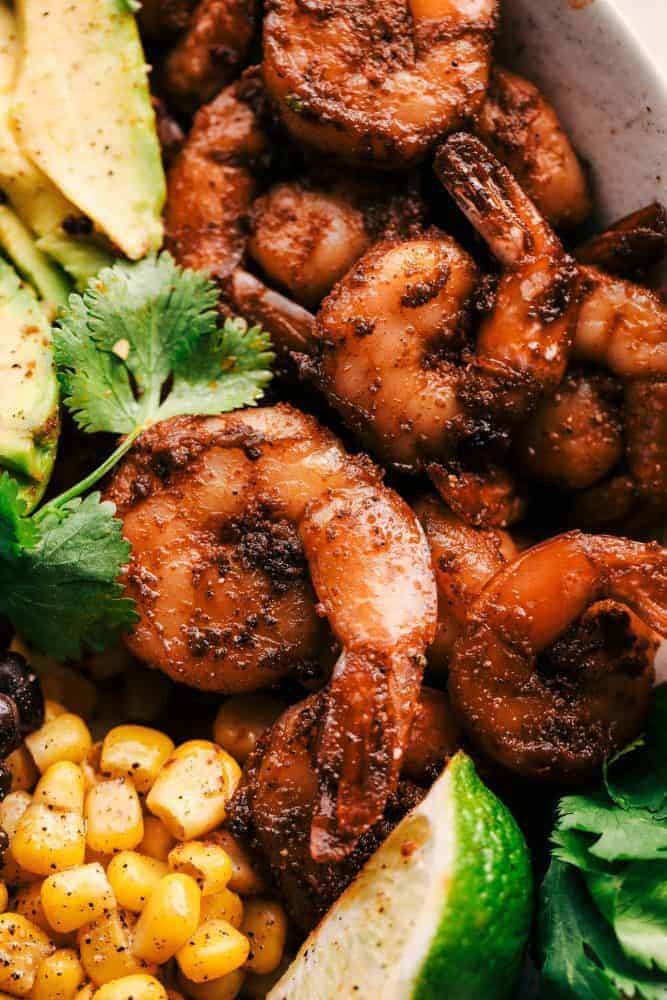 The great thing about eating healthy is that you don't have to sacrifice on taste or flavor, and these burrito bowls are a great example of that. The blackened shrimp is bursting with flavor and spices and is such a great addition to the burrito bowl.
Are burrito bowls healthy?
Yes they are! Blackened shrimp, corn, black beans, brown rice, and avocoado all come together to create this low calorie filling meal.
This meal comes together easily and I love to use it for meal prep. It has everything that you need to keep you on track for the New Year. And it is so good and packed with so much flavor, it makes it easy to stay on track all year long.
I drizzled this with some Greek Yogurt Avocado Ranch Dressing. Holy cow that was the perfect finishing touch to these burrito bowls. Although it is delicious without it, it gave it a bit more flavor and was the perfect topping. You guys are going to love these burrito bowls! They are such a fantastic and flavorful way to start your New Year off right!
You will also love:
20-minute Blackened Shrimp Fajitas
Blackened Cajun Shrimp Tacos