This website may contain affiliate links and advertising so that we can provide recipes to you. Read my privacy policy.
Air fryer crab cakes are an amazing appetizer that comes together in a snap! Each bite is tender, savory, and packed with all the crab flavor you crave!
Using an air fryer is the easiest way to make crispy, delicious sides. Air fryer avocado egg rolls, onion rings, and fried pickles are more delicious recipes that you've got to try!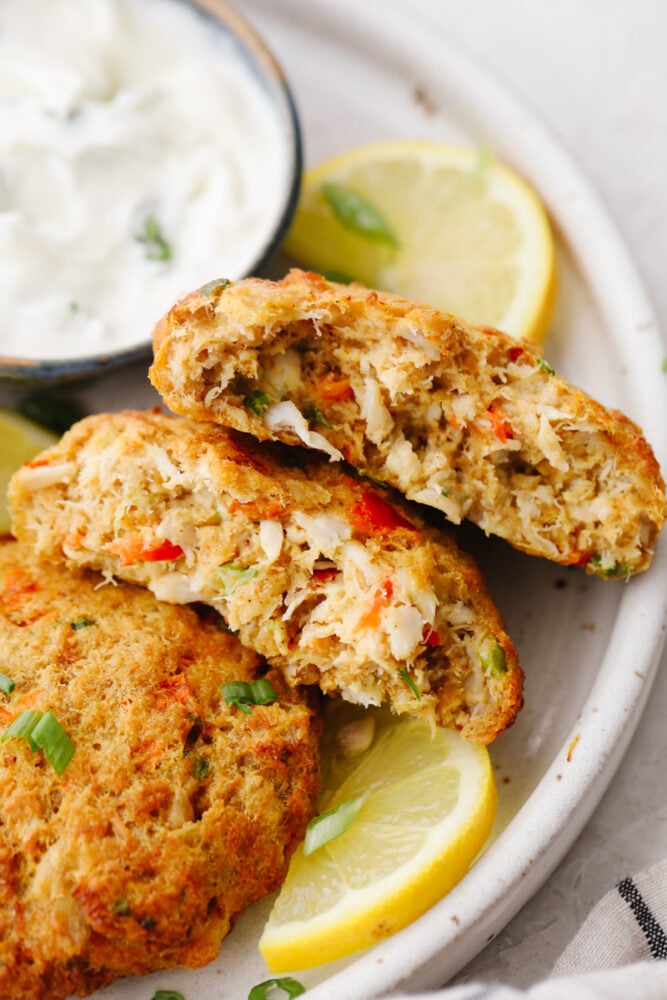 Crispy and Delicious Air Fryer Crab Cake Recipe
I love me some crab cakes. Nothing beats that first bite through a crispy outer layer and savory, tender inside! I always get them whenever they're on the menu at restaurants I go to. I posted a recipe for pan-fried crab cakes a while back, but now you can make this tasty side with even less effort! If you haven't noticed already, I'm pretty obsessed with my air fryer. You can make so many recipes easily and they all turn out so great! These yummy crab cakes are no exception!
The best part of these air fryer crab cakes? You can whip them up in 10 minutes. This is easily one of my favorite recipes to throw together right before a party! I make my crab cakes with Worcestershire sauce, Cajun spices, and lemon juice for the perfect tangy, zesty flavor with a hint of heat! Throw in green onions and chopped red peppers for a little boost of texture, and you've got the perfect side! Your family is going to go crazy over these!
What You'll Need to Make Air Fryer Crab Cakes
Not too many ingredients are needed to create this delicious side! Air fryer crab cakes are nice and simple but so flavorful and delicious! If you're looking for measurements, they can all be found in the printable recipe card below.
Crabmeat: I've found that it's easiest to buy lump crabmeat.
Mayonnaise: Mayo gives your crab cakes creaminess and tang. This helps to keep the inside nice and moist but the outside perfectly crispy.
Panko: Give your air fryer crab cakes a fine but crispy texture.
Flour: All-purpose works great! Flour is a necessity to give your cakes structure and shape.
Egg: An egg will bind all of your ingredients together.
Green Onion: Sharp, savory, and fresh, I love adding sliced green onions to my crab cakes.
Red Bell Pepper: Bell peppers add a slight crunch and bright flavor.
Worcestershire Sauce: Adds a strong, savory flavor with a bit of tang.
Cajun Seasoning: This is super easy to make at home! Find my recipe here. Cajun seasoning is the secret ingredient to ultra-flavorful crab cakes. The paprika, garlic, onion, and pinch of cayenne create a warm, sharp flavor you're going to love.
Lemon Juice: I use the juice of half a lemon for a little punch of zesty flavor.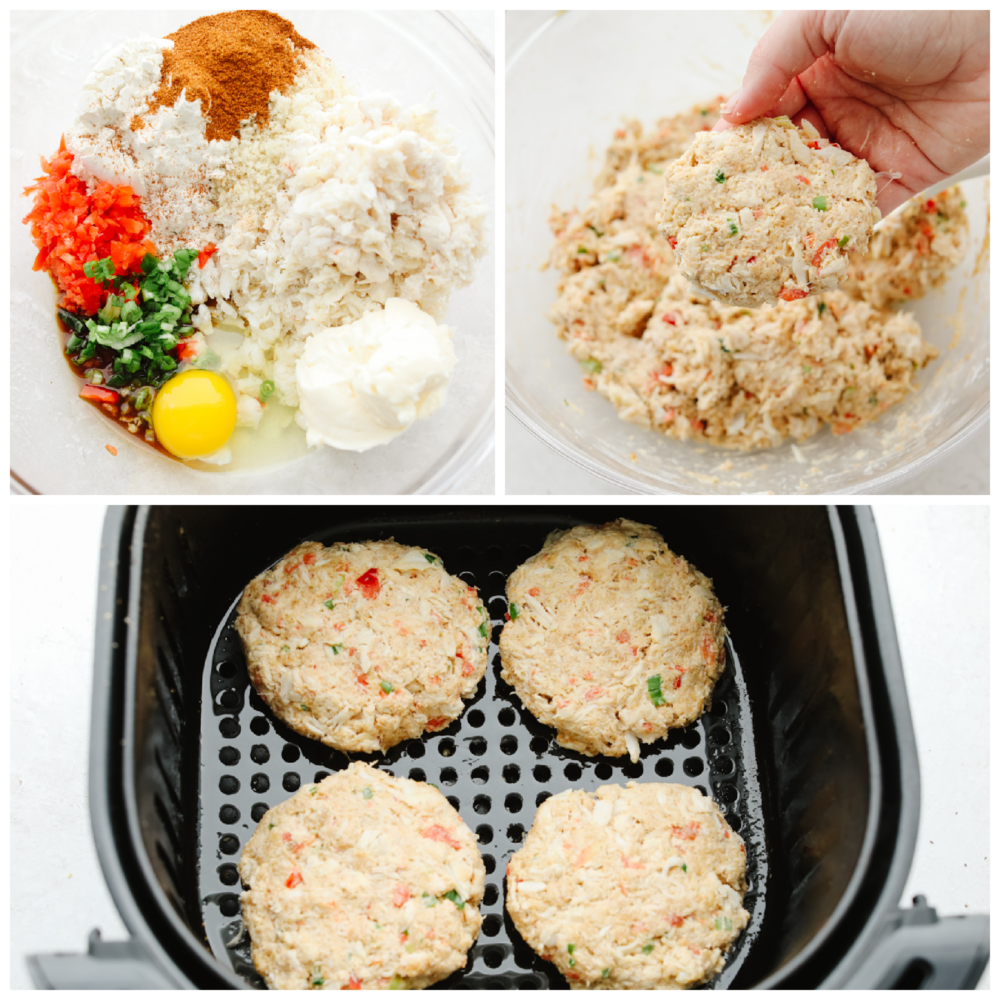 Let's Make Crab Cakes!
These air fryer crab cakes are so quick and easy to form. Just 2 easy steps! You'll have them crisping away in your air fryer in no time! Even though these are beyond easy to make, they taste better than anything you can get from a restaurant!
Mix and Shape: To begin, in a large bowl, add the crabmeat, mayonnaise, Panko, flour, egg, green onion, bell pepper, Worcestershire sauce, cajun, and juice of lemon. Mix together and shape in to patties.
Cook: Next, place in the basket of your air fryer. Cook at 360 degrees Fahrenheit for 10-12 minutes or until golden brown.
Crab Cake Tips and Tricks
This recipe is as easy as it gets, but here are a few tips to keep in mind! You'll make the most irresistible side ever!
Use High Quality Crab: The fresher the crab, the better flavor your crab cakes will have! I prefer refrigerated lump crabmeat over frozen for the best flavor and texture.
Mix Gently: You want to use a gentle hand when shaping your cakes. Over-shaping can make your crab cakes dense and those tender bits of crab will break apart.
Check Temperature: Once my crab cakes are done cooking, I always like to check the internal temperature and make sure it's reached at least 145 degrees Fahrenheit. This is especially important if you make your crab cakes on the thicker side- the insides may take longer to cook through.
Serve With: I love to serve these up with other appetizers for all the seafood-lovers in my family. Shrimp zucchini boats, kabobs, and smoked salmon dip are just a few of our favorites!
Storing Leftovers
Personally, my family never has leftovers of these crab cakes because they're so incredibly delicious. They always fly off the table! On the off chance you do, here's how to keep them for later! It's a quick and easy weekday snack.
In the Refrigerator: In an airtight container, your air fryer crab cakes will stay good for up to 5 days.
Reheating: My favorite ways to reheat crab cakes are to pop them in the microwave for 1 minute, or in the air fryer at 370 degrees for about 5-7 minutes.