This website may contain affiliate links and advertising so that we can provide recipes to you. Read my privacy policy.
Garlic Shrimp Stir Fry is one of the easiest meals that is packed with so many delicious veggies and shrimp. Glazed in the most amazing garlic sauce, this will become an instant favorite!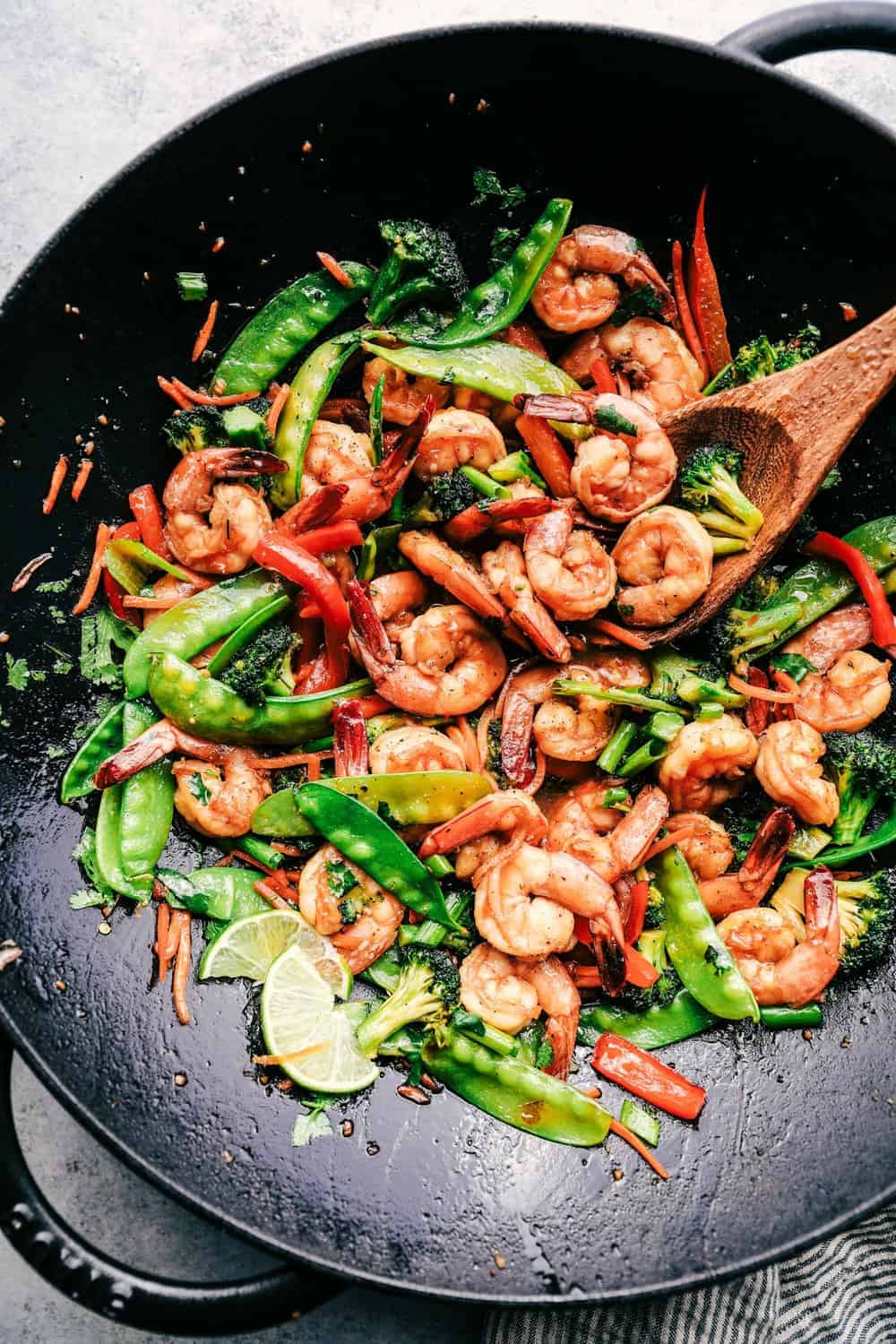 Garlic Shrimp Stir Fry
Phew! It has been a busy last couple of weeks and it feels so good to be back to blogging. I took a week off to go on a trip with the hubby just the two of us to the Eastern Carribean and it was AWESOME! It is amazing what a week off of sun and relaxation can do for one's soul. Highlights of the trip included bobsledding in the Jamaican jungle, swimming with the stingrays, and taking a lot of naps on the beach. It was such a great time.
It is always busy catching up from missing a week and coming back from a trip makes you want to get back on the healthy eating bandwagon. Sometimes I feel like we get in a rut of chicken and veggies so it so nice to have a delicious and healthy meal that has such amazing flavor like this one.
This was easily one of the best healthy meals that I have had. You guys will LOVE the garlic sauce on top of the veggies and shrimp. This was so flavorful and so good for you! I know that this is one that you will make again and again for your family!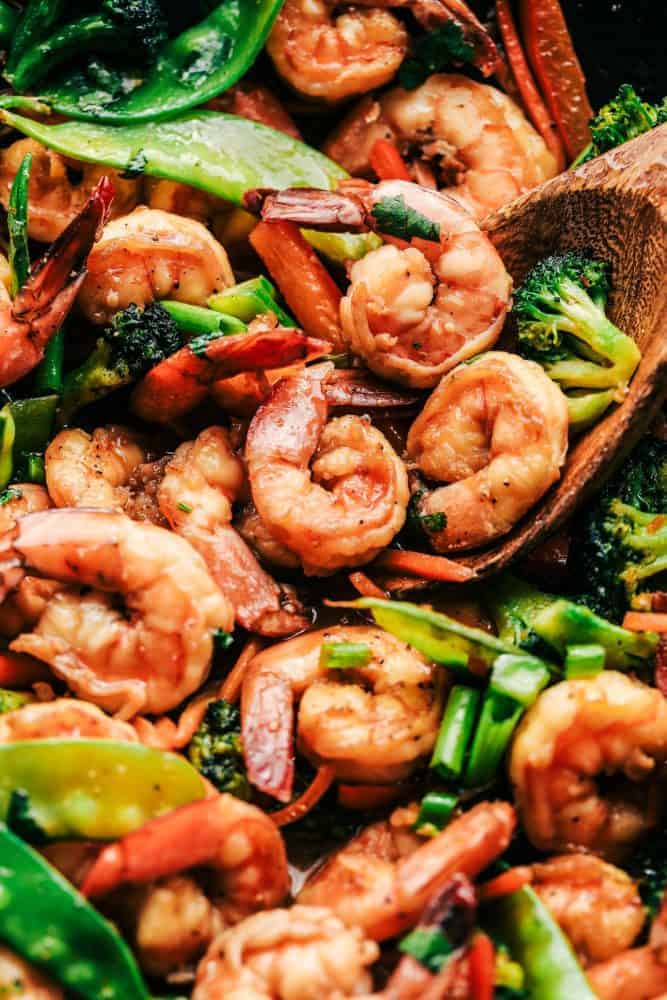 Shrimp Stir Fry Ingredients:
Soy Sauce: Brings in an a sweet and tasty asian flavor.
Garlic Cloves: Garlic just goes with everything!
Sesame Oil: One of my favorite touches for
Brown Sugar: Add sweetness to your sauce with this brown sugar.
Shrimp: Large, peeled and deveined is best.
Red Bell Pepper:  Chop into squares or slices depending on your preference.
Carrots: Shredded
Cornstarch: Coats and thickens the sauce.
Broccoli Florets: Fresh is better than frozen if possible. They will cook up nicely and have a crisp texture.
Sugar Snap Peas: These are so good to add in and I love the flavor and texture with the vegetables all combined.
Green Onions: For garnish when ready to serve.
How do you make Shrimp Stir Fry?
This meal is so easy to make and is ready in under 30 minutes. You start by mixing the soy sauce, sesame oil, brown sugar, and garlic. Add the shrimp and peppers to a wok or medium sized skillet and pour the sauce on top. Cook for 1-2 minutes and then add the broccoli and sugar snap peas with the chicken broth-cornstarch mixture. Cover and let cook and thicken 2-3 minutes or until the veggies are tender.
Whisk sauce together: In a small bowl whisk together the soy sauce, garlic, brown sugar, and sesame oil.
Mix together: In a medium-sized skillet over medium-high heat add the shrimp, peppers, and carrots and pour the sauce on top.
Cook shrimp: Cook for about 2-3 minutes or until shrimp is pink.
Whisk together: Whisk the chicken broth and cornstarch in a small bowl and add it to the skillet with the broccoli and sugar snap peas.
Stir and cook: Stir until incorporated and then cover and cook 3-5 minutes or until broccoli is tender and the sauce has thickened.
Serve: with chopped green onions and serve over rice if desired.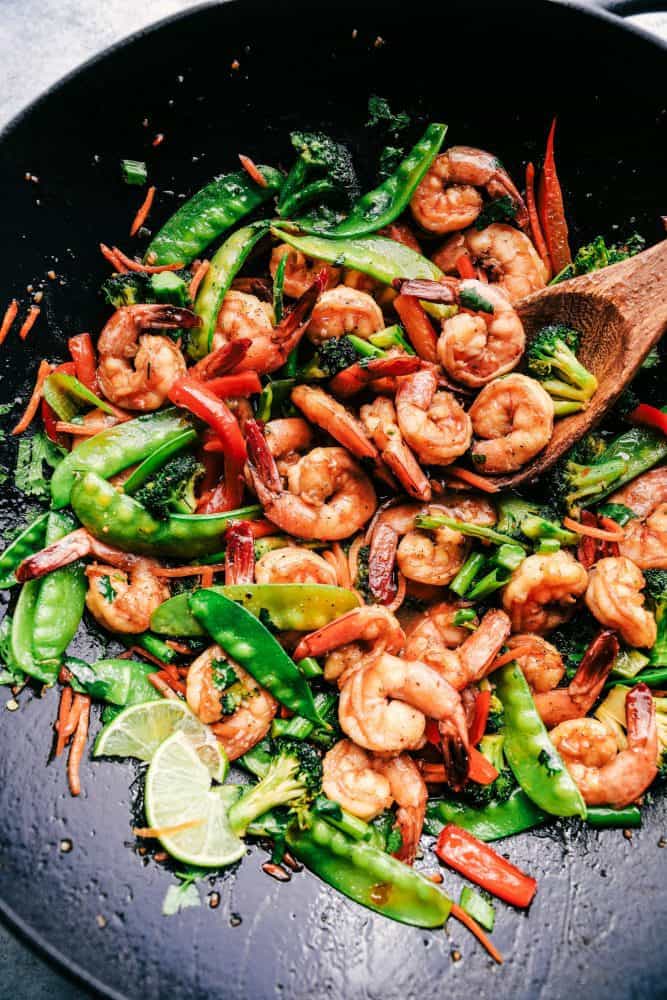 Do I need to leave the tails on the shrimp?
Nope! Some actually prefer to eat the tails, but you can cook the shrimp to your families preference with or without the tails.
More stir-fry recipes that you are going to love: