In today's recipe, I am going to show you how to make tasty yuca fries with a special garlic tomato salsa sauce. Yuca, also known as cassava and manioc, is a starchy root vegetable popular in South American, African and Asian kitchens. I have a more comprehensive post on yuca as an ingredient and how to use it. This recipe is paleo, gluten-free, Whole30 and vegan-friendly.
---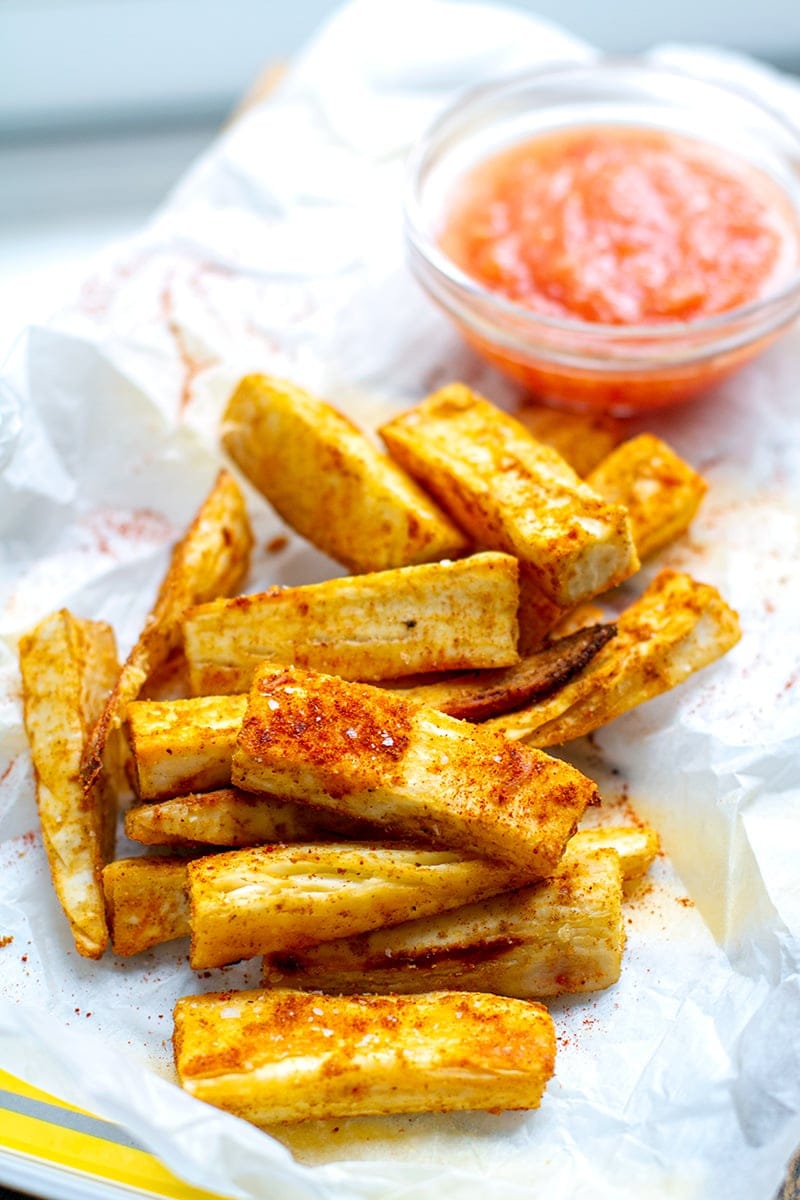 The idea for this yuca fries recipe came from a popular Spanish breakfast meal of crusty toasted bread and a mixture of grated tomato, garlic, olive oil and salt, that is rubbed on top. Sometimes this dish is referred to as Catalan tomato bread, although it's eaten throughout Spain.
I love that combination of starchy and crispy warm food with the spicy, zesty, fresh tomato sauce that's a little bit like mayo-free aioli or a salsa. The moisture of the sauce goes really well with these baked fries.
HOW TO MAKE YUCA FRIES
The yuca root varies in size but is generally long and narrow with tough brown skin and dense, creamy white flesh, a little similar in texture to celeriac and yams. It has a very mild flavour and is quite starchy in texture when cooked. It's drier than a white or sweet potato, or other root vegetables, so it likes to be served with wet condiments and sauces.
Make sure to peel away the brown skin. Simply slice the root into thick chips and toss with some olive oil and spices. I love roasting or baking yuca fries as it's much healthier and cleaner than deep-frying. They will take about 25 minutes at 200 C/400 F.
PS. Yuca root, or cassava, can be purchased from quality greengrocers or from Asian, African or South American produce focused stores.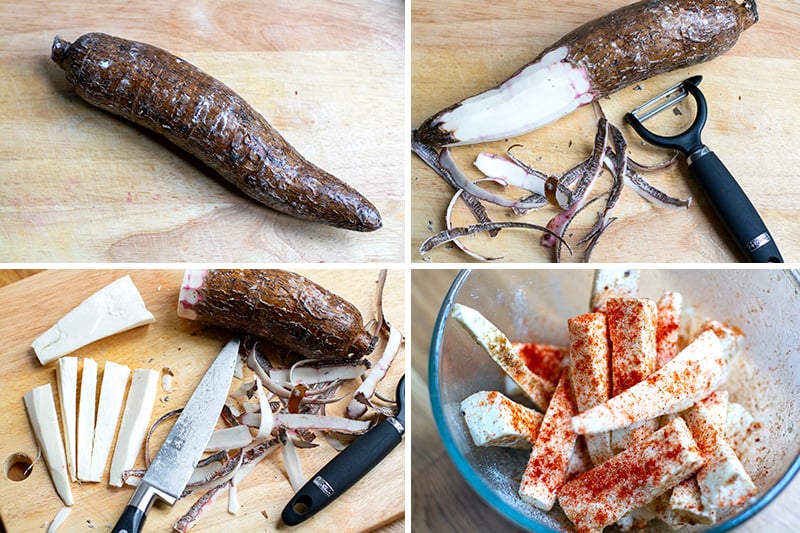 FRESH TOMATO & Garlic SALSA
While our baked yuca fries are underway, let's make a little sauce to dip them in. As I mentioned before, yuca root is quite a dry, dense starchy vegetable and it loves sauces and dips. I particularly like the contrast of hot fries with cold, fresh, zesty salsa.
The inspiration for this fresh salsa sauce comes from the tomato rub you get on the bread in Spain. The tomato is grated fresh and combined with olive oil, salt and sometimes garlic. You can omit the garlic if you like but I think it gives it a nice aioli twist.
Speaking of aioli, you can mix mayonnaise with a little garlic and Sriracha for another fabulous sauce or serve these fries with any other fresh salsa, chimichurri or just a little mayo or ketchup.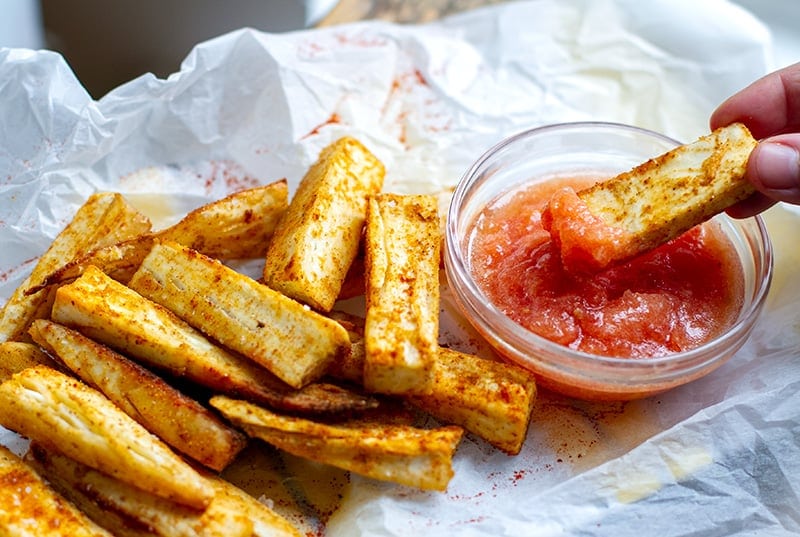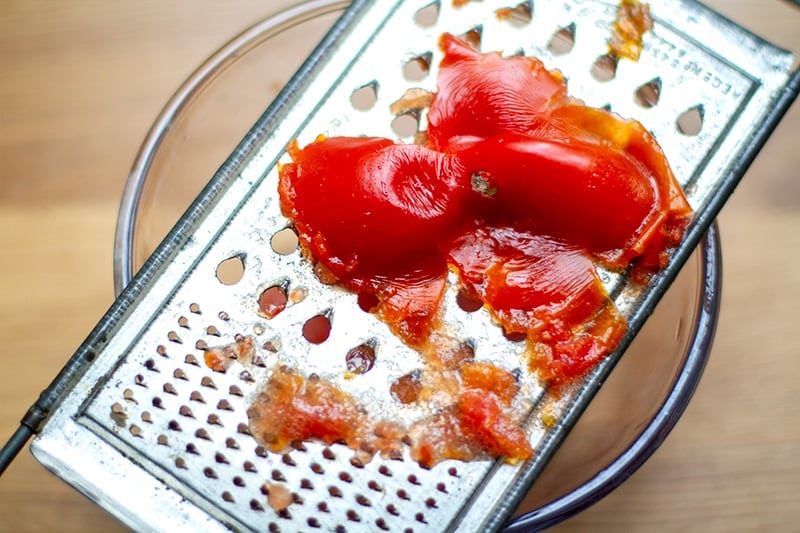 Serve these fries as a snack, appetizer or as a side dish to any meat or fish dish. You could use leftovers with eggs in the morning.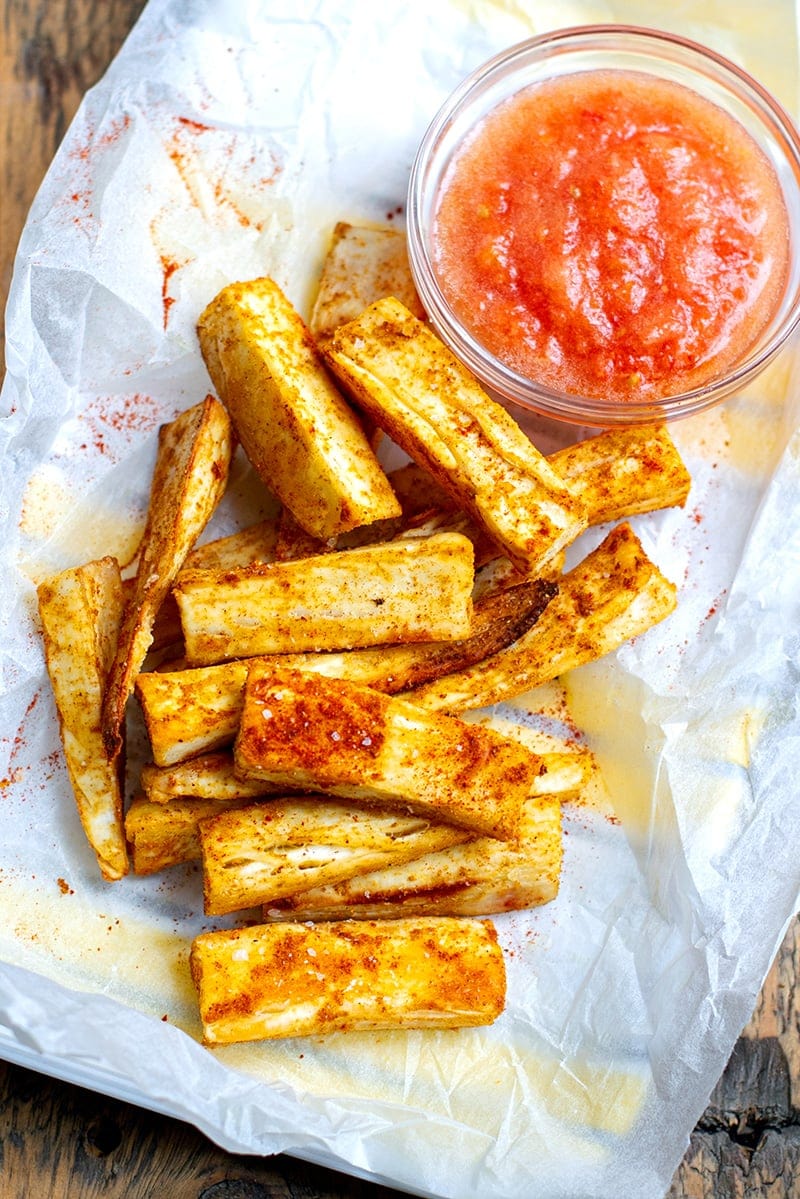 MORE TASTY VEGETABLE DISHES
Baked Sweet Potato With Miso Butter
Cavolo Nero & Sweet Corn Fritters
Spiced Roasted Parsnips
Roasted Beets With Shallot & Mustard Vinaigrette
Crispy Baked Sweet Potato Chips
Spiced Cauliflower Sweet Potato Mash
Print
---
Description
Starchy and delicious, these grain-free, paleo and vegan-friendly baked yuca fries are served with fresh tomato and garlic salsa inspired by the Catalan tomato bread dish.
---
For tomato garlic salsa sauce
---
Preheat oven to 200 °C/400 °F.
Drizzle yuca strips with olive oil and sift through the spices and salt. Toss through and coat evenly with your hands. Scatter on a baking tray, greased with a little coconut oil (you can use a piece of baking paper as well), making sure not to overcrowd. Place in the oven for 25 minutes.
To prepare the sauce, grate the whole tomato into a bowl and discard the leftover skin. Grate and add the garlic, olive oil, salt and vinegar. Mix through and set aside.
Serve the fries with sauce on the side. Dip before each bite.
---
Notes
Regular sweet or white potato baked fries will go well with this sauce as well. You can also make a larger batch of the sauce and use it as a condiment with other dishes.
Nutrition
Serving Size:

100 g fries + 2 tbsp sauce

Calories:

337

Sugar:

3.4 g

Sodium:

793.7 mg

Fat:

18.8 g

Saturated Fat:

2.7 g

Carbohydrates:

41.7 g

Fiber:

2.8 g

Protein:

2.1 g

Cholesterol:

0 mg
SAVE THIS YUCA FRIES RECIPE TO PINTEREST