This website may contain affiliate links and advertising so that we can provide recipes to you. Read my privacy policy.
Yakitori chicken skewers are juicy and perfectly charred, topped with a sweet and smoky glaze. Inspired by Japanese street food, they'll be the best thing you grill this summer!
Skewers are one of my favorite things to make because they're so easy and the whole family loves them! Teriyaki beef skewers, Thai chicken skewers, and grilled Asian garlic steak skewers are more tasty recipes to keep the family satisfied all summer long.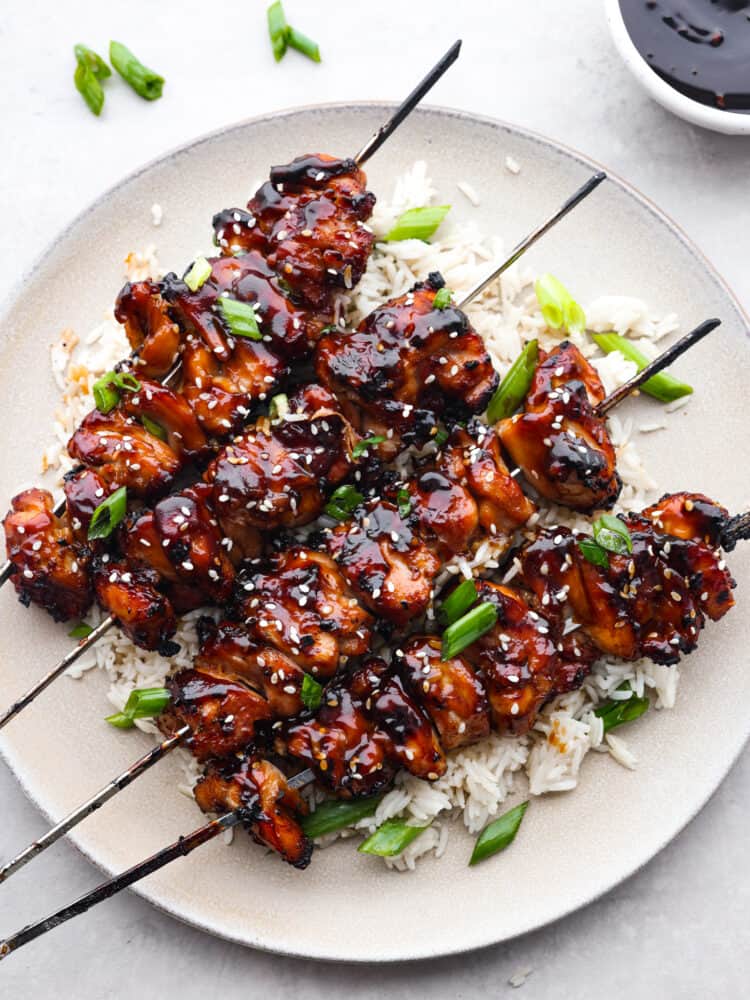 What is Chicken Yakitori?
Yakitori is a Japanese street food, yaki meaning 'grilled' and tori meaning "bird." These juicy chicken skewers are tender, saucy, and perfect for enjoying on the go! Today's recipe is inspired by those delicious street food flavors that you can easily recreate at home! Yakitori chicken is coated in a tasty homemade sauce, made with ingredients like soy sauce, brown sugar, garlic, and rice wine for a flavor that is everything from sweet to savory to tangy!
Not only are these chicken skewers insanely good, but they only take a few minutes to grill up! 4-6 minutes on each side is just enough time for all of the delicious flavors of the yakitori sauce to sear into the chicken pieces. It's a quick and easy dish you can serve as both a snack and a meal. Pair your yakitori with white rice for a simple dinner the whole family will love! My kids can't get enough and always ask for seconds. I'm sure your family will love it too!
What You'll Need
Yakitori chicken uses a lot of simple ingredients, but you will need to make the sauce from scratch for the best flavor possible. Find the full recipe for yakitori sauce here! Measurements for all of the other ingredients can be found in the recipe card below.
Yakitori Sauce: The sauce for chicken yakitori is similar to teriyaki, but adds in sake and mirin rice wine for tangier flavor.
Chicken Thighs: I used chicken thighs here because they're so juicy and tender! You can also swap these out for chicken breasts or gizzards. No matter what you use, just make sure it's cut into 1-inch pieces so they cook evenly on the grill.
Skewers: Metal or bamboo skewers both work.
Green Onions: Add for garnish! Green onions add a hint of savory flavor that complements these skewers perfectly.
How to Make Yakitori Chicken
These skewers are so simple to make! It's the perfect quick and easy meal for busy summer weekdays. Find more easy and delicious grilling recipes here!
Make Sauce, Toss With Chicken: Prepare yakitori sauce. Add the pieces of chicken to a medium-sized bowl. Add half of the sauce and toss chicken to coat.
Prep Skewers: Thread each skewer with chicken.
Grill: Turn the grill to medium high. Add the skewers onto the grill. Cook the skewers for 4-6 minutes. Then flip and baste with sauce. Continue to cook until the chicken is cooked throughout and no longer pink.
Baste: Baste with sauce. Remove from the grill and serve over white rice and garnish with green onions if desired.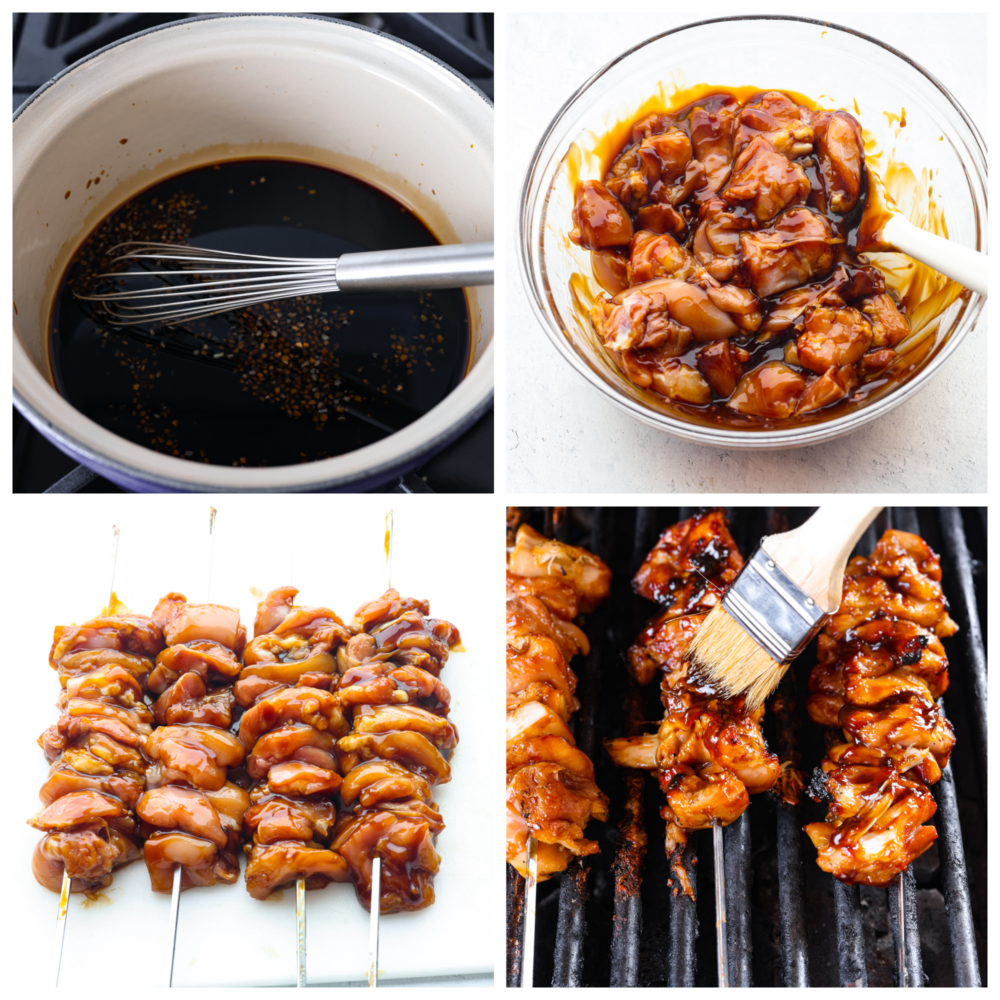 Tips for Grilling Chicken
Here are a few simple tips to keep in mind as you grill so that your skewers turn out perfectly soft and tender!
Soak Skewers: If you're using wooden skewers, soak them in water before threading with chicken and adding them to the grill. This will prevent them from catching fire.
Cook Low and Slow: I like to cook my skewers on medium to medium-high heat. If your grill is too hot, this may cook your yakitori unevenly or burn it.
Check Temperature: Using a thermometer is a quick and easy way to check if your grilled chicken is done. You'll know it's done when the internal temperature reaches 165 degrees F. This is also a great way to know when to take it off the grill so it doesn't overcook. If your internal temperatures are anything over 165 degrees, your chicken may turn out dry.
Let Rest: I always like to let my chicken rest for a few minutes after I pull it off the grill. This way, it absorbs all of those tasty juices necessary for the most tender texture possible!
Storing Leftover Yakitori
Your yakitori chicken is best served fresh, but you can store it for 3-4 days in an airtight container in the fridge. When reheating, make sure internal temperatures reach 165 degrees Fahrenheit before consuming.