This is a very tasty and healthy turkey Bolognese made Greek-style with the addition of extra vegetables, Mediterranean herbs, olives and feta. Serve it over zucchini noodles for a low-carb and grain-free meal or with your favourite gluten-free pasta. The sauce can be made ahead of time, making it a fabulous make-ahead meal. 
---
About Greek-Style Turkey Bolognese
Who doesn't love a good Bolognese sauce? It's one of those comforting dishes that everyone should master. In today's recipe, I am taking this classic meat sauce for a spin and turning it into a Greek-style turkey Bolognese.
It's inspired by a Greek salad: tomatoes, red onions, peppers, cucumbers (in this case I am using zucchini), Mediterranean herbs, lashings of olive oil, olives and feta.
It's like a healthy Bolognese version loaded with veggies and using lower-calorie ground turkey mince. The sauce is topped with crumbled feta for that authentic Greek finish but cheese is optional here.
This turkey Bolognese is served over zucchini noodles and makes for a filling and balanced meal that is grain-free, gluten-free, low-carb and paleo or Whole30-friendly by omitting the cheese. This dish is perfect for those doing my free paleo plan, especially during the re-introduction phase.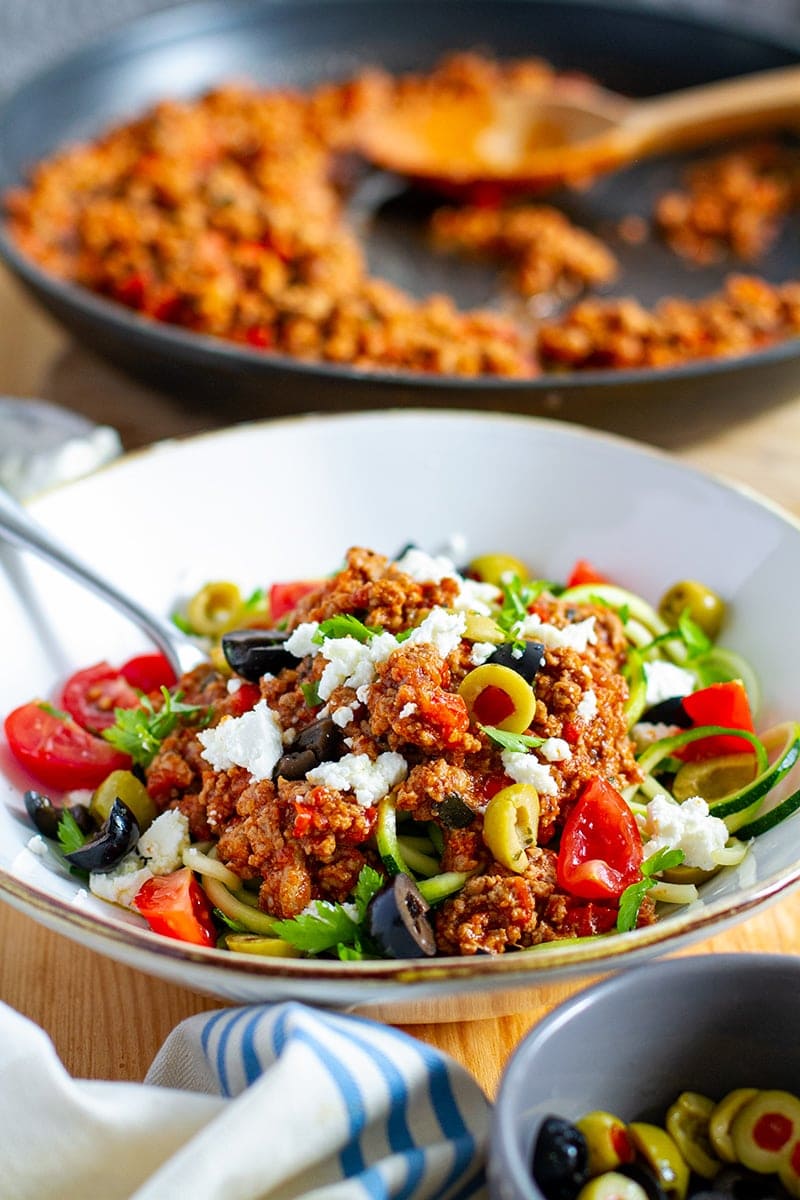 How To Make Turkey Bolognese
To make the sauce, I am using ground turkey mince (about 5-7% fat) and the usual suspects of onions, garlic and tomatoes. But for my veggies, I am inspired by the Greek salad and using some zucchini (instead of cucumber) and sweet red peppers. This is instead of carrots and celery you would often find in a Bolognese sauce (at least in Australia).
Some lovely oregano is also added to the sauce. Olives and feta are added at the end and I also love a few cherry tomatoes on top.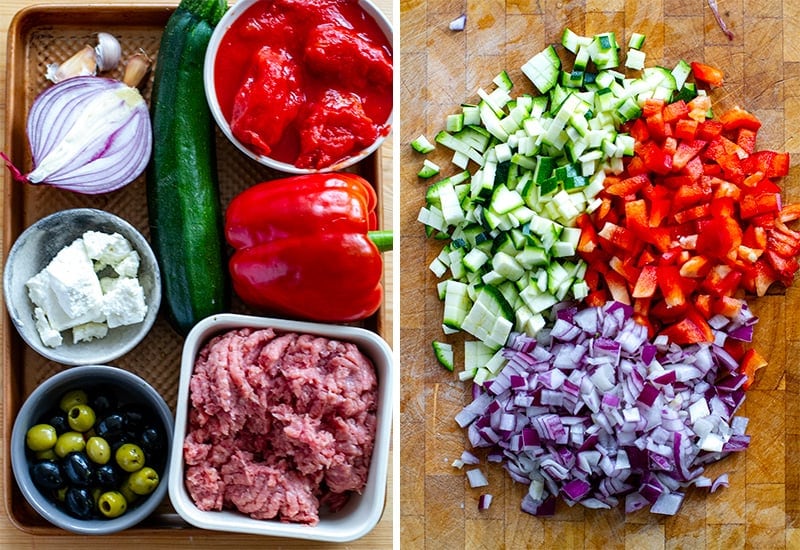 You will find the full list of ingredients, instructions and nutritional breakdown for this meal in the recipe card below but here is a handy video showing you how to make this delicious and healthy Bolognese sauce with ground turkey meat.

---
 More Ground Turkey Recipes
---
Full Recipe 
Find the full list of ingredients, instructions, and a nutritional breakdown below. If you have questions or cook this recipe, please let me know in the comments, and make sure to rate this recipe so it's easy for others to find.
Print
---
Description
Learn how to make this healthy and delicious Greek-style turkey Bolognese served over zucchini noodles or your preferred pasta, rice or potatoes. Topped with olives and feta for that authentic Mediterranean finish.
---
---
Heat a large, deep frying pan or a heavy pot over medium heat. Saute the onions, zucchini and peppers in 2 tablespoons of olive oil for 3-4 minutes. Add the garlic, 1/2 teaspoon salt, pepper and dried oregano and cook for 4-5 minutes until softened and golden. Add the chili, if using.
Add the ground turkey and cook for 3-4 minutes, stirring and breaking it apart with a spatula. Add extra 1/2 teaspoon salt, chopped date (not in the video above, can be omitted but I like that little extra sweetness here), balsamic vinegar and tinned chopped tomatoes. Stir through and once brought to a boil, cover with a lid, reduce heat to low and cook for 45 minutes to 1 hour. Make sure to stir a few times along the way.
Serve over zucchini noodles topped with sliced olives, feta, cherry tomatoes and fresh herbs like basil or parsley. To make the zoodles, I recommend about 1 small to medium zucchini per serving. Spiralize or slice with into ribbons with a carrot peeler and heat in a frying pan in a little olive oil. You don't need to cook the zucchini, just warm it up briefly. Season with a little salt and pepper as you like.
Notes
Ground turkey can be replaced with chicken. Beef or pork or a combination can, of course, be used as well.
For a paleo or Whole30 version, omit the feta or use a dairy-free alternative.
The meat sauce can be made ahead of time. It will keep for 3-4 days in the refrigerator or up to 3 months in the freezer.
Nutrition
Serving Size:

1 cup sauce with 1 spiralized zucchini

Calories:

367

Sugar:

13.9 g

Sodium:

850.8 mg

Fat:

20.4 g

Saturated Fat:

5.7 g

Carbohydrates:

19.5 g

Fiber:

4.9 g

Protein:

30.5 g

Cholesterol:

97.4 mg
Keywords: Bolognese, Ground Turkey, Turkey Recipes, Low-Carb, Gluten-Free
---
More Healthy Dinner Recipes
Save Healthy Bolognese Recipe To Pinterest