Trina's Cranberry Salsa is perfect for the Thanksgiving table, and this fresh cranberry salsa is not too sweet and just slightly spicy. I use Monkfruit Sweetener to make the salsa low in carbs, and it's also gluten-free, dairy-free, and vegan!
PIN Trina's Cranberry Salsa to try it later!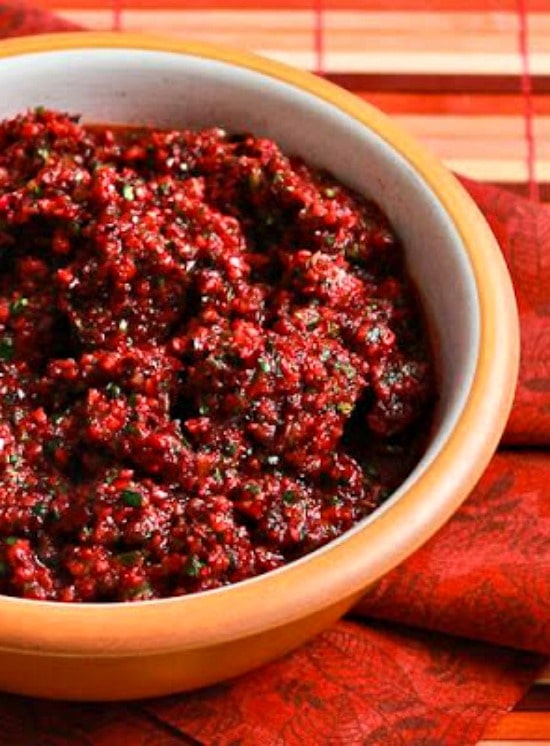 Trina's Cranberry Salsa is something I've made many, many times through the years for Thanksgiving, and I'll be making it this year for sure. I admit, for a long time I wasn't a big cranberry fan, and when my friend Trina first told me about the fresh cranberry salsa she's been making for years, I was skeptical until she told me the ingredients list.
But the combination of fresh cranberries with cilantro, green onion, lime juice, and Jalapeno had so many of my favorite flavors, it was pretty much a given that I'd like this cranberry recipe.
And it was simple to switch out the sugar in the fresh cranberry salsa recipe for a low-carb sweetener and as soon as I tasted Trina's Cranberry Salsa I knew it would become a must-have Thanksgiving dish for me! I hope you'll have time to grab some cranberries and make this salsa!
What ingredients do you need for this recipe?
Can you make this Cranberry Salsa without cilantro?
If your tastebuds don't enjoy the flavor of fresh cilantro, just use more thinly-sliced green onion in this recipe.
How can you use Cranberry Salsa?
How did we make Cranberry Salsa lower in sugar?
There's natural sugar in the cranberries so Cranberry Salsa can't ever be a sugar-free recipe. But I use Monkfruit Sweetener (affiliate link) to make it low in sugar. And if you use an approved sweetener this is actually low in carbs since you're not eating a huge amount of it! And even though you need something to sweeten the cranberries, for me it's definitely the savory flavors that make this so appealing, so please don't think of it in the same category as a sweet cranberry sauce.
Can Trina's Cranberry Salsa be frozen?
I was quite excited when I discovered that this fresh cranberry salsa will freeze well and now I always freeze some of it and make Cranberry Salsa Cream Cheese Appetizer in December!
Want more healthy ideas for Thanksgiving?
Use My Top Ten Healthy Thanksgiving Recipes to find more recipes ideas for turkey day if you're still narrowing down the menu!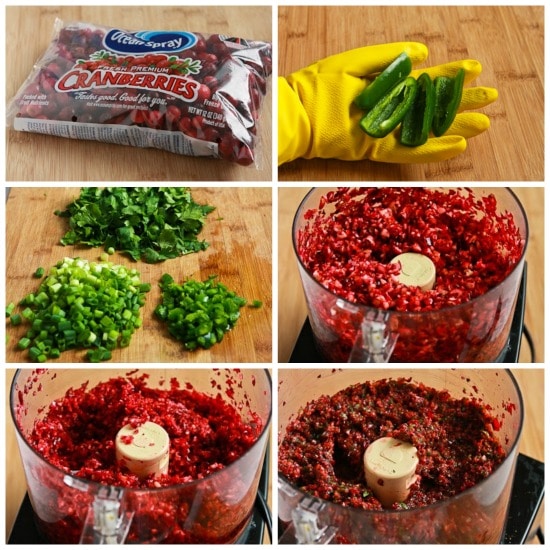 How to make Trina's Cranberry Salsa:
(Scroll down for complete recipe with nutritional information.)
Start with a 12 oz. bag of cranberries like the kind you see in all the stores at this time of year!
Be sure to WEAR RUBBER GLOVES when you cut the Jalapenos in half and scrape out the seeds because those little seeds are no fun at all if you get them on your hands or rub your eyes. 
You can also use a few teaspoons of Green Tabasco Sauce (affiliate link) instead of Jalapenos.
Have the chopped cilantro (if using), chopped green onion, and chopped Jalapeno ready when you start to process the cranberries.
Chop the whole bag of cranberries in the food processor, or Trina says you can use a blender. I used my Cuisinart Food Processor (affiliate link). 
I chopped the cranberries first and then added the sweetener and pulsed a few more times.
Then add the chopped cilantro, chopped green onions, chopped Jalapenos, lime juice, and olive oil and pulsed until the other ingredients are chopped and it's well-combined.
Chill the salsa for several hours or overnight and then serve. 
I promise that all your guests will devour this!
More Tasty Ideas with Cranberries:
Ingredients
one 12 oz. bag fresh cranberries
3/4 cup Monkfruit Sweetener (see notes)
3/4 cup sliced green onion
3/4 cup chopped cilantro, or use more sliced green onion
2 fresh Jalapenos, seeds removed and chopped (see notes)
1 T olive oil
1 T fresh-squeezed lime juice (see notes)
Instructions
Chop the green onions and cilantro.
Then WEAR RUBBER GLOVES for chopping the Jalapenos, being careful not to touch your face or eyes or let the juice squirt up.  (I don't put Jalapeno seeds into the disposal either, because the fumes when they are grinding can irritate your eyes.  If you're worried about handling the Jalapenos, I've had good luck making this with Green Tabasco Sauce (affiliate link).)
Put the cranberries into a food processor or blender and pulse until they are partly chopped.
Add sweetener of your choice and pulse a few times more to combine.
Add sliced green onions, chopped cilantro (if using), chopped Jalapenos (or Green Tabasco Sauce), olive oil, and lime juice.
Pulse until all ingredients are chopped and the mixture is well combined.  (If you're not sure about using 2 Jalapenos, add one and taste the mixture before you add the other, but I'm kind of a lightweight on spicy things and this was just right for me.)
Put mixture into a glass or plastic container with a tight-fitting lid and chill for several hours or overnight.
If you end up with leftovers, this will freeze very well!
Notes
I'd use Monkfruit Sweetener (affiliate link) for this, but use any sweetener you prefer.
If you want to make this easier, you can use Green Tabasco Sauce (affiliate link) instead of fresh Jalapenos.
I used my fresh-frozen lime juice for this recipe.
Nutritional information based on 1/4 cup serving size.
Recipe is from my friend Trina who got it from her friend Georgianna.
Nutrition Information:
Yield:
8

Serving Size:
1

Amount Per Serving:
Calories: 47Total Fat: 2gSaturated Fat: 0gTrans Fat: 0gUnsaturated Fat: 1gCholesterol: 0mgSodium: 3mgCarbohydrates: 8gFiber: 2gSugar: 4gProtein: 0g
Nutrition information is automatically calculated by the Recipe Plug-In I am using. I am not a nutritionist and cannot guarantee 100% accuracy, since many variables affect those calculations.
Low-Carb Diet / Low-Glycemic Diet / South Beach Diet Suggestions:
Since Trina's Cranberry Salsa contains fruit, it's obviously going to have some carbs but if you check the nutritional information you'll see a moderate portion of this cranberry salsa made with an approved sweetener is happily not much of a splurge on carbs. It's limited to phase 2 or 3 for the original South Beach Diet.
Find More Recipes Like This One:
Use Sauces to find more sauce recipes. Use the Diet Type Index to find recipes suitable for a specific eating plan. You might also like to follow Kalyn's Kitchen on Pinterest, on Facebook, on Instagram, on TikTok, or on YouTube to see all the good recipes I'm sharing there.
Historical Notes for this Recipe:
This recipe was first posted in 2011, and I've made it nearly every Thanksgiving since then! It was last updated with more information in 2022.
We are a participant in the Amazon Services LLC Associates Program, an affiliate advertising program designed to provide a means for us to earn fees by linking to Amazon.com and affiliated sites. As an Amazon Associate, I earn from qualifying purchases.