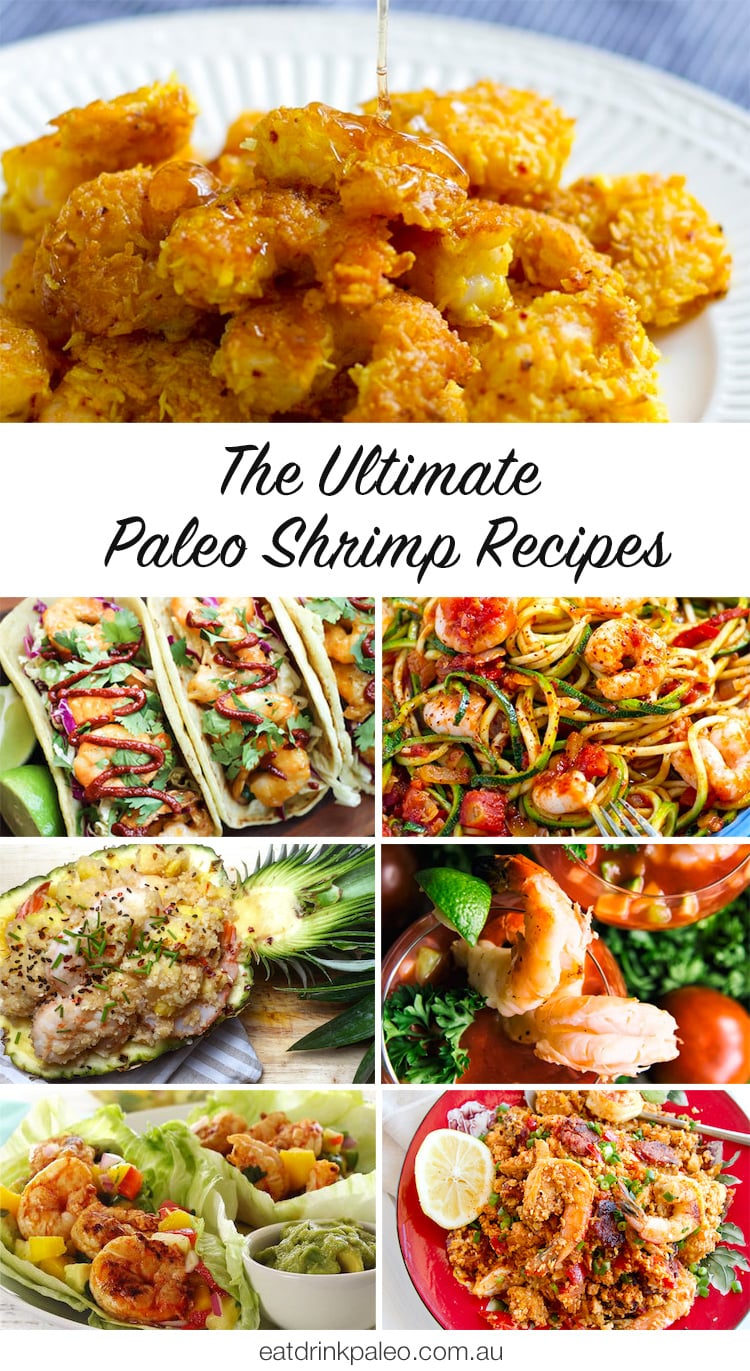 Today's roundup is all about prawns, otherwise known as shrimp. These little guys from under the sea might be small, but their nutritional benefits are anything but. Above all, they are a source of protein. Comparable to poultry, they are a very lean variety of seafood with just a bit of healthy unsaturated fat. Like most seafood, prawns are a fantastic source of omega-3 fatty acids, and for this reason, we recommend a fishy meal at least three times a week.
Beyond the normal benefits of seafood, prawns contain a unique antioxidant profile which supports our nervous system. They're also a substantial source of selenium, copper and B12. Even better is that shrimp provides a particularly absorbable source of these vitamins and minerals, so your body can truly take in all that goodness. As recommended with all seafood, it's best to purchase fresh, wild-caught prawns versus purchasing farmed prawns. This will give you the most nutritious product available. Oh, and let's not forget the important part – making all those healthy benefits taste amazing! We've got loads of recipe inspiration for you to get cooking with.
30 of the best paleo prawn recipes
Prawn & Green Onion Fritters With Sriracha Mayo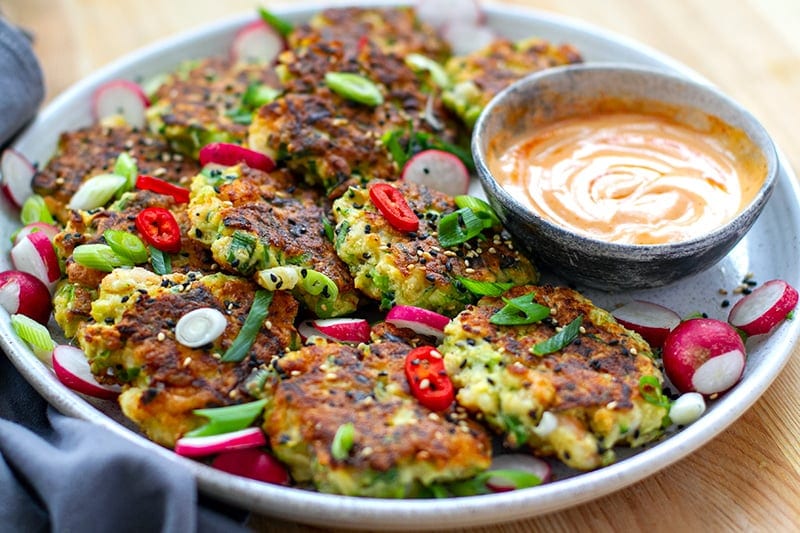 Grilled Shrimp with Roasted Garlic Cilantro Sauce from The Mediterranean Dish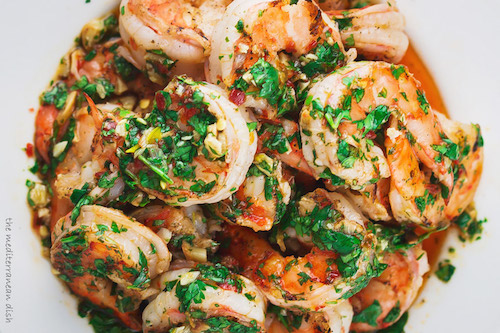 This dish is unbelievably gorgeous and packed with flavour without a whole lot of fuss. The sauce makes these prawns stand out big time. Serve this one tapas style with roasted veggies or crusty bread.
Asian Zucchini Noodle Stir-fry with Shrimp from Just a Taste
This is a perfect dish to throw together with what's leftover in the fridge. Spiralized zucchini makes up the base while snow peas, bell peppers and shredded carrots come together for an Asian-inspired rainbow.
Golden Coconut Prawns with Honey Lemon Glaze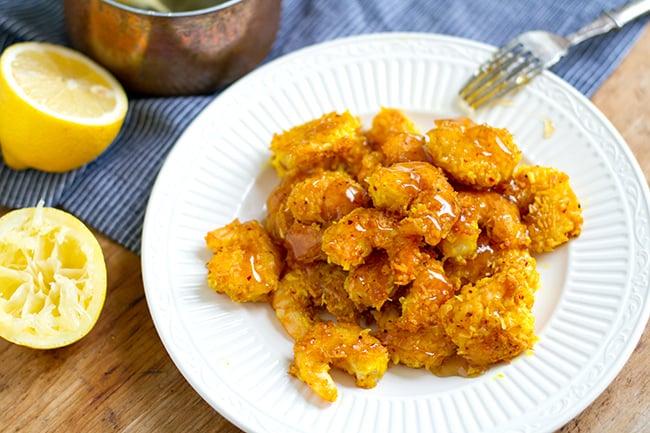 Everyone's favourite Chinese classic just got a paleo facelift with a lightly spiced coconut and tapioca batter and healthier frying oil, plus a simple glaze without the processed white sugar. Get ready to lick your fingers.
Cajun Shrimp Guacamole Bites from Joyful Healthy Eats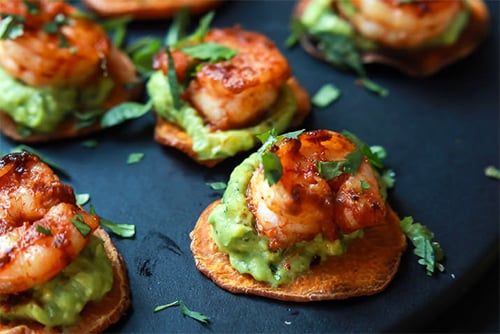 Prawns are practically begging for a little avocado action, because these two are undoubtedly THE dynamic duo. Throw a pile on top of a sweet potato round and you've got the perfect tasty bite to serve for appetizers.
Paleo Bang Bang Shrimp Tacos from Wicked Spatula
I don't think it's an exaggeration to say everybody likes fish tacos. These include a dreamy sauce and a failproof recipe for paleo tortillas. Spice it up street food style.
Cajun Shrimp and Cauliflower Grits with Greens from Get Inspired Everyday
Shrimp and grits is a classic brunch dish, so here's the perfect excuse to have a few prawns in the AM. These grits get a healthy spin with the oh-so-versatile cauliflower instead of corn so you won't feel bogged down by a heavy meal first thing in the morning.
Paleo Chile Pineapple Shrimp Kabobs from Plaid and Paleo
Fire up the grill and throw these guys on! Prawns paired with chile and pineapple makes for something perfectly spicy and sweet. These will be a huge BBQ hit.
Chimichurri Shrimp With Saffron Cauliflower Rice from Living Loving Paleo
You know it's getting fancy when you throw a little saffron in the pot. Lots of fresh herbs bring the flavour right on home with this gorgeous and fragrant must-make rice dish.
Paleo Pad Thai from Paleo Diet & Fitness
Pad Thai is one of those things you know is gonna be good no matter where you order it from, but forget the middle man. This takeout inspiration couldn't be easier to make, plus it's healthier than any restaurant's take on it.
Chipotle Rubbed Shrimp Tacos from Get Inspired Everyday
You know we weren't gonna leave you hanging with just one shrimp taco recipe. Here's another equally delicious version.
Paleo Spicy Grilled Shrimp Wraps from Paleo Newbie
There's nothing quite as convenient and compact as a wrap for lunch, so consider packing up this dish for the weekday hustle. The pineapple mango salsa makes this dish a total knockout.
Curried Shrimp from Living Loving Paleo
Simple and sweet, this recipe boasts minimal ingredients with maximum curry flavour. That's truly the beauty of curry, right? A quick marinade is all the prep you need. Boom! Done.
Shrimp Burgers from A Calculated Whisk
No bun required. These burgers are good enough without 'em, and instead, you can use sweet potato rounds. This recipe uses a mixture of ground shrimp, herbs and spices that can't be beat.
Prawn and Chorizo Paleo Spanish Rice from Eat Drink Paleo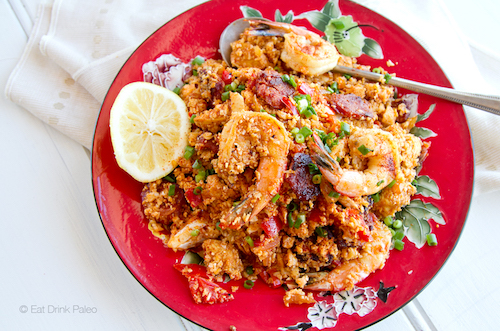 Paella, anyone? You're going to want to get one heaping spoon of this stuff, and you'll likely go back for seconds. This healthy take on the Spanish dish is almost too good to be true.
Coconut, Lime and Chili Barbecued Prawns from Wholesome Food
This is where you put the lime in the coconut and mix it all up. All you need is a little heat and this summer dish comes together in a flash.
Bacon Wrapped Crab Stuffed Prawns from Popular Paleo
This recipe is almost too good to be true. Double the seafood, double the fun… right? And there's bacon. It doesn't get much better than this. Serve these up at your next gathering and you'll be the talk of the town. Fancy toothpicks are recommended.
Crispy Paprika Prawns from Paleo with Mrs. P
Popcorn shrimp or fried shrimp calling your name? Get your fix with this better-for-you recipe with a crunchy almond coating.
Mango Chili Coconut Shrimp from The Saffron Girl
If there's one thing we've learned, it's that prawns go exceptionally well with tropical fruit. This recipe uses mango, fresh cilantro and the cherry on top is the spicy kick in every bite.
Lemongrass-Skewered Spicy Shrimp from Paleo Leap
Most things taste better on a stick, if they stay put of course. These lemongrass shrimp are no exception. Better yet? The stick is the lemongrass itself. Hello, flavour!
Shrimp 66 from My Heart Beets
Shrimp 66 is typically a spicy, deep-fried dish and that's exactly what this is. Using a healthy coating of almond meal and unrefined oil to fry in is key.
Shrimp and Gazpacho Bowls from Paleo Leap
This dish came dressed up in its Sunday best, so if you're looking to impress guests, look no further. This is shrimp cocktail with a twist, and you probably already have the simple ingredients for it lying around.
Garlicky Shrimp from Jay's Baking Me Crazy
The beautiful thing about making an amazing prawn dish? It doesn't take much. Flavour and cooking method get you far, and this garlicky recipe proves the point.
Pineapple Shrimp Stir-fry from Grok Grub
Yet again, shrimp and pineapple prove to be the pairing of the century with this delightfully simple and delicious, weeknight-friendly stir-fry.
Coconut Shrimp with Pina Colada Dipping Sauce from My Natural Family
Did I have your attention at pina colada? This dipping sauce is pure magic for beautiful, crusty coconut shrimp. Don't sleep on this recipe.
Curry Butter Shrimp from A Calculated Whisk
Butter chicken? Psssh. Move on over. We've got something just as awesome and a little more unique that hits all the notes with just five ingredients. You read that right! Serve with white rice or cauliflower rice.
Prawn Arrabbiata With Zucchini Spaghetti from Eat Drink Paleo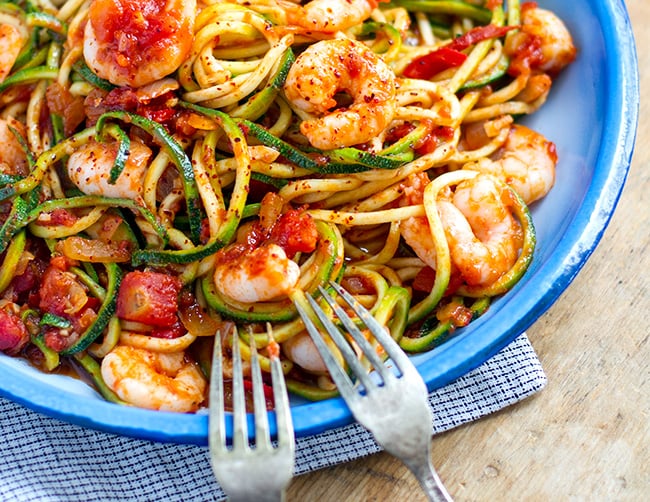 Prawns easily transfer to Italian cuisine in a classic pasta dish. Spicy Arrabbiata sauce and fresh parmesan make this cozy, comfort food recipe totally restaurant-worthy.
Stuffed Avocados with Shrimp and Mango from A Calculated Whisk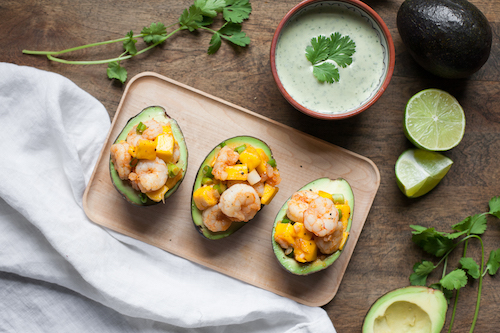 Avocados are great with shrimp, but they're even better when they're stuffed with shrimp. This is a fact. The creamy, spicy jalapeno aioli makes this recipe a true stunner when paired with mango. Lunch just got really, really good.
Paleo Shrimp and Mango Wraps from Rubies & Radishes
Shrimp and mango doesn't get old. Accept it! This recipe uses coconut wraps which makes these wraps the perfect grab-and-go lunch. Now, you have no excuse not to eat healthy.
Shrimp Curry from My Heart Beets
Rich, creamy, spicy and sweet – that's what you get with this incredible curry. Consider this the quintessential one-pot prawn recipe.
15 Minute Paleo Prawn Stir-fry from Eat Drink Paleo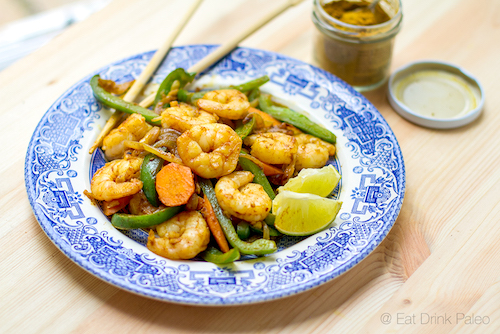 15 minutes, you say? Yes! It can happen. This stir-fry takes no time at all, so it's on the table in a flash for those busy nights when you want something nourishing but don't quite feel like putting in the elbow grease behind the stove.
Have you tried any of these recipes? What's your favourite way to dig into some fresh, wild-caught prawns? Share it below!