Learn how to make homemade paleo sushi with this healthy recipe using nori seaweed sheets, salmon and avocado. I love this as a lunch meal or to have a few rolls in the fridge for an on-the-go snack. These healthy sushi rolls are nutritious, low-carb and super tasty. Sushi party, anyone? Find more of my healthy Japanese recipes here.
---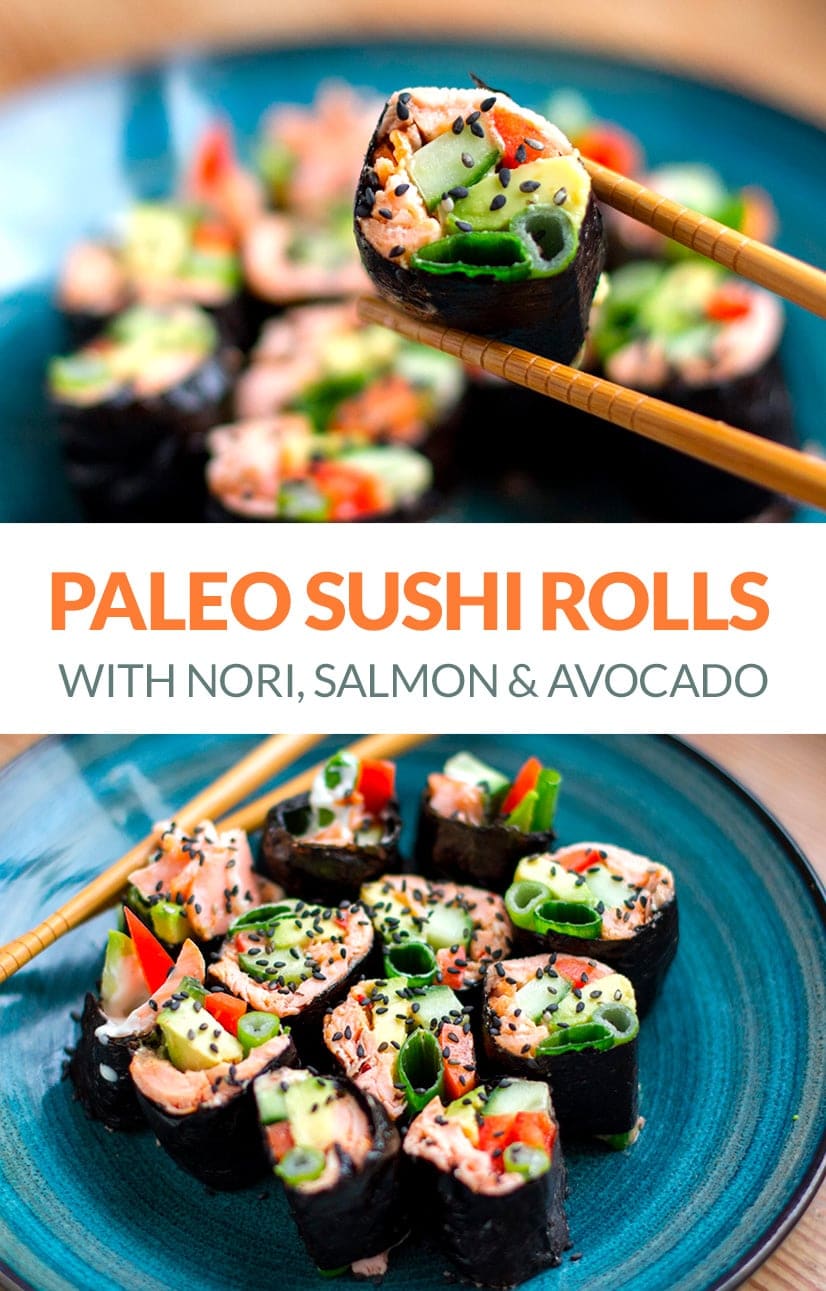 One of the most annoying things about the lack of bread in the paleo diet is not having a convenient and quick vehicle to deliver a bunch of tasty foods into our mouth. While there are many recipes for paleo bread alternatives, they require time and effort to make and can often be a little high in carbohydrate-rich starches or nuts.
This is where the seaweed-based nori sheets, used to wrap a sushi roll, come in very handy. In fact, a triangular-shaped sushi roll is actually called a 'hand roll' on a Japanese restaurant menu.
I love sushi, which I have from time to time when eating out, but the reason I stock nori sheets in my pantry is that they are perfect for making quick and easy healthy sushi for lunch or for a snack. You can roll a bunch of different fillings inside (see some suggestions below) and eat the rolls right away or pack them into a lunchbox.
Paleo Sushi Rolls Nutrition
Combining salmon (rich in omega-3 fatty acids) and avocado (rich in all the good stuff!) in one dish creates a total superfood combo. Nori seaweed sheets contain impressive amounts of vitamin A, iodine, calcium, iron and even protein. Honestly, feed your body these healthy sushi rolls and it will love you forever and ever. 
This recipe makes 3 sushi rolls, which is a satiating serving for one person. You can have less or more depending on your energy needs. As a meal, you'll be getting plenty of omega-3 fatty acids and other healthy fats from both fish and avocado, lots of protein, fibre, vitamins A and C, calcium, and more.
Macronutrient breakdown (for 3 nori rolls): 556 calories, 36 g fats, 21 g carbohydrates (8 g fibre, 7 g sugar), and 38 g protein. Full macros and micronutrients breakdown below the recipe.
For an even lower-carb/keto version: use less salmon and add more avocado and mayonnaise, replace red peppers with more cucumber or sliced zucchini.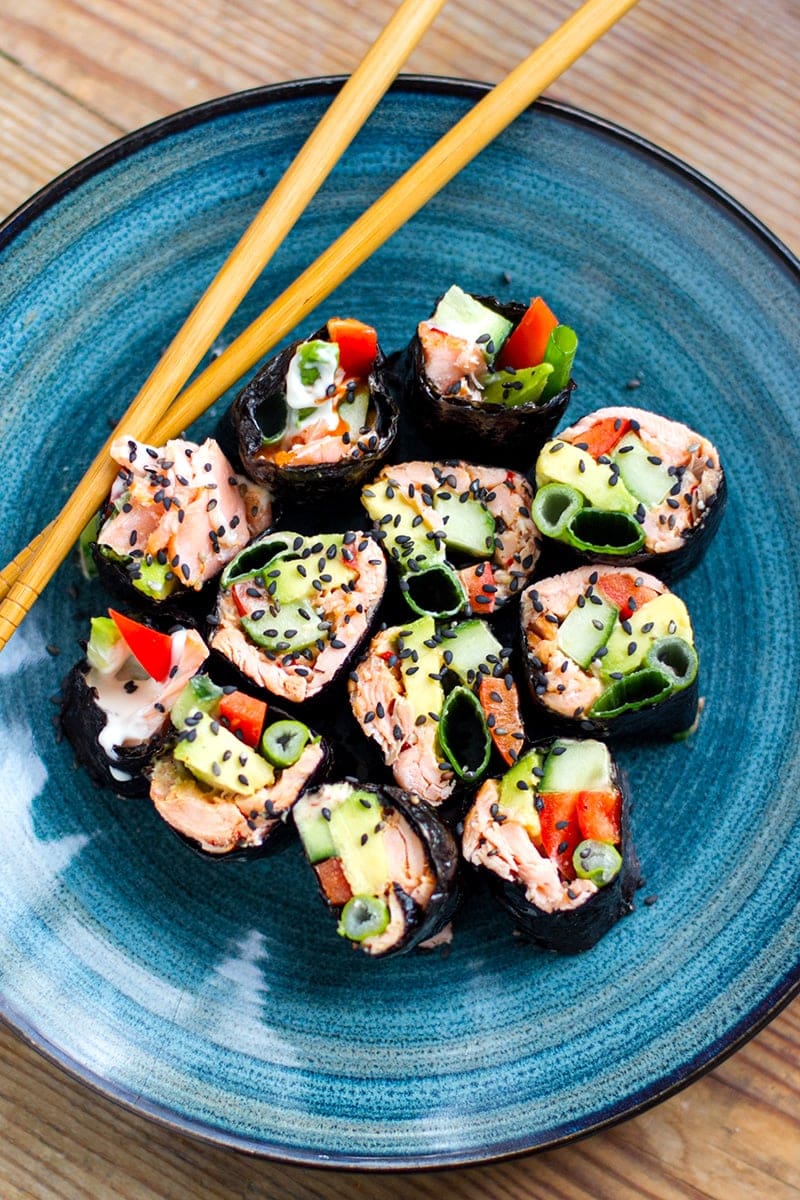 How To Make Paleo Sushi Rolls
You can make nori rolls ahead of time, they will last for 24-48 hours in the fridge, although I suggest eating them within 24 hours, so that the nori sheet doesn't get too soggy. You can keep the rolls whole, or cut them into bite-size pieces with a sharp, clean knife.
I suggest placing the filling ingredients a little off centre, which allows you more rolling surface. Some people use bamboo mats to make the rolling easier but I find that it's totally okay on a cutting board. Don't overstuff the rolls, otherwise, they could easily tear when you try to roll them.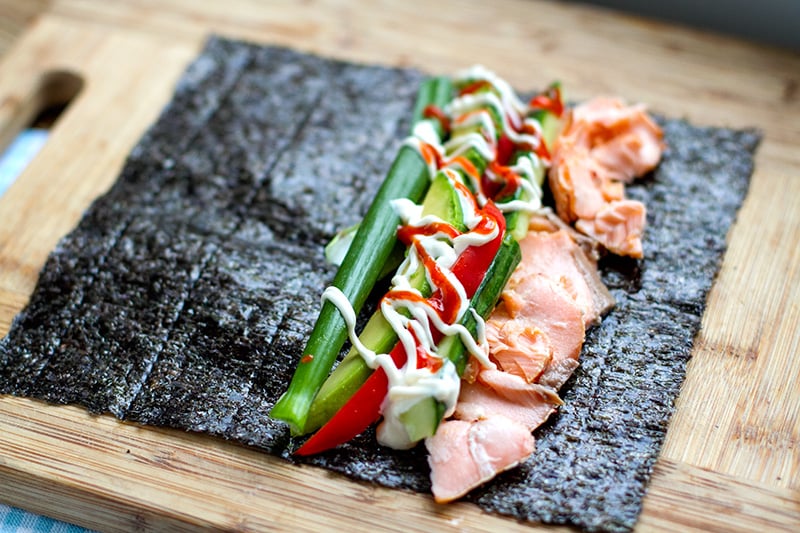 You can find seaweed nori sheets in most Asian grocery stores or in the Japanese food section of your supermarket, as well as online. You can get it from Amazon here.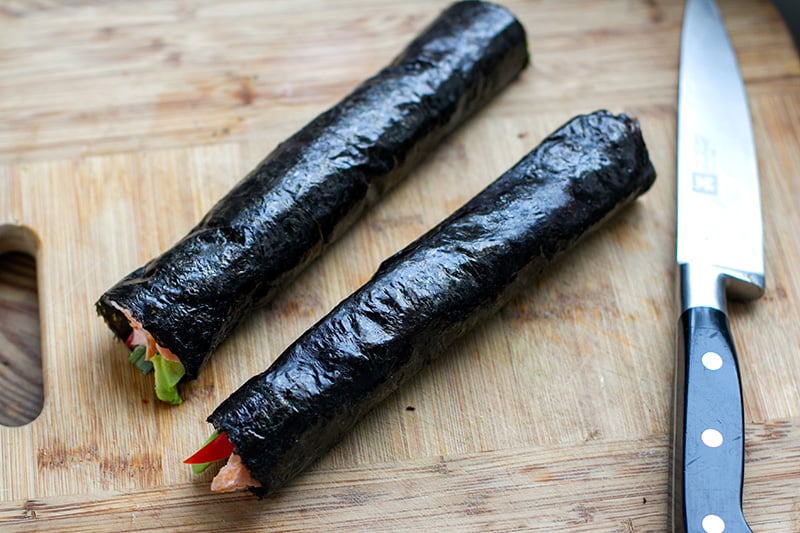 Healthy Sushi Fillings
You can roll pretty much anything inside a nori roll, but I particularly love using cooked or raw (high-quality) fish and raw veggies. Sesame seeds are also high in calcium, so I often add those inside or sprinkle over the top. 
Other filling options: tinned tuna or sardines, cooked shrimp or crab meat, shredded chicken, sweet potato chips, cooked cauliflower rice, sliced zucchini, sun-dried tomatoes, carrot or celery sticks, sliced egg omelette, crispy fried tempeh or mushrooms for a vegetarian option; some raw fruit like mango or papaya are also nice. 
Instead of mayonnaise, you can add fun sauces and spreads like satay sauce, pickled red onions, creamy avocado dressing, spicy almond sauce (try this one from my bang bang chicken recipe), paleo hummus and so on.
Below is a simple and nutritious nori roll recipe with cooked salmon, avocado, peppers, mayonnaise and Sriracha sauce. I often have these drizzled with or dipped into coconut aminos.
Try More Japanese-Inspired Recipes
Paleo Teriyaki Baked Salmon
Paleo Gyoza Bites
Homemade Japanese Chicken Curry
Asian Omelette With Mushrooms & String Beans
Print
---
Description
Nutritious and tasty, these healthy paleo sushi rolls are super easy to make and you can use a variety of fillings to suit your tast and budget. Nori rolls are used to wrap whatever you have on hand minus the rice.
---
---
Place the nori sheet on a flat surface, such as a cutting board, shiny side down. Look at the fibres of the wrapper to see which way it needs to be rolled.
Add a third of the salmon to the right or left third of the nori sheet and top with two strips of pepper, cucumber and avocado. Add some green onion and a drizzle of mayonnaise and hot sauce. You can sprinkle with sesame seeds now or at a later stage, once the rolls are cut.
Lightly wet the top part of the nori sheet (the side you are rolling towards), just 1-2 cm of the wrapper. Pick up the opposite outer edge of the roll and start wrapping it over the ingredients, using your fingers to keep it nice and tight. This can take a bit of practice, but don't worry if your roll doesn't look perfect. Roll it until the top edge of the wrapper overlaps the roll and press it tightly to stick. Place the roll on the cutting board with the seam facing down and then cut into bite-size pieces.
Serve right away with some coconut aminos or extra mayo for dipping, or pack in a container to take for lunch or keep as a snack in the fridge.
---
Nutrition
Serving Size:

3 rolls

Calories:

512

Sugar:

8.7 g

Sodium:

647.5 mg

Fat:

32.5 g

Saturated Fat:

5 g

Carbohydrates:

22.9 g

Fiber:

8.5 g

Protein:

36.7 g

Cholesterol:

79.2 mg