These are HUGE Strawberry White Chocolate Cookies speckled with creamy and rich white chocolate chips and beautifully balanced with tart freeze-dried strawberries. Grab your baking essentials and let's go!
This recipe was originally published in 2022 and we wanted to share it again as a fan-favorite for Valentine's Day! ❤️
---
Does one ever say no to a perfectly soft but still chewy, very BUTTER-FORWARD cookie? What about one with chewy bright little bits of strawberry and silky-sweet white chocolate chips? Now that we have your attention…
OMG WHAAAAAT THESE ARE SO GOOOOOOOD.
Just, so good. They're (maybe overly) large, they're melty, and they're all your favorite cookie textures. The freeze-dried strawberries used for these get so pleasingly chewy as they soak up the butter while baking, putting raisins-in-cookies to absolute shame (depending on your deeply held beliefs about raisins in baked goods, might be too late for that). The white chocolate is the richest and creamiest with its very sweet sweet beautifully balanced with the strawberries' tart tart.
Have we mentioned how good?
In This Post: Everything You'll Need For These Cookies
Prefer To Watch Instead Of Read?
Ingredients For These Strawberry White Chocolate Cookies
First things first, let's get your heart and grocery list ready for these buttery disks of joy. Here's what you'll need:
salted butter (unsalted could work too, but salted is really a treat here!)
light brown sugar
granulated sugar
egg
vanilla
flour
baking soda
salt
freeze-dried strawberries
white chocolate chips (Loved Ghiradelli best! ALDI's were also good. Nestle wasn't a fave but they'd work!)
Grab your cookie sheets, your parchment paper, all your hopes and dreams, and get ready for something special.
How To Make These Delicious Cookies
Here's how they come together. We went all-in for about 9-12 giant cookies for this recipe but, of course, if you want to do sweet dainty little baby cookies instead of our jumbo ones, go for it!
Cookie batter. Combine the butter with the sugar until creamy. Next, egg and vanilla; mix until just combined. Add the dry ingredients and mix until just combined then fold in the white chocolate chips.
Crush the strawberries. Gently crush the pieces by hand into small chunks. Careful not to crush all the way into a powder. Fold those strawbs into the dough!
Roll and bake. We rolled them into about 9-12 larger dough balls and placed them on a parchment-lined baking sheet to bake for 9-11 minutes.
We veer on the side of under-baking (about 9ish minutes), so when you pull them out, they will be a little puffed. RESIST EVERY URGE IN YOUR SOUL and let them sit for just a few minutes so they can sink. You will be rewarded with soft, dense, tart-sweet little buttery medallions that will make you cry real tears.
What To Know About Freeze-Dried Strawberries
So here's the deal on these little freeze-dried babies. They are a dream of a cookie add-in because they soak up moisture (read: all that delicious butter) and turn into buttery chewy little wonder bits. And who are we if not someone who appreciates a good butter vehicle? But because they soak up the moisture, it is important to not use too much flour!
A word on the flour. We recommend spooning the flour into the measuring cup to get the amount right so you don't get cookies that are too puffy! You want them to be able to sink and get dense/soft/chewy/dreamy.
Gently crush into chunks, not powder. They will turn the cookies grey if you have too much of a powder (a little powder is unavoidable and totally okay!).
Can I use fresh strawberries? We wouldn't! They'd be too wet. But if you try and get a different outcome, do let us know!
Where do I find these magical things? We have often found them at ALDI and Target, usually near all the other dried fruits. You can also order them on Amazon (affiliate link).
Other Uses For Freeze-Dried Strawberries
Well, now that you have a bag of these bad boys and are already sitting down enjoying a batch of these cookie greats and thinking, "Where else can I use these little gems?", might we suggest…
plopped into a bowl of warm oatmeal
stirred into your yogurt for a different texture berry
you an overnight oats champ? we have an idea for you…
added to cold and creamy smoothie
Also, please do not underestimate just what weird and wonderful little snackers they are, so eating them by the pinchful is acceptable!
Make-Ahead Instructions
Do you have some people to wow after dinner next week or do you just want to have something ready to go when you inevitably at some point in the future wander into your kitchen at 10pm thinking "Ugh, why aren't there cookies?!"
Well, here's the solution:
Make the dough, roll it into balls and then freeze! That way they are ready to pop on the pan and bake whenever your heart shall call to them. Just give them a couple extra minutes of bake time from frozen.
If you want to bake them and not jump immediately on the bake-and-eat-all train like we do, you can keep them in an airtight container for a few days and they will still wow. (You could also store fully baked in the freezer the same way, and then maybe give them a quick zap in the microwave for your soft, buttery, enjoyment.)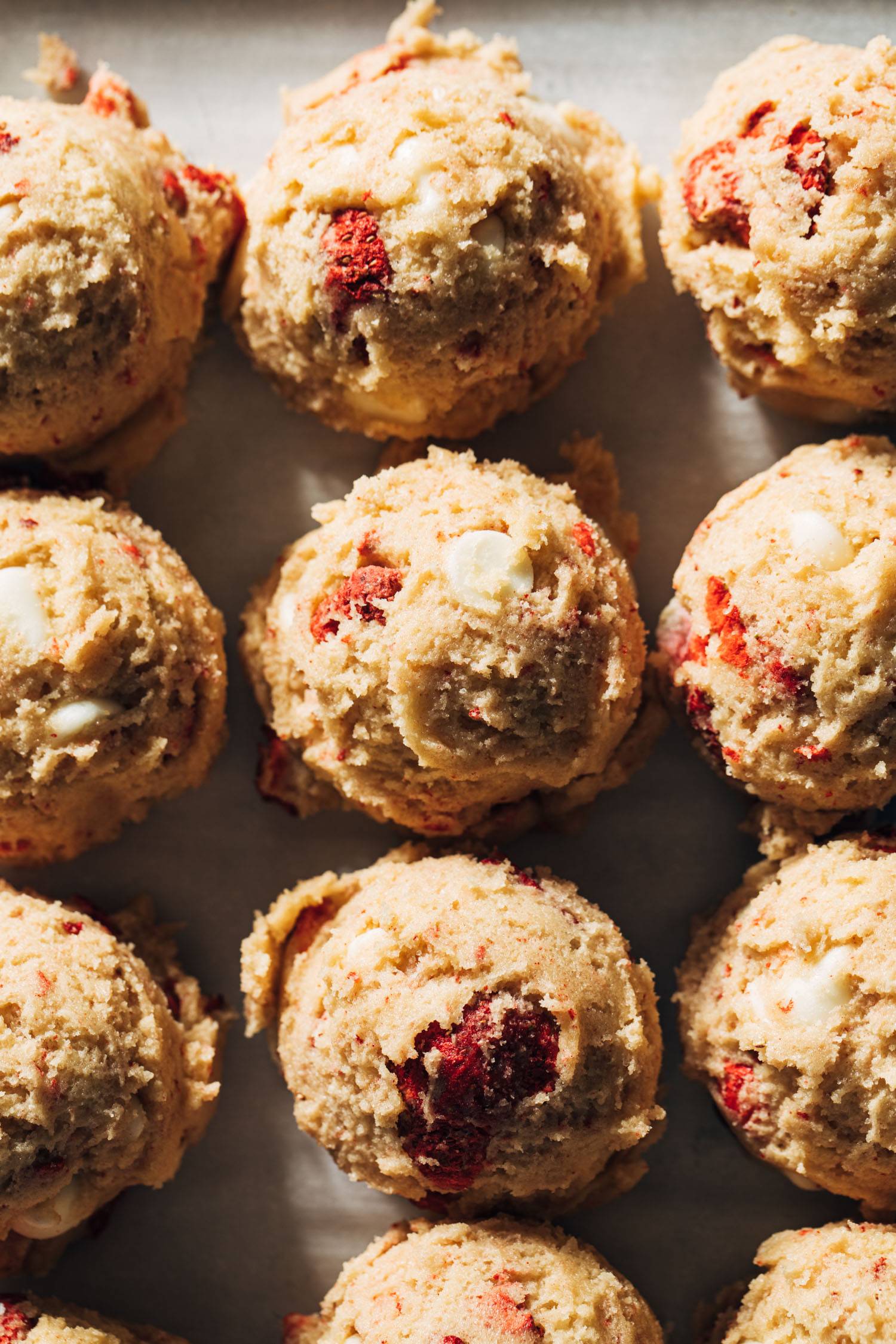 Variations On These Cookies
We'd like to take this opportunity now to just cheer you on to run forth into the night and make every variation on these you can! Obviously, you're already thinking of trying these with freeze-dried raspberries, us too! Would a freeze-dried blueberry with a little zip of lemon zest in there be spectacular? We haven't tried this yet, but doesn't it sound like a dream?!
Could you skip the fruit bits altogether and just do a white chocolate chip cookie? Yes, for sure. But then you might find yourself thinking, "You know what these need? Little tart chewy bits of bright buttery strawbs. That sounds amazing!"
And then, well, you know…you'll find yourself right back here. Repeat, repeat, repeat.
Strawberry White Chocolate Cookies: Frequently Asked Questions
My cookies turned out pink! Is this expected?
Yes! The color of the cookies is slightly different from regular cookies because of the color from the strawberries. When you take them out of the oven, they can have a pink or even grey-tinted look to them. That's normal! The grey color gets more intense as more "strawberry powder" gets mixed into the cookies which is why it's a good idea to just crush those strawberries gently when you add them in.
Can I make these with fresh strawberries?
Sadly, no. Your cookie dough batter will turn out too wet and the cookies won't turn out very well.
Can I use other freeze-dried fruit options?
Sure can! Freeze-dried blueberries or freeze-dried raspberries would be delicious!
Print
Description
These are HUGE Strawberry White Chocolate Cookies speckled with creamy and rich white chocolate chips and beautifully balanced with tart freeze-dried strawberries. Grab your baking essentials and let's go! 
---
---
Preheat the oven to 350 degrees F. 
Using a stand mixer or an electric hand mixer, combine the butter with the sugars until creamy.
Add the egg and vanilla; mix until just combined.
Add the flour, baking soda, and salt; mix until just combined.
Fold in the white chocolate chips. Crush the strawberry pieces gently by hand, not into powder but just into small chunks. Fold strawberry pieces into the dough.
Roll into balls (9-12 total) and bake on a parchment-lined baking sheet for 9-11 minutes depending on the size of your cookies. I usually do this in two batches. At 9-10 minutes, the cookies will be puffed up slightly; you'll want to let them sit out for a few minutes so they can sink back down and firm up into soft, dense, buttery, delicious little miracle cookies.
Prep Time:

15 minutes

Cook Time:

10 minutes

Category:

Dessert

Method:

Bake

Cuisine:

American
Keywords: strawberry cookies, white chocolate chip cookies, strawberry white chocolate cookies
Recipe Card powered by
Even More Delicious Cookie Recipes To Start Baking!