Spicy Szechuan Green Beans are a great way to cook fresh green beans and these spicy beans are so good you'll make them over and over! And don't forget this recipe if you have garden green beans in the summer!
PIN Spicy Szechuan Green Beans to make them later!
I got infatuated with recipes using fresh green beans after I planted way too many green beans in my garden one year and needed to find recipes using them. Now fresh green beans are widely available all year long, and I love green beans no matter how you cook them, but there's no doubt that this recipe for Spicy Szechuan Green Beans is one of my all-time favorites!
The day I first tested the recipe I shared the spicy green beans with a friend and we ate every single one in about five minutes, so I think it's a safe bet that everyone who likes spicy green beans is going to like this recipe!
What ingredients do you need?
How Spicy are these Szechuan Green Beans?
These beans were about as spicy as I would want them (they made your mouth burn a little, but in a good way.) If you like it really hot, just add a little more red pepper flakes. And if you don't want much spicy flavor, just use a pinch of red pepper or omit it completely.
Is it spelled Sichuan or Szechuan?
Maybe it's the retired teacher in me coming out, but I wondered about the spelling of Sichuan. On Chinese restaurant menus I'm more used to seeing Szechuan, but when I googled it I found that Szechuan is the postal map spelling often used in the U.S. even though Sichuan is the correct English spelling for the southwestern Chinese province that's famous for spicy foods. I'm in the U.S. of course, so I went with the one that's common in the U.S., but it can be spelled either way. 
Want more ideas for fresh green beans?
If you're growing beans and need ideas, you can't go wrong with Garlicky Green Bean Stir Fry or Lemony Green Beans. Or you can use Green Beans Recipes to see all the recipes on my blog that use green beans.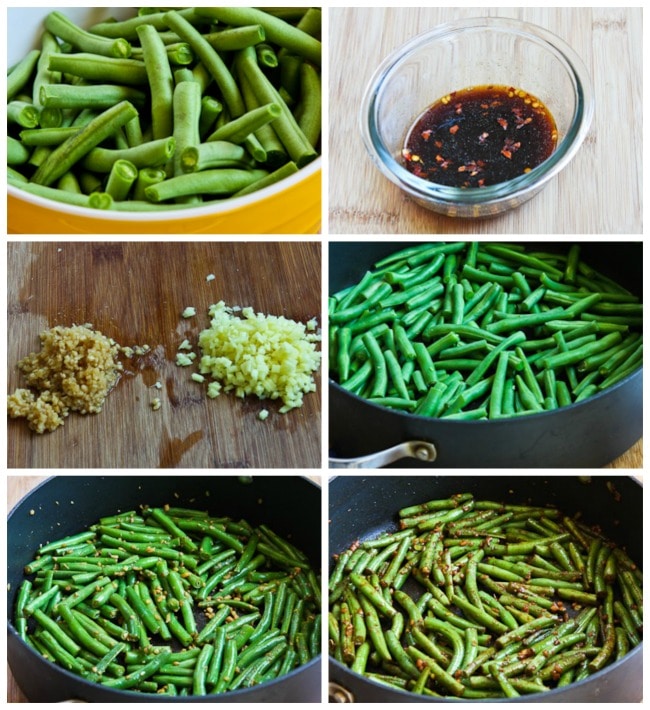 How to Make Spicy Szechuan Green Beans:
(Scroll down for complete printable recipe, including nutritional informaiton.)
Trim the ends of one lb. of fresh green beans and cut them into halves or thirds. This will be about 4 cups of trimmed green beans.
Mix together the soy sauce, rice vinegar, sweetener of your choice, red pepper flakes, and white pepper. (We used 1/4 tsp. of red pepper flakes and it was just spicy enough for me. Use more if you want it really spicy.)
Prepare 2 tablespoons each of minced garlic and minced ginger root. 
Heat a large pan, then add beans and 1/4 cup water. Cook covered 3-5 minutes, or until beans are starting to get tender; then uncover and cook until the water has evaporated.
Add vegetable oil, minced garlic, and minced ginger and cook about about 2 minutes, stirring several times so the garlic and ginger don't burn.
Then add the soy sauce mixture and cook about 2 minutes more, until beans are coated with the sauce and some of the liquid has evaporated. Serve hot or at room temperature.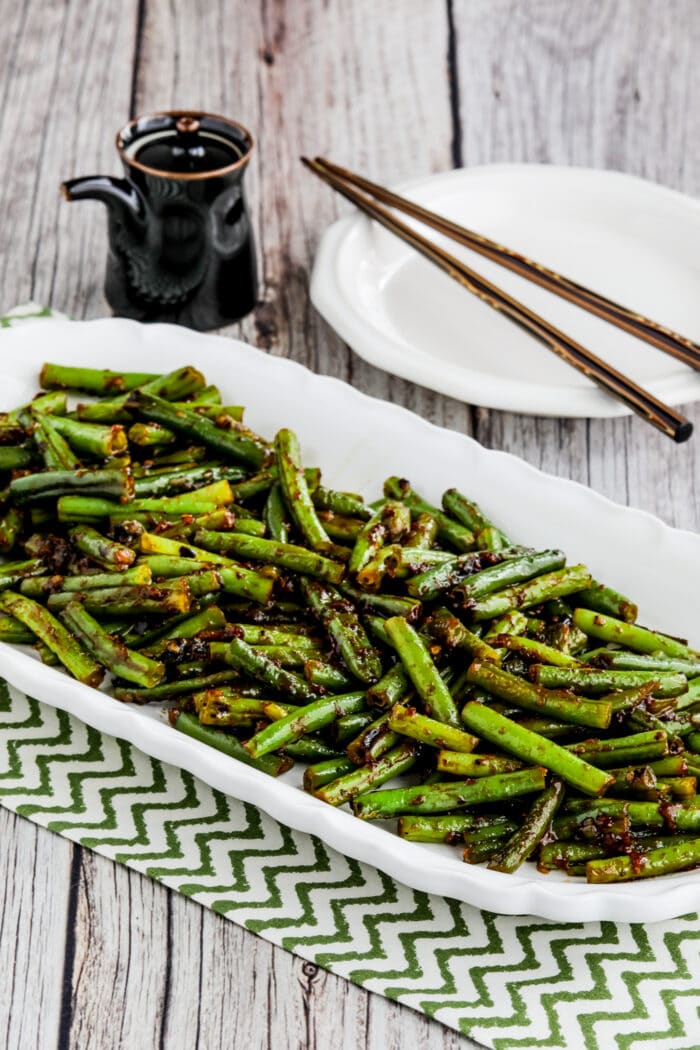 Make it a Low-Carb Meal:
Spicy Szechuan Green Beans would be great with something like Instant Pot Teriyaki Chicken, Korean Salmon with Dipping Sauce, Air Fryer Marinated Chicken Breasts, Spicy Baked Shrimp with Garlic, or Herb-Marinated Air Fryer Chicken Thighs.
More Ideas for Stir-Fried Vegetables:
Garlic-Lover's Vegetable Stir Fry
Stir-Fried Bok Choy
Spicy Stir-Fried Swiss Chard
Stir-Fried Spinach with Garlic and Parmesan
Cauliflower Fried Rice with Shrimp
Ingredients
1 lb. fresh green beans, trimmed and cut into halves or thirds
2 T soy sauce (see notes)
1 T rice vinegar (not seasoned)
2 tsp. sweetener of your choice (see notes)
red pepper flakes (see notes)
1/4 tsp. white pepper (or use black pepper if you don't have white pepper)
1 T vegetable oil (see notes)
2 T minced garlic
2 T peeled and minced ginger root
Instructions
Wash green beans if needed, trim the ends, and cut beans into halves or thirds if they are large.
Mix together soy sauce, rice vinegar, sweetener of your choice, red pepper flakes, and white pepper.
Mince garlic enough to make 2 T minced garlic. Peel ginger root and mince enough to make 2 T minced ginger.
Use a large frying pan with a tight-fitting lid and heat over high heat.
When the pan is hot, add the beans and 1/4 cup water; cover and cook on medium-high heat for 3-5 minutes or until the beans are bright green and starting to get tender. (If your beans are thin they will cook more quickly, but larger beans will probably need 5 minutes to get done.)
Remove the lid and continue to cook until the water is all evaporated.
Add the oil and minced garlic and ginger and cook about 2 minutes, stirring several times so the garlic and ginger don't burn.
Add the soy sauce mixture, let it come to a boil and cook about 2 minutes more, until the sauce thickens and coats the beans and beans are tender-crisp.
Serve hot or at room temperature.
Notes
I used Monkfruit Sweetener (affiliate link) for this recipe. Be sure to use Gluten-Free Soy Sauce (affiliate link) if needed. I used 1/4 tsp. red pepper flakes and the beans were fairly hot. Use more if you prefer.) I prefer Peanut Oil (affiliate link) for Asian recipes.
I'm guessing leftovers could be kept overnight in the fridge and reheated the next day, but I'm not sure because when I made these there were no leftovers!
Recipe adapted from Easy Party Food, a special-interest publication of Sunset Magazine.
Nutrition Information:
Yield:
4

Serving Size:
1

Amount Per Serving:
Calories: 83Total Fat: 4gSaturated Fat: 0gUnsaturated Fat: 3gCholesterol: 0mgSodium: 448mgCarbohydrates: 9gFiber: 3gSugar: 4gProtein: 3g
Nutrition information is automatically calculated by the Recipe Plug-In I am using. I am not a nutritionist and cannot guarantee 100% accuracy, since many variables affect those calculations.
Low-Carb Diet / Low-Glycemic Diet / South Beach Diet Suggestions:
If they're made with an approved sweetener, these Spicy Szechuan Green Beans would be a perfect side dish for any low-carb eating plan, including any phase of the original South Beach Diet.
Find More Recipes Like This One:
Use Green Beans Recipes or Side Dishes to find more recipes like this one. Use the Diet Type Index to find recipes suitable for a specific eating plan. You might also like to follow Kalyn's Kitchen on Pinterest, on Facebook, on Instagram, or on YouTube to see all the good recipes I'm sharing there.
Historical Notes for this Recipe:
These spicy green beans were first posted in 2011, and I've made them many, many times since then! The recipe was updated with greatly improved photos and more information in 2022.
We are a participant in the Amazon Services LLC Associates Program, an affiliate advertising program designed to provide a means for us to earn fees by linking to Amazon.com and affiliated sites. As an Amazon Associate, I earn from qualifying purchases.