This gorgeous healthy recipe features tuna steaks (or another type of fish) pan-fried with Mexican-inspired spices and served with sautéed red peppers and zesty fresh avocado and coriander salsa. This dish is Paleo, gluten-free, Whole30, and low-carb.
---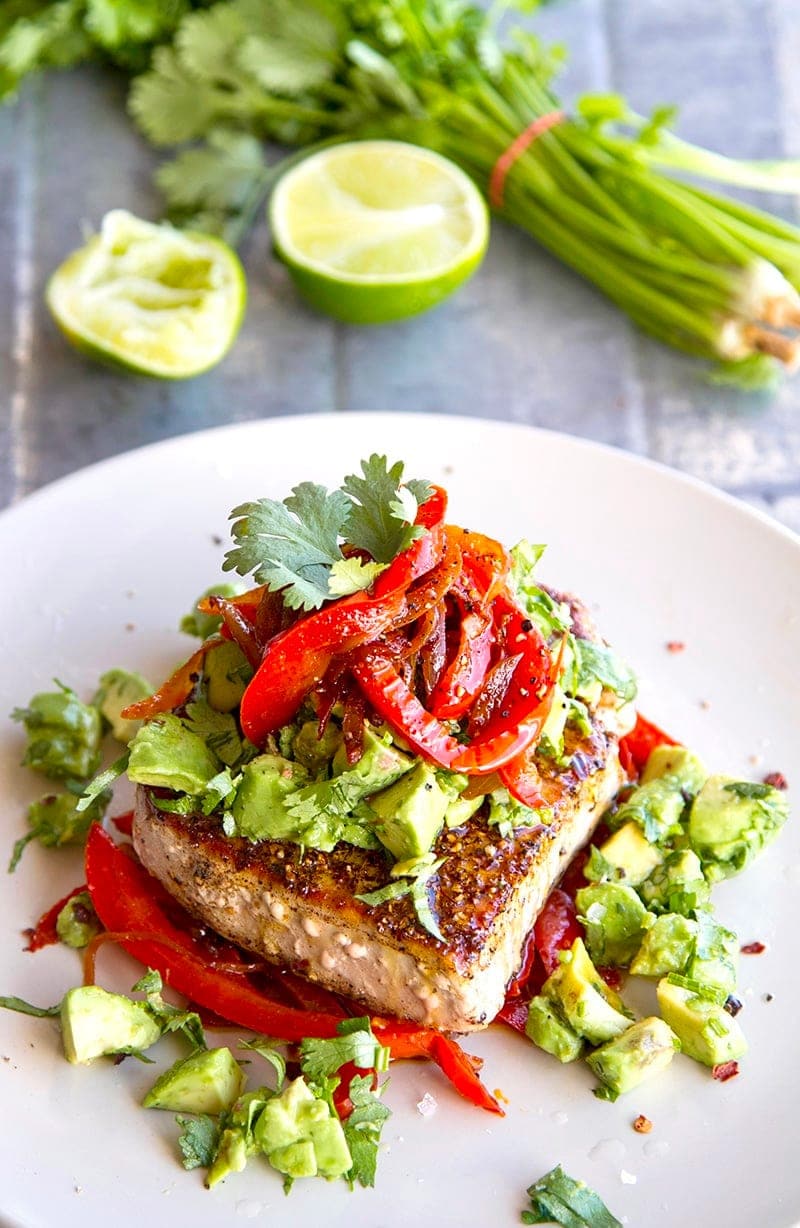 Spiced Mexican Tuna Steak
In my quest to eat more fresh fish and expand my dinner repertoire beyond salmon, I decided to make a recipe with tuna.
This recipe features tuna steaks grilled with coriander seeds and lime zest brown butter (ghee or olive oil can also be used for a Whole30 version) and served over cumin and paprika-spiced onions and red peppers, and topped with zesty avocado salsa. 
It's a popular recipe with my readers and is perfect for your weekly menu planning.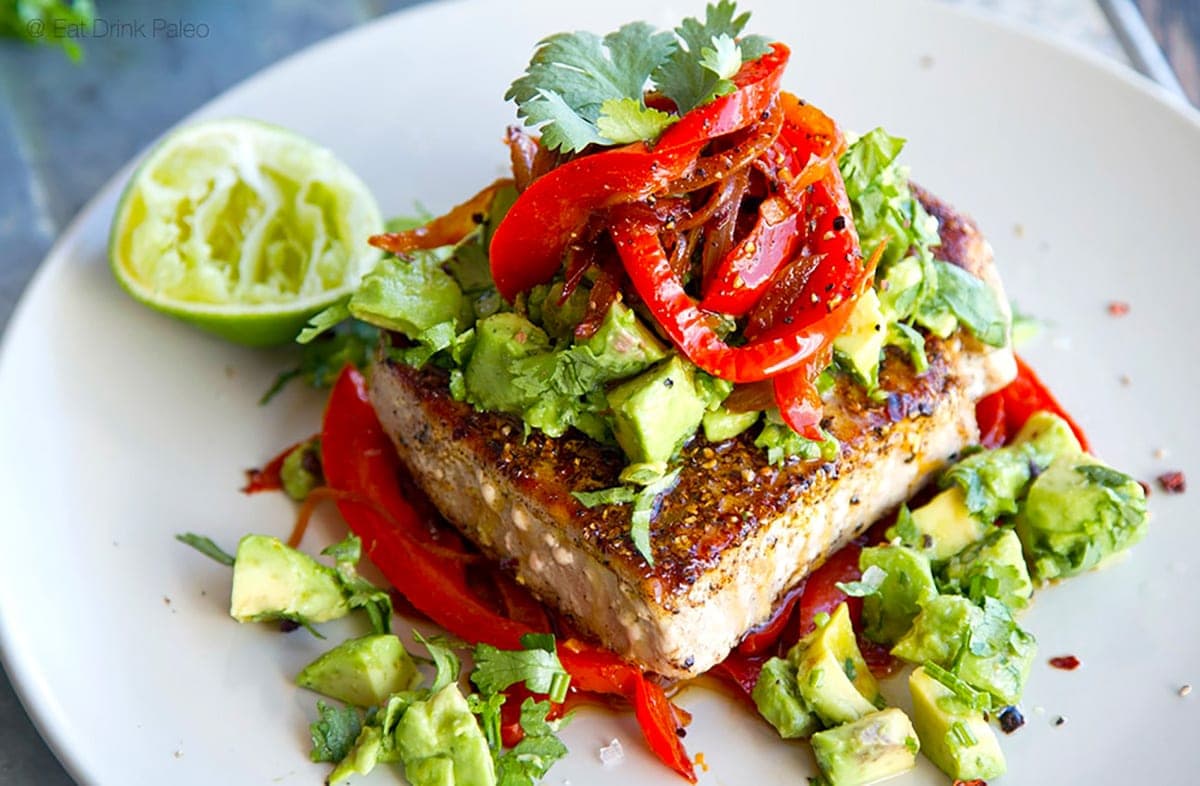 Which Tuna To Use In This Recipe?
Tuna steaks can be replaced with salmon, cod or any other fish fillets you prefer or can purchase. If using tuna, please read some notes below.
Tuna fish, regardless of its type, is considered overfished around the world. It doesn't mean you should stop eating tuna altogether but you need to be able to make smarter choices so we can enjoy tuna in safe amounts for many generations to come.
Avoid the most vulnerable and threatened Bluefin tuna. Albacore tuna caught by pole is the best option, as is Skipjack tuna as they exist in almost every ocean in large shoals and reproduce quicker. Skipjack tuna is primarily used as 'light tuna' for canning. You can find out more about the best canned tuna to buy here. 
Tuna is high in protein and omega-3 fatty acids but some bigger, deeper water tuna varieties are known to contain higher mercury levels and should be eaten in small amounts. Stick to smaller, shorter lifespan tuna fish caught by pole-and-line, or trolling in certain regions where the supply is ample.
Find more information on tuna fish worldwide here and make sure to check out Good Fish Bad Fish for best Australian choices (it's a great site with alternatives, cooking methods and so on).
My Simple Guide To Eating Tuna
Buy tuna 1-2 times per month.
Chat to your fishmonger and find out the type of tuna they're selling and where it's from.
Educate yourself about the best type of tuna to purchase in your country.
Make smarter choices when purchasing canned tuna.
Tell your friends and family to do the same.
More Healthy Fish & Seafood Recipes
Budget-Friendly Salmon Loaf with Cucumber Dill Salad
Hawaiian Lomi-Lomi Salmon Salad
Italian Prawn Arrabbiata with Zucchini Noodles
Tuna & Sweet Potato Salad (Paleo, Whole3)
Baked Japanese Salmon Balls
Print
---
Description
This tuna steak recipe is inspired by Mexican flavours and is healthy and nutritious. Tuna is pan-fried with spiced butter and served with zesty avocado salsa and grilled red peppers. Serve as is or with a side of rice, veggies, or sweet potatoes.
---
For red peppers
For tuna steaks
For avocado
---
Sprinkle tuna steaks with sea salt, black pepper and drizzle with olive oil on both sides. Set aside.
Heat 3 tablespoons of coconut oil in a frying pan over medium-high heat. Add the onions and peppers, cover with a lid and cook for 5 minutes, stirring a couple of times. Add paprika, cumin, chilli, garlic, vinegar, a good pinch of salt, and about two tablespoons of water. Mix through and cook for 5-7 minutes until softened and slightly browned. Remove to a plate, or use a different frying pan for tuna steaks.
Grind the coriander seeds with a mortar and pestle or use coriander seed powder instead. Heat up a little oil and butter (or ghee) to sizzling hot in a frying pan. Add coriander seeds and the zest of one lime (about a teaspoon of zest). Stir through to infuse with the flavours. Add the tuna steaks and turn the heat down to medium. Drizzle with juice from half a lime and cook for 2 minutes on each side (more if you like it well done and less if it's super fresh and you like it rare). Use a spoon to bathe the steaks in the buttery, lime sauce they're cooking in.
Combine avocado and fresh coriander and season with a little sea salt and the remaining lime juice, about one tablespoon.
Assemble red peppers on the serving plates. Place tuna steaks and top with avocado salsa and more red peppers. Squeeze extra lime juice and drizzle with a little extra virgin olive oil just before serving.
---
Nutrition
Serving Size:

1 tuna steak with sides

Calories:

569

Sugar:

5.8 g

Sodium:

477.5 mg

Fat:

38.7 g

Saturated Fat:

8.4 g

Carbohydrates:

19.4 g

Fiber:

7.8 g

Protein:

39.8 g

Cholesterol:

73.8 mg