This website may contain affiliate links and advertising so that we can provide recipes to you. Read my privacy policy.
Chicken and Waffles are known as soul food, these will truly feed you belly and soul! Tender fluffy waffles are topped with crunchy fried chicken and smothered in syrup of choosing!
Chicken and Waffles make a great brunch or dinner! Serve these up alongside my famous Air Fryer Fries, mouth watering Fruit Salad and fresh Strawberry Lemonade.
Chicken and Waffles From Scratch
For my sister in law's birthday dinner she requested chicken and waffles.  So of course I was on the hunt for the best chicken and waffles recipe.  And I found it. This is tried and true so amazing. Everyone knows that the fried Chicken at Roscoes is one of the best and has so much flavor, well I've been able to recreate that!  This recipe has incredible flavor and tastes just like Roscoes!  Paired with my light and fluffy homemade waffles and we had a winner winner chicken dinner on our hands. The birthday dinner was a huge success and now it's your turn to make these incredible Chicken and Waffles!
Most associate Chicken and Waffles with the south, they call it a southern comfort food. But the actual history of where this amazing combination comes from is varied. This filling dish was made popular in L.A. and Harlem in the early 1900's. Where ever it came from, we are just glad it did! With variations from spicy, to sweet to savory, there is no wrong way to make Chicken and Waffles, so let's get busy!
Easy Chicken and Waffles Ingredients
Chicken Pieces: I used legs and thighs.
Buttermilk: Key to getting juicy tender chicken. If you don't have buttermilk, make your own here.
Salt and Pepper: Add to taste.
Self-rising Flour: This has baking powder and salt already added to it which helps the breading be light and crispy.
Seasoning Salt: Incredible flavor all in one seasoning.
Salt: Regular salt to help balance the flavors.
Louisiana Chicken Seasoning:  This is optional, can substitute out or not use.
Garlic Powder: Creates great flavor and kick.
Onion Powder: Another way to add flavor without bulk.
Oil for Frying: Use a high smoke oil such as peanut oil.
Homemade Waffles:  Here is the link for the best waffles for chicken and waffles.
Honey Cinnamon Butter: Just like Texas Roadhouse butter but better!
Homemade Maple Syrup: Since you are making it from scratch you can customize it for your chicken and waffles.
Let's Make Fried Chicken and Waffles!
Marinate: In a large bowl add the chicken, buttermilk and salt and pepper. Marinate for at least an hour up to overnight.
Dredge: In a different bowl combine the flour, seasoning salt, Louisiana chicken seasoning, garlic powder and onion powder.
Prep: In a heavy bottomed skillet add 1 inch of oil to the pan. Heat to 350 degrees.
Coat: Take the chicken out of the buttermilk and coat with the flour mixture. Add to the oil to pan.
Fry:  Fry for about 4 minutes on each side until golden brown and 165 degrees internal temperature.
Waffles: Make the waffles according to the instructions. Top the waffles with the chicken and serve with honey cinnamon butter and maple syrup if desired.
Tips For The Best Chicken and Waffles
Seriously, this is one of the best combinations of foods, that sound like they should not go together. Waffles are a breakfast food and fried chicken is a dinner food. However these two got together, we are just glad they did. It is a fun meal that makes for good conversation.
Brine: To get the juiciest and most tender chicken, marinate the chicken in the buttermilk brine for at least 6 hours but no more than 24 hours.  This will take planning but it will be so worth it. Through it together in the morning or the night before and then cook it up.
Chicken: I used legs and thighs in this recipe because they stay tender and moist the best. You can also use chicken breast tenders or wings. I do not recommend using a full breast as they take longer to fry and can dry out easily.
Coat it Well:  Really coat the flour well trying to get it completely covered. This will create that yummy crunchy coating.
Don't Overcrowd: Do not fry too many pieces at once, they won't cook evenly and it will drop your oil temperature down too low to fry properly. Use a frying thermometer if you have one.
Let it Rest: After you have dredged the marinated chicken in the flour set it on a wire rack and let it rest for 15 minutes. This will allow the flour to really set into the nooks and crannies of the chicken. This way the flour coating doesn't fall off as much in the frying process.
Cook Chicken First: It is so much easier and better to try to keep the chicken warm while you cook the waffles then the other way around. Heat your oven to 200 degrees and place the chicken on a wire rack on a cookie sheet and place in the oven when done frying. This will keep the chicken warm while waffles cook.
How To Serve Homemade Chicken and Waffles
There are multiple ways to serve chicken and waffles and none of them are wrong. It all depends on what you prefer, sweet, spicy, savory or all of the above.
Sweet: Straight up maple syrup or honey are favorite toppings for those who love the sweet combination. Adding the cinnamon honey butter also adds a bit of sweet and that lovely hint of cinnamon.
Spicy: If you like a little bit of heat add chili powder or even better chipotle chili powder to some of your honey or maple syrup and pour over it. You can also add a bit of your favorite hot sauce to the mix.
Savory: The Pennsylvania dutch serve their chicken and waffles with gravy. A basic chicken gravy, white gravy or flavored with a bit of spicy mustard all are awesome!
Storing Leftovers
Waffles: Leftover waffles that you will eat right away can be placed in a bag and kept at room temperature. You can also store leftover waffles in the freezer for up to 2 months.
Chicken: Keep leftovers in the fridge for up to 4 days. Reheat in the microwave or oven. Chicken can also be frozen and kept for 2 months. Thaw in the fridge and reheat as desired.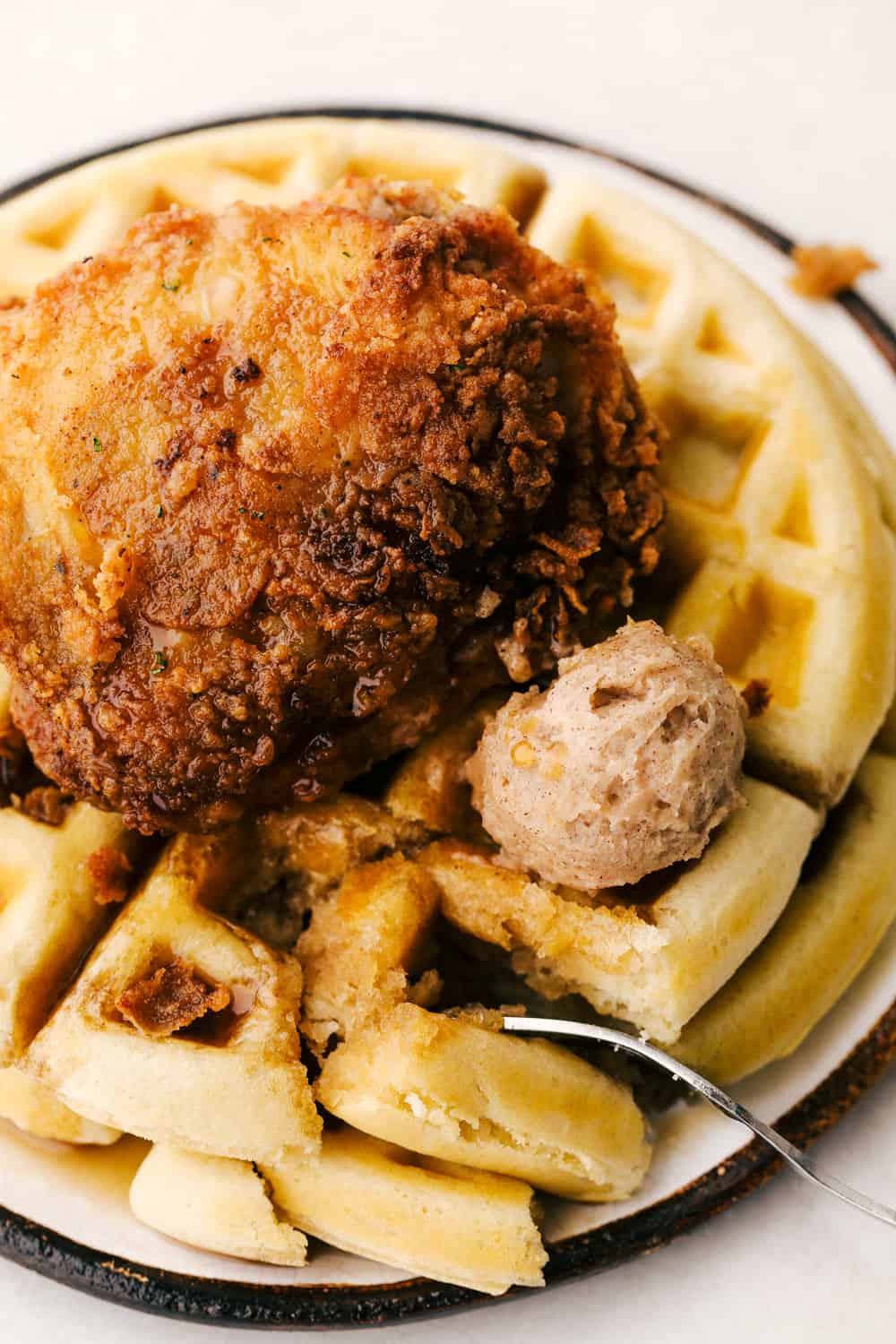 More Chicken Recipes to Try
Chicken is a favorite in our household. It doesn't matter how I cook it usually, they all love it. It is so versatile. Just about every cuisine out there has chicken dishes that amazing. Italian, Mexican, Chinese, and I could keep going. Chicken is a fairly healthy protein that is a go to for those who are striving to be healthier. When you need a good dinner that is filling and delicious reach for one of these favorite chicken recipes.