This website may contain affiliate links and advertising so that we can provide recipes to you. Read my privacy policy.
Shrimp Zucchini Boats with succulent pieces of shrimp and artichokes topped with parmesan cheese are a great low carb and tasty way to enjoy zucchini!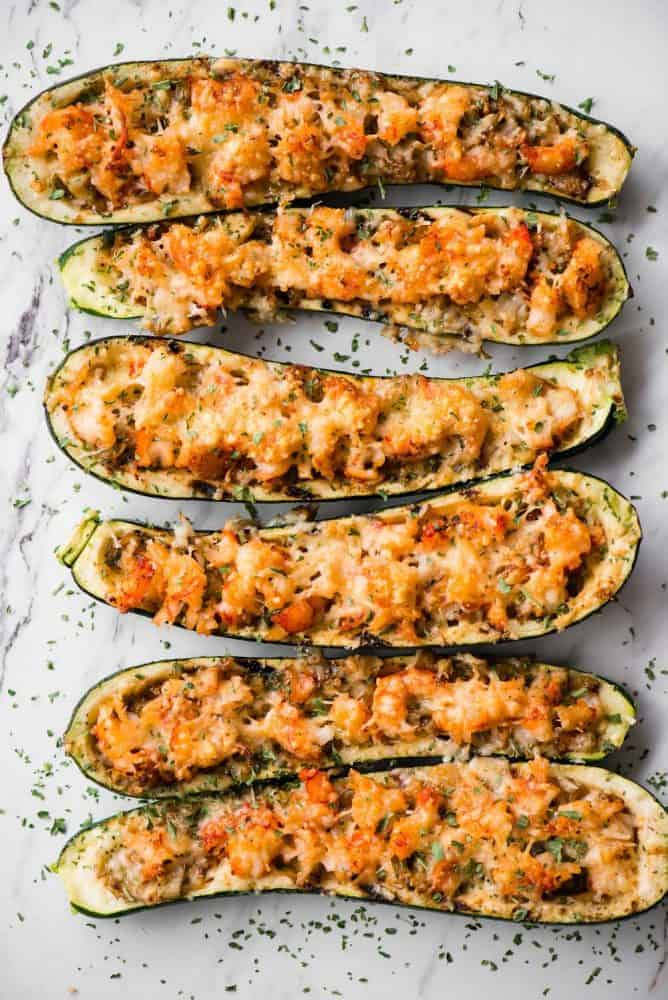 Shrimp Zucchini Boats
What a great way to use up all that zucchini from the vegetable garden! If you're like me and have more zucchini than you know what to do with, and have already made more zucchini bread and parmesan zuchini fries than you know what to do with, then it's time to make shrimp zucchini boats!
The possibilities are endless when it comes to zucchini boats. For this recipe, we kept things super simple and filled them with shrimp, marinated artichoke hearts, garlic, and parmesan cheese. I wanted to keep this shrimp zucchini boat recipe super simple, yet filled with flavor. The end result was a healthy, delicious, low carb and protein filled meal. This is a fantastic recipe if you're looking for a meal that will satisfy your taste buds while making you feel full.
What is a zucchini boat?
If you've never made zucchini boats, you'll find that it's a great way to use up zucchini from the garden.
A zucchini boat is basically a zucchini that has been sliced in half lengthwise. The inside gets scooped out, leaving behind a zucchini boat that you can fill with any filling you choose. For example, taco stuffed zucchini boats use the same concept but taste completely different when compared to these shrimp zucchini boats. I definitely recommend incorporating the zucchini you scoop out into the filling. Zucchini takes on the flavor of whatever you're cooking, so the possibilities are endless.
The best zucchini to use is medium size, about 8-10 inches in length. Zucchini that is smaller than that really tastes the best but should be saved for other recipes because it's not big or sturdy enough to hold the filling. Those super large zucchinis are best for grating to add to baked goods like bread and muffins.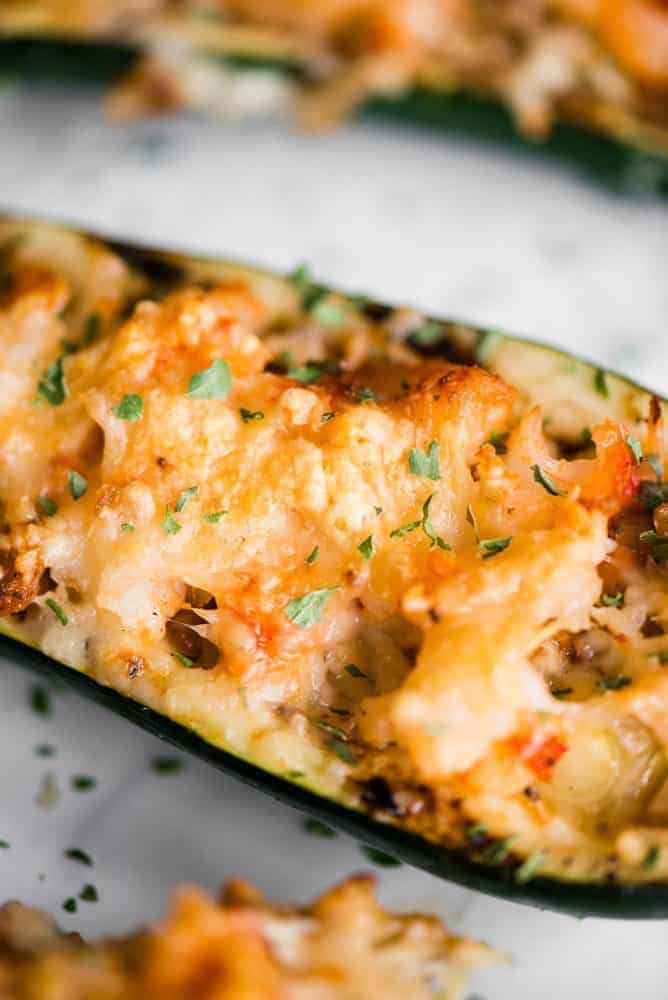 How to make shrimp zucchini boats:
This recipe is really simple, but does involve a couple different cooking steps.
First, you'll need to prepare the zucchini boats. This is done by slicing the zucchinis in half and scooping out the inside. I always roughly chop the zucchini I scoop out so that I can use it later. Then, you will season and oil the boats and cook them so that they're soft and tender, but still firm enough to hold the filling. I prefer to set them on a hot grill, but you can also do this step in the oven.
Next, you will cook the filling. For this shrimp zucchini boat recipe, I recommend cooking the shrimp first. You want to be sure to get a nice golden brown color without over cooking the shrimp, so medium high heat is best. You'll set the cooked shrimp aside and cook the zucchini chunks along with artichoke hearts and garlic.
Finally, you'll fill the zucchini boats with the vegetable filling and cooked shrimp. You can leave the shrimp whole, but I prefer the way it looks when the shrimp is torn into pieces. Topping the zucchini boats with grated parmesan will give them a great salty flavor as well as a nice golden brown top when you put them under the broiler.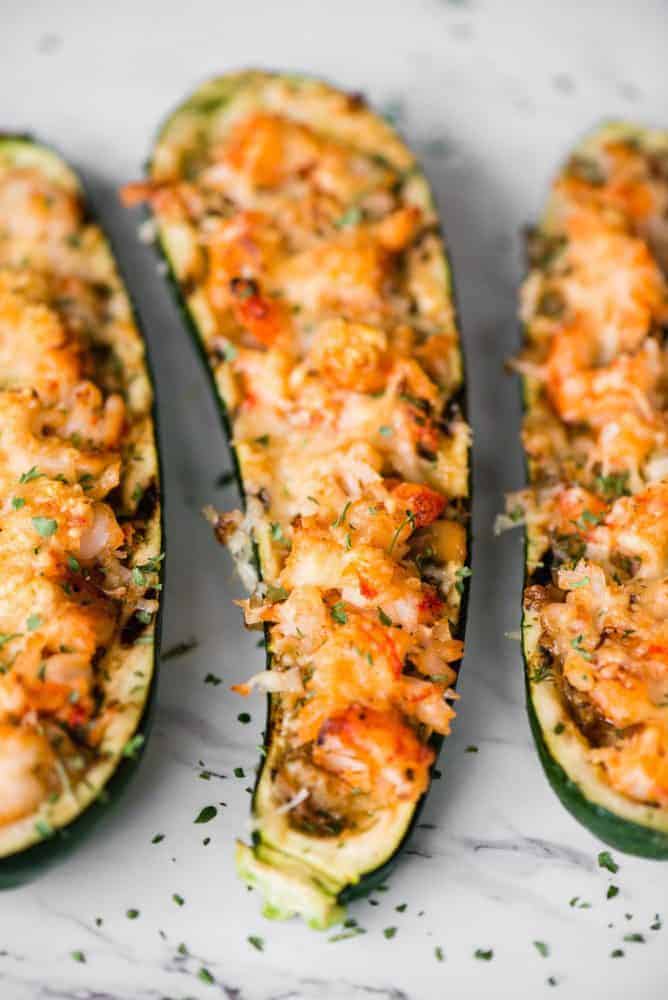 Love shrimp recipes? Then you'll have to be sure to make these: