Deviled Eggs are one of my favorite low-carb snacks, and these Shrimp Deviled Eggs will be a hit with anyone who loves sushi! Or use Dijon Mustard if you're not a fan of spicy Wasabi.
PIN Shrimp Deviled Eggs to try them later!
I can tell Easter is coming, partly because of all the people finding my post about Perfect Hard-Boiled Eggs. That post has a lot of ideas for using the boiled eggs that so many people have in the fridge after Easter.
But there's no doubt that my number one favorite thing to make with hard-cooked eggs is deviled eggs, and these Shrimp Deviled Eggs are really amazing. I love the touch of wasabi here, but you can definitely use Dijon if you're not a wasabi fan or don't want to buy it for one recipe. And go ahead and use more shrimp too if you're making this for a special occasion!
What ingredients do you need?
eggs (use eggs at least a week old if possible)
wasabi paste (affiliate link), or use Dijon Mustard if you're not a wasabi fan
small frozen shrimp, thawed
green onions
mayo
salt
Why is Wasabi good in the Shrimp Deviled Eggs?
Wasabi is a type of Japanese horseradish that's commonly served in Sushi restaurants to mix into the soy sauce before you dip your sushi into it. The spicy sharp taste of Wasabi is perfect in small amounts when it's eaten with all kinds of seafood. But you can also replace the Wasabi with a small amount of Dijon Mustard for this recipe if you're not a Wasabi fan or don't want to buy it.
Want more tasty ideas for deviled eggs?
Deviled eggs are one of my very favorite thing to make with hard-cooked eggs, and I shared all of My BEST Deviled Eggs in one post. And if you're a big deviled egg fan like I am, that recipe collection also has lots and lots of ideas for deviled eggs from other blogs around the web.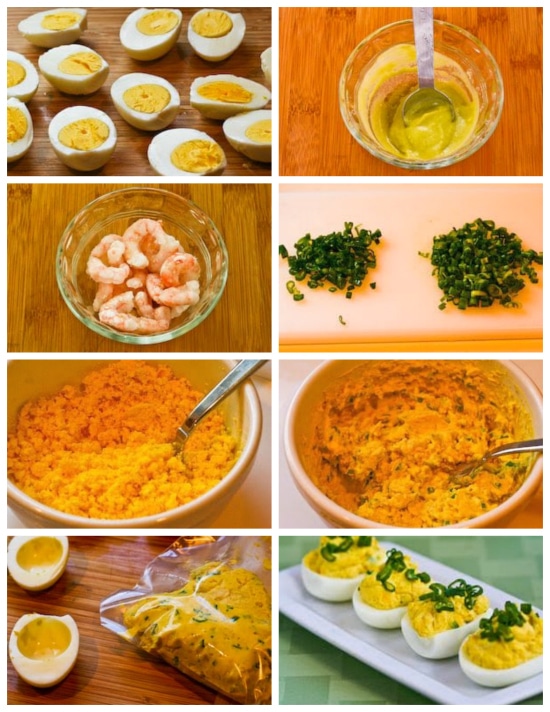 How to Make Shrimp Deviled Eggs:
(Scroll down for complete recipe with nutritional information.)
If you're planning to make hard-boiled eggs, I hope you've had them in the fridge for a few days, because eggs that are at least a week old are much easier to peel. Even when I use my method for perfect hard-boiled eggs, I usually manage to mangle at least one egg, but I like extra yolks in my hard-boiled eggs, so it all works out. 
The first photos shows the eggs when I started this recipe.
Wasabi is a type of spicy Japanese horseradish, commonly served with sushi. The wasabi sold in the U.S. is often just a mix of horseradish, mustard, and green food coloring, and for this recipe I used the wasabi powder you mix with water. If you have wasabi in a tube, I think it would be better, but you might use a bit less. If you don't have wasabi, or aren't a fan, use Dijon mustard instead.
I used small frozen shrimp, which thawed quickly while I was boiling and peeling the eggs. You can use canned shrimp, but I'd rinse the shrimp to make them less salty.
It's hard to tell in the photo, but I thinly sliced the green ends of four green onions, then I chopped about 2/3 of them to make 2 T finely minced green onions. I used the rest of the sliced onions as garnish. I love green onions, so use less than this if you're not as fond of them.
I used 6 boiled egg yolks to make 10 deviled egg halves, throwing away the two egg white halves that were the most mangled! I don't like lumpy deviled eggs, so I always mash the yolks finely with a fork before I add anything else.
Next I put 3 T mayo in a small dish and mixed in wasabi paste until it tasted about right to me. (For me that was 2 tsp. wasabi paste, but I'd start with a small amount and taste it.)
Then I mixed the wasabi mayo, chopped shrimp, 2 T finely minced green onion, and a tiny amount of Vege-Sal into the mashed egg yolks.
I'm not a cake decorator, so I don't have a piping bag. What I do is transfer the egg yolk mixture to a small size Ziploc bag, then cut off one corner and squeeze the egg yolk mixture into the egg white halves through that corner. This is so easy, and much less messy than trying to fill the eggs with a spoon.
Serve Shrimp Deviled Eggs garnished with the thinly-sliced green onions and enjoy!
More Recipes using hard boiled eggs:
If you have a lot of hard-boiled eggs, and you'd like to make something besides deviled eggs with your hard-boiled eggs, check out my post with Low-Carb and Keto Recipes using Hard-Boiled Eggs!
Ingredients
6 eggs (use eggs at least a week old if possible)
2 tsp. wasabi paste, use more or less to taste (I used 2 tsp. wasabi powder mixed with 4 tsp. water)
1/2 cup small frozen shrimp, thawed
4 green onions, green end thinly sliced (save white ends for another use)
3 T mayo
pinch of salt
Instructions
Remove eggs from refrigerator and put in warm water so eggs come to room temperature, then boil the eggs, following instructions for Perfect Hard-Boiled Eggs.
Cool eggs in cold water with ice cubes, then peel and cut in half.
Remove egg yolks and put in bowl.
While eggs boil, first thinly slice green onions, then finely mince about 2 T of them, leaving the rest for garnishing the finished eggs.
Check to see if shrimp is thawed (you can microwave on low for a few seconds if needed.)
Finely chop shrimp.
Put 3 T mayo into a small bowl, then mix in wasabi paste, a small amount at a time, tasting after each addition, until it is as spicy as you'd like it. (You can substitute Dijon for the wasabi if you prefer.)
In a larger bowl, mash egg yolks with a fork.
Then mix 2 T finely minced green onions, chopped shrimp, mayo-wasabi mixture, and  Vege-Sal or salt into mashed egg yolks.
Discard 2 egg white halves (I nearly always have at least one egg that gets mangled!) then arrange the other egg white halves on a cutting board so they're ready to be filled.
Use a rubber scraper to transfer the egg yolk mixture to a small plastic bag or piping bag. Cut off the tip of one corner if using plastic bag, then squeeze the egg yolk mixture into the egg white halves, until all the mixture is used.
Garnish each egg with some of the thinly sliced green onions, and serve.
Notes
Eggs will stay good for a day or two in the refrigerator.
Serving size for nutritional information is two deviled egg halves per serving.
Recipe created by Kalyn.
Nutrition Information:
Yield:
5

Serving Size:
1

Amount Per Serving:
Calories: 171Total Fat: 12gSaturated Fat: 3gTrans Fat: 0gUnsaturated Fat: 9gCholesterol: 257mgSodium: 393mgCarbohydrates: 3gFiber: 0gSugar: 1gProtein: 11g
Nutrition information is automatically calculated by the Recipe Plug-In I am using. I am not a nutritionist and cannot guarantee 100% accuracy, since many variables affect those calculations.
Low-Carb Diet / Low-Glycemic Diet / South Beach Diet Suggestions:
Shrimp Deviled Eggs are a great choice for any phase of the original South Beach Diet, or any other low-carb eating plan. South Beach would recommend light mayo but other plans will prefer full-fat, so take your choice on that!
Find More Recipes Like This One:
Use Appetizers to find more recipes for deviled eggs. Use the Diet Type Index to find recipes suitable for a specific eating plan. You might also like to follow Kalyn's Kitchen on Pinterest, on Facebook, or on Instagram to see all the good recipes I'm sharing there.
We are a participant in the Amazon Services LLC Associates Program, an affiliate advertising program designed to provide a means for us to earn fees by linking to Amazon.com and affiliated sites. As an Amazon Associate, I earn from qualifying purchases.