This website may contain affiliate links and advertising so that we can provide recipes to you. Read my privacy policy.
Shrimp foil packets bring you juicy, tender shrimp and veggies tossed in Cajun spices! These pack all the kick and amazing flavor of Cajun cooking without the mess!
Foil packets are so quick to prepare and make dinnertime super easy! Simplify dinnertime with my hobo, honey garlic chicken, and fajita foil packets.
Easy Shrimp Foil Packets
A shrimp boil is a dish that displays a medley of seafood, sausage, and vegetables, ultimately revolving around shrimp seasoned and cooked to perfection. Different regions in the south will make this dish a little differently, but I am going to show you my version simplified into one easy-to-make shrimp foil packet! I like to cover my shrimp boils in butter, olive oil, and Old Bay seasoning for easy preparation but big flavor. I also have some tips about making your own Cajun seasoning if you want to dial up the spice! Find them in the tips column below.
Bring a little southern flavor to your next dinner with this quick and easy shrimp foil packets recipe! You can make them on the grill, in the oven, or even over a campfire. You can also prepare these in advance for meal prep. Shrimp foil packets are so versatile and delicious, and combine the flavor of New Orleans seafood restaurants with the ease and cleanup of a foil packet.
What You Need to Make Grilled Shrimp Foil Packets
All you need is fresh seafood and a few spices from your pantry to put these mouthwatering shrimp foil packets to come together! For each measurement of ingredients, see the recipe card below.
Corn on the Cob: Cut into four pieces.
Baby Red Potatoes: You can leave these whole or cut them into pieces.
Jumbo Shrimp: Peeled and deveined.
Smoked Sausage: Sliced into small pieces.
Butter: Melted. I like to use salted butter for flavor.
Olive Oil: Adds moisture, helps everything cook perfectly, and binds flavor together.
Old Bay Seasoning: I like using Old Bay to season my seafood and vegetables, but you can also make your own. See below.
Salt and Pepper: To taste.
Parsley: Chopped, for garnish
How to Make The Best Shrimp Foil Packets
Making these shrimp foil packets is honestly so easy, you are going to love it. The whole family can join in on assembling their own packet!
Boil Corn and Potatoes: Bring a large pot of water to a boil. Add in the corn and baby red potatoes and boil for 10 minutes. Drain and add to a large bowl.
Toss Seafood and Meat in Sauce: Add in the shrimp, sausage, melted butter, oil and old bay seasoning. Toss until everything is coated and add salt and pepper to taste.
Assemble Foil Packets: To assemble, tear four pieces of foil and lay flat. Evenly distribute into the center of the foil and fold each side up into packets.
Grill: Preheat grill to 400 degrees. Add the packets to the grill and cook for 10-12 minutes flipping halfway through until shrimp is cooked throughout.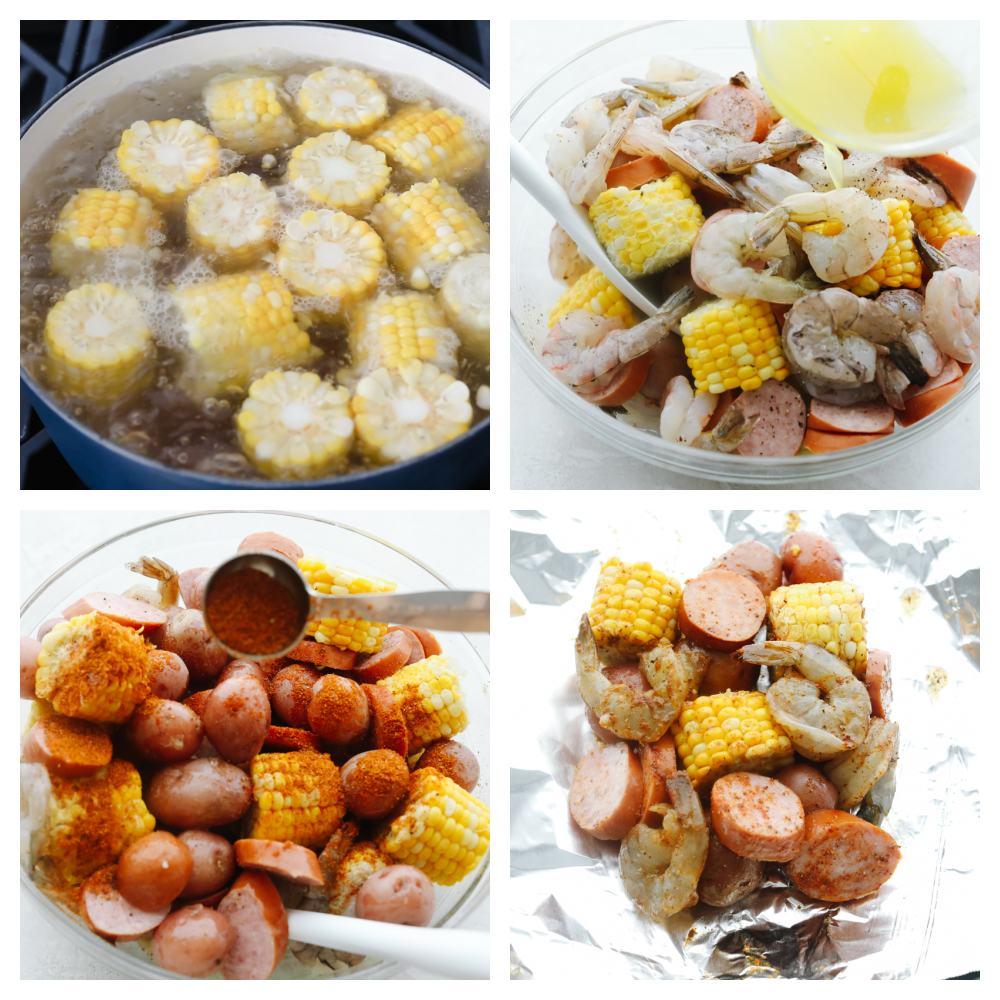 The Ultimate Shrimp Foil Tips and Tricks
Here are a few tips to level up this tasty dish! Make the best shrimp foil packets for dinner that everyone will enjoy.
Make Your Own Seasoning: Instead of using Old Bay seasoning, you can a blend of garlic and onion powder, thyme, oregano, salt and pepper as a base. Then for spice, add in paprika or chili powder. You can also finish off foil packets with your favorite hot sauce for more kick.
Add in More Seafood: You can add cuts of your favorite fish, crab, lobster, clams, and scallops to your Shrimp Boil packets for more perfectly perfectly tender, seasoned seafood.
Add in Other Veggies: Other vegetables I like to add to my packets are asparagus, bell peppers, potatoes, mushroom and okra.
Pat Shrimp Dry: Pat shrimp and other seafood in your packets dry before adding seasoning or sauce. This helps flavors stick to it better.
Sausage: I use smoked sausage in this recipe, but you can also use cajun sausage as a delicious substitute for more spice!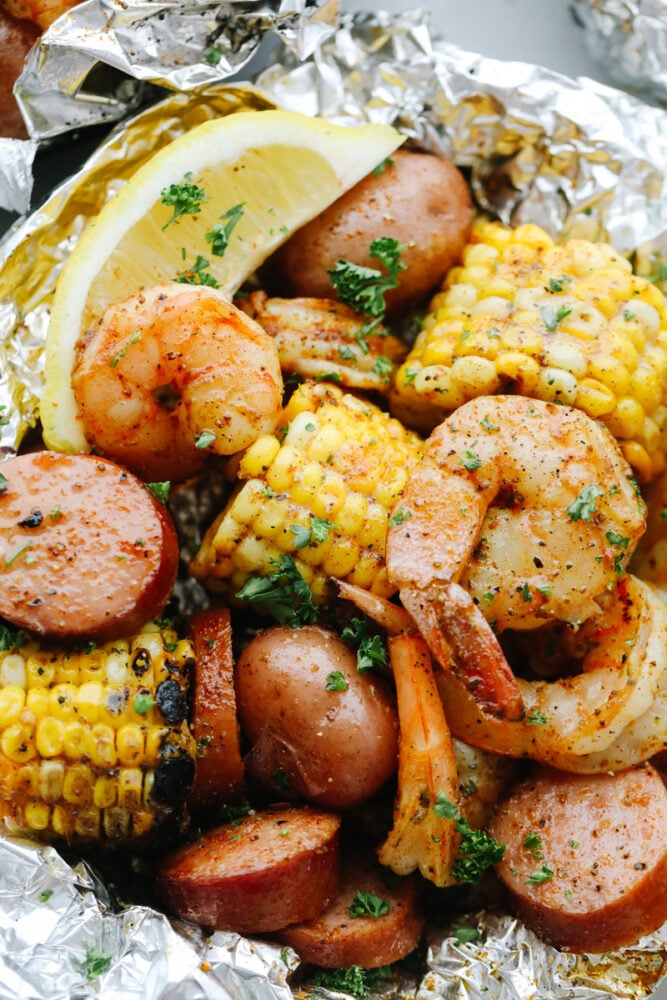 What to Serve With Shrimp Foil Packets
Make this a complete southern meal by serving your shrimp foil packets up with cornbread and hush puppies. I love the contrast between sweet, bread sides and spicy Cajun seafood. shrimp foil packets also taste amazing served with hearty sides like potatoes- both roasted and mashed. You can also serve them with pasta salad for light creamy flavor, or keep it simple and just serve with grilled vegetables for a healthy twist!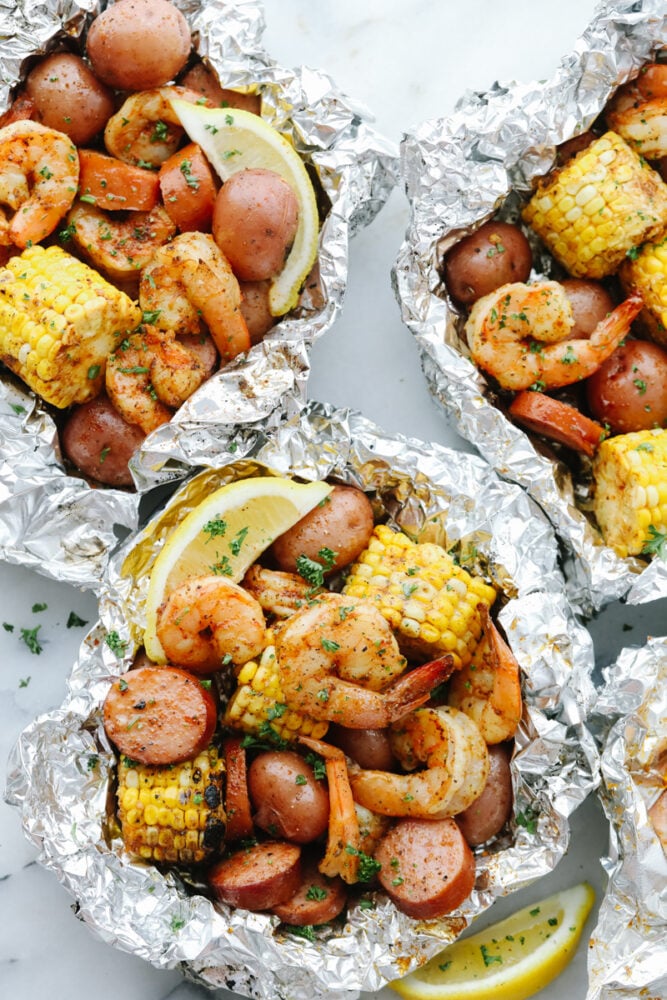 How to Store Shrimp Boil Foil Packets
These shrimp foil packets are just as easy to store as they are to cook!
In the Refrigerator: Keep your packets in an airtight container. Cooked shrimp will last for up to 4 days.
In the Freezer: For an easy meal prep, store uncooked packets in ziplock bags in the freezer for 3-6 months.
Reheating: Reheat cooked shrimp boil at 275 degrees Fahrenheit for 10-15 minutes.