This website may contain affiliate links and advertising so that we can provide recipes to you. Read my privacy policy.
Sheet Pan Teriyaki Chicken with Vegetables is made with tender chicken, crispy veggies with a flavorful sweet and tangy Asian sauce. A delicious dinner recipe that is super easy to throw together.
This sweet and tangy Teriyaki glaze is a favorite in our home. It goes well with several different recipes too. Try these Teriyaki Beef Skewers, Grilled Hawaiian Teriyaki Chicken Skewers, or Easy 20 Minutes Beef Teriyaki.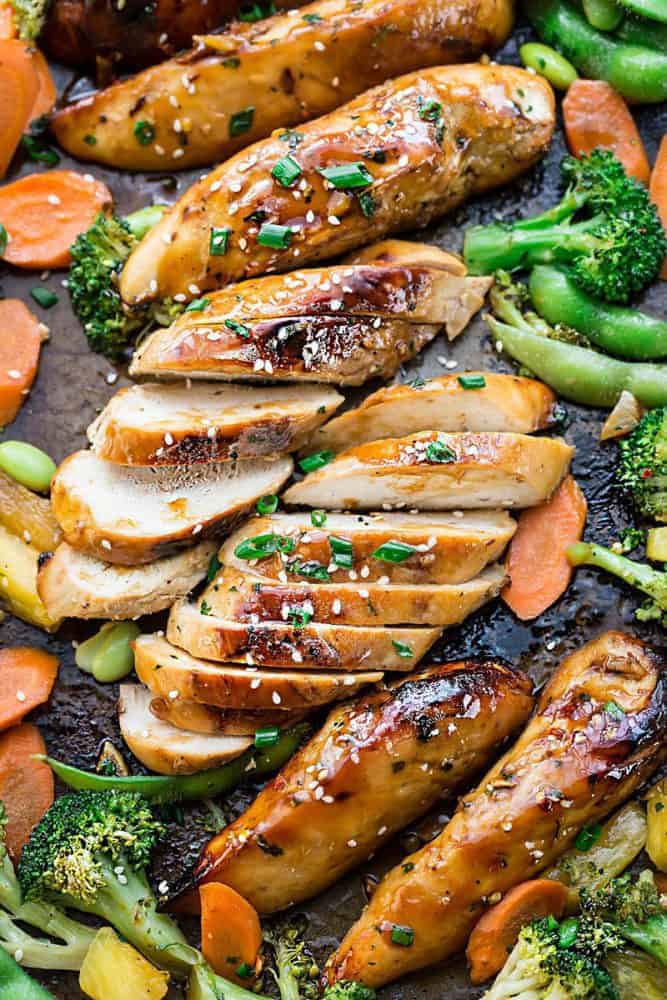 Sheet Pan Teriyaki Chicken and Vegetables
Sheet pan meals are the ones I turn to the most when I don't have a ton of time to prep before dinner starts. They're perfect for busy weeknights and you can toss in any veggies you like or have on hand. This Sheet Pan Chicken Teriyaki is one of our favorites and shows up regularly at our house. My family absolutely loves anything with a sweet, tangy, and savory combination and you get all of those amazing flavors with this simple homemade teriyaki glaze.
Everything cooks up on a sheet pan while soaking in the flavor-packed sweet and sticky glaze. The chicken stays nice and tender while the broccoli and carrots roast up caramelized and crispy. The best part about this dish is how little effort it takes, plus you've got one amazing meal your entire family will love! Enjoy it alone or serve it over your favorite rice or quinoa. Either way, you choose, it will be so much easier and healthier than takeout!
What you Need for Sheet Pan Teriyaki Chicken and Vegetables
Most of the ingredients are for the sauce, making your own teriyaki sauce is the best way to get the most flavor. Its easy to make so keep it this recipe on hand to use in other recipes like stir fry.
Low sodium soy sauce: This umami sauce creates the base for the teriyaki sauce. It's a must.
Honey: How much you add will depend on how sweet you like it.
Rice wine vinegar: This tangy zingy vinegar is a bit milder than apple and goes perfectly in the sauce.
Sesame oil: This is a finishing oil, so it will go perfectly as drizzle over the vegetables too.
Garlic cloves: Mince the garlic so it will release the flavor.
Grated ginger: Use fresh ginger for the best punch of flavor.
Cornstarch: Thickener for the sauce.
Water: You will mix this with the cornstarch so it will dissolve.
Salt and black pepper: to taste
Skinless chicken breasts: cut in half lengthwise (about 1 ½ pounds)
Broccoli florets: about 2 bunches
Sliced carrots: Use big carrots that you cut yourself, they will be more flavorful than baby carrots.
Additional vegetables: Add the vegetables your family will eat, see below for ideas.
Edamame beans and pineapple chunks: The pineapple chunks create a nice sweetness to the savory.
Green onions and sesame seeds: This optional for garnish but tasty.
How To Make Sheet Pan Teriyaki Chicken and Vegetables
This recipe is going to be easy and fast. Its savory, delicious, and divine.
Sauce: In a medium saucepan over medium heat, whisk together soy sauce, honey, vinegar, sesame oil, garlic, ginger, cornstarch and water until combined. Bring to a simmer, stirring frequently, until sauce thickens and bubbles. Remove from heat and set aside.
For the chicken and vegetables
Prepare: Preheat oven to 400°F. Line a large sheet pan with parchment paper or foil coated with cooking spray and set aside.
Chicken: Season each side of the chicken with salt and black pepper then drizzle spoonfuls of glaze over the chicken coating well on both sides. Reserve at least half of the glaze for later.
Bake: Cook in preheated oven for 20 minutes then remove the pan. Top chicken with additional glaze, flip chicken and glaze again.
Add Vegetables: Arrange the broccoli florets, carrots, edamame and pineapples in a single layer around the chicken. Season with black pepper and drizzle with ¼ teaspoon of sesame oil and teriyaki glaze and toss to coat. Return to the oven and bake for another 15-20 minutes, or until the chicken is cooked through and juices run clear.**
Serve: Remove pan from oven, slice chicken into strips and drizzle with remaining sauce. Serve over rice or quinoa and garnish with green onions and sesame seeds, if desired.
Tips For Teriyaki Sheet Pan Chicken
This is one of the easiest ways to feed your family. You are going to love how fast this is to make.
Chicken: This recipe calls for chicken breasts but you can use chicken thighs. The chicken breasts should be the same size and thickness so that they cook evenly.
Prep Ahead of Time: This is a great recipe to even marinade the ingredients in the sauce for that added flavor. After preparing it ahead of time you will want to leave it in the refrigerator overnight. I would recommend baking it within 24-48 hours of preparing it.
Meal Planning: This is a great way to have a healthy meal each day! I love meal plans and being able to enjoy them just by microwaving them up for a few minutes and have a delicious meal each day that is healthy and filling. On Sunday I love to prepare this sheet pan meal and divide it into 4 to 6 air-tight containers that I will store in the refrigerator. Each day I will open one up and microwave for about 3 to 4 minutes. Stir it up, then about 2 more minutes in the microwave. You do not want to overheat the chicken or it is too firm. If that chicken already feels warm after the first 3 to 4 minutes adjust the time so it is not overheated in the microwave.
What to Serve with Sheet Pan Teriyaki Chicken
I love a good rice to mix in with the vegetables and Teriyaki chicken. White rice, jasmine rice, brown rice or even wild rice work really well for this meal. Because you have a protein and vegetables all together you only need some fruit and dessert. Here are some ideas.
Vegetable Variations
Roasting vegetables is a wonderful way to eat them. This is a perfect way to use up vegetables from the garden or leftovers from other recipes. Try any of these as substitutes or combinations.
Asparagus
Cauliflower
Green Beans
Green, Red and Yellow Peppers
Mushrooms
Onions
Snap Peas
Water Chestnuts