Salt and Vinegar Kale Chips are a deliciously healthy way to eat your greens; make them in a toaster oven when it's too hot to use the oven.
PIN Roasted Kale Chips to try them later!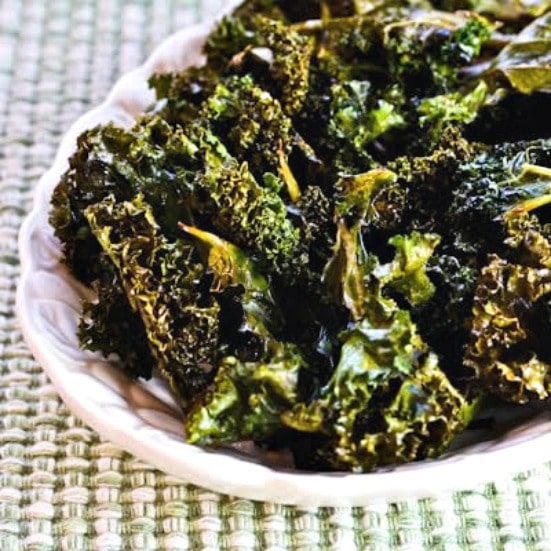 Countless other food bloggers have asked "Why did it take me so long to make kale chips?" so I'll spare you that and just say that now that I've finally made roasted kale chips myself, I see what the fuss is about. Not only are they full of nutritious goodness, but these Salt and Vinegar Kale Chips are delicious. If you don't believe roasted crispy kale leaves can be that special, I challenge you to try them and see what you think.
When I finally decided to try making kale chips, I found there were endless variations on the recipe, so I tested 6 slightly different versions before I came up with the recipe I liked best, where the kale chips are roasted for a longer time at a fairly low temperature. I wanted to make salt and vinegar chips, and I found I liked the kale best when the salt was added after roasting. I don't know if adding the vinegar made the kale chips turn more brown, but I didn't care how photogenic they were because I loved the taste. 
What are Kale Chips?
Kale chips are pieces of fresh kale that have been roasted until they are dried and crispy. They're really quite delicious for everyone who enjoys the flavor of kale.
What ingredients do you need for this recipe?
kale leaves
extra-virgin olive oil
vinegar (see notes)
sea salt to taste
How to make Salt and Vinegar Kale Chips:
(Scroll down for complete recipe with nutritional information.)
Start with a lovely bunch of curly kale. This was about six ounces, and since I was roasting it in my toaster oven (before the new stove arrived) that was just the right amount to fit on a small cookie sheet.
Cut away the inner ribs and discard, and then tear the kale leaves into same-size pieces. (I made my pieces about the size of a small potato chip.)
Here's how many pieces I got from the 6 oz. bunch of kale in the top photo.
I washed my kale in a salad spinner, and then spun it dry over and over, until the leaves were dry. If you don't have a salad spinner, I'd use paper towels to dry the leaves.
I used olive oil, Spanish sherry vinegar, and sea salt to flavor the chips, but I think any type of salt and vinegar that you like the flavor of would be fine.
I wanted to "massage" the kale leaves with olive oil to be sure they were well-coated, so I put the chips into a Ziploc bag, added half the olive oil, squished it around, added the rest of the oil, and then massaged some more.
Then I sprinkled in the vinegar, closed the bag, and shook it until the drops of vinegar were well-distributed on the kale pieces.
In all the directions, probably the most important thing is to arrange the kale pieces in a single layer on the pan so they aren't crowded when they cook. Here are my kale pieces when they started out in the 300F/150C oven.
Here are the chips after they roasted for 10 minutes.
This next photo is how they looked after 20 minutes.
They're a little more crispy after 30 minutes.
I let them cook five minutes more for a total of 35 minutes roasting time. Sprinkle with sea salt and eat immediately!
Ingredients
one bunch of kale leaves, about 6 oz.
1 T extra-virgin olive oil
1 T vinegar (see notes)
sea salt to taste
Instructions
Preheat oven to 300F/150C.
Cut away inner ribs from each kale leaf and discard, then tear the kale leaves into same-size pieces. (I made my pieces about the size of a small potato chip.)
Wash torn kale pieces and spin dry in a salad spinner or dry with paper towels until they're very dry.
Put kale pieces into a large Ziploc bag (or use a bowl if you don't mind getting your hands oily.)
Add half of the 1 T of olive oil, seal bag, and squeeze the bag so the oil gets distributed evenly on the kale pieces.
Add the other half tablespoon of oil and squeeze the bag more, until all kale pieces are evenly coated with oil and slightly "massaged."
Open the Ziploc bag and sprinkle the 1 T sherry vinegar over the kale leaves, then seal bag and shake to spread the vinegar out over all the leaves.
Arrange kale leaves in a single layer on a baking sheet, then roast until they are mostly crisp, about 35 minutes.
I checked every 10 minutes or so and turned some pieces over.
I also found I didn't mind if there were a few softer parts on some of the kale leaves, I liked the combination of crisp and softer parts.
When chips are done to your liking, sprinkle with a generous amount of sea salt and eat immediately.
Notes
I used Spanish sherry vinegar, but any vinegar you like the flavor of will work
This recipe adapted by Kalyn with inspiration from many other bloggers who also made kale chips.
Nutrition Information:
Yield:
3

Serving Size:
1

Amount Per Serving:
Calories: 57Total Fat: 5gSaturated Fat: 1gTrans Fat: 0gUnsaturated Fat: 4gCholesterol: 0mgSodium: 207mgCarbohydrates: 3gFiber: 1gSugar: 1gProtein: 1g
Nutrition information is automatically calculated by the Recipe Plug-In I am using. I am not a nutritionist and cannot guarantee 100% accuracy, since many variables affect those calculations.
Low-Carb Diet / Low-Glycemic Diet / South Beach Diet Suggestions:
Dark leafy greens have more nutrition per calorie than any other food source, and these roasted kale chips are a perfect snack for any phase of the original South Beach Diet or any type of low-glycemic or low-carb eating plan.
Find More Recipes Like This One:
Use the Recipes by Diet Type photo index pages to find more recipes suitable for a specific eating plan. You might also like to Follow Kalyn's Kitchen on Pinterest to see all the good recipes I'm sharing there.
Historical Notes for this Recipe
These Roasted Kale Chips with Sea Salt and Vinegar were first posted in March 2010. The recipe was last updated with more information in 2021.
We are a participant in the Amazon Services LLC Associates Program, an affiliate advertising program designed to provide a means for us to earn fees by linking to Amazon.com and affiliated sites. As an Amazon Associate, I earn from qualifying purchases.