I loved the smoked paprika in this Red Lentil and Chickpea Soup and this vegan crockpot soup also has onions and tomatoes.
PIN Red Lentil and Chickpea Soup to try it later!
I've been loving smoked paprika lately, an infatuation that started when my friend Margarethe sent me a recipe for Roasted Butternut Squash with Smoked Paprika. Then I got inspired about creating a crockpot soup with smoked paprika when I spotted a recipe for yellow split pea soup with smoked paprika in a cookbook. This Red Lentil and Chickpea Soup was one of those recipes where it took me a few tries to get it just right, but I served this version to my brother Mark and his wife Lisa when they stopped by on Saturday, and they both gave it a thumbs up. And no matter how much we long for spring, you know there'll still be more cold wintery days before warm weather arrives, so make this soup in your crockpot next time it's a cold day where you are.
What ingredients do you need for this recipe?
onion
olive oil
garlic
smoked paprika
sweet paprika
thyme
salt
black pepper
red lentils
chickpeas
vegetable stock
tomatoes
Can you make this soup with brown lentils?
You can make the soup with brown lentils of course. But red lentils dissolve more quickly and add amazing color to the soup, so I recommending using red lentils if you can.
Can you make this soup with chicken stock?
If you don't care about the soup being vegan you can definitely use chicken stock or canned chicken broth in this soup.
Love your slow cooker?
If you're still a slow cooker fan you can find lots of Slow Cooker / Instant Pot Recipes on my other site!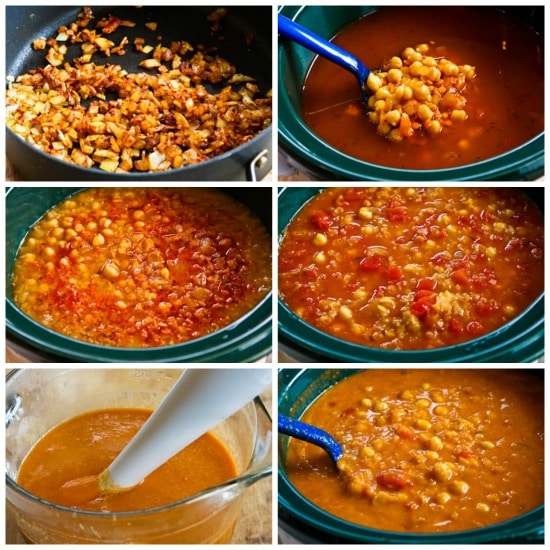 How to Make Red Lentil and Chickpea Soup:
(Scroll down for complete recipe with nutritional information.)
Saute a generous amount of chopped onion in olive oil, then add garlic, smoked paprika and other spices and cook 2-3 minutes more.
Add the onions and spices to the crockpot along with red lentils, chickpeas, and vegetable stock.
Let the soup cook for 2-3 hours on high, or until the lentils are very soft and starting to dissolve.
Add 2 cans petite diced tomatoes plus the juice and cook for 2 hours longer on high. The lentils and chickpeas should both be quite soft when the soup has cooked this long.
Remove about half of the soup and puree completely with an Immersion Blender (affiliate link), food processor, or blender. (This photo is a giant 8-cup glass measuring cup with about 4 cups of soup.)
Stir the pureed soup back into the CrockPot, season to taste with salt and fresh ground black pepper, let cook about 15 minutes more and serve hot.
If you're not vegan, this is good with a dollop of sour cream.
More Slow Cooker Soup You Might Like:
Slow Cooker Soup Index~ Slow Cooker or Pressure Cooker
Goulash Soup
Slow Cooker Ham and Cabbage Soup
Weekend Food Prep:
This recipe has been added to a category called Weekend Food Prep  to help you find recipes you can prep or cook on the weekend and eat during the week!
Ingredients
1 large yellow onion, diced small
1 T olive oil
1 T minced garlic
1 tsp. smoked paprika
1 tsp. sweet paprika
1/2 tsp. dried thyme
1/2 tsp. salt
fresh ground black pepper to taste
1 cup red lentils
2 15 oz. cans chickpeas, rinsed
5 C vegetable stock (see notes)
2 14.5 oz. cans petite dice tomatoes
Instructions
Heat olive oil in frying pan and saute the diced onion until it's soft and starting to brown lightly, about 5 minutes.
Add garlic, smoked paprika, sweet paprika, dried thyme, Vege-Sal, and black pepper and saute 2-3 minutes more, or until spices are fragrant.
Add onion-spice mixture to CrockPot, then rinse out the frying pan with 1 cup of the stock and add to crockpot along with red lentils, rinsed chickpeas, and rest of stock.
Cook on high for 2-3 hours, or until lentils are starting to soften and dissolve into the soup. (I cooked mine for 2 1/2 hours. Cooking time will depend partly on how old the lentils are.)
When lentils are starting to soften, add the 2 cans of diced tomatoes with juice. Cook for  about 2 hours more on high, or until the lentils and chickpeas are both quite soft.
Then remove about 1/2 the soup to a bowl (or the large 8-cup measuring cup I had worked perfectly.)
Puree the soup you removed using an immersion blender, food processor, or blender. (If you're using a food processor or blender, be very careful with the hot soup, pureeing in batches if necessary.)
Stir the pureed soup back into the soup in the CrockPot; taste and add more salt or fresh ground black pepper if desired. Let soup cook about 15 minutes more, then serve hot.
Notes
Use 3 cans vegetable broth and a little water if you want to use broth from a can. Please don't skip the Smoked Paprika (affiliate link) because it adds amazing flavor to the soup.
I used a 3.5 quart slow cooker (affiliate link).
I haven't frozen this soup, but I have no doubt that it freezes well, so make a double batch if you only have a big CrockPot.
Recipe created by Kalyn.
Nutrition Information:
Yield:
8

Serving Size:
1

Amount Per Serving:
Calories: 238Total Fat: 5gSaturated Fat: 1gTrans Fat: 0gUnsaturated Fat: 3gCholesterol: 0mgSodium: 630mgCarbohydrates: 38gFiber: 11gSugar: 7gProtein: 12g
Nutrition information is automatically calculated by the Recipe Plug-In I am using. I am not a nutritionist and cannot guarantee 100% accuracy, since many variables affect those calculations.
South Beach Diet / Low-Carb Diet Suggestions:
Red Lentil and Chickpea Soup is made with low-glycemic ingredients, approved for any phase of the original South Beach Diet. However dried beans and legumes are limited to 1/3 to 1/2 cup serving for phase one so unless you have a very small serving I would consider this phase two for the South Beach Diet. This is too high in carbs for low-carb diet plans.
Find More Recipes Like This One:
Use Slow Cooker to find more recipes like this one. Use the Diet Type Index to find recipes suitable for a specific eating plan. You might also like to Follow Kalyn's Kitchen on Pinterest to see all the good recipes I'm sharing there. 
Historical Notes for this Recipe:
This recipe was posted in 2011. It was last updated with more information in 2021.
We are a participant in the Amazon Services LLC Associates Program, an affiliate advertising program designed to provide a means for us to earn fees by linking to Amazon.com and affiliated sites. As an Amazon Associate, I earn from qualifying purchases.