This website may contain affiliate links and advertising so that we can provide recipes to you. Read my privacy policy.
This Queso Chicken Skillet has the potential to become your families new favorite weeknight dinner. Creamy queso melted together with tender chicken, diced chilis and tomatoes, all mixed into tasty yellow rice create the perfect cheesy dinner.
Skillet meals are the perfect easy addition to your weeknight menu. For more low prep recipes with little cleanup after, try this Creamy Skillet Chicken Cacciatore, Unstuffed Pepper Skillet, or this Italian Orzo and Sausage Skillet and you'll be guaranteed an easy and delicious evening.
Queso Chicken Skillet
With trying to fit in plenty of pool dates, trips to the beach, and loads of outdoor fun our summer is filled to the top with low-key activities. In the evenings I'm left with as little time to prepare dinner as I have during the school year so I'm always in search of an easy meal. Skillet recipes, such as this perfectly cheesy Queso Chicken Skillet, fall under this category and everyone in my family, myself included, is happy about it.
With so much delicious cheese, one of which is homemade queso, filling your skillet you can easily sneak some healthy vegetables into your dish that will go unnoticed. In this Queso Chicken Skillet are diced tomatoes and green chilis, but don't stop there! You could easily add in some poblano peppers, bell peppers, or even some riced cauliflower and no one will notice.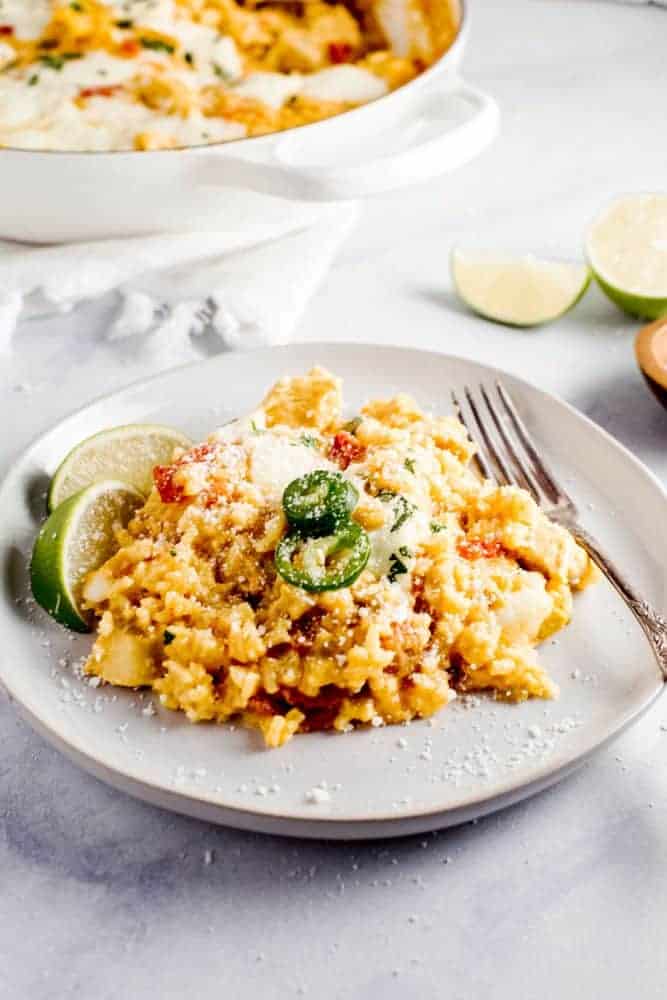 How to Make Queso?
Queso dip often knows as "chili con queso" or "queso blanco" dates back more than 100 years and has virtually zero Mexican roots, however, if you're of Texan decent or a tex-mex connoisseur than those roots run deep. There are also many variations of preparing queso all of which are right, depending on with whom you're speaking. Most of these recipes also call for only 2 ingredients, which can be the differing factor of right or wrong.
The queso in this Queso Chicken Skillet is made using white American cheese and heavy cream. By melting the cheese together with the cream you end up with a white creamy cheese dip known as queso.
What is Yellow Rice?
Yellow rice is a traditional yellow-colored rice dish of Spanish, Cuban, Peruvian, Carribean, and the list goes on cuisines. Made with spices such as annatto, saffron, and turmeric, which gives it the yellow color. In the rice section of most grocery stores, you easily find yellow rice already packaged with the spices. However, if you'd prefer different rice you can easily swap this version for another kind such as basmati or jasmine.
How to Add More Vegetables
Since I'm always preparing meals for my family adding in vegetables, even if they are covered in cheese, is a goal of mine. Above I mentioned adding in some additional peppers, and even riced cauliflower, but here are some more options (not all listed are vegetables).
Zucchini
Yellow Squash
Corn
Onions or Shallots
Artichoke Hearts
Banana Peppers
Red Kidney Beans or Black Beans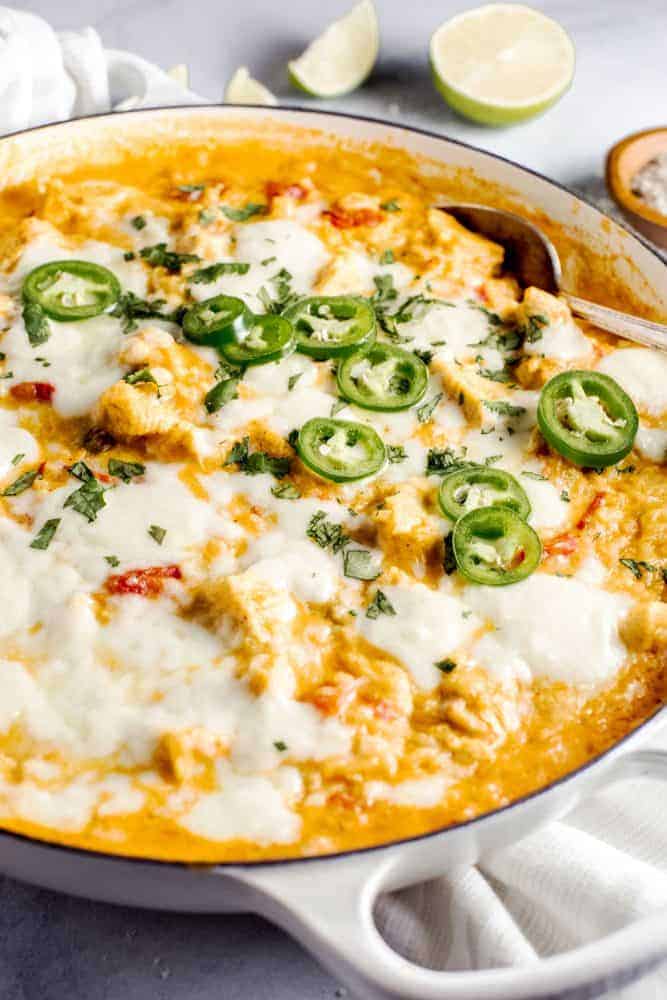 Craving More Tex-Mex Recipes? Try out these: