If you love prawn recipes, these prawn fritters are for you! Inspired by Japanese savoury okonomiyaki or Korean seafood pancake, these prawn or shrimp fritters with green onions and zucchini will be a total hit as finger food, appetizer, or as the main component of your dinner meal.
Served with spicy Sriracha mayonnaise, these little savoury pancakes are gluten-free, paleo, Whole30 and tree nut-free (great for lunchboxes). I hope you like them! Let me know in the comments and don't forget to rate this recipe.
---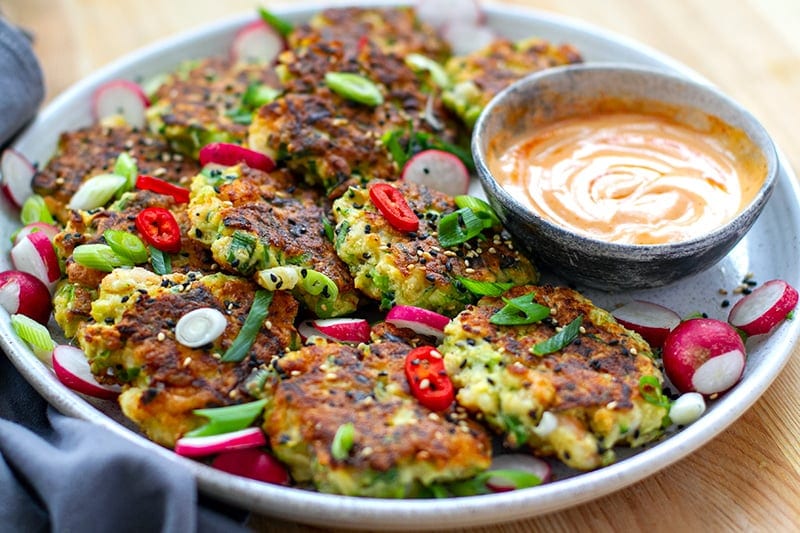 Prawn Fritters or Prawn Pancakes?
There is a really lovely seafood pancake dish I like to order at our local Japanese/Korean restaurant. It looks like a long savoury pancake, cut into squares and it's made with prawns/ shrimp, squid and scallops as well as a generous amount of green onions (scallions) and Asian aromatics. It's served with a simple soy sauce-based dipping condiment and chillies.
I've always wanted to recreate a healthy version at home with a handful of readily-available ingredients. I decided to use frozen raw prawns (or shrimp, depending on where you are) but to keep it more affordable, I mixed in some grated zucchini to fatten up the batter, so to speak.
To be honest, I don't know if I should call these prawn fritters or prawn pancakes. They're somewhere in between. One thing I am sure of is that they are delicious and super easy to make. I love them because they have a good ratio of protein, carbohydrates and fat to keep you satiated.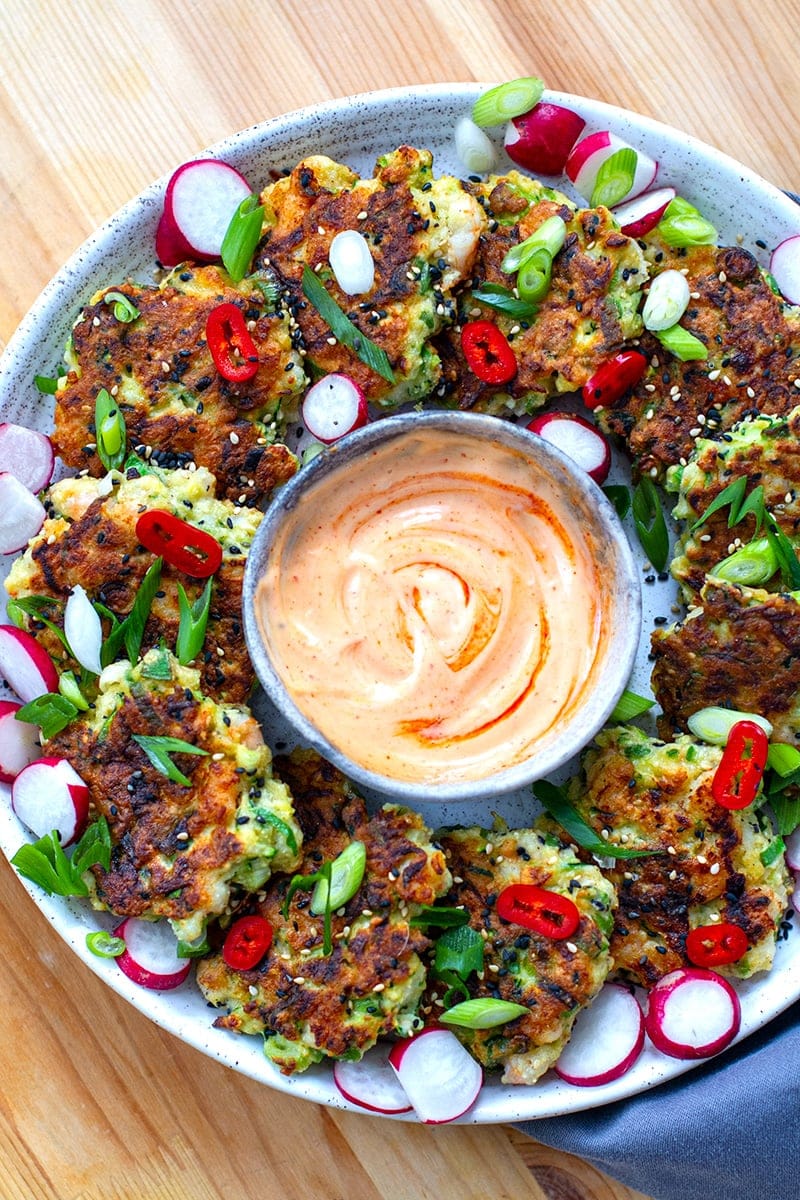 How To Make Prawn Fritters
The batter consists of chopped green onions (both white and green parts), aromatics like ginger, garlic and green chilli, prawn meat (simply chopped raw prawns or shrimps) and grated zucchini.
The rest is eggs, coconut flour and cassava flour to bind it all together and to give the fritters some extra body and fluffiness. Unlike tempura fritters or deep-fried fritters, which are more crispy throughout and have less batter, these prawn fritters are crispy on the outside but soft on the inside.
They are fried in a lot less oil than a deep-fried version making them lighter in calories (for those concerned). They only need 3 minutes on each side in a medium-hot pan.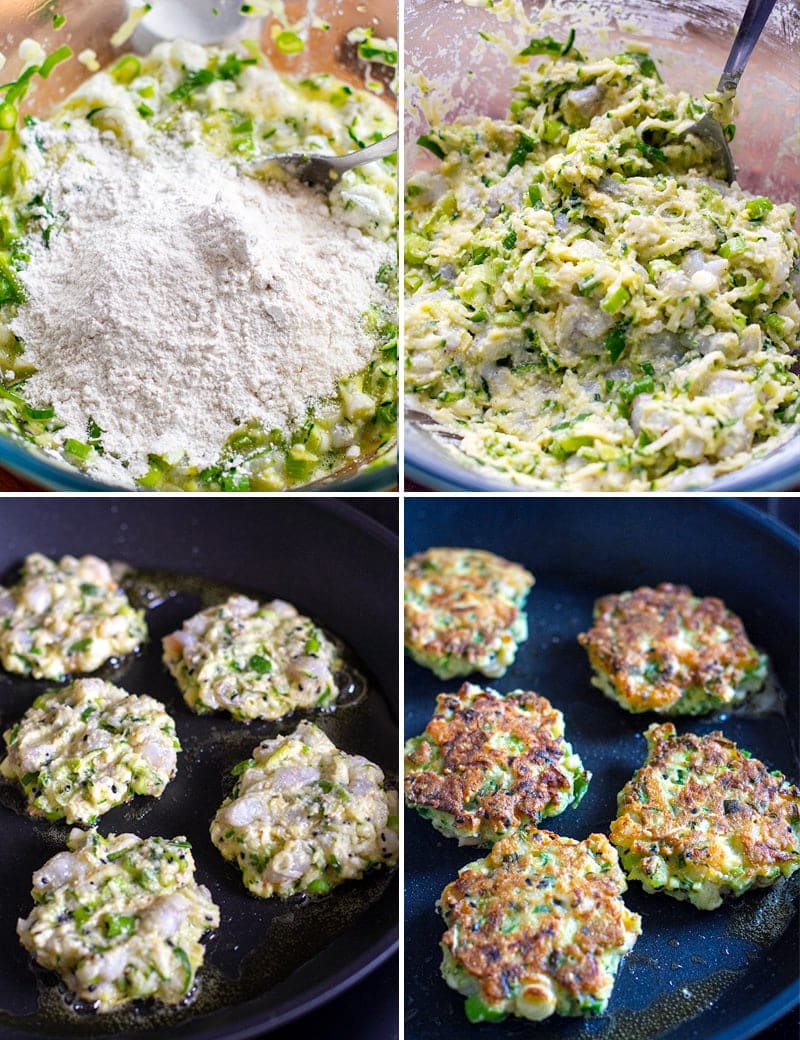 What To Serve With Prawn Fritters
Here are a few ways you can enjoy these Asian prawn fritters.
Sriracha Mayo
The sauce is dead easy with out-of-fridge mayo mixed together with some spicy Sriracha sauce. You can also use another type of hot sauce or mix in some wasabi, horseradish, hot mustard or anything else spicy you have on hand. Garlic aioli will also work well.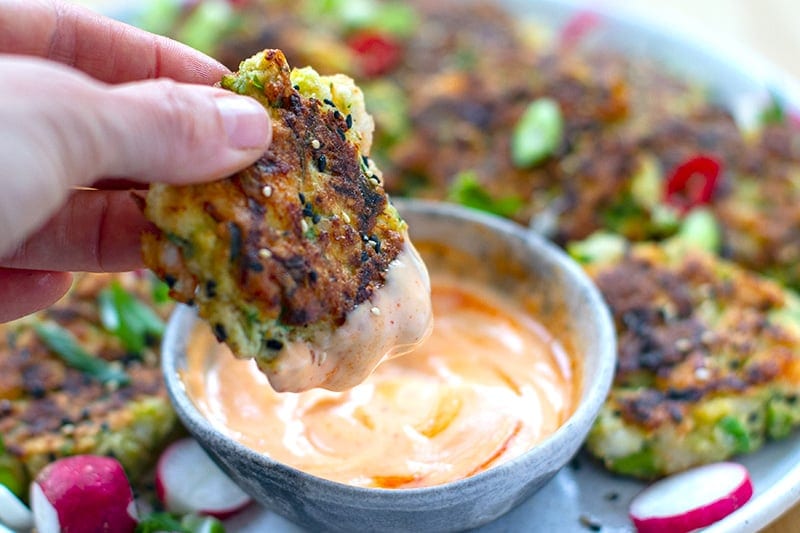 Other Sauce Options
And, if you wanted to go with a lighter condiment, you could mix some Tamari soy sauce or coconut amino with a little sesame oil and lemon juice. For a kick, add a little grated ginger and chopped chili. You can also serve ready-bought sweet chilli sauce or a simple drizzle of Sriracha. 
Side Dishes
If you're serving these shrimp fritters as finger food or an appetizer then all you need is a dipping sauce. If you want to turn these into a meal, serve them with a side of Asian greens or broccoli and either a side of regular rice or rice noodles or cauliflower rice/zucchini noodles for a low-carb version.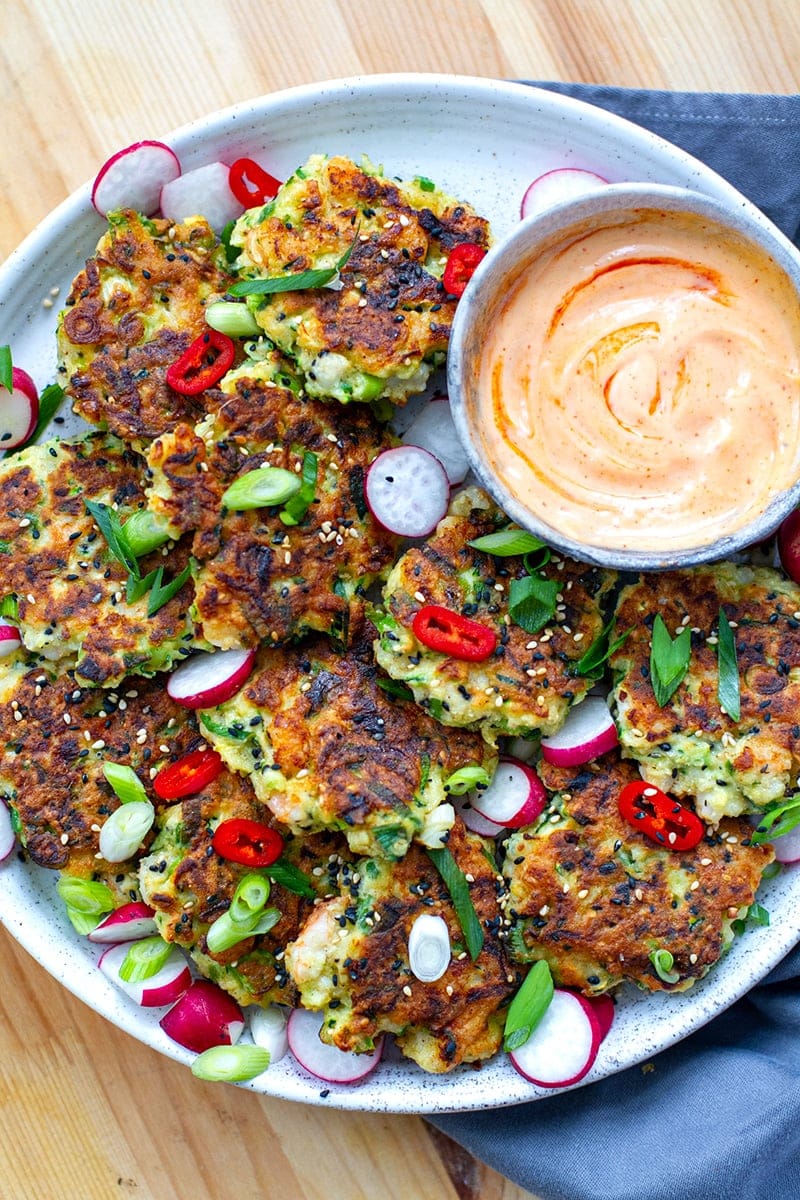 More Asian-Inspired Recipes
Print
---
Description
These tasty prawn fritters with green onions and zucchini will disappear so fast, you won't have a chance at seconds. Made with raw prawns or shrimp (I used frozen raw prawns), eggs and gluten-free flours, these pancake-like fritters are served with a super simple spicy mayo sauce on the side. This recipe is paleo, Whole30, grain-free.
---
---
Combine diced green onions, ginger, garlic and chili in a mixin bowl and set aside.
Dice the raw prawns or shrimp into small pieces with a knife. Each shrimp into 4-5 pieces and transfer to the bowl.
Grate the zucchini, then squeeze in batches over a bowl or a sink to get rid of some excess juice. Return the flesh to the mixing bowl. You can discard the juice or use it to make my zucchini juice shots.
Add the eggs, season with salt, pepper and fish sauce and mix well.
Add the baking powder and flours and combine into a thick batter.
Heat a large skillet/frying pan over medium-high heat. Add 2-3 tablespoons of olive oil and once hot, add the batter as small pancakes to the pan (a heaped tablespoon or so per fritter). Flatten the tops with a spatula. Cook for 3 minutes each side and transfer to a plate.
Add a little more olive oil and repeat with the remaining mixture. You should get about 12 fritters.
In the meantime, mix the hot sauce and mayonnaise in a bowl and set aside. Prepare the garnishes if using.
Serve the fritters with the hot mayo sauce on the side.
---
Notes
Whole30/Paleo: Use compliant brand sauce insted of regular Sriracha, such as this.
Flour: If no allergies or not avoiding grains, you can use 2/3 cup regular flour instead of coconut flour and cassava flour.
Serving size varies on whether you're making this as an appetizer or as part of the main.  I reckon 3 fritters per person as an appetizer and 4 fritters as part of the main meal. Nutrition breakdown is per fritter with a little saue so you can decide how many you want to have.
Nutrition
Serving Size:

1 fritter + 1/2 teaspoon sauce

Calories:

106

Sugar:

1.1 g

Sodium:

210.6 mg

Fat:

7.6 g

Saturated Fat:

1.4 g

Carbohydrates:

4.8 g

Fiber:

1.1 g

Protein:

5.5 g

Cholesterol:

58.4 mg
Keywords: Shrimp, Scallions, Japanese, Korean, Pancakes
Save These Prawn/Shrimp Fritters To Pinterest