This website may contain affiliate links and advertising so that we can provide recipes to you. Read my privacy policy.
These Air Fryer Chicken Legs is every kids' dream come true. Everyone always wants to eat the legs, especially the kiddos. With this recipe there will still be fighting over who gets the last drumstick!
These crispy chicken legs will be perfect served with Beans, Corn Casserole, Brussel Sprouts or Potatoes. An ideal meal for any occasion!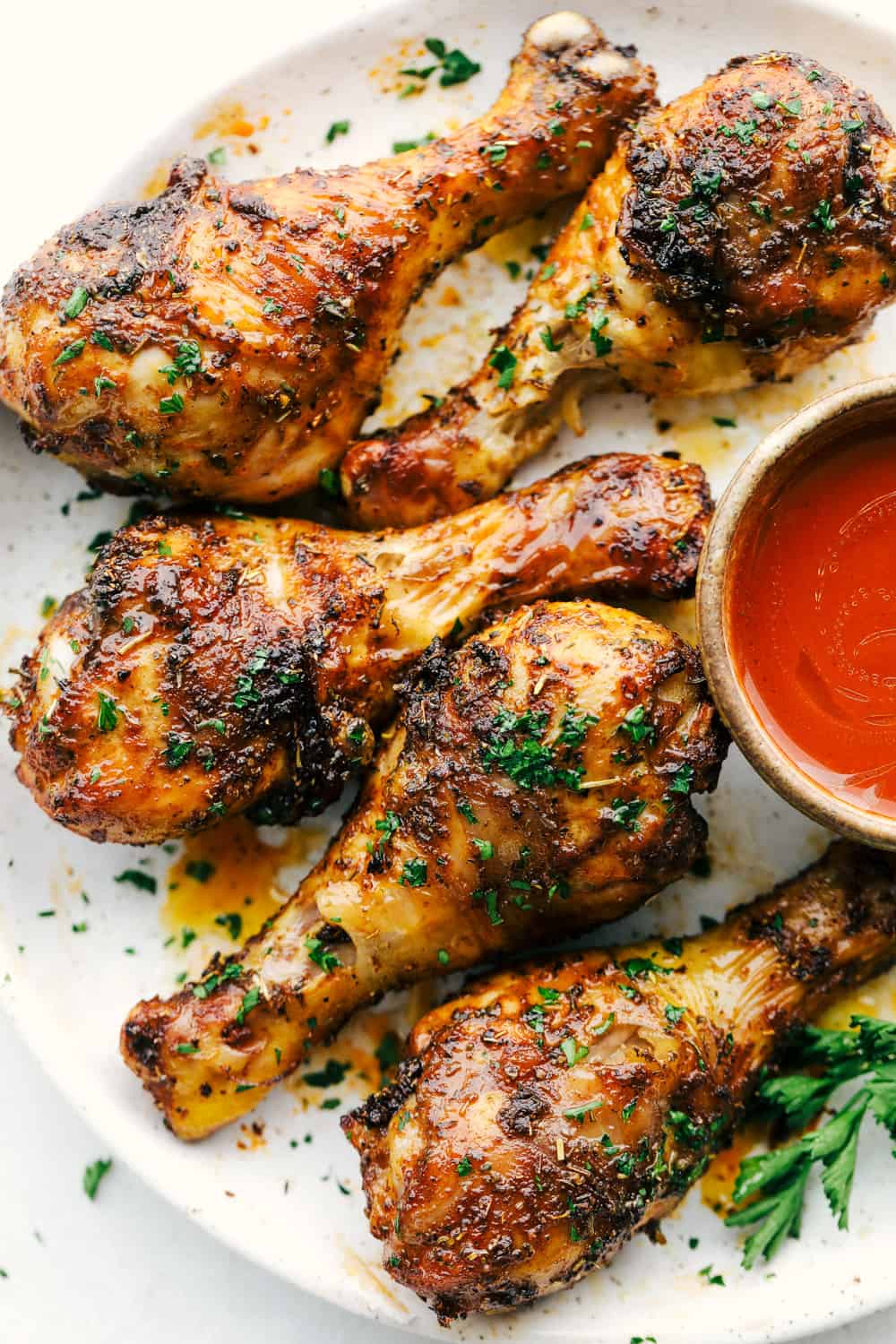 Air Fryer Drumsticks
These air fryer chicken legs are so amazing! You don't have to freeze outside to grill them, or make a huge mess in the kitchen pan cooking them. Air Frying is changing the cooking world! Air frying chicken legs are the best because it is all contained in the air fryer, that sits on your countertop. This frees up your oven to make the Potato Wedges or the Funeral Potatoes to go with the legs.
The circulating air creates succulent crispy outsides and tender juicy meat inside. The seasoning is savory with a hint of sweet. It is SO good! Everyone loves chicken legs, they are easy to hold on to and eat. They give you an excuse to eat with your fingers too! These chicken legs have become my kids' favorite dinner. They can eat with their hands and love the tender, juicy chicken taste. This air fryer recipe is so outstanding, you will have to plan to make extras!  Try them tonight!
What You Need For Air Fryer Chicken Legs
Look for Chicken Legs in the meat section of your grocery store. You can usually find packs of just chicken drumsticks near the other chicken parts.
Chicken Legs: You will want the skin on these. It creates that crispy outside shell that everyone loves.
Paprika: Adds flavor and color to the drumsticks.
Italian Seasoning: A perfect blend of seasoning to go right on top.
Brown Sugar: Adds a little bit of caramelization and sweetness to each leg.
Salt and Pepper: Add to taste!
Olive Oil: This helps the seasoning stick to the chicken and gives it a nice crisp skin once air fried.
How To Make Chicken Legs in the Air Fryer
This couldn't get easier! Toss it all together and then hands off. No need to babysit the grill or pan. Just flip Cook the legs once and you will have dinner on the table in no time.
Prep the Chicken: Pat dry the chicken legs with some paper towel. Place then in a medium sized bowl.
Spice it up: In a smaller bowl combine the paprika, Italian seasoning, brown sugar, salt and pepper.
Combine it: Add the olive oil to the bowl of chicken and then sprinkle with the seasonings, tossing until fully coated.
Bake it: Place the chicken legs skin side down in the basket of the air fryer. Cook at 380 degrees for 10 minutes. Flip after 10 minutes and continue to cook for 7-8 more minutes until no longer pink and the internal temperature is 165 degrees Fahrenheit.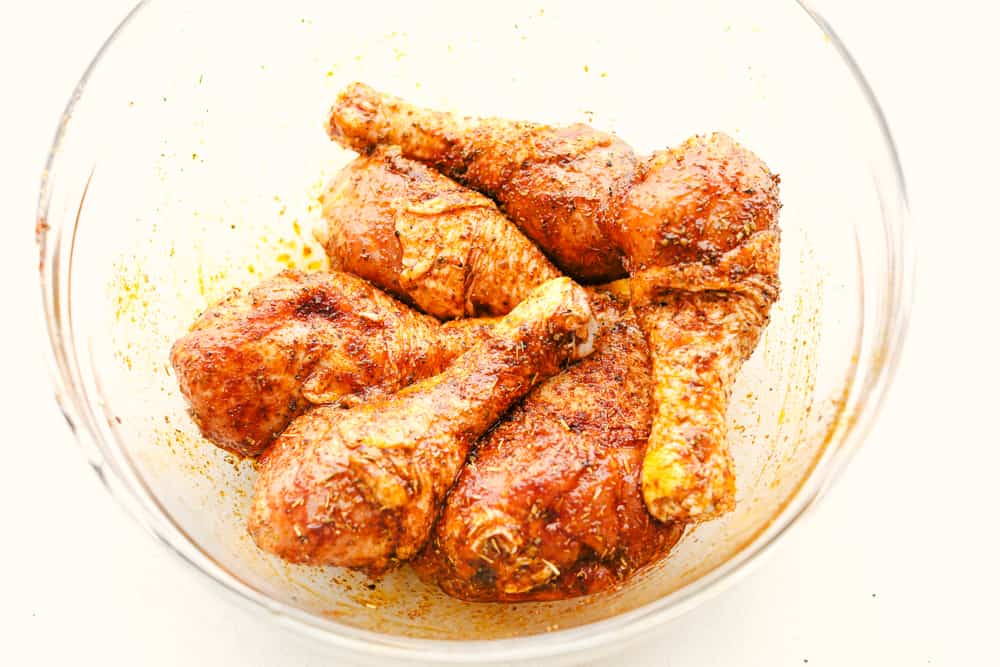 Why You Need Air Fryer Chicken Drumsticks in Your Life!
Just in case your really wondering if you should make these or not, I'm here to tell you, you do!
Less Mess: Air Frying drumsticks in the air fryer keeps the mess contained instead of all over your grill or stove top. Love it!
Fast and Easy: Cook your drumsticks in half the time and get superb results.
Even Cooking: The circulating air in the fryer cooks the legs evenly without over charring the outside. It's just first-rate!
Healthier: With little to know oil needed, it's a healthier way to get your protein. Especially if you are  trying keto or a low carb diet. It's a healthy way to get that "fried" taste and texture without the oil.
Cheap: The last time I checked chicken legs were one of the cheapest meats you could buy, talk about eating gourmet on a budget!
Fun: Ok, I've mentioned this before but seriously air fryer chicken drumsticks are one of the most fun things to eat. So dig in!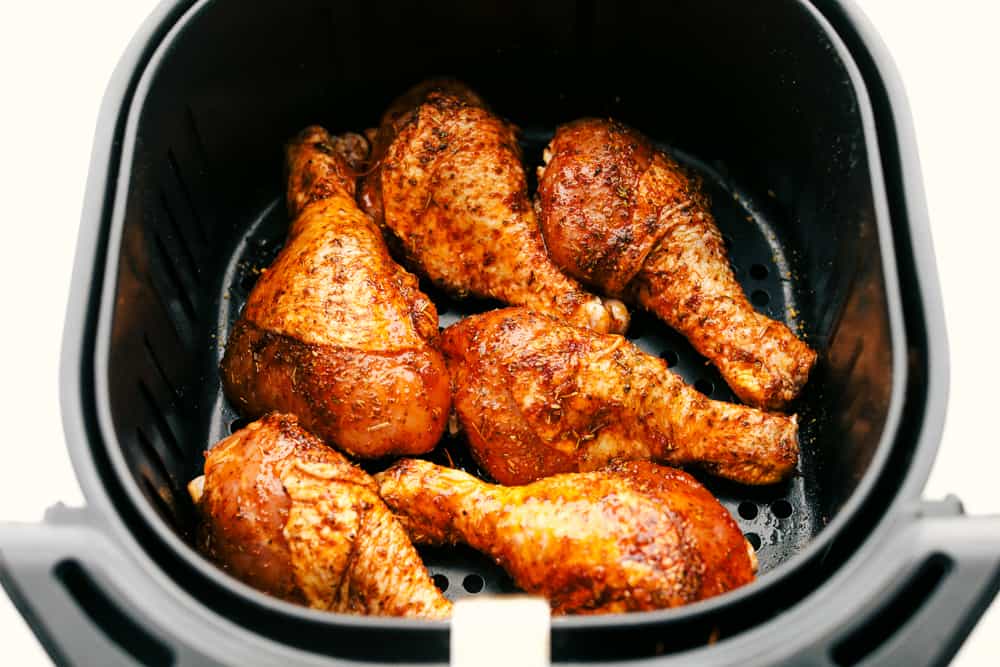 Tips for Air Fryer Drumsticks
You will want to make sure these are unbelievable but since you are air frying, that will be easy!
Know Your Air Fryer: Temperatures and timings can vary depending on your air fryer. How many chicken drumsticks you can fit will also make a difference. Be sure to check and monitor your chicken legs so you don't overcook or undercook them. Adjust accordingly.
Check the Temperature: You will need to check the internal temperature to make sure these air fryer chicken legs are safe to eat. Insert a thermometer in the thickest, fleshiest part of the drumstick, making sure it's not touching the bone. The temperature should read 165 degrees.
Let it Rest: It's always a good idea to let meat rest before cutting into it. It allows the meat to reabsorb and redistribute the moisture within the meat and allows meat fibers to become more tender.
Variations for Chicken Drumsticks
The wonderful part about this air fryer recipe is that it is so customizable. Use different spices, sauces and make these chicken legs your own special legs. Just like these Air Fryer Chicken Wings, they will be just as awesome!
Rubs: There are so many different spices you can use for these air fryer legs. Besides taco and ranch seasoning there are a whole bunch of varieties you can mix up. Chili powder, smoked paprika, garlic powder, onion powder, basil, oregano, rosemary, thyme, ground mustard and celery seed just give you a few ideas.
Sauces: The air fryer chicken legs don't need a sauce, but sometimes you just want a sauce. If you want to add a sauce to the chicken while it cooks like BBQ Sauce, wait to add it to the chicken till the last 2-3 minutes of cooking. Slather the chicken legs in BBQ sauce then finish cooking. Other sauces you'll want to reserve for dipping. For instance Ranch dressing, Hot sauce, Cheese Sauce, YUM YUM Sauce, a honey mustard or your favorite Asian sauce all will work with these air fryer chicken legs.
Store: These will keep for 4-5 days in the fridge and up to 3-4 months in the freezer. To reheat the chicken legs, let them thaw in the fridge and reheat in the microwave or for a few minutes in the air fryer.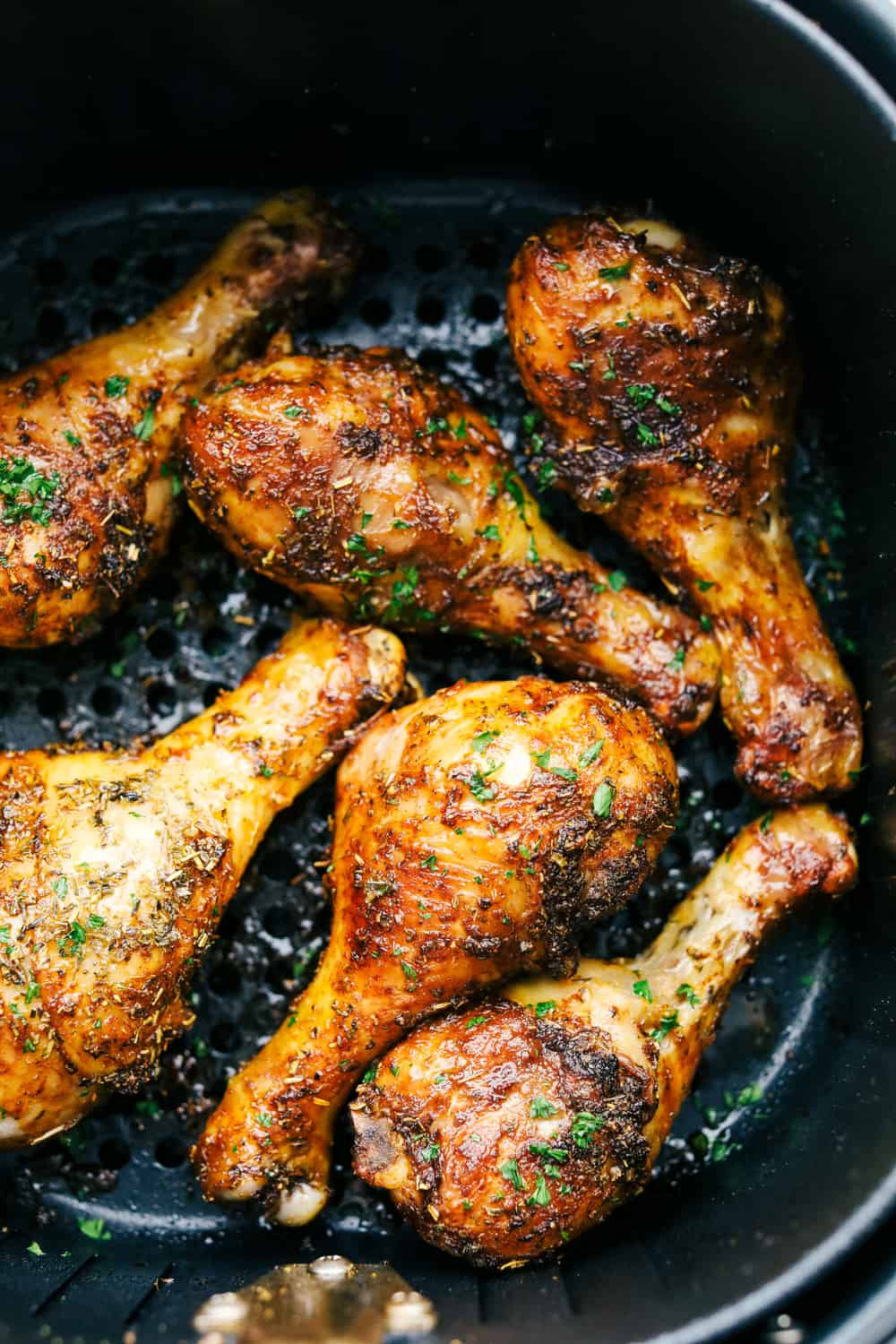 Let's Make More Chicken!
Chicken is one of the best proteins out there. It is convenient, cheap and extremely customizable. It is a healthy protein when you're trying to clean up the diet a bit and it's one of those foods that kids always seem to like. With its mild flavor, juicy tender texture, chicken is an ideal choice for any meal. Try making one of these incredible recipes today.