This website may contain affiliate links and advertising so that we can provide recipes to you. Read my privacy policy.
No Peek Chicken and Rice Casserole is full of comfort and tender, fall apart chicken overtopping a flavorful rice that makes this meal a family favorite! Baking to perfection with the warm, steam cooking the chicken and rice to perfection.
One pan made simple and quick for your family dinner that will have everyone asking for more. This Chicken and Rice combination is filling, full of love and comfort. If you are looking for more chicken casseroles try this Chicken Tetrazzini Casserole, Pesto Alfredo Chicken Casserole or The Very Best Poppy Seed Chicken Casserole.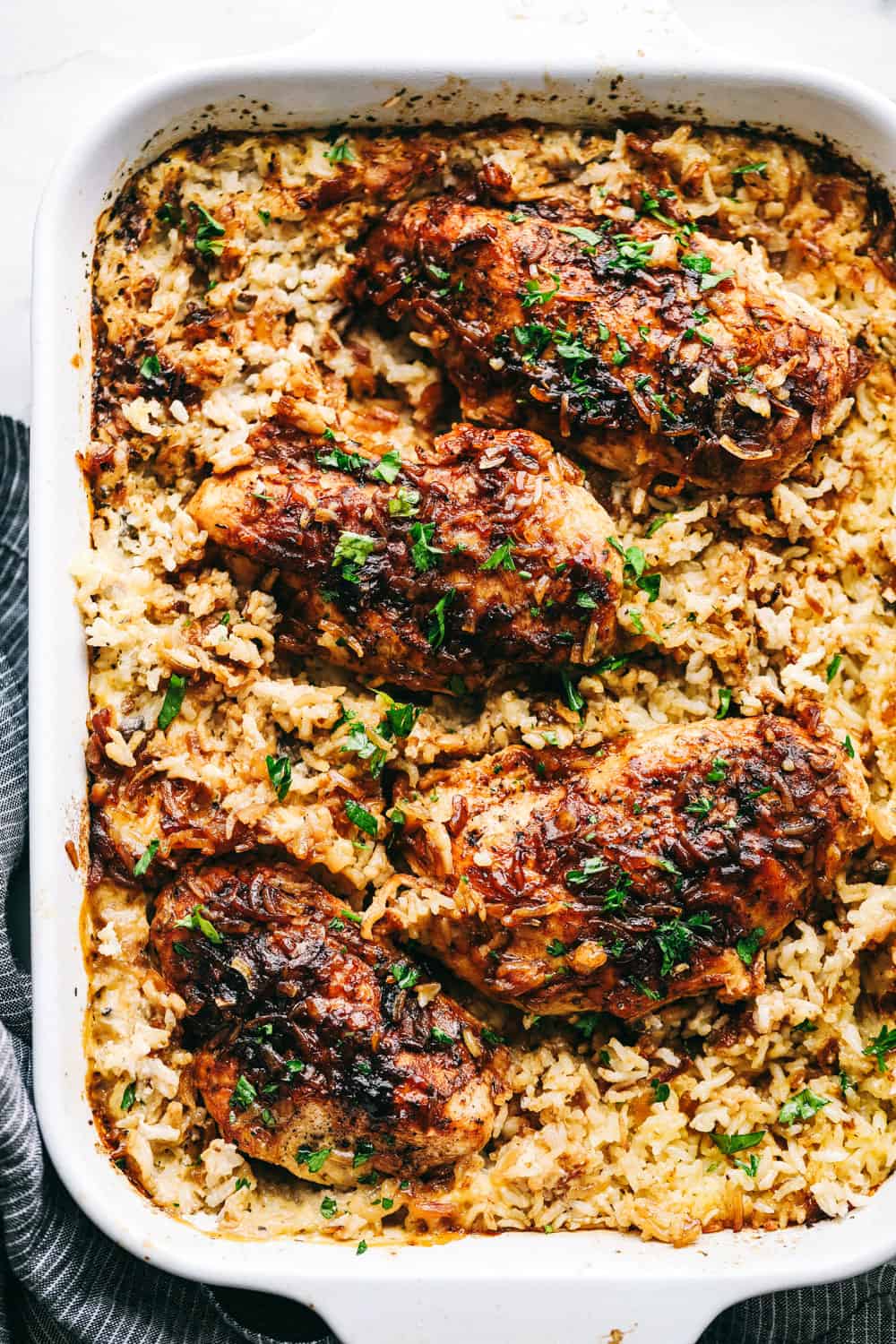 Chicken and Rice Casserole
My family needed a little comfort this past week since the weather in Utah is staying cold, to say the least. I knew a casserole would be warm and filling and just the touch to warm us up from the inside out. This meal is so simple to make with only a few staple ingredients and quick preparation. Now, the hard part is SERIOUSLY, No Peeking!! Let the foil do all the work and unwrap it like a present when you take it out of the oven and you will be thanking me! I promise!
The smell of your home will change and you will be drooling when it is time to eat. Once unwrapped and sitting down at the dinner table together there was silence. Yep! That is just how good it was. Each of kiddos and husband ate in pure peace all together. Again, you can thank me! This Chicken and Rice Casserole is one that you will be adding to your families meal plan. It is simple and so filling! Everyone loved the rich flavors and the tender chicken that is cooked to pure perfection. This recipe is a family favorite and will be used often in our home.
How Do You Make Chicken and Rice Casserole?
Prepare pan: Preheat oven to 350 degrees.

 

Grease a 9×13 inch baking pan.

 

In a medium sized bowl add the rice, cream of mushroom, cream of chicken, and chicken broth and mix.

 

Pour into the baking pan.

 

Layer Ingredients: Place the chicken on top of the rice mixture and salt and pepper.

 

Sprinkle the onion soup on top.

 

Cover with aluminum foil and bake for 1 hour and 15 minutes or until the chicken is cooked throughout and no longer pink.

 

No Peeking!
Do You Cook the Rice Before Adding it into the Casserole?
No, the rice will cook. Raw rice will definitely cook in an hour and the rice will absorb the liquid. Make sure you cover it to keep the steam inside the dish, no peeking!
Can You Use Brown Rice?
If you're using brown rice, be prepared to cook your dish for more than an hour; this variety often takes longer than white rice, so watch the liquid level in your dish and make sure it's soaking up as much as it needs.
Can This Chicken and Rice Be Made Ahead of Time?
Yes! This can be made up to 24 hours in advanced. Just cover and store in the refrigerator until ready to bake. You may need to add an additional few minutes or let rest for a few minutes outside of the refrigerator before baking it.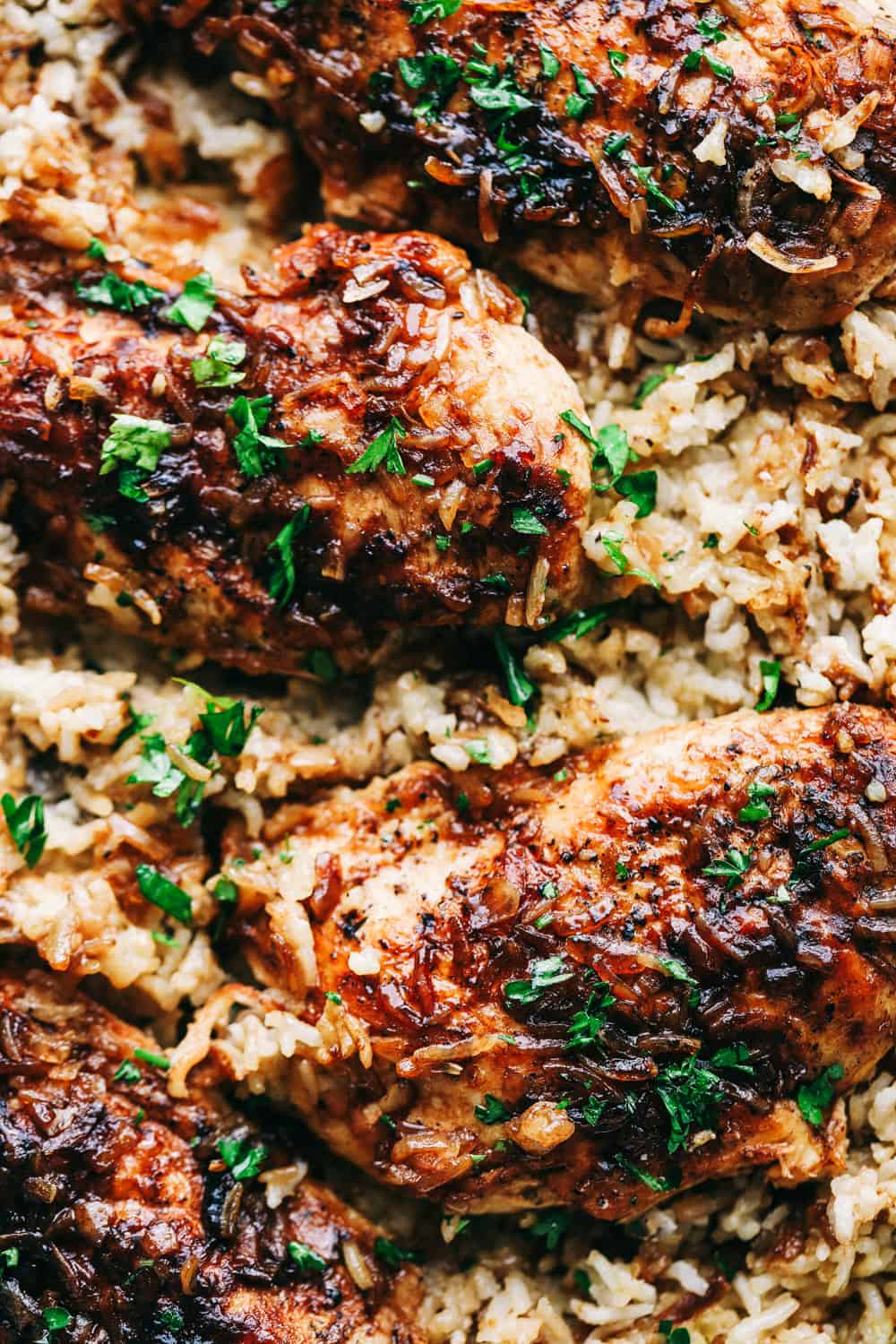 Can I Bake it With Frozen Chicken?
Yes! Frozen chicken breasts can also be used if they are the packaged frozen breasts purchased at the store that thaw quickly.
How Will I Know if My Chicken is Cooked?
The safe internal temperature for cooked chicken is 165 degrees Fahrenheit. A meat or instant-read thermometer is your best bet for determining the temperature of your chicken, it should be inserted into the thickest part of the breast.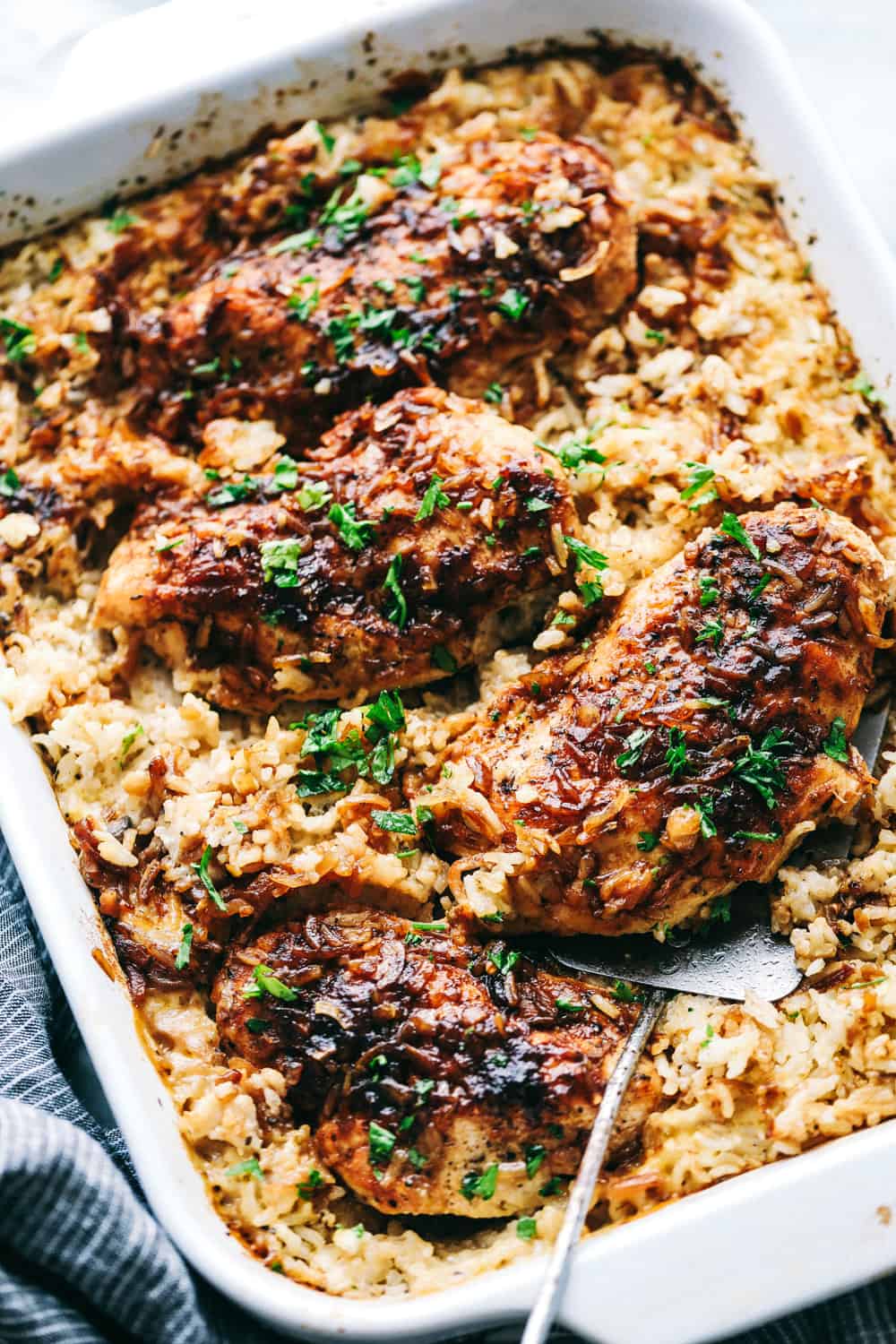 Can I Freeze Chicken and Rice Casserole?
If freezing, freeze the chicken and rice casserole before baking. Cover the pan tightly with foil and write down the directions on top of the container. Remove the casserole from the freezer and let it thaw in the refrigerator during the day before baking. 
What to Serve with Chicken and Rice Casserole?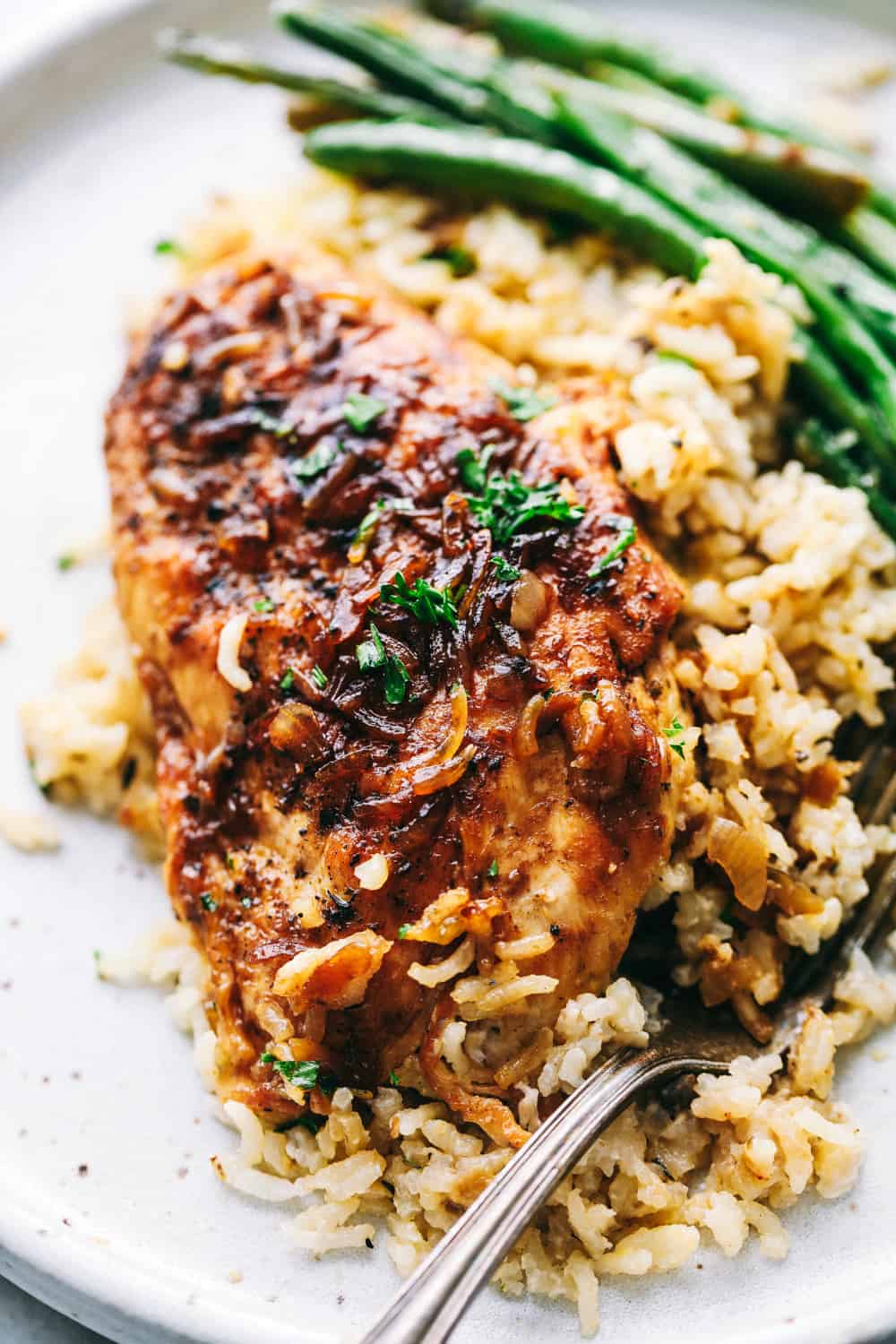 More Comforting Casserole Recipes? Try These!