I thought this No-Mayo Vinegar Coleslaw was so delicious, even though I'm usually a huge fan of coleslaw with mayo. And this lighter coleslaw is perfect for spring when summer salad ingredients aren't quite in season yet.
PIN No-Mayo Vinegar Coleslaw to try it later!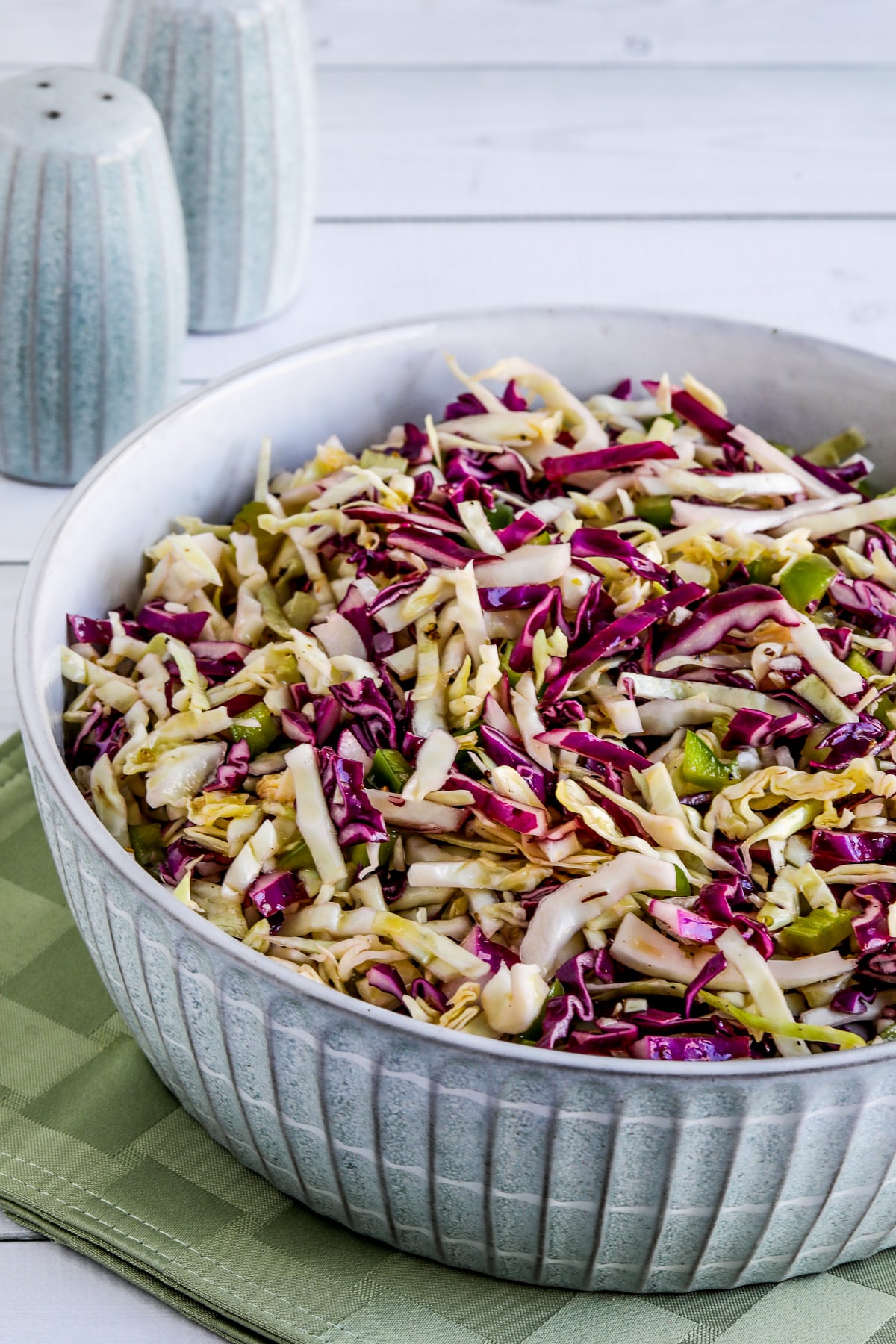 If you know my fondness for all things mayo, you may be surprised to see a recipe for No-Mayo Vinegar Coleslaw on my site! It came about because years ago The Salt Lake Tribune posted the recipe for Red Rock Coleslaw that was a favorite at Salt Lake's Red Rock Brewery. Of course I immediately went "HUH?" about the idea of coleslaw without mayo because I love all things mayo!
However, I also love all things cabbage so I printed the recipe for the Vinegar Coleslaw and we experimented with it, and then I found myself making it through the years. And it turns out that I like coleslaw with oil-and-vinegar dressing almost as much as the many mayo-based coleslaw recipes I make so often. If you want to be an equal-opportunity coleslaw eater I recommend trying this soon!
And even though this recipe was adapted from the Red Rock Coleslaw, we did change it up a bit when we worked on the recipe. I decided the original recipe sounded like too much coleslaw, and I used Monkfruit Sweetener (affiliate link) which worked perfectly to make this a low-carb salad. And we made the coleslaw with a whole green pepper, used olive oil in the dressing, and used a bit more dried oregano.
What ingredients do you need?
(This is only a list of ingredients; please scroll down for complete printable recipe. Or if you use the JUMP TO RECIPE link at the top of the page, it will take you directly to the complete recipe.)
Olive Oil (affiliate link)
Red Wine Vinegar (affiliate link) or vinegar of your choice
Monkfruit Sweetener (affiliate link), or sweetener of your choice
Dried Oregano (affiliate link)
green cabbage
red cabbage
green bell pepper, finely chopped (see notes)
celery
salt and fresh ground black pepper to taste
Is this a classic Vinegar Coleslaw recipe?
I work out every week with a great trainer named Sheri who came back to Utah after she lived in Alabama for a while. When she heard I was making a vinegar coleslaw recipe, so told me no-mayo coleslaw is a favorite to serve all over the South on a sandwich with pulled pork or just as a side dish. And after looking at some other coleslaw recipes with vinegar, I think this recipe has a slightly different vibe, so this may not be a classic vinegar coleslaw. But it's delicious! And if your family has made a version of coleslaw with vinegar for years, chime in with a comment and let us know how it compares with your favorite recipe.
What if you're not a fan of green bell pepper?
When we took new photos for this recipe, Kara and I both loved the pop of green pepper throughout the coleslaw. But if you're not a green pepper fan I think red bell pepper would also be delicious here. Or omit the bell pepper completely and use a bit more sliced celery.
Do you have to use both red and green cabbage?
I love the use of red cabbage in this coleslaw recipe. But there's no doubt that if the coleslaw sits for a long time the vinegar will make the red color from the red cabbage leach out and give all the coleslaw a pink glow! I didn't mind that at all when I was eating my leftovers, but you can definitely make the recipe with all green cabbage if you prefer, or see tips below for how to store the leftovers without that happening.
What kind of vinegar should you use for Vinegar Coleslaw?
I loved the combination of olive oil, red wine vinegar, oregano, and green bell pepper that gives this recipe some Italian flavors. But many vinegar coleslaw recipes use apple cider vinegar or white vinegar, so take your choice on the type of vinegar you prefer.
Does Vinegar Coleslaw keep in the fridge?
I definitely enjoyed the leftover coleslaw when I ate it the next day, but as mentioned the vinegar will leach out some color from the red cabbage if it's stored very long. If you know this recipe makes more than you'll eat for one meal, just put the dressing on the amount of coleslaw you'll be eating, refrigerate the rest of the dressing and cabbage mixture separately, and toss the ingredients together when you eat it later.
Want more amazing salads with cabbage?
If you're also huge fan of cabbage salads, be sure to check out my great collection of Low-Carb and Keto Salads with Cabbage!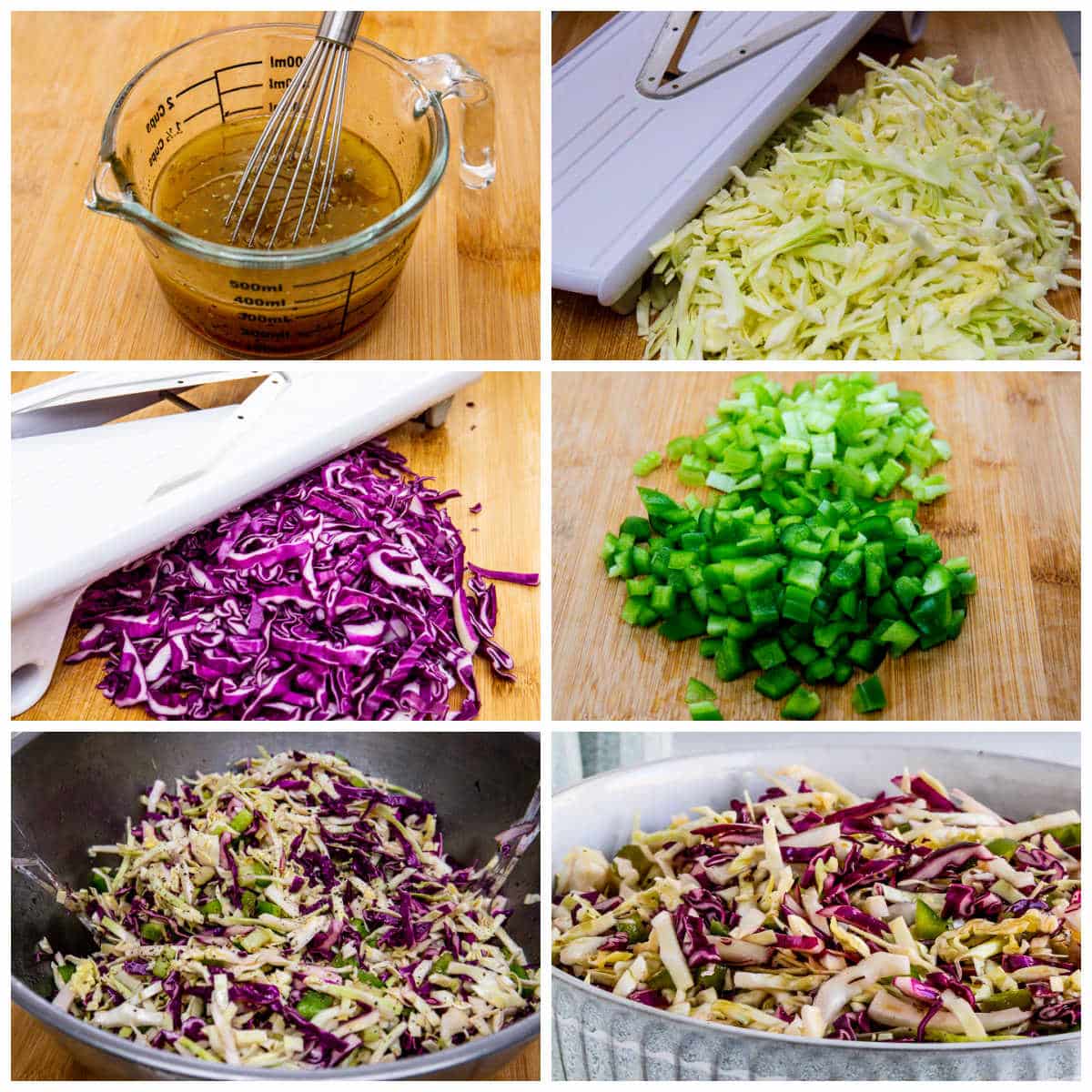 How to Make No-Mayo Vinegar Coleslaw:
(This is only a summary of the steps for the recipe; please scroll down for complete printable recipe. Or if you use the JUMP TO RECIPE link at the top of the page, it will take you directly to the complete recipe.)
Whisk together the olive oil or vegetable oil of your choice, red wine vinegar, Monkfruit Sweetener or sweetener of your choice, oregano, black pepper and salt to make the dressing.
I really liked the  oregano in this dressing, and if you have fresh Greek oregano in the garden I'd definitely chop some up and use it in this slaw.
I used my Mandoline Slicer (affiliate link) to thinly slice the red and green cabbage, then chopped it a bit more. 
You can also slice and then chop the cabbage with a chef's knife if you don't have a Mandoline.
Slice the celery and chop up the green bell pepper.
Toss the salad with the desired amount of dressing. 
This is best if it sits for an hour or two before serving so chill and then enjoy!
See tips above for storing leftovers if this makes more coleslaw than you'll eat at one meal.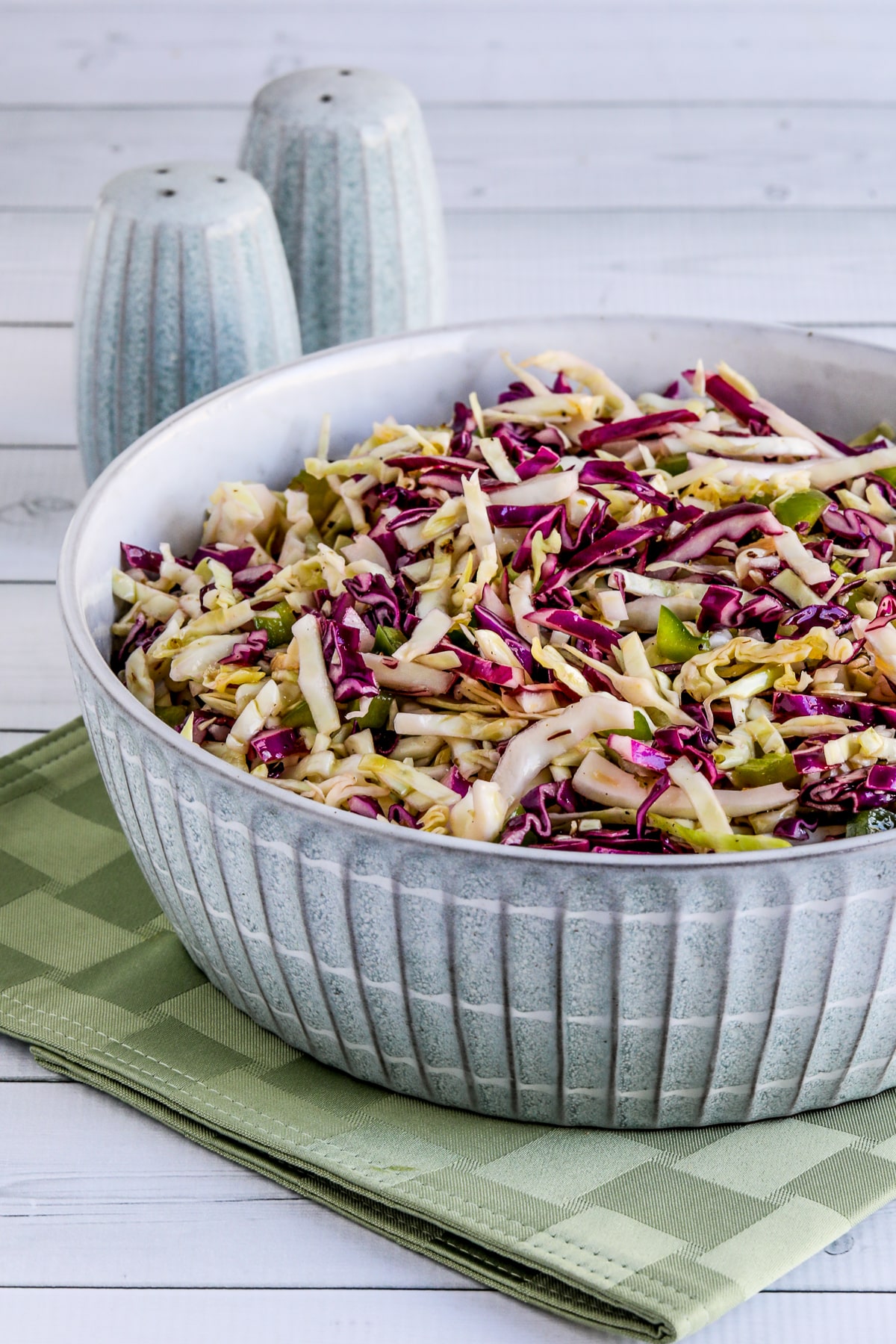 More Favorite Coleslaw Recipes, with and without Mayo:
Ingredients
Dressing Ingredients:
1/2 cup olive oil (see notes)
1/2 cup + 1 T red wine vinegar
1/3 cup Monkfruit Sweetener (or sweetener of your choice)
1 tsp. dried oregano (see notes)
1/2 tsp. coarse ground black pepper
3/4 tsp. sea salt
Salad Ingredients:
1 medium head green cabbage, thinly sliced then chopped (see notes)
1/2 small head red cabbage, thinly sliced then chopped (see notes)
1 green bell pepper, finely chopped (see notes)
1/2 cup thinly sliced celery
salt and fresh ground black pepper to taste
Instructions
In a glass measuring cup or plastic bowl, whisk together the oil, red wine vinegar, Monkfruit sweetener, oregano, black pepper, and sea salt.
Let the dressing ingredients blend together a bit while you chop the salad ingredients.  (I didn't have fresh oregano when I made this, but next time I'd definitely use some finely chopped fresh oregano in the dressing!)
Thinly slice, and then chop the green cabbage and the red cabbage. I used a Mandoline Slicer (affiliate link) with the 3mm blade to slice the cabbage before I chopped it, but you can also slice and chop it with a large chef's knife.
Put chopped cabbage into salad bowl.
Remove seeds from bell pepper and finely chop it and thinly slice celery.
Add chopped bell pepper and sliced celery to salad bowl.
Toss salad ingredients together, then whisk dressing one more time, add desired amount of dressing and toss the salad until all ingredients are lightly coated with dressing.
This tastes best if it is dressed at least an hour before serving.
It doesn't keep well overnight in the fridge because the vinegar causes the red cabbage to bleed and turns the whole salad pink., so if you won't eat it all at once, I'd toss salad ingredients together, dress the amount you will be eating, and then store the leftover salad and dressing separately in the fridge until you want to eat the leftovers.
Notes
I used about 7 cups chopped green cabbage and about 3 1/2 cups chopped red cabbage.
Use any vegetable oil of your choice. Dried oregano is fine for this recipe, but I'd use 2 tsp. finely chopped fresh oregano if it's available. Use red bell pepper if you're not a green pepper fan.
Recipe adapted from Red Rock Brewery's Vinegar Coleslaw from The Salt Lake Tribune.
Nutrition Information:
Yield:
8

Serving Size:
1

Amount Per Serving:
Calories: 144Total Fat: 14gSaturated Fat: 2gTrans Fat: 0gUnsaturated Fat: 11gCholesterol: 0mgSodium: 308mgCarbohydrates: 6gFiber: 2gSugar: 3gProtein: 1g
Nutrition information is automatically calculated by the Recipe Plug-In I am using. I am not a nutritionist and cannot guarantee 100% accuracy, since many variables affect those calculations.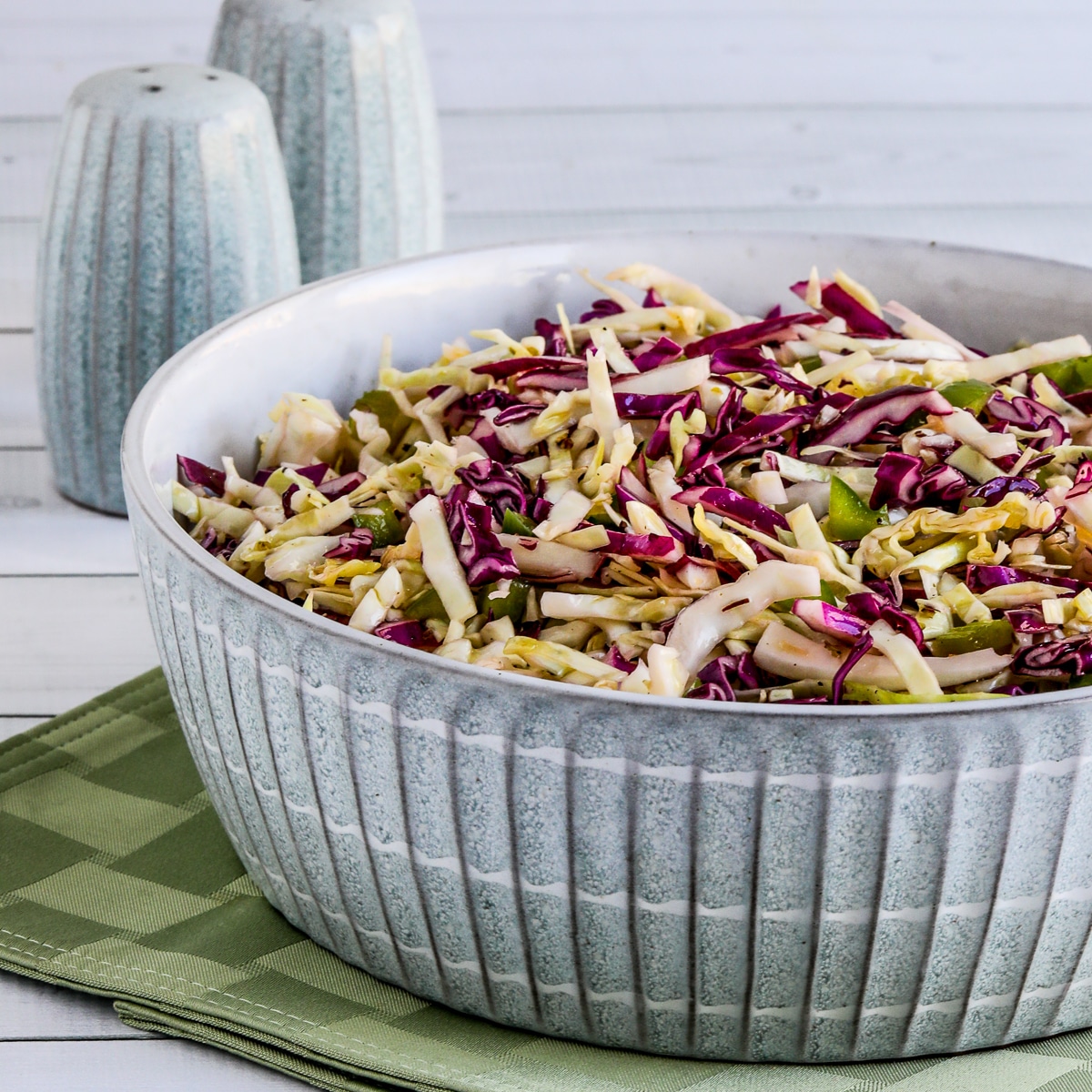 Low-Carb Diet / Low-Glycemic Diet / South Beach Diet Suggestions:
Red Rock Coleslaw is loaded with low-carb ingredients, and when made with Monkfruit Sweetener (or another no-calorie sweetener) it would be great for low-carb or Keto eating plans or for any phase of the original South Beach Diet .
Find More Recipes Like This One:
Use Salad Recipes to find more like this one. Use the Diet Type Index to find recipes suitable for a specific eating plan. You might also like to follow Kalyn's Kitchen on Pinterest, on Facebook, on Instagram, on TikTok, or on YouTube to see all the good recipes I'm sharing there.
Historical Notes for this Recipe:
The No-Mayo Vinegar Coleslaw from Red Rock Brewery was first posted in 2011! The recipe was updated with new photos and slighted improved in 2023.
We are a participant in the Amazon Services LLC Associates Program, an affiliate advertising program designed to provide a means for us to earn fees by linking to Amazon.com and affiliated sites. As an Amazon Associate, I earn from qualifying purchases.