This immune-boosting kids chicken meatball soup is served in a way that allows them to create their own adventure and to make their own soup meal from a selection of nourishing, healthy foods that support their wellbeing. It's a clever way to get your children to voluntarily eat a little healthier. This recipe is by my friend naturopath Jessica Donovan, who else gave us a few tips for how to keep your kids immune system in tip-top shape.
---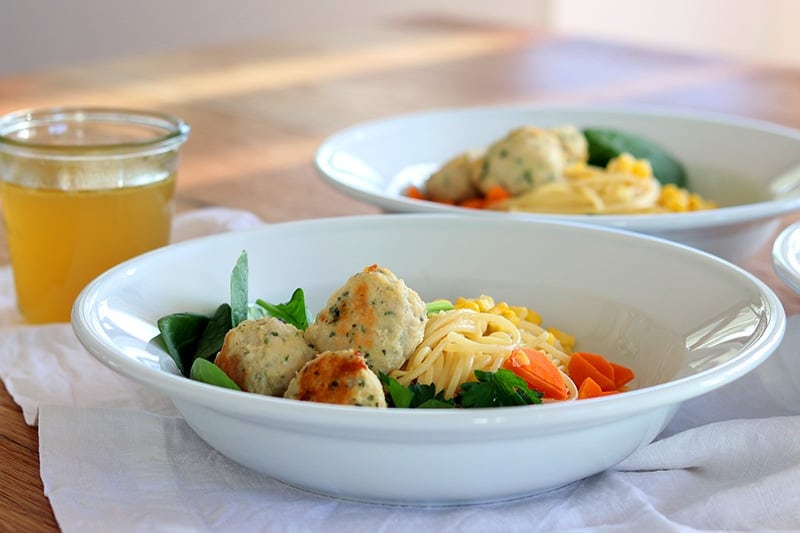 As a naturopath, Jessica Donovan runs a lot of courses and programs on kids' nutrition and we were discussing some of the best immune-boosting meals for families. A lot of fruit and vegetables for their vitamins and antioxidants content and gut health foods like probiotic-rich yoghurt and fermented veggies came up.
And of course, we talked about the good old chicken soup. Jessica has this great recipe for a 'make-your-own' soup with chicken meatballs (which kids love) and I loved the idea so I asked if she would allow me to share it on the blog.
Chicken Meatball Soup But Make It Your Own
This chicken meatball soup features nourishing broth and little bits and pieces like spinach, sweet corn, carrots, noodles or gluten-free alternatives, and you can have other things on the table like mushrooms, broccoli, herbs and more.
You can customise it based on what you have available and Jess has a handy immune-boosting food cheat sheet you can download on her site here.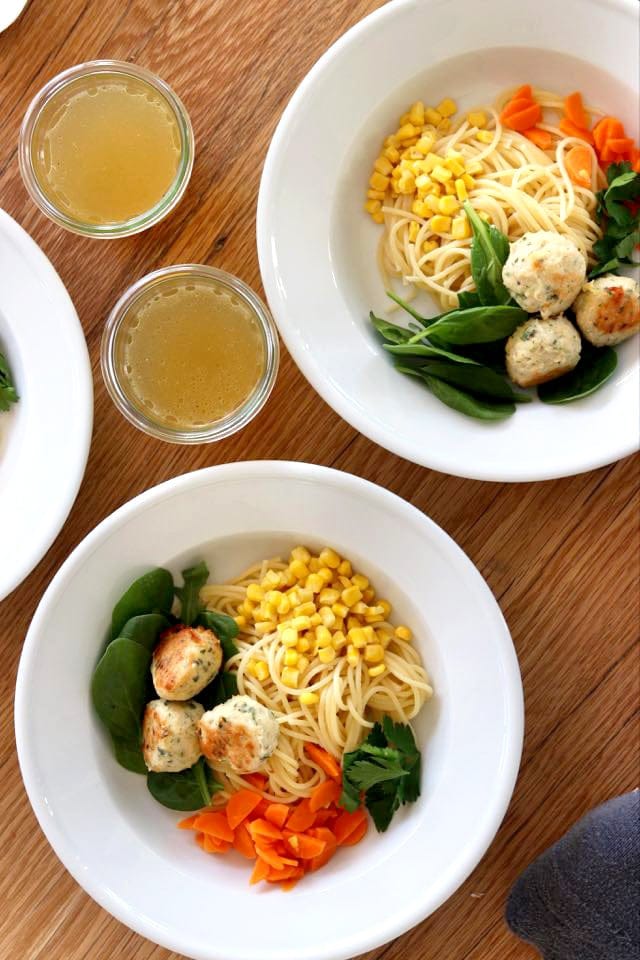 I also asked Jess for some top tips for keeping the little ones (and grown-ups!) healthy during cold and flu seasons. To be honest, these are great all year round! Before we get into the recipe, here are Jessica's top tips.
Top 5 Immune-Boosting Tips For Kids
Serve a rainbow of fruits and vegetables. Colourful fruits and vegetables are rich in the nutrients that power our immune systems such as Vitamin C and Betacarotene. Make your children's meals are as colourful as possible and include raw vegetables to maximise immune-boosting nutrition. Try my pumpkin cashew dip with raw veggie sticks here.
Include plenty of zinc-rich foods. Zinc is a key mineral for immune function and zinc deficiency can lead to a higher susceptibility to infections. Zinc-rich foods include red meat, seafood, pumpkin seeds, legumes and nuts. I talk a lot about zinc in this in-depth post on immunity.
Snub the sugar. Sugar depletes our immune function and makes us more susceptible to infections. Avoid high amounts of refined sugar in things like breakfast cereals, muesli bars and flavoured yoghurts. Choose wholefood breakfast and snacks instead. Or, make your own bars so you can control the sugar levels.
Include bone broth. Bone broth is high in minerals and gelatin which benefit both our immune systems and gut health. Bone broth is easy to incorporate into our kids' diets without them even noticing! Try adding broth to your soups, casseroles, sauces and even smoothies. I have a recipe for how to make bone broth here and 15 ways to include it in meals here.
Outdoor play. Encourage your kids to play outside to maintain healthy Vitamin D levels which are crucial for a healthy immune system. Outdoor play also exposes kids to bacteria and other bugs that help develop a well-functioning immune system so let them get dirty!
With that in mind, let's make our make-your-own, deconstructed chicken meatball soup!
Print
---
Description
Immune-boosting, kids-approved chicken meatball soup that takes them on a make-your-own-meal adventure. This recipe uses nourishing ingredients like bone broth, chicken, spinach, and carrots.
---
---
Preheat the oven to 200 degrees C/ 395 F.
To make the meatballs, line a baking tray with baking paper. Combine the chicken, almond meal, cheese, olive oil, garlic, ginger, parsley, salt and egg in a large bowl and mix with your hands until well combined. With wet hands, roll into 2cm balls, and place them on the prepared tray. Bake in the oven for 15-20 minutes, turning halfway
Meanwhile, heat the chicken broth over medium-high heat until it boils. Turn the heat to low and maintain a gentle simmer while preparing the other ingredients.
Steam the carrots and corn until just cooked. Set aside in separate bowls.
To serve, place the noodles in the bottom of each bowl, add the vegetables, then the meatballs and pour over the broth. Or, serve some ingredients in the bowl and others on the table for your kids to construct their own chicken soups. Some kiddies might prefer to have meatballs and veggies with a cup of broth on the side. Very little ones might need some help to pour the hot broth into their bowls.
---
Notes
Broth: This recipe is best using a homemade chicken broth, that has been simmered with onions, carrots and celery – but you can also use store-bought chicken stock.
Dietary modifications: For a grain-free version, replace the pasta with zucchini noodles or konjac noodles. For gluten-free, use soba noodles. For dairy-free, replace grated parmesan cheese with 2 tablespoons nutritional yeast flakes for that slightly cheesy flavour or leave out.
Prep in advance: This can be made several days in advance. Keep the meatballs separate from the broth when storing.
Nutrition
Serving Size:

2 cups broth with 3 meatballs, 1/2 cup spaghetti and veggies

Calories:

425

Sugar:

5.2 g

Sodium:

1940.3 mg

Fat:

19.5 g

Carbohydrates:

31.4 g

Protein:

32.1 g

Cholesterol:

132.4 mg
---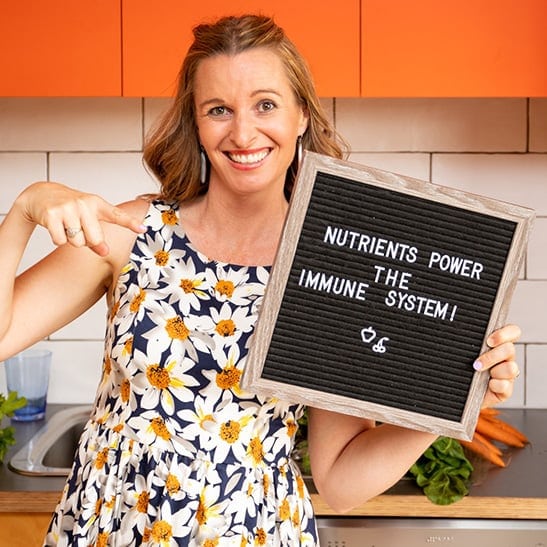 About the recipe author: Jessica Donovan helps busy mums raise super kids with healthy food and natural medicine. She is a naturopath with an intricate understanding of how the body works and natural therapies that can help support optimum health in our children (many of which are already in your kitchen ). In her clinical work, she has helped hundreds of parents to transform their children's health, covering minor issues like getting picky kids to eat a more varied diet to helping clients to navigate chronic issues like cystic fibrosis and everything in between from eczema to tummy issues.
---
Save This Kids Chicken Soup To Pinterest