This website may contain affiliate links and advertising so that we can provide recipes to you. Read my privacy policy.
Chicken Potstickers are an amazing appetizer or light meal filled with ground chicken, shredded carrots, green cabbage, garlic cloves in a sauce mixed together then added to a dumpling wrapper and cooked. These are quick and easy to make! 
Simple appetizers that are filling and can be used as a meal are the perfect recipes. If you love asian appetizers or light meals try this Shrimp Spring Rolls-So Fresh and Tasty!, Asian Turkey Lettuce Wraps or How to Make the BEST Egg Drop Soup.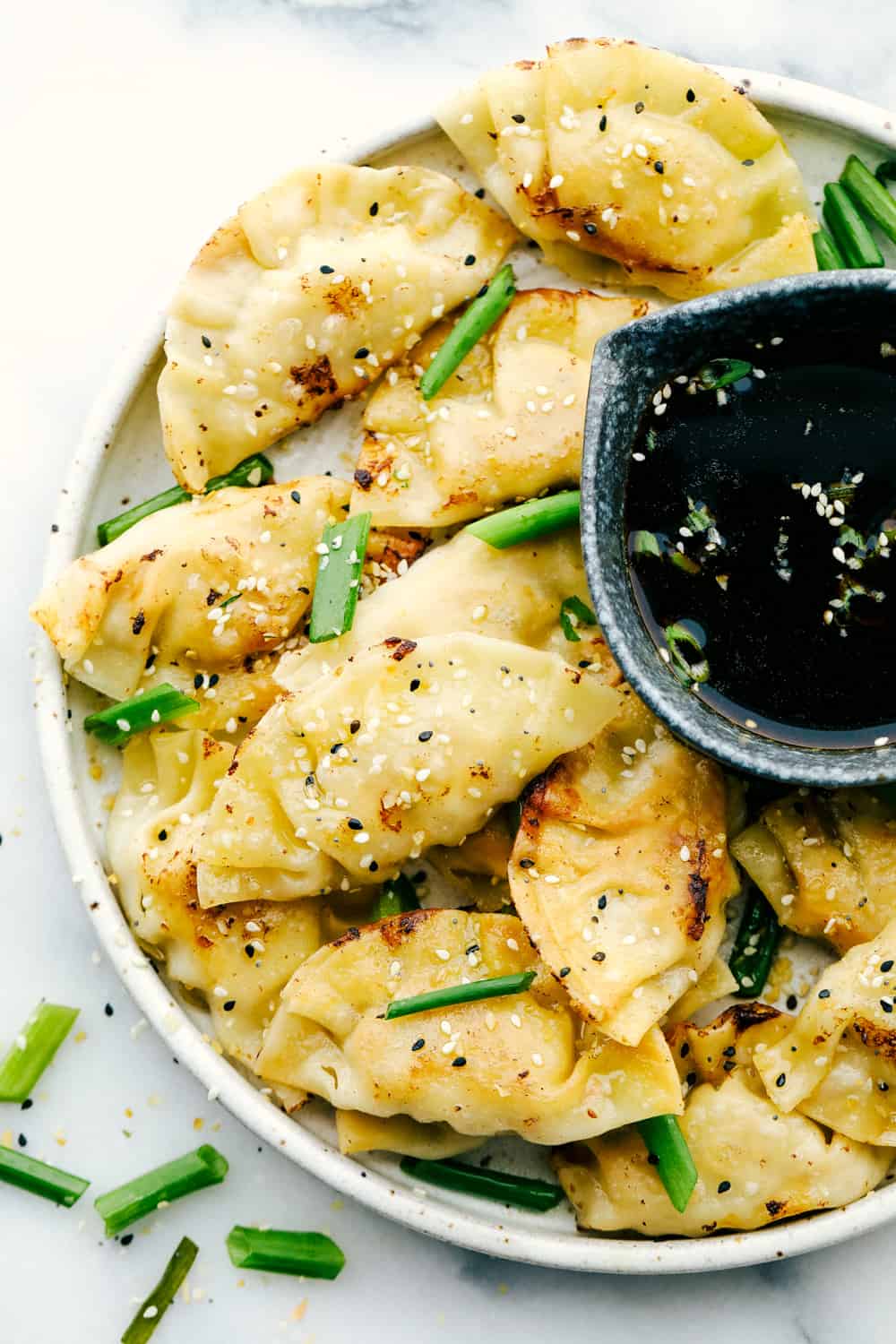 Homemade Chicken Potstickers
Take out will be the last thing you think of after cooking up these chicken potstickers! These are so easy to make and taste SO dang good. One of my favorite asian recipes that are so simple to make. Chicken potstickers are filled with ground chicken as its protein, shredded carrots and green cabbage. Add in garlic cloves and green onions, some hoisin sauce and sesame oil with a beaten egg. This mixture creates the perfect combination of filling for this potstickers recipe. Simply add a small scoop to a dumpling wrapper and fold it in half, pinching off the sides, then cooked in a skillet. It is that simple and easy!
Potstickers are known to be a delicious appetizer at most asian restaurants but you can also enjoy them as a quick snack, an easy lunch or a light dinner. There are so many reasons to enjoy these chicken potstickers. These potstickers are homemade and easy to make. They come together quickly and can even make them ahead of time if needed. Freezing potstickers are easy too and can be done for a quick warm up meal. You can't go wrong with these homemade potstickers.
Chicken is a flavorful and delicious protein to add to the potstickers. There are several different mixtures you can create with different protein or even vegetarian potstickers. When mixing the potstickers filling together using a fork or even blending it together with a food processor will work and speed the process up even quicker. There are several different ways to make these potstickers simple and easy to make without losing the delicious flavor. Chicken potstickers are simple to make and full of flavor!
What are Potstickers?
Potstickers are known to be a dumpling that is filled with a protein, usually pork with cabbage and various vegetables with seasonings. The potstickers or dumplings are then folded in half shaped like a crescent and fried on a skillet or steamed in a bowl. This creates a crispy outside and tender inside. They are served as an appetizer with a dipping sauce.
Chicken Potstickers Ingredients:
Don't let the amount of ingredients scare you away! These are simple ingredients that come together quickly and easily. Chicken potsticker filling makes these potstickers tender on the inside with a crispy outside when fried in vegetable oil. These are sure to please everyone in your family!
Ground Chicken: This can either be from a can or already made chicken and shredded.
Carrots: Shredded with a grater or purchase them already shredded.
Green Cabbage: Shred with a knife or a grater
Garlic Cloves: Peel and mince the garlic cloves.
Green Onions: Chop up as finely as you prefer.
Hoisin Sauce:

 

This is a thick and flavorful sauce. 

Sesame Oil: Enhances Chinese flavoring and adds to the mixture.
Egg: Binds the mixture together
Vegetable Oil: Used for Frying
Dumpling Wrappers: These can be homemade or store bought.
Soy Sauce for dipping
The Recipe Critic Pro Tip:
When shredding and mixing the potsticker filling together use a food processor for a quicker way of combining the filling together.
How to cook Potstickers:
Mix potsticker filling together: In a medium bowl combine ground chicken, carrots, green cabbage, garlic, green onions, hoisin sauce, sesame oil and egg. Mix until incorporated. Heat the vegetable oil to medium in a large saucepan.
To make the potstickers: Lay the dumpling wrapper on a solid surface. Add a heaping teaspoon of the chicken mixture to the center. Wet the outside edges and fold the dumpling together and seal tightly.
Cook the potstickers: Place the dumplings in the skillet and cook on each side for 2-3 minutes until golden brown. Serve with soy sauce or favorite asian dipping sauce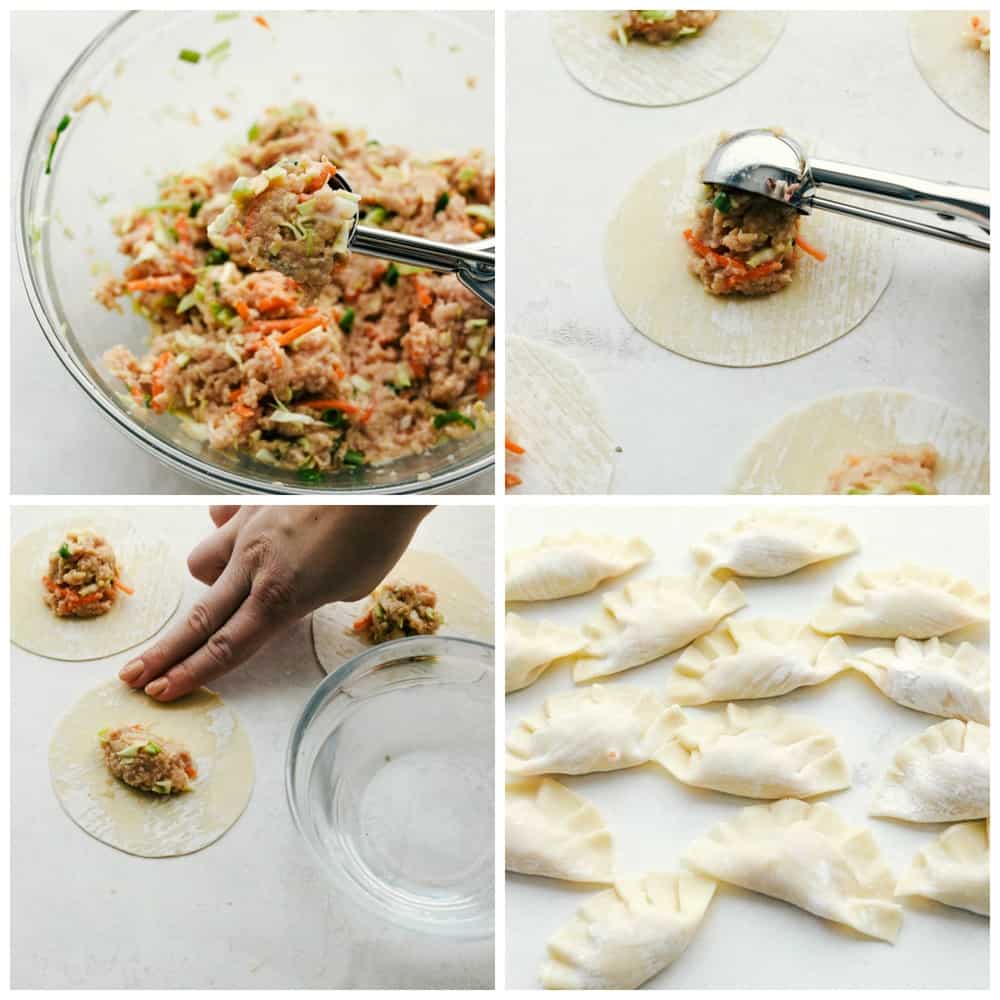 Tips for making Potstickers:
Finely Mince: It is best to cut and shred all of the potstickers filling mixture as finely as you can. This will ensure the stuffing to hold together as well as easier to eat.
Potsticker Filling: Squeeze or drain any excessive amounts of liquid from the potsticker mixture. Tearing can happen if they are too wet on the inside.
Overfilling: Try not to over fill the potsticker wrappers. It is best to be able to easily pinch or pleat the sides of the crescent shape. Overfilling can cause the filling to fall apart as they are being cooked.
Pleating the potstickers: Make sure there is no air in the potstickers. This will cause tearing as it cooks. If you are intimidated by the pleating, simply fold into triangles for an easier way of pinching them closed.
Overcrowding: Cook the potstickers several at a time leaving them enough room to move around and expand a bit. Overcrowding of the potstickers will not evenly cook them through.
Variations of Potstickers:
Protein: Ground pork, turkey, shrimp, crab or even salmon will work for these potstickers. Just depends on your preference.
Seasonings: Mix together rice vinegar, chili garlic sauce, add red pepper flakes for a spicy variation or ginger for different flavorings.
Vegetables: Add in water chestnuts, mushrooms, bell peppers or broccoli chopped up for a more crunchy texture.
Dumpling wrappers: Instead of the dumpling wrappers you can use homemade wrappers or even wonton wrappers.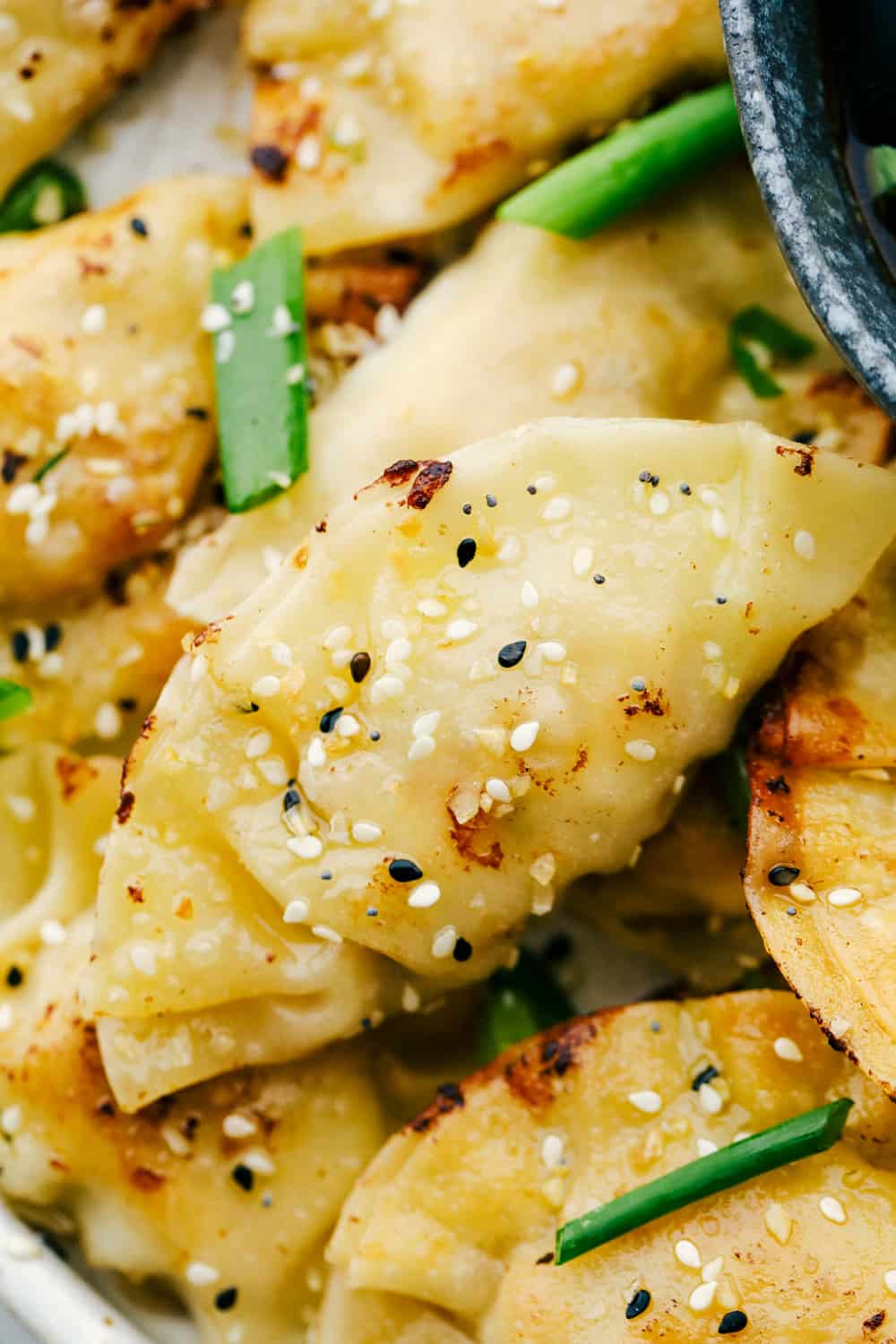 More Delicious Asian Recipes: