This homemade Japanese chicken curry recipe is a healthy, gluten-free take on the classic Golden Curry and is absolutely delicious and hearty. The curry sauce is created with cleaner ingredients and extra veggies are added for more nutrients.
---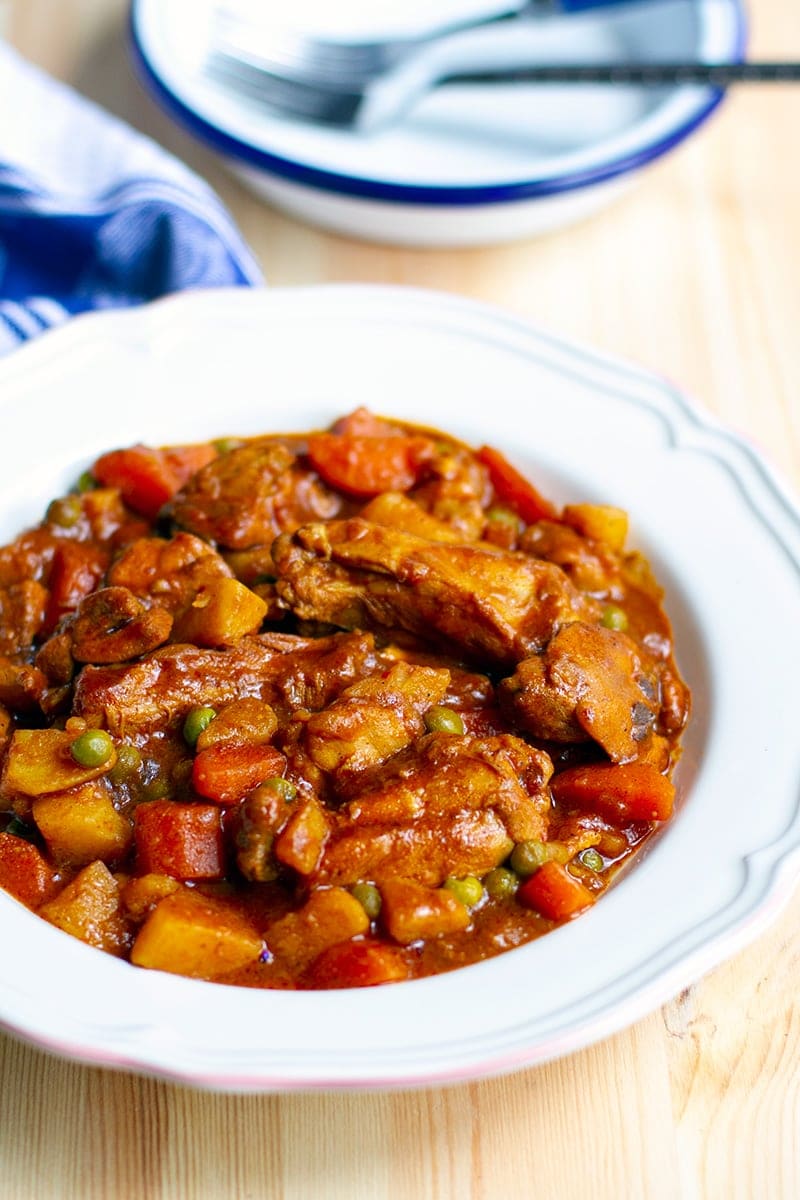 What Is Japanese Curry?
Some of you might be familiar with the Japanese Golden Curry. It's delicious, hearty and comforting food with a massive caveat: it's usually made from a packet, or a compressed powder cube to be more specific. Even the ones you find in Japanese eateries will sometimes be made from a packet.
I have to admit that I used to buy packets of Golden Curry sauce from an Asian supermarket when I was a student. It's cheap and full of that flavoursome MSG that at the time I didn't seem to care so much about.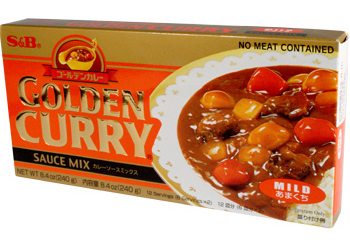 These days I avoid processed foods, especially the ones that look like the packet above, but I really miss the flavour of the Golden Curry. I decided to create my own homemade Japanese chicken curry recipe. I looked at a few existing recipes and adapted ingredients to be a bit healthier. I also added a couple of own twists. Result? Irena -1, Golden Curry Packet -0! This is truly one of the nicest curries (and easy too) I have ever made and I never have to buy the processed sauce mix.
How To Make Japanese Chicken Curry
For starters, you won't be needing to buy any packet curry sauces! I use everyday ingredients and just a couple of more specific condiments such as fish sauce and Tamari (gluten-free soy sauce) to recreate the flavour of the curry as I remember it.
I find that chicken thigh meat works best for this recipe. Diced into bite-sized pieces, it is stewed together with carrots, peas and potatoes, plus aromatics such as ginger and garlic. You can swap the veggies in any way you like: sweet potato instead of white, zucchini instead of peas and so on.
Once the curry is braised long enough (about 30 minutes tops), it is thickened using arrowroot powder. You could also use some tapioca powder or cassava flour, which will have a similar effect.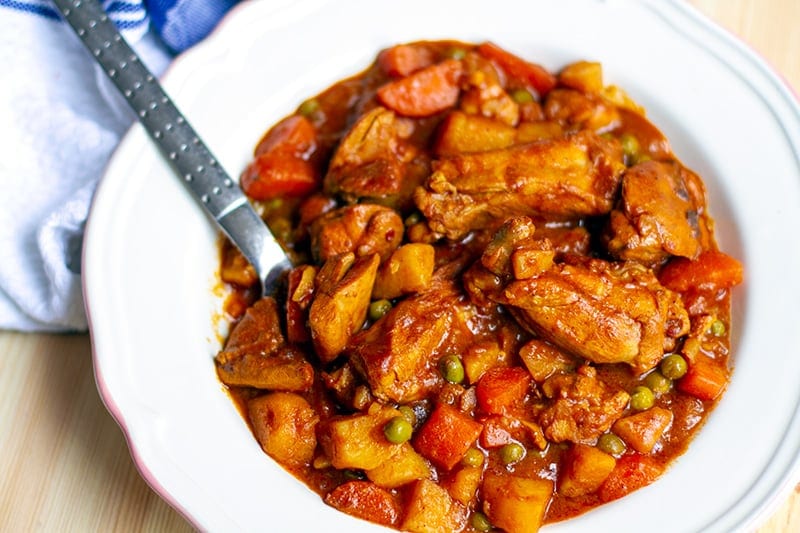 What To Serve With Japanese Curry
Honestly, I think it's fine on its own. It has plenty of vegetables so it can be eaten as a one-pot stew. However, all that sauce can be a little strong in flavour so you could prepare a side dish of cauliflower rice, which would be great to absorb all the juices. If you want to serve this with rice or quinoa, be my guest!
More Healthy Stews & Curry Recipes
Easy Chicken Pumpkin Curry
Scrummy Coconut Lamb Curry 
West African Chicken Stew
Moroccan Chicken Stew With Spinach & Sun-Dried Tomatoes
Chicken Tikka Masala With Cranberries & Spinach
Print
---
Description
You can use chicken, beef or pork in this curry. White potatoes can be easily replaced with sweet potatoes or other root vegetables of your choice – pumpkin, squash, parsnips, swedes etc. Serve it with regular or cauliflower rice, quinoa, green veggies and a side salad.
---
---
Cut up chicken thighs into pieces and set aside. Skin on or off is completely up to you.
Heat ghee in a medium saucepan or a casserole pot over medium heat. Add the onion and a quarter of a teaspoon of salt and sauté for 3-4 minutes, until slightly softened.
Add the ginger and chicken, turn the heat to medium-high, and stir for a minute or two.
Then add the carrots, potatoes, curry, garlic, balsamic vinegar, tomato paste, tamari, fish sauce and salt and stir for a minute, until everything is nice and brown.
Then pour in the chicken stock, stir and bring to boil. Cover with a lid and simmer for 15 minutes over low heat.
After 15 minutes, uncover, add the peas and stir. Cooke for a further 10 minutes without the lid. This will evaporate some of the liquid and thicken the sauce.
Finally, to thicken the sauce further, add 4-5 tablespoons of the sauce from the pot to a small bowl and mix in the arrowroot flour. Whisk it with a fork until it's more or less combined, although you will probably have a few lumps and that's ok. Add this mixture back to the pot and stir everything through. Turn off the heat and let it all come together in peace and harmony.
Serve with cauliflower rice or regular rice and some extra vegetables on the side.
---
Notes
Arrowroot powder. You could also use some tapioca powder or cassava flour, which will have a similar thickening effect.
Meat. You can use diced chicken thighs or breast meat. Pork and turkey would also work well in this recipe.
Nutrition
Serving Size:
Calories:

403

Sugar:

11.6 g

Sodium:

944.4 mg

Fat:

10.5 g

Carbohydrates:

39.5 g

Protein:

37.4 g

Cholesterol:

144.6 mg