This website may contain affiliate links and advertising so that we can provide recipes to you. Read my privacy policy.
A delicious homemade version of condensed cream of chicken soup! It takes only minutes to whisk up and is such a better alternative! Cream of Chicken Soup is in so many recipes for it's creaminess and flavor. Making it from scratch adds divine richness and taste, you'll never reach for a can again.
When you need a can of Cream of Chicken Soup like in Slow Cooker Creamy Ranch Chicken, Delicious Chicken Divan or  The Very Best Poppy Seed Chicken Casserole, use this homemade soup for absolute divinity.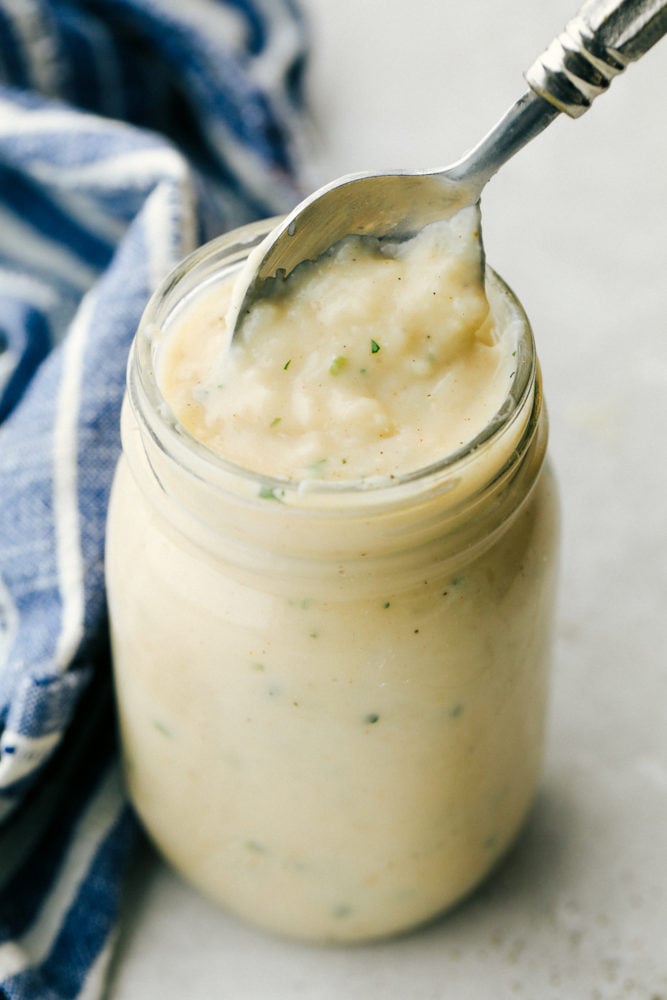 Homemade Cream of Chicken Soup
I get so many people commenting about using store bought condensed soups in recipes. And as a busy mom sometimes they seem like an easy alternative. I admit, I have used them in quite a few recipes here on the blog. But there has to be a better an easier way right?
Homemade is always better. And this recipe couldn't be simpler. You whisk together some chicken broth, milk, flour, and herbs for about 5 minutes and there you have it. Homemade Cream of Chicken Soup! A much better alternative to store bought condensed soups. You can even add some pieces of chicken in there if you would like.
Cream of Chicken Soup Ingredients
Chicken Broth: Obviously don't sub with vegetable or beef broth
Poultry Seasoning: Adds a deep rich chicken flavor
Onion and Garlic Powder: The power house of powders
Salt and pepper: Add more or less to taste
Dried Parsley: Adds color and flavor
Paprika: Adds zest and color
Milk: The base for the cream soup
Flour: Thickens the soup
Making Homemade Cream of Chicken Soup
Simmer: In a medium saucepan, bring the broth and the seasonings to a simmer.

Whisk: In a small bowl, whisk together the flour and milk until incorporated and smooth.

Thicken: Slowly pour in the milk and flour mixture and whisk until it starts to thicken about 2-3 minutes.

Season: Remove from the heat and salt and pepper to taste.
How to Use
Equivalent: This recipe makes exactly one can of cream of chicken soup or 1 ⅓ cups of soup. This is the same amount found in a 10.75 can of soup.
Multiply: You can easily double, triple or whatever you need for whatever recipe you need it for.
Store: Use this immediately or store in the fridge for up to 1 week.
Tips for Perfect Cream of Chicken Soup
Spice it up: You can change up the spices depending on what you are going to use the soup for adding or subtracting the spice.
Texture: The soup can get lumpy really quickly so keep the heat as low as possible whisking constantly for smoother consistency.
Dinner:  You can add cooked carrots, celery, and potatoes etc. and of course chicken and serve it as a soup. Just thin it out with a bit of water and you have an amazing dinner.
More Chicken Soup Inspiration
Recipe adapted to taste from Mels Kitchen Cafe