This website may contain affiliate links and advertising so that we can provide recipes to you. Read my privacy policy.
Harvest Cobb Chicken Salad with a Honey Apple Cider Vinaigrette is filled with crisp fall apples, roasted butternut squash, and all of the delicious things of fall come together in this mouthwatering salad.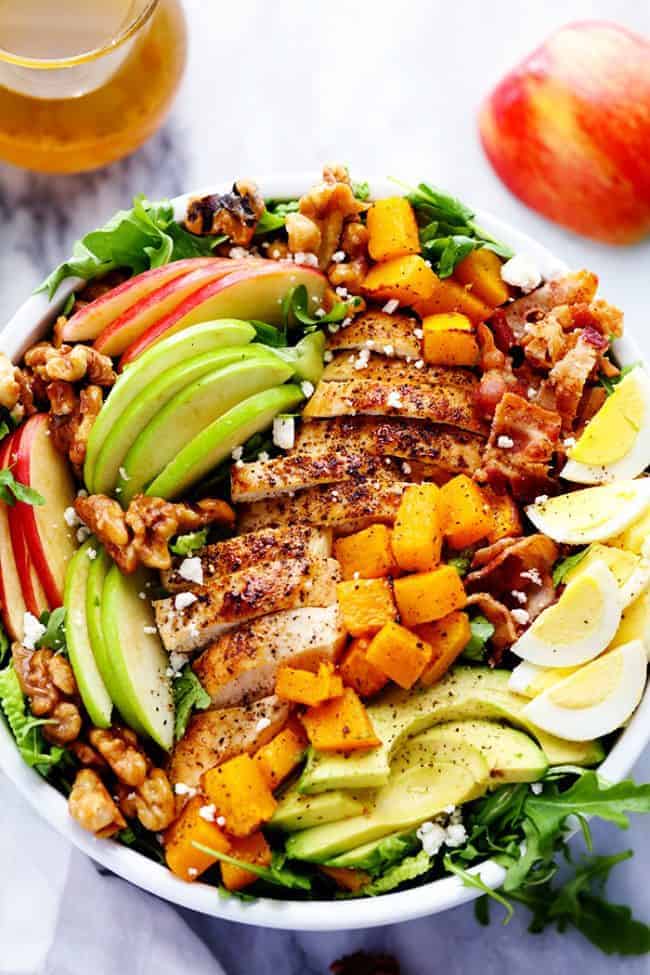 We have had the most incredible fall weather here in Utah. I mean it is gorgeous! The sun has been out for a week straight and we are seeing temperatures in the 60-70s! It has been perfect for being outside and raking up the mounds of leaves that piled up in our yard from all of our trees. Although I am loving the weather, I do look forward to some cooler temperatures. I want to be able to wear nice cozy sweaters and my boots. But knowing Utah and its crazy weather I am sure that this will be turning into snow any day now.
Today I am bringing you an awesome fall salad. I mean this salad has all of the fall works inside and it is especially delicious with the crunchy candied walnuts. Crisp fall apples, and roasted butternut squash help to make up the traditional cobb salad. Filled with bacon, hard boiled eggs,  and avocado.
There are so many delicious flavors and textures in this salad. And the sweet and savory really is what makes this salad spectacular. It gets topped with a delicious honey apple cider vinaigrette with is the perfect finishing touch. The chicken adds some protein to this salad and makes it a fantastic and hearty lunch or dinner! You are going to love everything in this salad and want to make it again and again!
5 Minute Candied Walnuts
¼ cup sugar
1 tablespoon butter
1 cup walnuts
In a medium non stick skillet heat to medium heat. Add sugar, butter and walnuts. Heat for about 5 minutes, stirring frequently. You will notice the sugar starting to melt and it will start to coat the walnuts.
Spread the walnuts onto parchment paper and separate with a spatula. Allow to cool completely.
3.5.3217
This post was sponsored by the California Walnut Board. Thank you for allowing me to work with brands that I love. All opinions expressed are my own.