This website may contain affiliate links and advertising so that we can provide recipes to you. Read my privacy policy.
Grilled Spicy Lime Shrimp with Creamy Avocado Cilantro Sauce has a simple but full of flavor and spice marinade. The creamy avocado cilantro sauce is the perfect cool and creamy dipping sauce.
The lime flavor on this shrimp is out of this world good.  Really, I love to add lime to many recipes.  Grilled coconut lime pineapple, Cilantro Lime Chicken Salad, and Crazy Good Honey Lime Shrimp are a few of my favorites.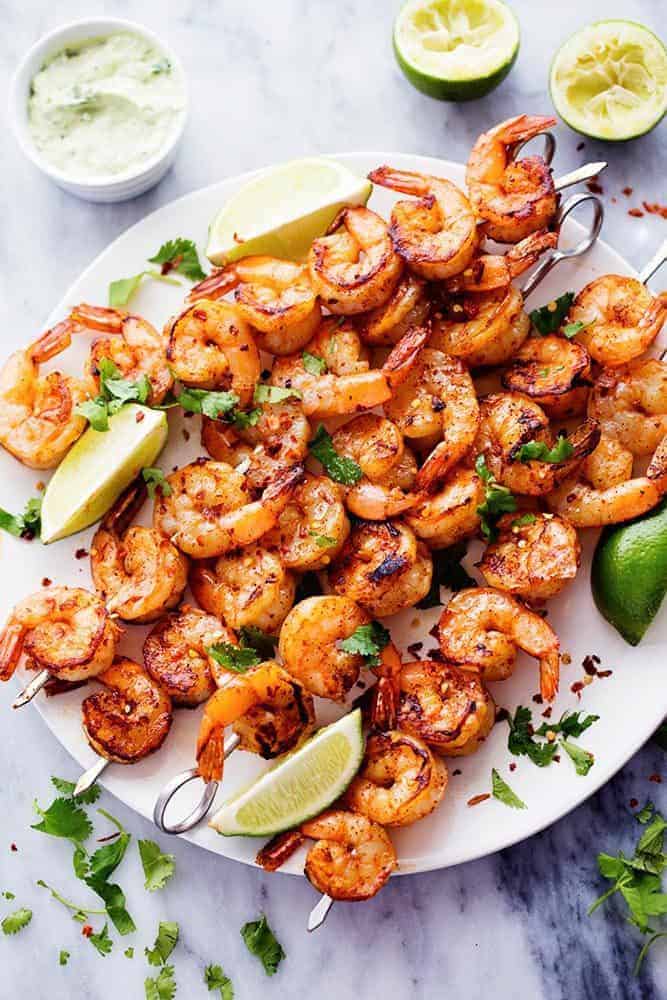 Grilled Spicy Lime Shrimp with Creamy Avocado Cilantro Sauce
Do you ever get through a week and are just so happy that you survived? That was last week for me. I barely made it. It was the last week of school plus we are in the moving process. On top of it all my little girl turned two! We were able to pull it all together and managed to have an amazing Finding Nemo Birthday Party. If you follow me on instagram you will see her amazing cake! My little girl is obsessed with "Meno" and loved every minute of it. We may have given her her presents to her in Amazon boxes but we totally pulled it together! It was a huge success.
We are loving the warmer weather here and since we have been so busy lately we are loving to grill. My husband LOVES shrimp and asks me to cook it all of the time. I decided to make an easy marinade for these shrimp that really packed a punch. It had such a delicious blend of spices and the result was amazing. It is such a quick and easy recipe that is absolutely delicious, especially if you love shrimp! This should go on your list of things to grill. You are going to love it!
Grilled Lime Shrimp Ingredients:
Shrimp: Use peeled and deveined
Lime juice: One large lime should be plenty.
Olive oil: For marinade.
Garlic: 2 cloves minced.
Chili powder: A bit of spice.
Cumin: Distinctive earthy, nutty flavor.
Paprika: Adds color and mild flavor.
Salt and Pepper: To taste
Red pepper flakes: Adds texture and spice.
How to Grill Shrimp:
The great thing about shrimp is that they are so easy to cook! They grill up in just a matter of minutes. The marinade on these shrimp is out of this world! It has such a great blend of spices and flavor.
Prepare Marinade: In a small bowl whisk together lime juice, olive oil, garlic, chili powder, cumin, paprika, salt, pepper, red pepper flakes. Pour into a resealable bag and add shrimp.
Prep: Toss to coat and marinate for 30 minutes.Preheat the grill to medium heat.
Grill Shrimp: Put the shrimp on skewers and place on the grill. Grill on each side for about two minutes or until no longer pink.
Make Sauce: To make the creamy avocado cilantro sauce add the avocado, greek yogurt, garlic, lime and cilantro. Pulse in a food processor until smooth. Add salt and pepper to taste. Serve immediately with shrimp.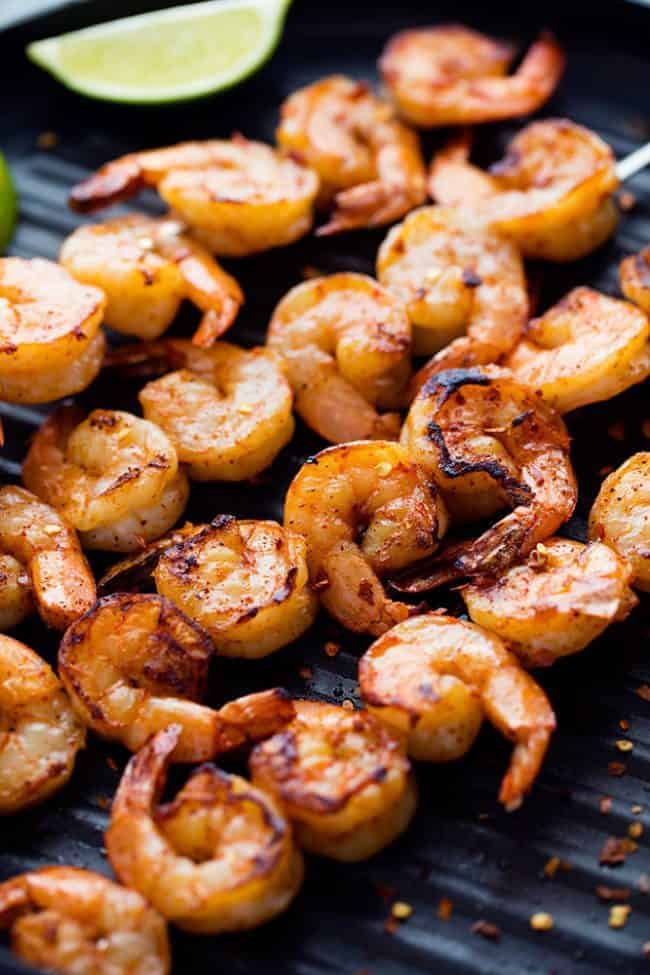 Creamy Avocado Cilantro Sauce:
My favorite part was the Creamy Avocado Cilantro Sauce. It was so cool and creamy on these spicy lime shrimp. We are a family of dippers so most everything involves a dip. And this dip was the perfect compliment to help cool down the spice in the shrimp.
Avocado: split and pitted
Greek yogurt: Lowfat
Garlic: One clove minced works great for me but adjust to your preference.
Lime juice: About one lime
Cilantro: Chopped for garnish
Salt and pepper: To taste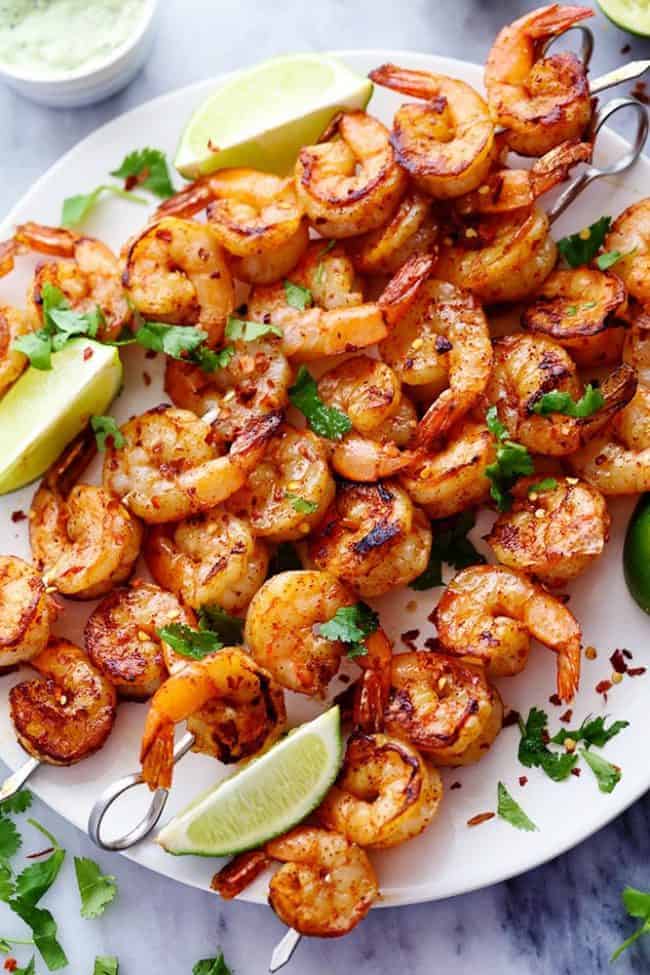 The Best Way to Grill Shrimp:
How do I keep shrimp from drying out? Make extra marinade to keep separate and use to brush over shrimp while they are cooking, so they won't dry out.
How hot should my grill be? Grill temperature should be about 350-450°F.  Cook the shrimp over the direct medium heat.
Avoid burning? Occasionally, turn the shrimp while cooking.
How do I know when they are done?  The shrimp are fully cooked when the outside of the shrimp turn a nice pink color.  Also, the meat inside should be white and opaque.
Can I cook shrimp from frozen: Good news! Even if you forgot to thaw the shrimp for dinner, you can grab them straight from your freezer and put it on the grill.  Marinating the shrimp is best.  However, you can use the marinate to brush the shrimp as you cook.  It's not ideal, but it will work in a pinch.
What's the best way to thaw my shrimp?  Move them from the freezer into the refrigerator a day or two before cooking.  Or, thaw them with cold water by putting the entire package of shrimp into the bowl of water.
More Spicy Shrimp Recipes