This website may contain affiliate links and advertising so that we can provide recipes to you. Read my privacy policy.
This easy grilled shrimp salad recipe is the perfect solution to your summer dinner needs! It's healthy, quick and full of grilled chipotle flavor.
I am always on the lookout for salads that are not only filled with tasty, nutritious veggies but have a flavorful dressing to bring everything together. Corn, broccoli apple, and asiago Caesar are some of my other favorite salads sure to make lunchtime great!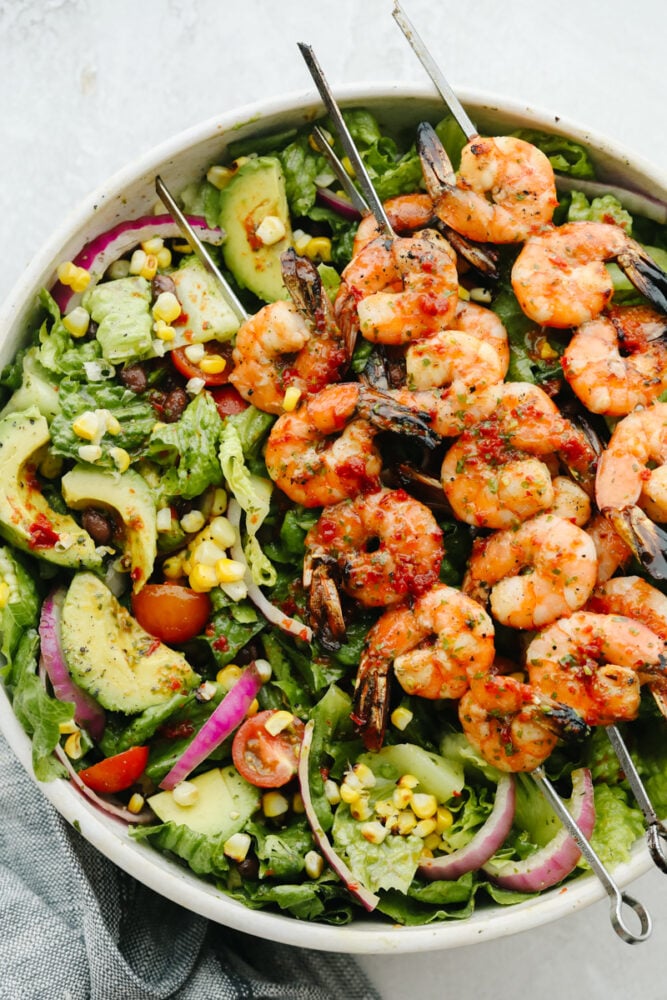 Easy Grilled Shrimp Salad Recipe
Delicious grilled shrimp salad that makes the perfect dinner during these warm summer months. I love how quick and easy this dish comes together and that it is so full of flavor. An assortment of cool, crisp vegetables combines with an easy-to-make, zesty lime chipotle dressing for a tasty punch of flavor. Then, add some smoky, tender shrimp on top and this salad becomes a game-changer. But the best part of this recipe? It utilizes my grill, so the house stays cool, and clean-up is a breeze. In less than 30 minutes you can create a fresh, delicious salad that rivals any brunch restaurant.
I am always looking for those perfect go-to recipes this time of year. You know, recipes that are family-friendly, can be quickly cooked on the grill, and that come together in a flash? Well, thankfully this grilled chipotle shrimp salad recipe meets all those requirements and more. It can be whipped up and taken on the go to put a little happiness and big flavor into busy days. It is also super healthy and checks all the boxes for your daily nutrition! Fiber from the black beans, healthy fats from the avocados, not to mention the high-protein, low-carb deliciousness of shrimp! Who knew eating healthy could taste so good?
Salad Dressing Ingredients
It doesn't take a lot to create this flavor-packed salad! It utilizes a lot of pantry staples for a tasty, healthy lunch that can easily be made over and over again. I know you will love the flavor that each of these simple ingredients works to create!
Olive Oil: Binds all of your ingredients together. I use light olive oil in this recipe.
Cilantro Leaves: Cilantro adds an amazing, aromatic flavor to this salad. If you aren't a fan of cilantro, you can swap this out for basil, mint, or parsley.
Lime Juice: Fresh-squeezed limes will add the best flavor to your salad.
Chipotle Peppers in Adobo Sauce: Chipotle peppers are jalapeno chiles that are smoked and dried. Being canned in a tomato, vinegar, and garlic mixture is what gives chipotle its distinct, tasty flavor.
Salt: To enhance flavor.
Apple Cider Vinegar: Adds subtle sweetnes and tanginess to your dressing.
Honey: Honey will make your dressing smooth with a hint of sweetness to counteract overly spicy flavors.
Southwestern Grilled Shrimp Salad Ingredients
Romaine Lettuce: Romaine lettuce has a mild taste with a delicious crunch. It works wonderfully in this salad.
Black Beans: I like to use canned black beans that are drained and rinsed. Black beans have an amazing texture that pairs well with the chipotle flavors of this salad.
Avocado: Avocados are the best part of any salad. They are so creamy and delicious!
Sweet Corn: Since our corn is going to be grilled, I use corn on the cob, shucked.
Red Onion: Red onions have a mild, savory flavor and will add a beautiful color to your salad.
Cherry Tomatoes: Cherry tomatoes add a tasty pop of flavor and texture.
Shrimp: I use large shrimp that has already been deveined for this recipe.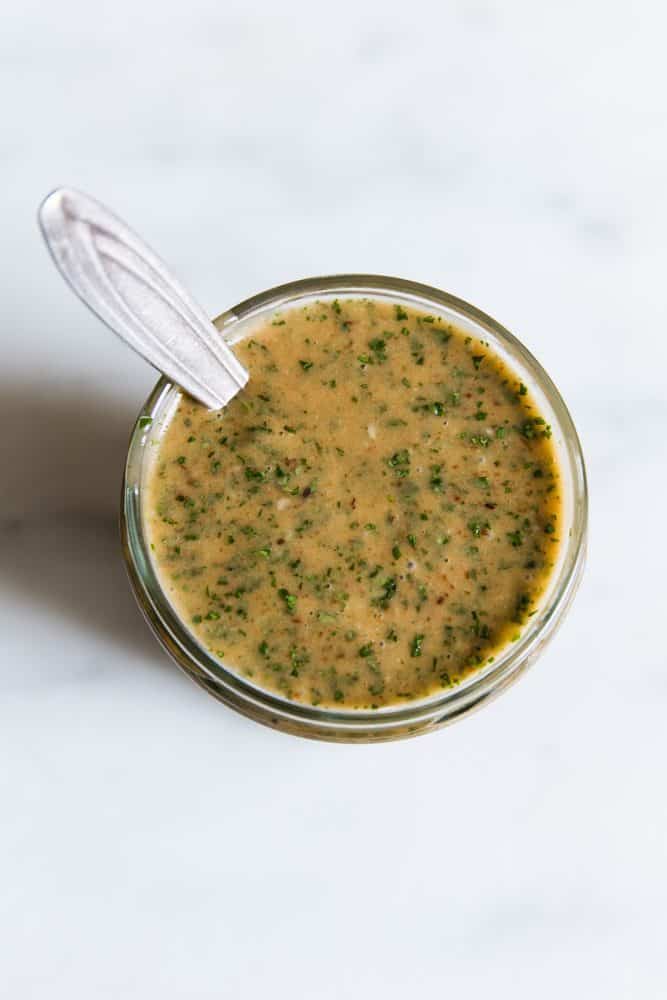 How to Make The Best Grilled Shrimp Salad
This easy and delicious salad comes together in a snap! I love how easy it is to grill up tasty shrimp. All you have to do is wait until it turns opaque and then toss your ingredients together for a healthy, mouthwatering meal!
For Dressing: To make your dressing, add all the ingredients to a medium sized glass jar. Using a immersion blender, blend until combined. Alternatively, you can use a stand blender for this step. Set dressing aside.
Prepare Grill: Next, heat a gas or charcoal grill.
Marinate Shrimp: Marinate the shrimp in a bowl with ¼ cup of the dressing for 15 minutes.
Prepare Skewers: Thread the shrimp onto metal skewers.
Grill: Then, lay the shrimp and corn cobs on the hot grill and cook until cooked through (the flesh of the shrimp will turn opaque) and grill marks form, about 2 minutes per side. Rotate the corn a few times during this time. Remove both and set aside.
Cut Corn: Cut the corn kernels from the cob.
Toss Vegetables With Dressing: To prepare the salad, add the lettuce, black beans, avocado, corn, onion and tomatoes to the bowl with the dressing. Toss to coat well, then transfer to a serving bowl or platter. Lastly, top the salad with the shrimp and serve.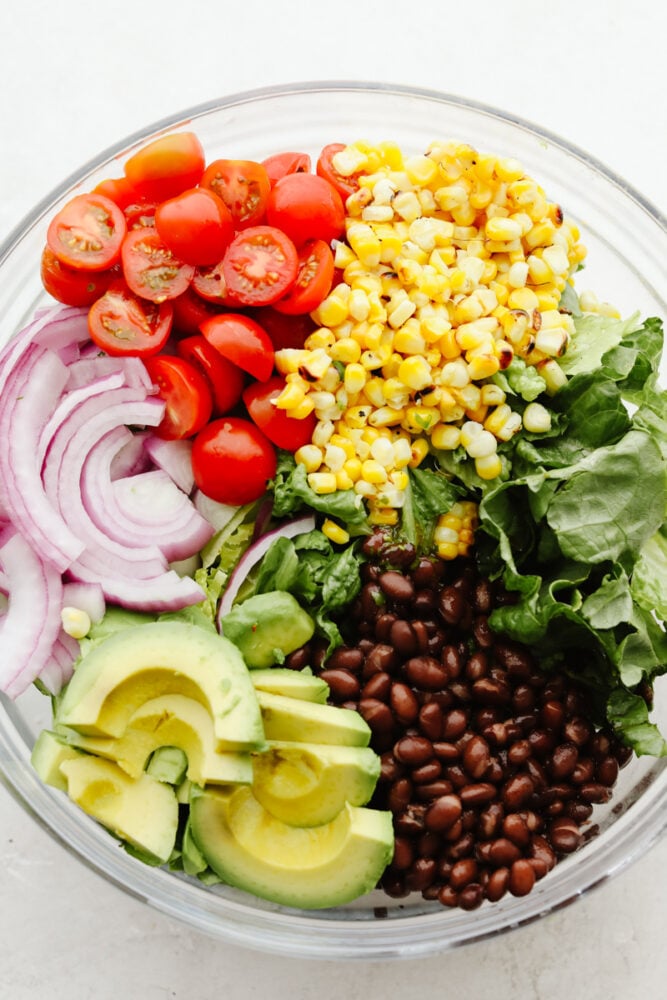 Shrimp Salad Quick Tips
This easy and delicious salad recipe can easily be upgraded with these simple tips and tricks! You won't be able to get enough of this tasty Southwestern dish!
Picking Shrimp: You can use small or large shrimp here. I personally prefer larger shrimp for grilling so you get bigger bites of delicious, smoky flavor! Make sure that any shrimp you are using does not have an ammonia smell or slimy coating on the outside. This means it has gone bad.
Fresh or Frozen: You can use frozen shrimp in this recipe, just make sure to let it thaw in your refrigerator before use.
Pat Shrimp Dry: Patting your shrimp dry before marinating can help flavor to stick better.
Using Chicken: You can easily substitute shrimp with boneless, skinless chicken breasts as another lean alternative. All you need to do is grill until juices run clear and internal temperatures reach 165 degrees Fahrenheit.
Grilling Corn: You will know your corn is done grilling when it turns bright yellow. It will be more opaque than uncooked corn.
Using Chipotle Powder: ½ teaspoon of chipotle powder can be used as a substitute for each chipotle pepper. If you want more kick to your dressing, you can add more powder in before adding the dressing to your salad.
Dipping Sauce: With these versatile ingredients, you can also easily make creamy and delicious chipotle mayo for dipping meat in or drizzling over your salad. Simply blend together salt, lime juice, mayo, and your chipotle peppers.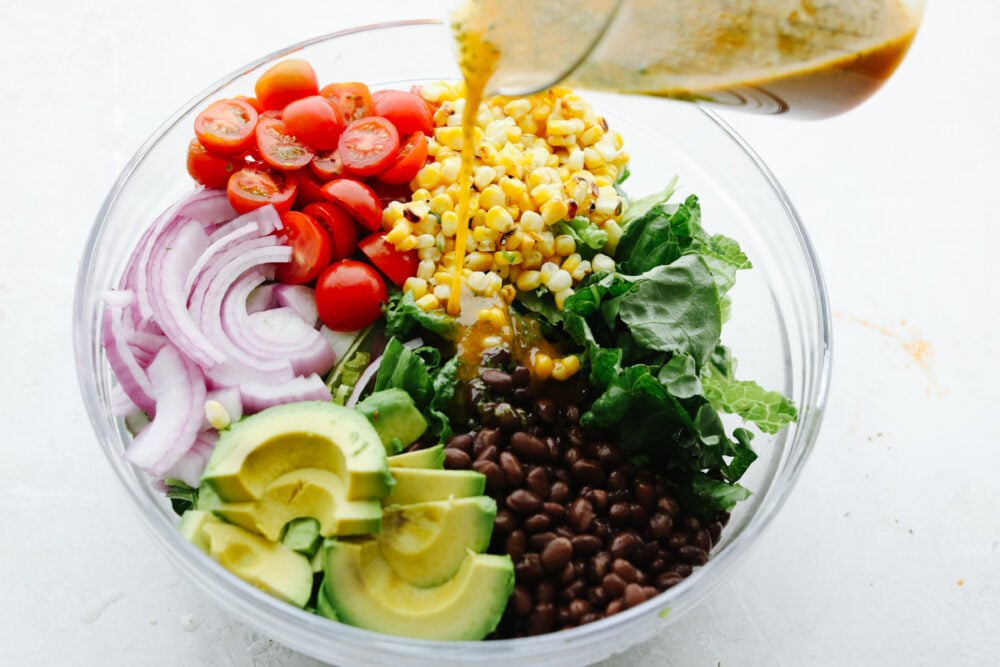 What to Serve with Shrimp Salad
Complete your meal by serving your grilled shrimp salad with other tasty Southwestern favorites! Grilled shrimp salad is tasty on its own, but it is also really versatile and tastes amazing when paired with a variety of other dishes. The cool, refreshing flavors of the veggies in this salad are a great contrast to meats and comfort foods. The iconic Mexican flavors of these dishes are so good, they are in the regular dinner rotation at my house. If your family is anything like mine, these flavorful dishes will all be eaten in no time!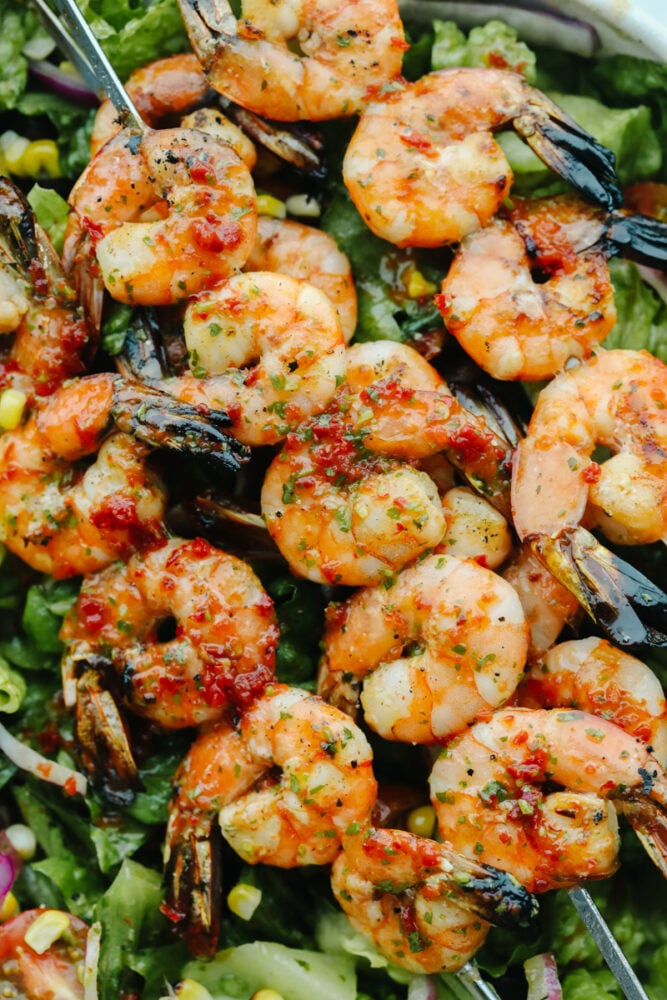 Storing Leftover Grilled Shrimp Salad
To keep your grilled shrimp salad from becoming soggy, it is best served fresh. However, with proper storage, it can be maintained for a few days for a quick and easy leftover lunch.
In the Refrigerator: Once your salad is tossed together with the dressing, it will last in the fridge for 1-2 days. Grilled shrimp will last for up to 4 days. Be sure to store everything in airtight containers for best results.
Note: If you are wanting to have this salad on hand for a more extended period of time, keep your salad and the dressing separate until you are ready to serve. This way, both the salad and the dressing will keep for up to 4 days.