These two-ingredient Grilled Mushrooms are super easy to make and taste fantastic with anything you're cooking on the grill. Mushroom fans will love these tips for how to grill mushrooms, and they're a perfect low-carb side dish!
PIN the grilled mushrooms recipe to try it later!
Grilled Mushrooms are so ridiculously easy to make, so delicious, and so healthy, that you'll want to make these mushrooms at least once a week when it's grilling season. And a recipe couldn't get much easier than this one with only two ingredients!
The Grilled Mushrooms are definitely a sibling of the Easy Grilled Vegetables that I also recently updated with new photos. Both those recipes are low-carb side dishes I make all summer long, and I never get tired of freshly-grilled vegetables or mushrooms for a side dish. If you like the idea of cooking mushrooms on the grill I highly recommend this for a summer side dish you'll make over and over.
What ingredients do you need for this recipe?
What size mushrooms are best for grilling?
Medium-sized mushrooms are best for cooking on the grill. If you buy a package that has some mushrooms that are a lot larger, I would cut the bigger ones in half so they'll all cook in the same time.
I marinate the grilled mushrooms to add flavor:
I like to put the mushrooms in a Ziploc bag or a container with a snap-tight lid and marinated at least an hour or two before I put the mushrooms on the grill. This adds so much flavor!
What grill basket did I use for grilled mushrooms?
I love using a grilling basket for veggies, just a pan with holes or slits that sits on top of the grill. For years I used one that looked like a small wok with holes, but I've upgraded to the fancier grilling basket (affiliate link) you see in these photos! If you don't have one of these grilling pans, you might be able to cook mushrooms right on the grill if the mushrooms are large and your grill slats are not too wide.
More ideas for Grilled Vegetables:
If you're a big fan of cooking vegetables on the grill you might want to check out my round-ups for Low-Carb and Keto Grilled Vegetable Recipes or Low-Carb and Keto Grilled Zucchini Recipes. I've also got a great collection of 35 Amazing Low-Carb and Keto Grilling Recipes to keep you happily grilling all summer long!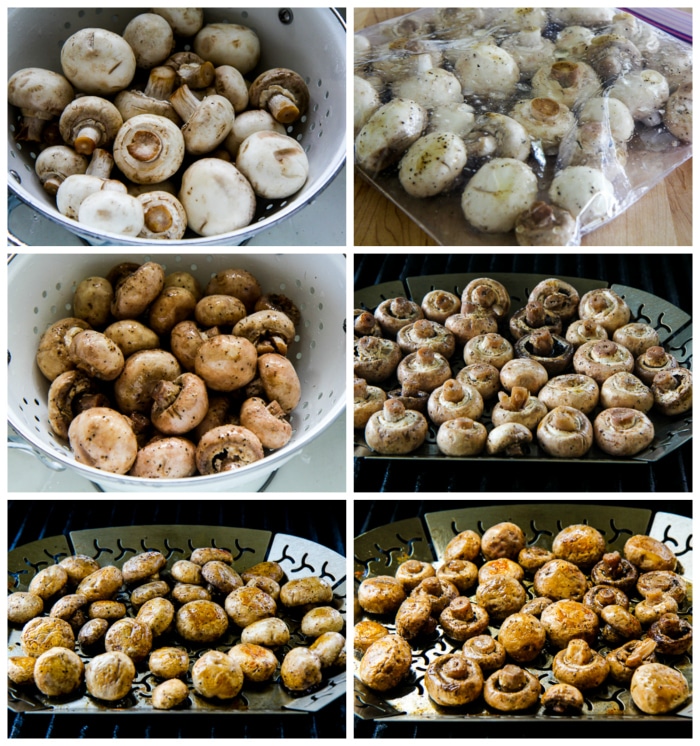 How to Make Easy Grilled Mushrooms:
(Scroll down for complete recipe with nutritional information.)
Choose mushrooms that are close to the same size; medium-sized mushrooms work best.
Wash mushrooms and let them drain well in a colander.
Then put mushrooms in a Ziploc bag, pour in Italian Dressing, and let mushrooms marinate for an hour or two. I use Newman's Own Olive Oil and Vinegar Dressing (affiliate link) for the marinade in this recipe, but any low-sugar vinaigrette will work.
When you're ready to cook, let the mushrooms drain while you preheat the grill to medium-high. (Preheat grill with the grilling pan sitting on the grill if you're using one).
Mushrooms will take around 15 minutes to go from pale and plump to golden and slightly shriveled; turn them every once in a while and cook until they're done to your liking.
Serve the Grilled Mushrooms hot and enjoy!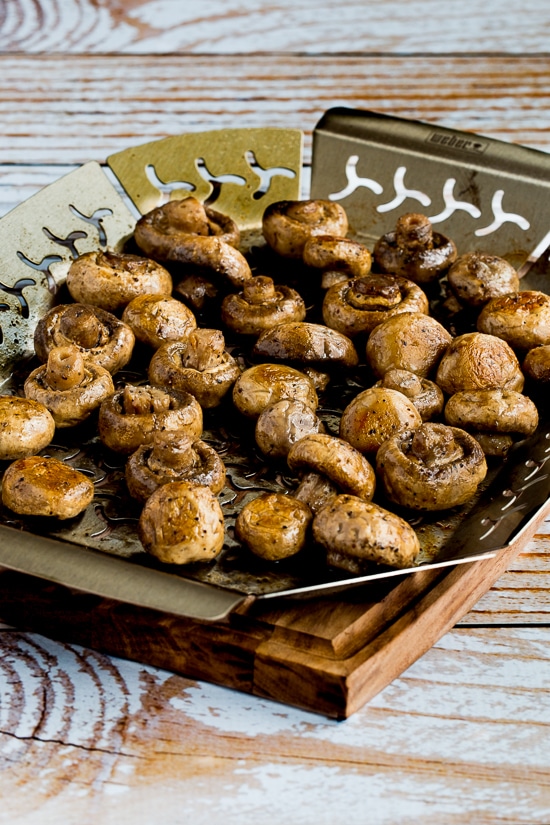 Make it a Low-Carb Meal:
These grilled mushrooms would be delicious with something like Ultra Easy Lemon Pesto Chicken Kabobs, Grilled Chicken with Balsamic Vinegar, Grilled Sausage and Peppers, Sanpete County Grilled Turkey Kabobs, or Grilled Flat Iron Steak with Chimichurri Sauce for a low-carb meal.
More Delicious Ideas with Mushrooms:
Baked Eggs with Mushrooms and Parmesan
Roasted Asparagus and Mushrooms with Everything Bagel Seasoning
Stuffed Mushrooms with Olives and Feta 
Palmini Pasta with Sausage and Mushrooms
Air Fryer Roasted Mushrooms
Ingredients
1 pound medium-sized mushrooms
1/4 cup Italian salad dressing (see notes)
Instructions
Despite all the cookbooks saying not to wash mushrooms, I've done it for years. I wash the mushrooms by putting them into a colander in the sink and rinsing with cold water; then let the mushrooms drain well. You can slice some mushrooms in half if they're larger than the others.
Put the mushrooms into a large Ziploc bag or plastic container with snap-on lid and pour the dressing in.
If you have time, marinate for an hour or two, although it's not essential.
To cook, preheat grill to medium-high with the grill pan sitting on the grill while it heats.
Drain the mushrooms in a colander, letting them drain for a few minutes so there isn't too much oily dressing to drip down and flame up.
When mushrooms are well-drained dump them into the grill pan (or arrange on the grill rack if you're not using a pan).
The dressing might still flame up a little; I squirt it out with a spray bottle if it flames too much.
Cook mushrooms for 10-15 minutes, turning occasionally, or until they're well browned but still a little bit firm.
Serve hot.
Nutrition Information:
Yield:
4

Serving Size:
1

Amount Per Serving:
Calories: 67Total Fat: 4gSaturated Fat: 1gTrans Fat: 0gUnsaturated Fat: 3gCholesterol: 0mgSodium: 148mgCarbohydrates: 8gFiber: 2gSugar: 4gProtein: 3g
Nutrition information is automatically calculated by the Recipe Plug-In I am using. I am not a nutritionist and cannot guarantee 100% accuracy, since many variables affect those calculations.
Low-Carb Diet / Low-Glycemic Diet / South Beach Diet Suggestions:
Grilled Mushrooms are a great low-carb or Keto side dish and they would be approved for any phase of the original South Beach Diet.
Find More Recipes Like This One:
Use Grilling Recipes to find more recipes like this one. Use the Diet Type Index to find recipes suitable for a specific eating plan. You might also like to follow Kalyn's Kitchen on Pinterest, on Facebook, on Instagram, or on YouTube to see all the good recipes I'm sharing there.
Historical Notes for this Recipe:
Easy Grilled Mushrooms were updated with better photos in May 2016. The recipe was updated and improved in 2020, and again in 2022.
We are a participant in the Amazon Services LLC Associates Program, an affiliate advertising program designed to provide a means for us to earn fees by linking to Amazon.com and affiliated sites. As an Amazon Associate, I earn from qualifying purchases.