This website may contain affiliate links and advertising so that we can provide recipes to you. Read my privacy policy.
This Honey Lime Chicken is perfectly grilled tender and juicy meat. Marinated in a honey lime cilantro marinade, the flavor of this chicken is incredible!
Fresh and zippy this chicken is dynamite. Make it a scrumptious meal and serve it with Asparagus, Pineapple, and Potatoes.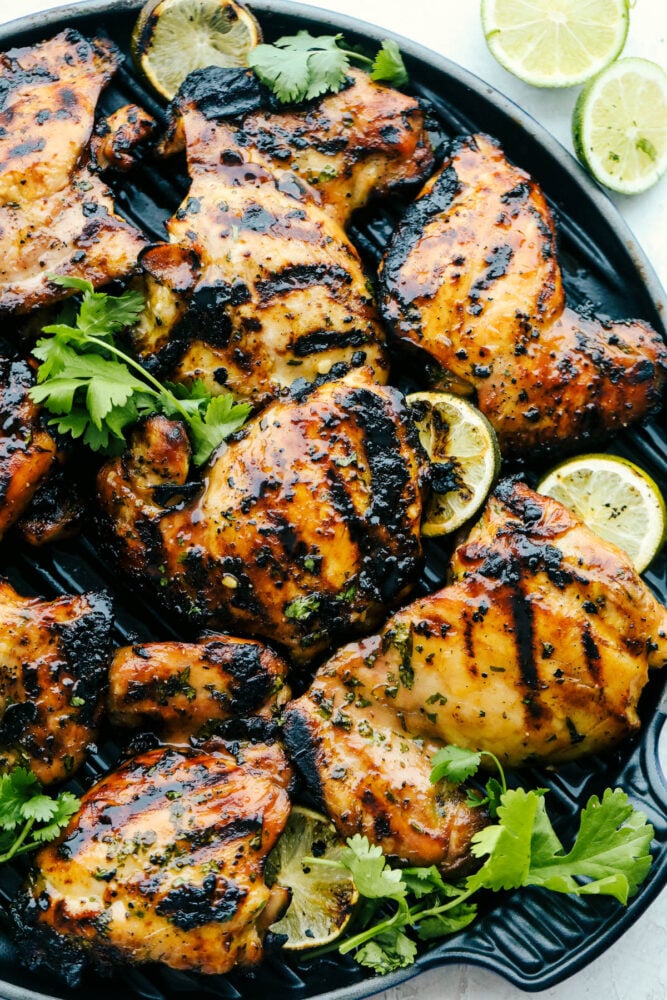 Grilled Honey Lime Chicken
Honey + Lime + Cilantro = one of my favorite flavor combinations. Something about the sweet honey and tangy lime plus the cilantro infuse this chicken with such amazing flavor. I love cilantro! It is one of my favorite herbs to cook and garnish with. Definitely grill it up this summer with your family! You will not regret it!
This marinade comes together quickly and I love to marinade for a few hours so the chicken can soak up the delicious flavor. I am seriously all about the quick and easy BBQ dishes lately. Since the weeks are starting to get so busy and school is almost over this chicken was a delicious meal that my entire family loved. After a busy day, we love to just spend time in the backyard while we BBQ. I always call a meal a success when the entire family including the picky eater devours it. We all loved this chicken so much and the flavor is awesome!
Ingredients For Honey Lime Cilantro Chicken
Just a handful of ingredients is all you need to make a dish that is going to sizzle, literally! This honey lime chicken has all the flavor! For all the ingredient amounts scroll to the bottom for the recipe card.
Boneless skinless chicken breasts, or thighs: I have used both with great success
Lime juice: Freshly squeezed is the best.
Honey: Sweet honey compliments the lime beautifully.
Soy Sauce: Adds a bit of umami flavor that is impeccable.
Olive oil: To help the chicken cook up nicely and give a bit of flavor.
Garlic cloves: minced
Cilantro finely chopped: Adds so much freshness and color.
Salt and Pepper: Add to taste.
Let's Grill Some Chicken!
From beginning to end, this is an easy full of flavor chicken the whole family will love! Grilled chicken is a favorite in our home and this recipe is so quick and easy to make!
The Marinade: In a small bowl combine lime juice, honey, soy sauce, olive oil, garlic, cilantro, salt, and pepper.
Let it all soak in: Pour the sauce over the chicken and let marinate for 3 hours or overnight.
Grill: Preheat your grill to medium-high heat. Grill each side of the chicken for about 3-4 minutes or until cooked throughout and no longer pink.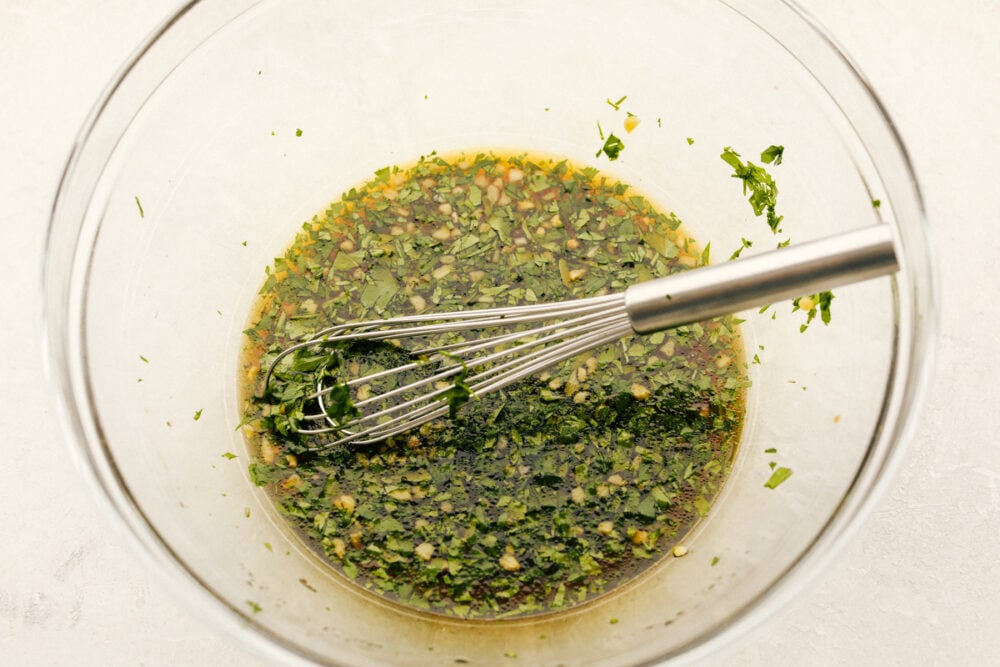 Tips for the Best Chicken with Honey Lime Cilantro Marinade
You will love this easy dynamite grilled chicken! Honey and lime mixed together is the perfect combination! Then top it off with cilantro and you have a dynamic duo. With these quick tips you will be grilling the perfect chicken every time.
Chicken: It all starts with the chicken. For grilling, I highly recommend using chicken thighs with bone-in if you can. They will be the juiciest. If you use chicken breasts, pound them so they are the same thickness. They will cook more evenly.
Marinate: The lime and soy sauce will act like an acid breaking down the chicken fibers and helping them absorb the flavor and moisture. This will help the chicken not only taste amazing but help keep it tender and moist.
Spicy: If you need a bit more spice you can add some jalapeno juice or chopped-up jalapeno peppers.
Internal Temp: The internal temperature of the chicken should reach 160 degrees for safety. Check out my other tips for how to get it cooked done, but not overdone.
Let it Rest: Tent the chicken for 5-10 minutes to let the juices redistribute throughout the meat. This leaves more juice inside the chicken and less on your plate.
Drizzle: Reserve ¼ of a cup of the marinade before adding the chicken to marinate. When the chicken is done grilling drizzle the extra marinade over the top. DO NOT use the marinade the raw chicken had been sitting in.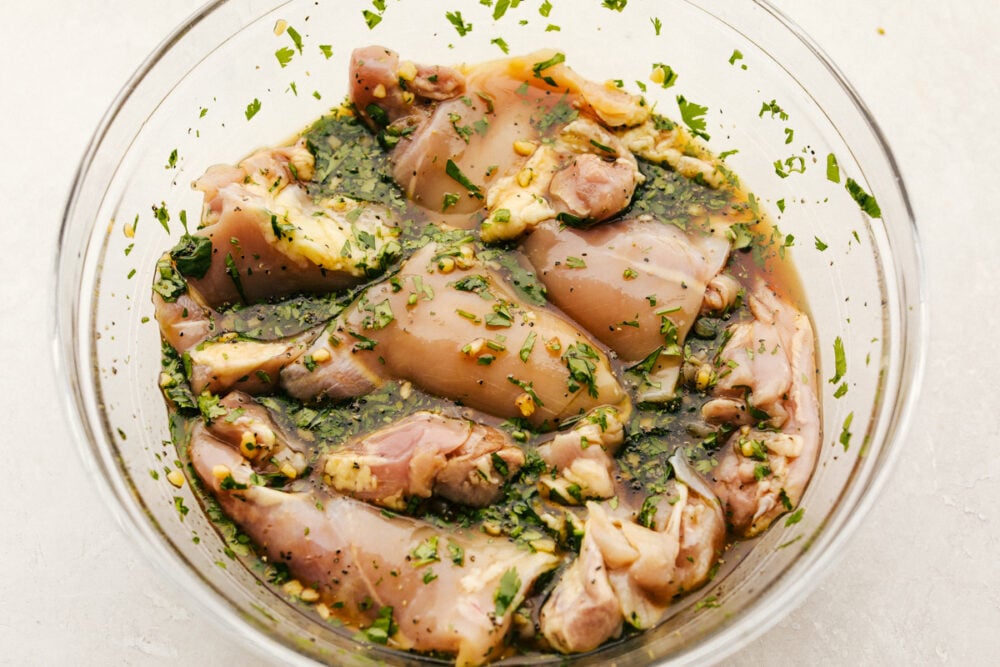 What to Serve with this Incredible Chicken
The freshness from the lime and cilantro create a light zippy dish, that is perfect for a busy weekday or lazy weekend. The chicken is full of flavor and tender and juicy. This is perfect as a stand-alone main dish or cut it up and serve it over a salad.  You can also use this honey lime cilantro chicken in tacos, rice bowls, or even make a sandwich that will sure to please. However, you serve it here are some sides to compliment your dish.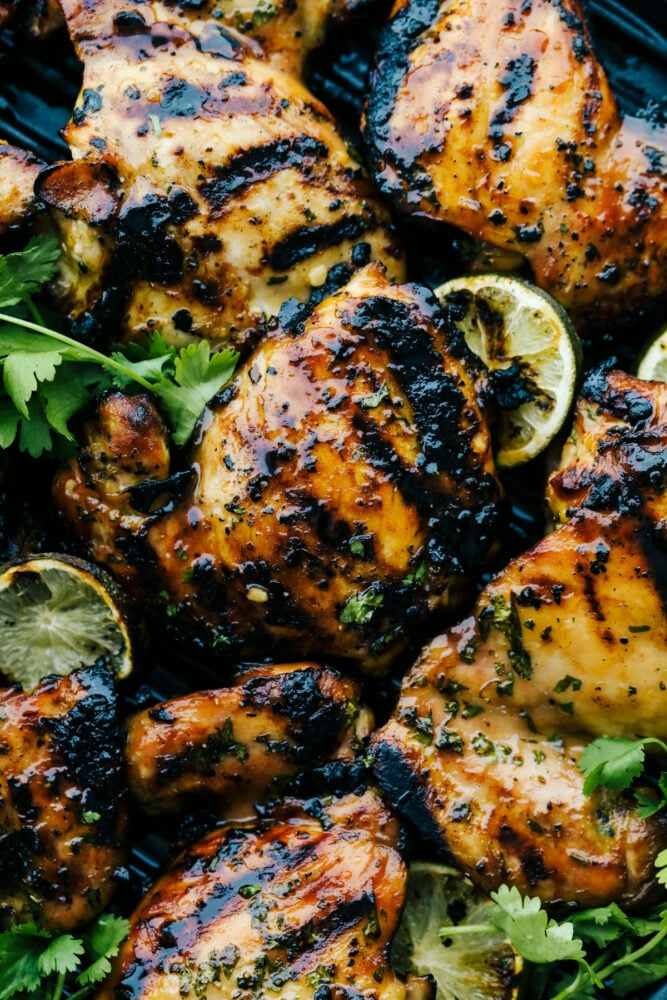 Tips For Grilling Chicken
Grilling can seem intimidating, especially with chicken, but there are just a few things to keep in mind and get right every time. Take your grilled chicken to the next level with these tips to help you out this summer!
Prep: Preparing the grill is just as important as the marinade. Clean the grill and oil it before adding the chicken. I first clean the grill with a grill brush to get the gunk from the last grill off. Then, using tongs to hold a wad of paper towels folded into a nice square, and dipped in a high smoke oil, grease the grill.
Chicken: If you want even a better chance of getting juicy, moist chicken, choose chicken with the skin on as well as bone-in.
First Sear: Heat the grill with one side on high and the other side on medium-high heat. First, sear the chicken on the high heat side of the grill. Leave it on the high heat side till char marks form.
Then Low and Slow: Once you have that nice charred grill line, flip the chicken over and onto the lower heat. Keep the grill closed to reduce drying out and grill without turning over again till desired internal temperature has been reached. The total cook time will be around 25- 30 minutes roughly.
When to Take it Off: When chicken is removed from the grill and rested it will continue to cook inside. You can safely take your chicken off once the internal temperature reaches anywhere from 155-157. As it rests it will reach internally to 160 degrees.