This website may contain affiliate links and advertising so that we can provide recipes to you. Read my privacy policy.
Grilled Honey Dijon Garlic Pork Tenderloin is juicy, tangy, flavorful, and cooks up quickly and easily. With a dish this healthy and delicious, you will love having it in your weekly dinner lineup!
Pork tenderloin is one of my favorite cuts of pork because of how easy it is to grill up and how well it absorbs whatever flavors I am using to cook with. Garlic herb, spinach bacon, and cranberry orange are other tenderloin recipes to try packed with crave-worthy flavor!
Juicy Honey Dijon Garlic Pork Tenderloin Recipe
Pork tenderloin is a cut of meat that I think is often overlooked. When cooked properly, it is so juicy, soft and flavorful! Plus, it is just as healthy as a boneless chicken breast! I, for one, cannot possibly pass up a recipe that is hearty, delicious, makes me feel full, but isn't too fatty or high in calories. Combine the health benefits of pork tenderloin with a perfect, summery garlic Dijon glaze and you have a real winner on your hands.
And can we talk about this glaze?! It only takes 4 simple ingredients to put together but has so much big, impactful flavor that just emanates perfectly in your mouth. The sticky sweetness of honey, the savory kick of garlic, and the zippy, refined tang of Dijon make this marinade a real crowd-pleaser. Serve this tasty pork tenderloin up with grilled vegetables and mashed potatoes for a hearty summer meal to satisfy.
Grilled Pork Tenderloin Ingredients
Only a handful of ingredients are needed to create this melt-in-your-mouth grilled pork tenderloin dish! Individual measurements for each ingredient can be found in the recipe card below.
Pork Tenderloin: 2 pounds of pork tenderloin, silver skin removed. See more about this in the tips box below.
Salt and Pepper: To taste.
Olive Oil: To bind ingredients together in marinade.
Dijon Mustard: For tangy flavor.
Honey: To add sweetness.
Garlic Cloves: Minced.
Fresh Parsley: For garnish.
How to Make Grilled Pork Tenderloin
It only takes a few super easy steps to make a hearty, delicious meal that the whole family will love. This grilled pork tenderloin is a family favorite and made perfectly each time!
Prep Tenderloin: Trim the fat from the pork and salt and pepper the pork tenderloin.
Mix Together Sauce Ingredients: In a smal l bowl whisk together olive oil, dijon mustard, honey, and garlic. Brush half of the sauce on the pork.
Grill: Preheat the grill to medium high heat. Add the pork to the grill. Cook for 5-6 minutes on each side or until the pork reaches an internal temperature of 145 degrees.
Glaze: Brush remaining glaze on top of pork and serve with chopped parsley if desired.
What is the difference between Loin and Tenderloin?
Be careful when picking out your meat. Pork loin and pork tenderloin are two different cuts of meat. Pork loins are bigger and typically used for roasts, yielding a completely different texture. Tenderloin is smaller, longer, and a darker red than a pork loin. Tenderloins also cook faster than pork loins. Curious about where the different cuts of pork come from? Here is a graphic to help you out!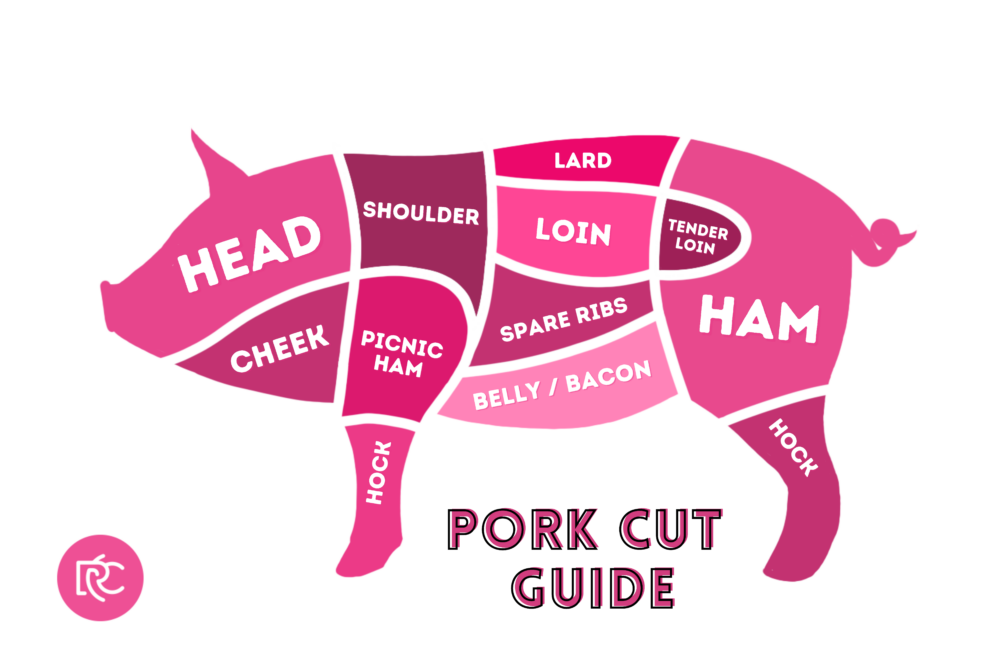 The Best Grilled Tenderloin Tips
Follow these quick and easy tips for a tenderloin that is perfectly juicy and flavorful! Grilled pork tenderloin is the perfect way to enjoy the best summertime dinner!
Choosing a Pork Tenderloin: Look for pork tenderloins with consistent marbling throughout. This will ensure that they are soft and tender and retain moisture in the cooking process.
Pat Meat Dry: Always pat your meat dry before seasoning or adding the marinade. This helps the tenderloin become infused with flavor.
Remove Silver Skin: Most tenderloin comes prepared with the silver skin removed, but if your cut is covered with a whitish-gray film, that means it still has the silver skin (connective tissue) attached. Simply pull with your fingers and run a small knife under the skin to remove it. It is important not to skip this step because silver skin, when cooked, can make the outside of your tenderloin tough and leathery.
Be Careful Not to Overcook: Because of how lean tenderloin is, it can quickly become overcooked and dry. Be sure to check it often during the cooking process- you will know if it is done when it is mahogany to light brown in color with a soft pink inside, or the internal temperature is 145-150 degrees Fahrenheit.
What to Serve With Grilled Honey Dijon Garlic Pork Tenderloin
The flavors of Grilled Honey Dijon Garlic Pork Tenderloin pair perfectly with seasoned potatoes, green salads, and grilled vegetables. Because the flavor of the tenderloin is more savory and tangy, I also like pairing it with a pasta salad for a light flavor contrast. Serve with roasted cauliflower for a healthy, crispy side!
Storing Leftover Grilled Pork Tenderloin
Keep your leftover Grilled Honey Dijon Garlic Pork Tenderloin for a healthy weeknight meal that you can quickly reheat!
In the Refrigerator: Wrap your pork tenderloin tightly with either plastic wrap or tin foil. It will last for up to 4 days.
In the Freezer: Grilled tenderloin can be stored in a ziplock bag in the freezer for up to 3 months. Thaw overnight in the fridge before reheating.
To Reheat: The best way to reheat grilled pork tenderloin is on the stove over low to medium heat, covered. This will keep the inside of your pork tenderloin delicious and juicy! Cook for 10-15 minutes, turning halfway.