This website may contain affiliate links and advertising so that we can provide recipes to you. Read my privacy policy.
Grilled Honey Balsamic Portobello Mushrooms have deep sweet and savory flavors and a substantial hearty texture that stands up perfectly to your grill!  Amazing as a grilled dinner or an appetizer, you will love the way this unique ingredient livens up your summer menu!
I have been loving my grill this summer! If you have missed my recent posts make sure to check out Grilled Lobster Tail  and Hobo Dinner Foil Packets for other amazingly easy and delicious grill recipes I've shared.
Easy Honey Balsamic Portobello Mushrooms
With Father's Day coming up I knew I needed to make something hearty for him to add on hamburgers, slice up for steak or add it to any kabobs that we grill. Grilling is my hubby's favorite and I know we need to keep things outside during the warmer months. Portobello mushrooms are an ingredient I have loved for a long time.  Mixing things up with unique ingredients is a MUST when entertaining friends, feeding your family, or yourself!  Try this delicious add on to any grilling recipes this summer!
That's why serving this amazing grilled honey balsalmic portobello mushroom is a must for any grill party!  The earthy notes and hearty texture is so satisfying!  Everyone will be so amazed!  Just know you are going to be asked how you made it and raving about the flavor, so be prepared!   I love how quick and easy they are to grill and that I don't have to make a mess in my kitchen!  I am all about porch life this time of year and this recipe is the perfect thing for a meal outdoors!
Preparing Honey Balsamic Portobello Mushrooms:
When getting ready to grill your portobello mushrooms, all you will need to do is whisk together a simple marinade.  The ingredients are very popular to most marinades, so you may already have many of them on hand!  The marinade creates an amazing texture as it tenderizes, and intensifies the flavor of your mushroom too!
Olive oil: Penetrates the skin and brings the flavors of the marinade throughout the mushroom.
Butter: Melted to mix easily in marinade.
Garlic cloves: Minced garlic adds rich flavor!
Balsamic vinegar: Acts as a tenderizer because of its acidity.
Soy sauce: Adds saltiness to the marinade
Honey: Adds sweetness!
Salt and Pepper: To taste
Portobello Mushrooms: Be sure to clean them with a damp paper towel and remove the stem and gills before grilling.
How to Grill Portobello Mushrooms:
To grill portobello mushrooms, you will need to remove the stem, scrape out the gills and marinate them for 10 minutes in the refrigerator.  Then just place on the hot grill and flip halfway through cooking.  It is pretty simple and easy to do!  The grill will bring out the earthy flavors of the mushroom
Whisk Marinade: In a small bowl whisk together olive oil, butter, garlic, soy sauce, sugar, and salt and pepper.
Prepare portobello mushrooms: Gently remove the stem from the mushrooms.  Using a spoon scrape out the gills. Set the mushrooms in a 9×13 inch pan.  Add the marinade and soak for 10 minutes.
Grill Mushrooms: Preheat the grill to medium high heat. Place the mushrooms on the grill and grill 5 minutes on each side for a total of 10 minutes.
The Recipe Critic Pro Tip:
For criss-cross grill marks on the outside, simply spin the portobello mushroom on the grill slightly around the 2 to 3 minute mark. This gives you a fun grill mark on the outside of the mushroom.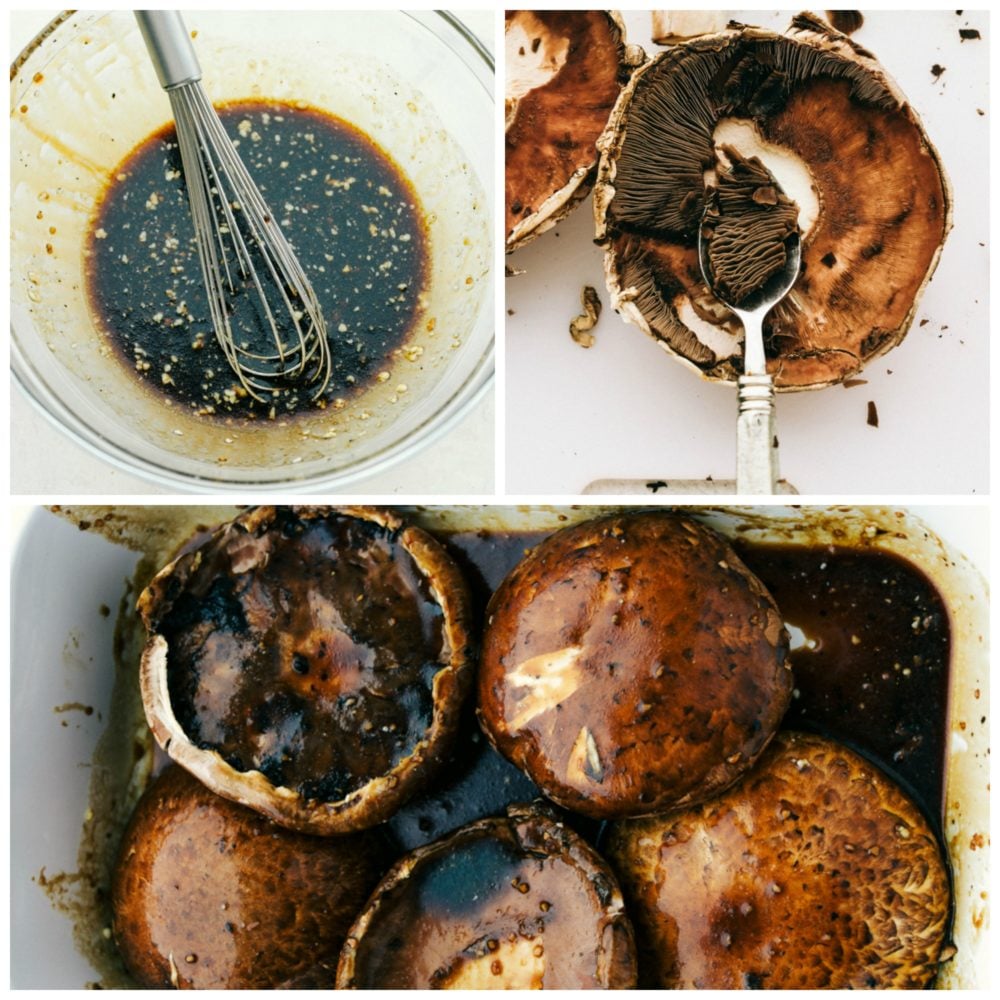 What to Serve with Mushrooms:
Portobello mushrooms are so versatile!  Paired with this amazing honey balsamic marinade, this mushroom will be the star of any menu!  Fresh off the grill they make a great main dish or appetizer to share.  Their intense flavor pairs well with more mild sides like rice, couscous, or pasta.  Balance the dark color with bright veggies or a colorful salad.  You could even treat this as a vegetarian option for a hamburger replacement and serve with fresh corn or fries.
FAQ About Grilling Mushrooms:
Portobello mushrooms are in the vegetable food group despite the fact that they are not plants.  They are actually a fungi. So, that leaves lots of questions about how to care for them and prepare them well.  Here are some answers to the questions that you may have about properly preparing this delicious..ummm…vegetable?
Can you marinate too long? Since mushrooms are by nature very porous, it is possible to marinate them too long. They will soak up too much and may become too mushy if they sit too long in the marinate.  So, stick with 30 minutes of marinade before grilling.
How do you clean portobello mushrooms? Since the mushrooms grow in the ground it is necessary to clean them as the first step of preparing them. To clean the mushrooms, you need a damp paper towel.  Wipe the cap and stem of the mushroom to remove any dirt.
How do I choose a good portobello mushroom? A fresh mushroom should be firm and have a pleasant smell. Inspect them carefully before purchasing.  If they are slimy, have dark spots, or the gills are wrinkled, stay away!
How to Properly Store Portobello Mushrooms:
To store your fresh mushrooms until you are ready to grill them, start by removing any packaging from the mushrooms.  Then, place them either in a paper bag or on a tray and cover with a paper towel.  If storing in a ziploc bag, leave the bag open.  The key is you want to avoid the mushrooms getting too much moisture in a sealed container. Do not freeze fresh mushrooms, and use within a week of purchasing.
Once marinated and grilled, the mushrooms will need to be stored in an airtight container.  They will last in a refrigerator for 3-5 days or in the freezer for 10-12 months.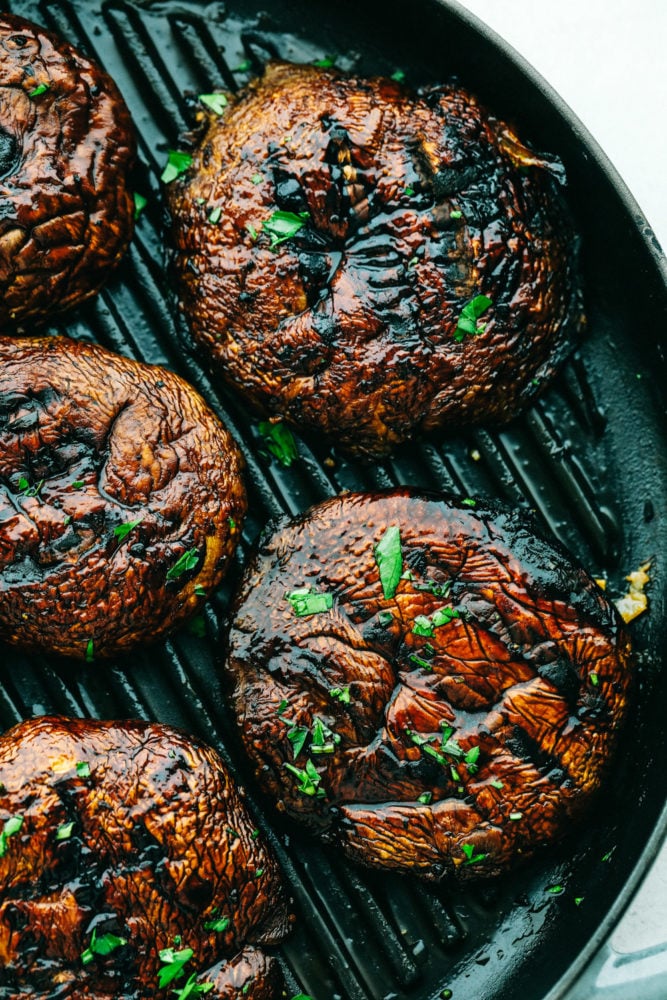 More Grill Favorites: