This website may contain affiliate links and advertising so that we can provide recipes to you. Read my privacy policy.
We're excited to partner with Reynolds Wrap® for this sponsored recipe
This grilled citrus salmon is tender and flaky with a sweet and savory pineapple salsa garnished on top. Grilled to perfection in a delicious marinade that make this salmon tender and juicy with every bite!
Using Reynolds Wrap® helped me keep the salmon juicy, tender and from sticking to the pan with hardly any cleanup. With the help of their Reynolds Wrap® Non-Stick Aluminum Foil, I have also made this easy grilled pizza, Monte Cristo croissant sandwich, or these easy mini burritos where cleanup was a breeze and the flavor was all wrapped together.
Grilled Citrus Salmon with Pineapple Salsa
Enhance your taste buds with this perfect salmon and pineapple salsa combination. Grilled salmon is bright, flavorful, and full of citrus tang. This is a tried and true favorite dinner recipe! It helps to use Reynolds Wrap® Non-Stick Foil to keep salmon from sticking to the pan as well as an easy cleanup at the end. It is my go-to for any kind of grilling or baking because it is high-quality.
This grilled citrus salmon recipe is one dinner to impress your family with. It is healthy, full of fresh ingredients, and so delicious. I love making this during the warmer months and having a light and tasty meal. My family loves how easy it is to make and then cleanup is a breeze when using Reynolds Wrap® Non-Stick Foil. Grilling the citrus salmon perfectly and creating the pineapple salsa couldn't be better. It is the perfect combination! 
Salmon Ingredients:
Simple ingredients that are quick to find and some are already on hand. I do recommend always having Reynolds Wrap® Non-Stick Foil ready to go when cooking, grilling, or baking. This makes life in the kitchen much easier and better! 
Orange Juice, Lemon Juice, and Lime Juice:

The Acidity

helps to balance out the flavors.

Orange Marmalade:

A thick fruit preserve that adds more depth to the sauce. 

Garlic Cloves: 

Finely minced and added into the marinade. 

Soy Sauce:

Brings a strong flavor that lasts on the salmon. 

Brown Sugar:

Adds a sweet taste to the sauce. 

Cornstarch and Water:

Combined these two ingredients combine a thicker sauce. 

Reynolds Wrap® Non-Stick Aluminum Foil:

Used to help wrap the salmon and dressing in. 

Salmon Filet:

Already cut and ready to grill. 

Sliced Oranges: Great for garnish and looking delicious!
Ingredients for Pineapple Salsa:
This salsa is to die for! Filled with fresh fruit and vegetables chopped small to make a delicious salsa that adds so much to this salmon. Follow my pineapple salsa recipe and see how this garnish is a MUST! 
Pineapple:

Cut up a fresh pineapple. 

Red Onion:

Adds a bit of crisp spiciness to the salsa as well as color. 

Red and Green Bell Pepper:

Chop up into small squares. 

Jalapeño:

Slice in half and remove the seeds then slice into smaller pieces. 

Cilantro:

Garnish with some more green and fresh herbs. 

Lime:

A squeeze of lime juice. 

Salt:

Sprinkled over for taste! 
Let's Get Grilling!
A few steps to making one amazing citrus salmon. Impress your family with this sweet and savory salmon recipe that is one of the best out there. Sweet, savory, and delicious in every bite. Full of fresh ingredients from the start to the grill! 
Whisking together:

In a medium-sized saucepan whisk together orange juice, lemon juice, lime juice, orange marmalade, garlic, soy sauce, and brown sugar.  

Create a Thickener:

In a small bowl combine cornstarch and water and whisk into the sauce.  Heat to medium-high heat and let simmer until it starts to thicken.  Remove from heat.

Prepare Salmon:

Heat grill to medium-high heat. On a sheet of

Reynolds Wrap® Non-Stick Foil

place the salmon on top. Fold up the edges of the foil. Spread on half of the marinade. 

Grill Salmon:

Place the foil on the grill and let the salmon cook for 10-12 minutes or until salmon is opaque and cooked throughout. Spread remaining marinade on top and serve.
The Recipe Critic Pro Tip:
When using Reynolds Wrap® Non-Stick Foil, make sure the dull side is always facing up, because that is the non-stick side that will keep your food from sticking.
All About Reynolds Wrap:
Foil makes prepping, cooking, and cleaning much easier. I have loved using Reynolds Wrap® in our home helping make things easier in the kitchen. It is the only foil I trust on the grill! 
No Cooking Spray Needed:

Because of how easy it is to lift away from the grill the non-stick coating does not need cooking spray added. 

Use Tongs:

When removing the foil from the grill be sure to use tongs, gloves, or slide it from the grill to the plate to avoid touching it when it is hot. 

Food Lifting:

Watch how quick and easy it is to lift the foil off of the grill. Less mess, helps with cooking and cooks evenly in the foil. 
Grilling Salmon the Right Way:
The ideal cooking temperature for grilled salmon is about 145 degrees Fahrenheit. It is best to use a meat thermometer to ensure the correct doneness. 
A 2 to 3 pound salmon filet will cook at:
425 degrees Fahrenheit 7 to 10 minutes

400 degrees Fahrenheit 12 to 15 minutes

375 degrees Fahrenheit 16 to 20 minutes

350 degrees Fahrenheit 21 to 24 minutes
 Storing Salmon and Salsa:
It is best to store the grilled citrus salmon and the pineapple salsa separately. Combined may ruin each other's tastes. The grilled salmon is best stored in a Tupperware when the salsa can be stored in a jar or airtight container. Both need to be stored in the refrigerator until ready to eat. 
Storing Salmon:

Grilled salmon is best kept in the refrigerator for 3 to 4 days long. You can freeze salmon in freezer bags for 1 month long, thawing overnight in the refrigerator. When ready to warm up, simply reheat in the microwave, on the grill or in the oven. 

Storing Pineapple Salsa:

This salsa is so delicious and can be stored in an airtight container for 2 to 3 days long. The fruit will stay a little longer because of the citrus juices but not much longer. This salsa is not the best frozen.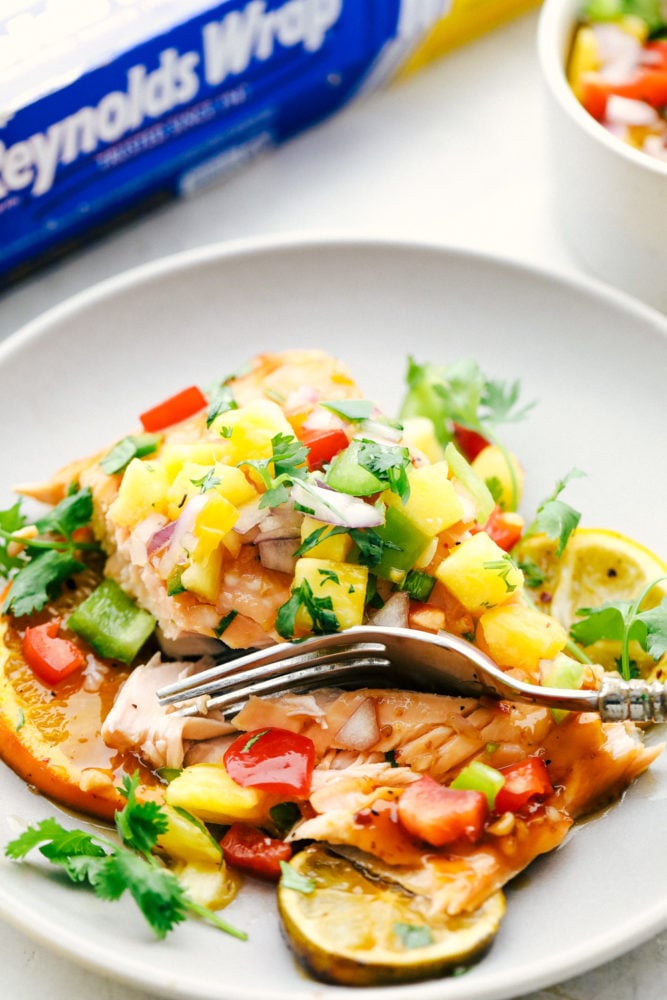 More Savory Salmon Recipes: