This Italian-inspired recipe for grilled artichokes hearts is full of flavour and textures. Artichokes are peeled and the hearts are pan-fried or grilled together with garlic, lemon and anchovies for that umami salt kick. This dish is great as a side, appetizer or you can throw these in a salad or pasta. This recipe is gluten-free, paleo and Whole30-friendly and I also provide a vegetarian/vegan option.
---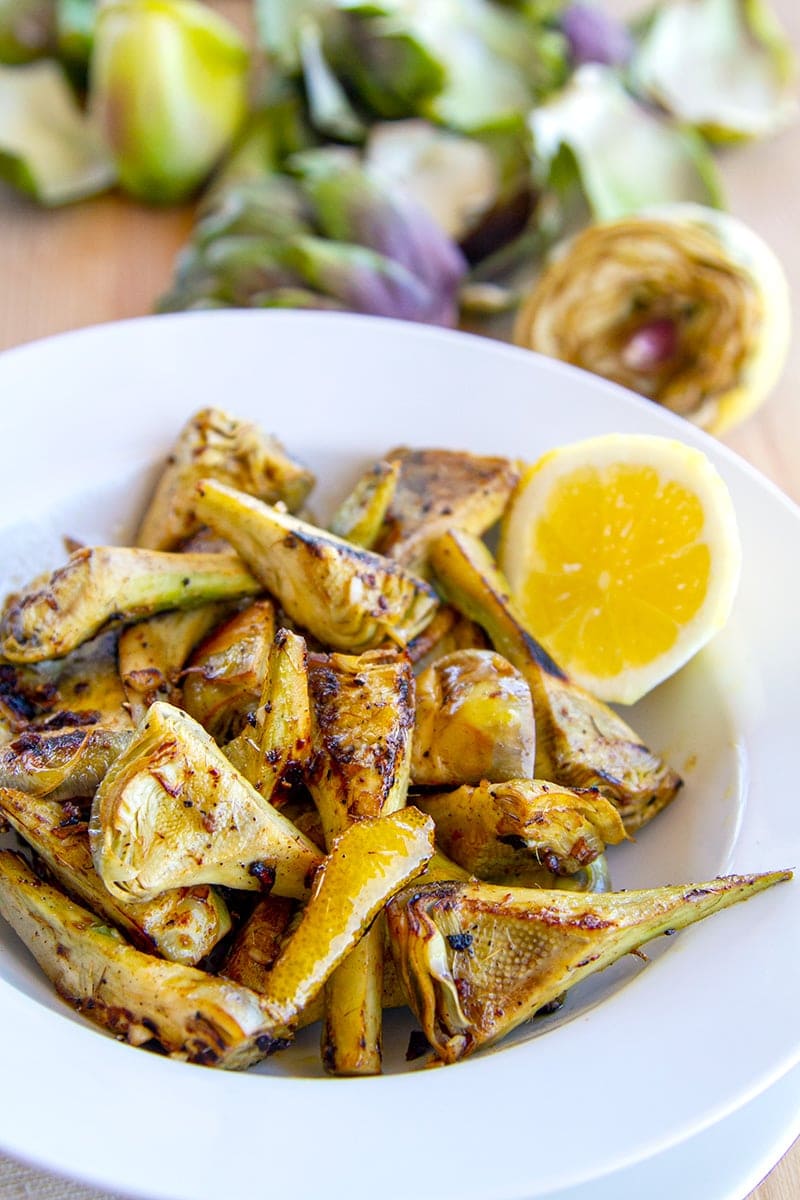 Artichoke Hearts
Many people get artichoke hearts in a jar and for a good reason – cooking with fresh artichokes requires a bit of prep work as it takes time to peel the artichokes and get the hearts ready.
And even though an artichoke looks like a large vegetable, once you get to the edible part – some of the leaves and the artichokes hearts – there is a lot less to play with. As a result, it may seem like you need to get through a whole bag of them to get a full meal out.
BUT, as a vegetable, artichoke is super filling (lots of fibre!) and you only need a couple of hearts per person when serving it as a side dish or using it in a recipe. It also tastes so different when prepared from fresh so I really encourage you to try it when in season. Plus, artichokes are nutritious and full of fibre and antioxidants.
How To prepare Fresh Artichoke Hearts
If you don't know how to prepare fresh artichokes for cooking, you can check out my step-by-step post here. Here are some pics to guide you along. Once you've peeled off the leaves, cut the hearts in halves, remove the fuzzy centre and then cut into quarters.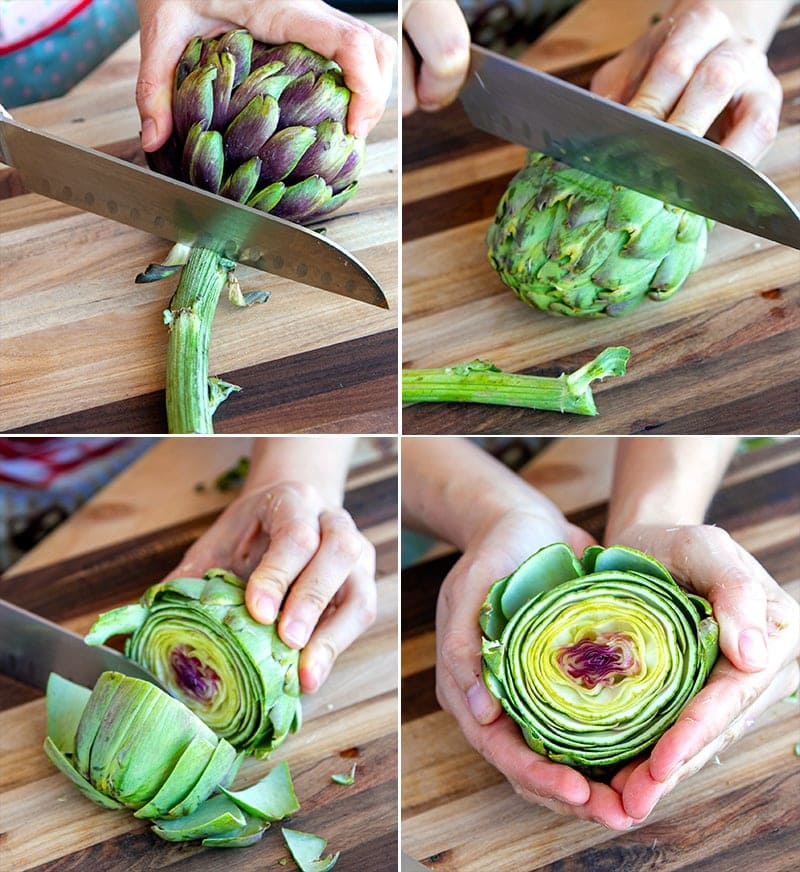 Cut artichokes will start to brown pretty quickly so if you don't plan to cook it right away, store it in some water with added lemon juice or vinegar. Otherwise, fire up that pan and let's get cooking.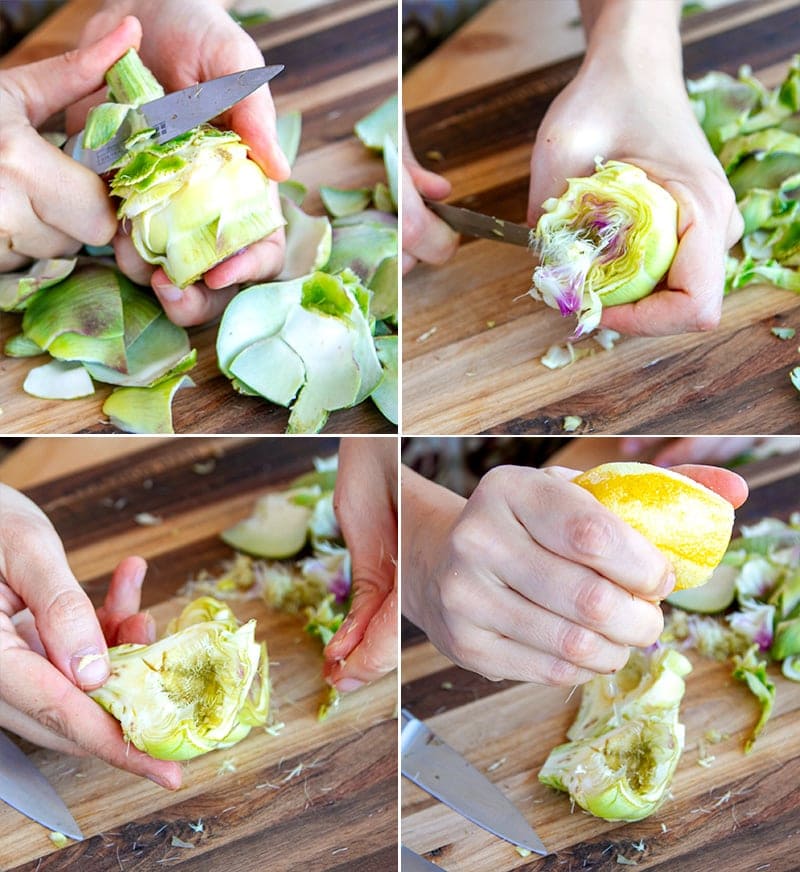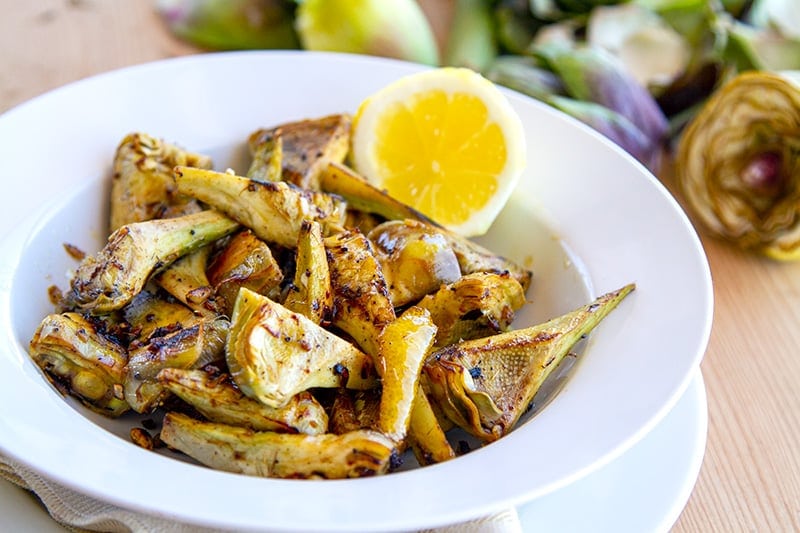 You can use asparagus or broccoli instead of artichokes as the flavours in this recipe work with many other vegetables. If you get younger, smaller artichokes, the fluffy choke inside is underdeveloped and can be eaten as well.
More Recipes You Might Like
How to make an artichoke pesto
Italian Sheet Pan Baked Eggs With Artichokes
Creamy Zucchini Noodle Pasta With Artichokes & Turkey
Chicken, Artichoke & Parsnip Tagine Stew
Print
---
Description
Gorgeous Italian grilled artichoke hearts with lemon, garlic and anchovies. Serve it as a side dish, appetizer or add to a salad or pasta. Anchovies are optional but add a lovely, salty umami touch. Omit for a vegetarian version and replace ghee or butter with olive oil for a vegan version.
---
---
Peel and prepare artichokes following this 

step-by-step process

.

Cut the hearts into quarters. 

Preheat some ghee or butter in a large frying pan or a wok until hot. Add the artichokes and lemon peel, stir and cook for 2 minutes.

Bring the heat down to medium. Add anchovies (if using), garlic, salt and pepper. Stir and cook for 2-3 minutes. Drizzle with juice from 1/2 lemon and serve with extra lemon on the side
---
Notes
Nutritional breakdown below is per serving (2 hearts quartered) made with anchovies. If you serve as an appetizer for 4 people, half those numbers for each serving macros.
Nutrition
Serving Size:

2 artichokes hearts (quartered)

Calories:

179

Sugar:

2.6 g

Sodium:

796 mg

Fat:

6.9 g

Saturated Fat:

3.9 g

Carbohydrates:

25.2 g

Fiber:

12.3 g

Protein:

9.9 g

Cholesterol:

22.1 mg
Save This Artichoke Recipe To Pinterest