This website may contain affiliate links and advertising so that we can provide recipes to you. Read my privacy policy.
Mexican Pinwheels are a slightly spiced creamy chicken blend rolled up in easy to eat bite sized appetizer. Soft pillowy tortillas wrapped around colorful, amazing flavored filling are going to be a hit at your next gathering!
These are such a fun snack to serve! You can pair them with chips and some Mouthwatering Cowboy Caviar, Blender Salsa or Pico de Gallo. Make an impression the next time you bring a dish with these.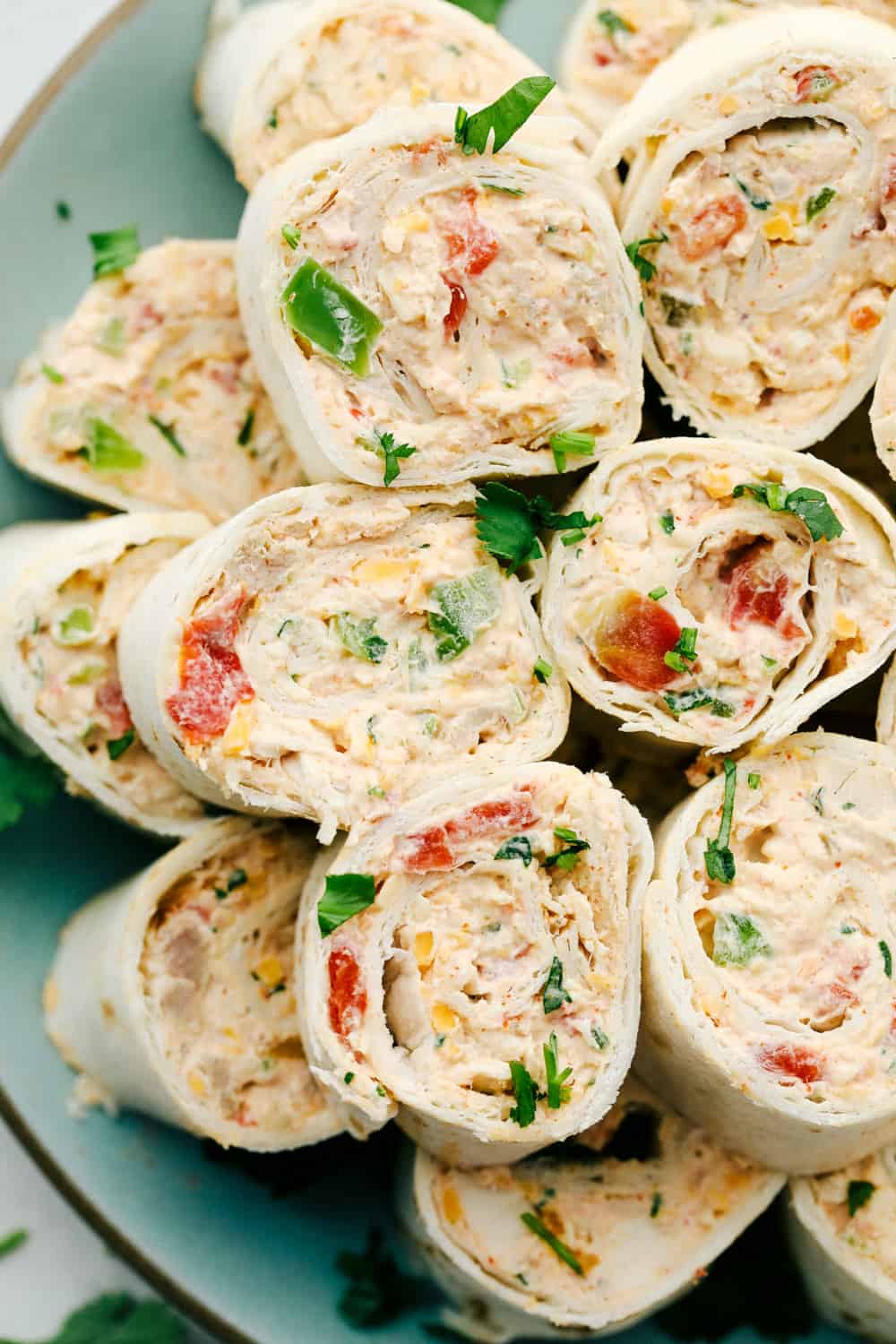 Mexican Tortilla Pinwheels
There is something about the color and easiness of pinwheels that make them so attractive. They are almost always the first to disappear at an event. The Mexican twist on the filling of these is  different from what's usually served. It will be such a nice surprise to bite into them. Pinwheels are so easy to eat, no mess. Everyone loves them.
The awesome thing about pinwheels is how easy they are to make. They do require refrigeration to help them set up and stick all together. They are so nice to make ahead of time and pop them in the fridge and then you can move on to other things.  I love the smooth creaminess of these easy and super tasty little snacks.
Pinwheel Ingredients
Simple ingredients that are easy to find or have on hand.
Cream Cheese: Make sure it's softened
Sour Cream: Full fat or low fat, both work great
Rotel Tomatoes: This is tomatoes with green chilies, make sure to drain them
Green Bell Pepper: Create texture and flavor
Chicken: Cooked and shredded
Mexican Cheese: This is a great blend of cheese that work well.
Taco Seasoning: The best is this homemade seasoning.
Green Onion: Chop these pretty finely
Cilantro: Brightens the flavor and makes it taste so fresh
Tortillas: Flour tortillas will roll the easiest.
How to Make Mexican Pinwheel Snack
Super easy to assemble and quick, just need a little time in the fridge.
Mix: In a large bowl or stand mixer place all the ingredients except the tortillas. With the mixer or using a hand mixer beat together all the ingredients till smooth and creamy and mixed well.
Roll: Spread about 1/4-½ cup of mixture on a tortilla leaving about an inch around the edges. Roll up tightly and cover really well with plastic wrap and refrigerate for at least 2 hours.
Slice: When ready to serve slice into at least 1 inch pinwheels.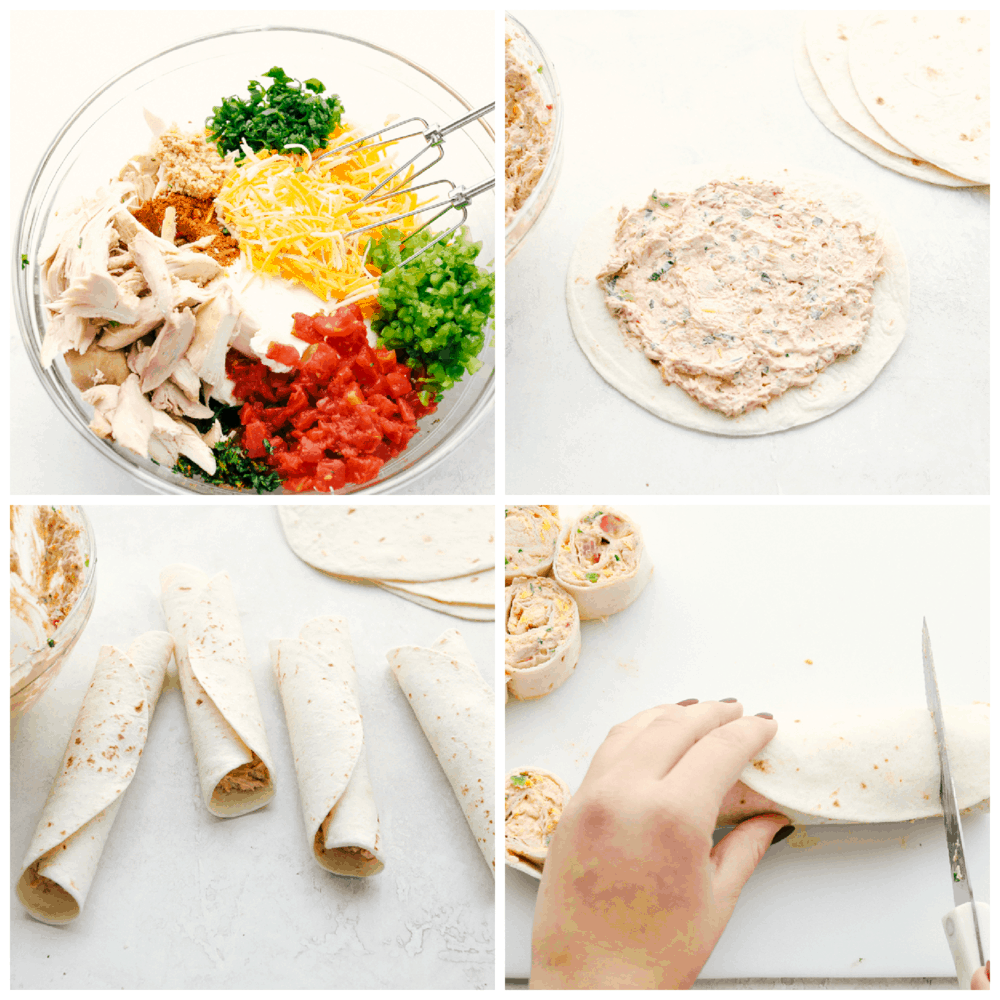 Tips and Variations for Easy Mexican Pinwheels
Whether it's a special occasion or just because, these Mexican Pinwheels are going to be a crowd pleaser!
Tortillas: You can use a wide variety of tortillas for these. Try flavored wraps or flatouts. I'd stick to flour based however, corn tortillas are not as soft and tend to fall apart.
Filling: You can add black beans, corn, and for extra spice try dicing a jalapeño or diced chilies in the filling
Cheese: The recipe calls for Mexican cheese which is usually a blend of 3 cheeses. This adds the best flavor combo and it's usually finely grated which rolls up the best in the tortillas. You can easily sub out any other type of cheese you'd like. Cheddar, pepper jack, monterey jack, or even cotija will all work. I suggest finely grating what ever you use.
Refrigerate: Don't skip this step. This makes sure the filling and tortillas meld together so they don't come undone when you cut them.
Slicing:  Use a serrated knife and make sure you don't slice them too thin. They'll come undone.
Covering: When you put them in the fridge, make sure you cover them well so the ends especially don't dry out. That'd be bad.
How to Use Mexican Taco Pinwheels
Lunch: These aren't just for appetizers, they make great lunches. Easy to eat, little mess and kids love them. (Adults too)
Snacks: Better for you then crackers or junk food, these are perfect when you need a little snack
Potluck: Perfect for a gathering, for easier transportation don't cut them until you arrive at your destination. Make sure you cover them tightly so they don't dry out.
Serve: Serve with salsa or guacamole, or all by themselves. They are that good.
Dinner:  You can even use these for a light dinner served with  rice, fruit and veggies.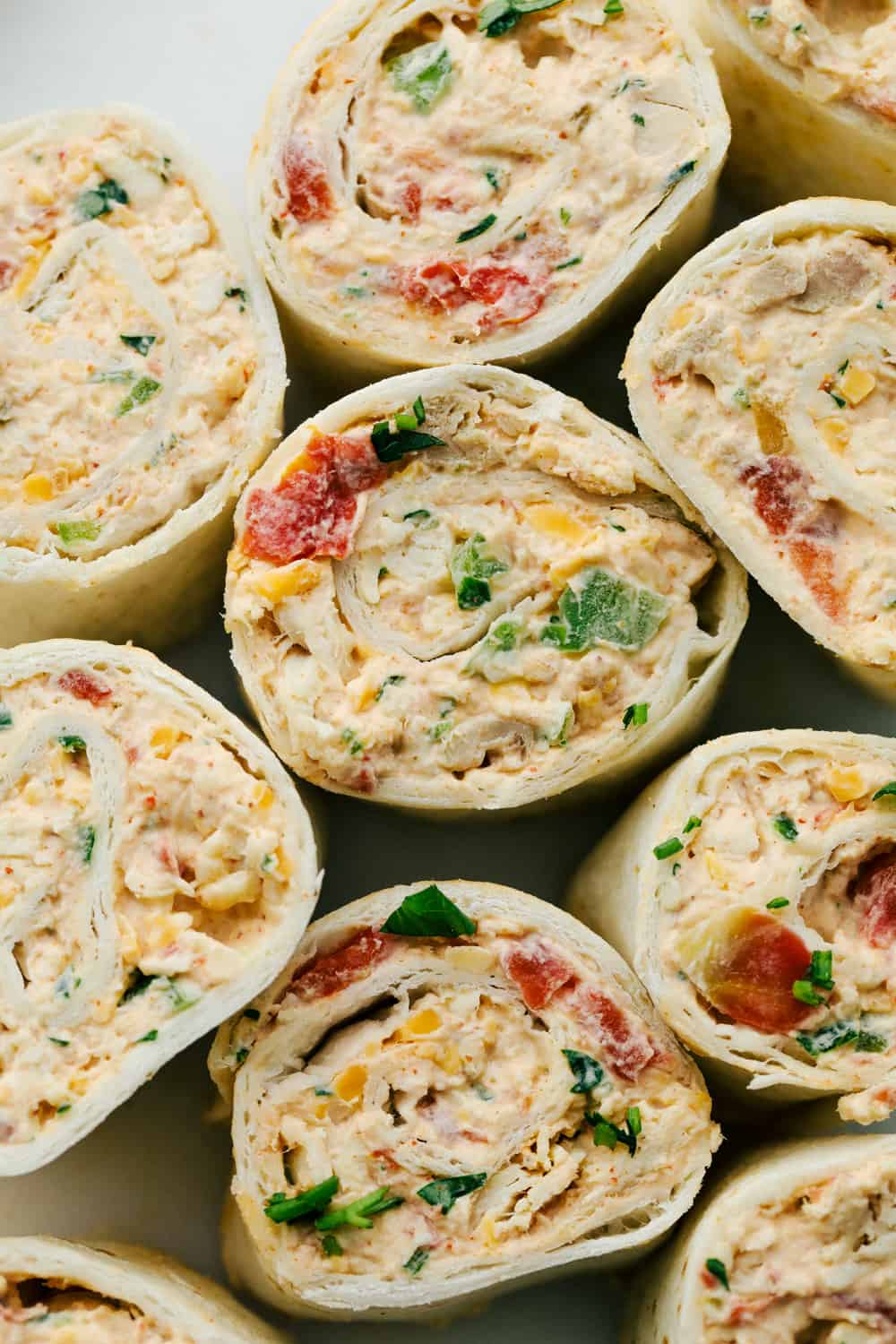 More Pinwheels to Try
Because pinwheels are not just fun to make, their fun to eat!