This website may contain affiliate links and advertising so that we can provide recipes to you. Read my privacy policy.
Greek Lemon Chicken is a zest of sweetness with a hint of summer all in one pan! This chicken is made with a handful of ingredients and easy-peazy.
Greek food is fresh, bright and has tons of flavor! Try these authentic favorites like this Gyros, Salad and Pasta Salad.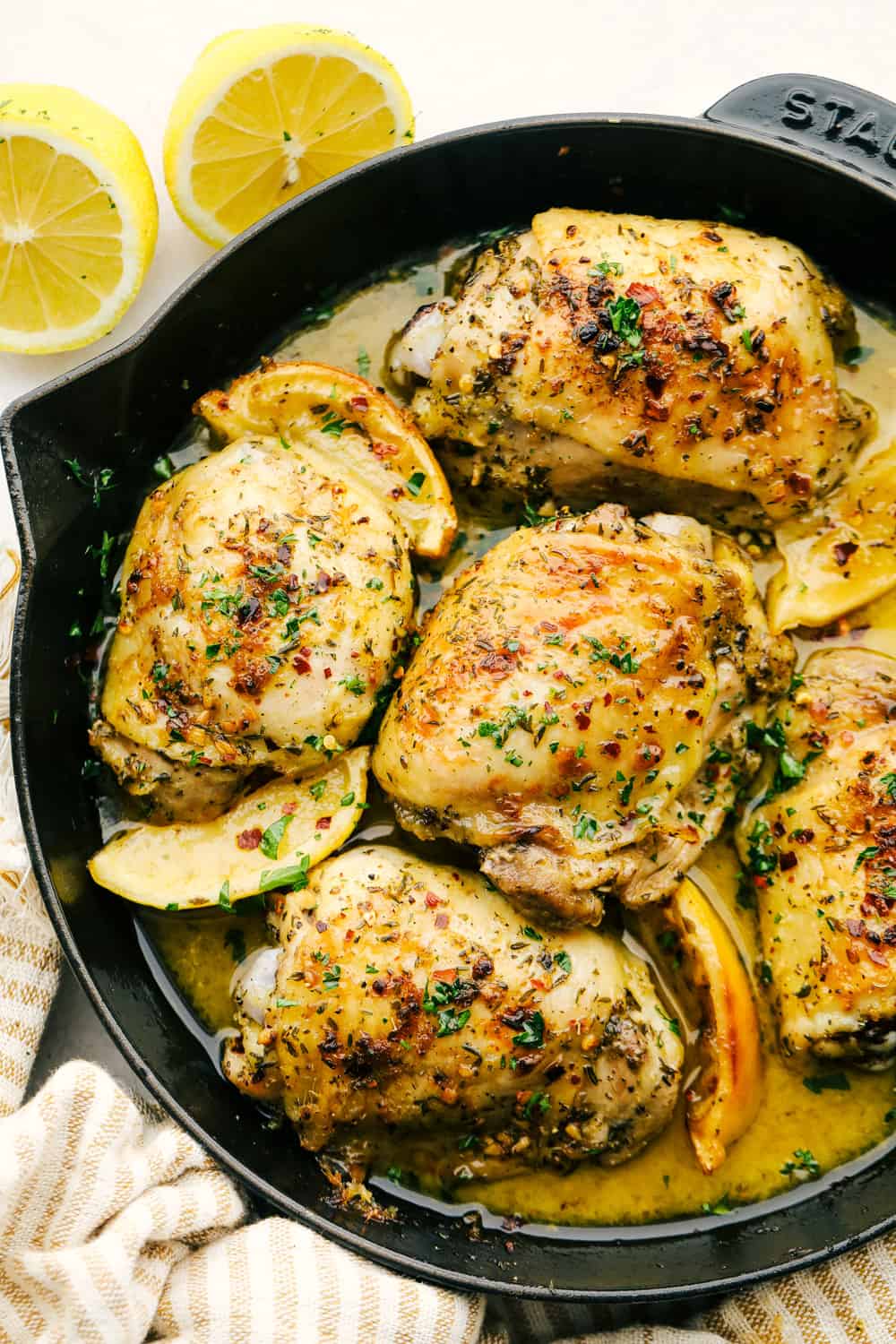 Greek Lemon Chicken
Easy Greek Lemon Chicken is a quick and healthy meal you're going to want to make all the time!  It takes just a few spices, some garlic, lemon and olive oil, that's it!  Greek Chicken is the most delicious chicken, the roasted lemon wedges adds zing and freshness. The lemons also create the most delicious sauce!  The roasted lemons combines with the pan juices and olive for a deep complex intense flavor. You are going to love it!
The tender chicken is going to melt in your mouth. The spices and lemons create a flavor and sauce that is amazing spooned over rice, mashed potatoes or roasted vegetables. Your whole family is going to love the taste and you are going to love how easy it is. Perfect for a busy weekday or lazy weekend.  Plus, it looks almost as beautiful going into the oven as it does coming out!
Ingredients for Lemon Chicken
Simple, but packed with flavor, you are going to be blown away by how easy and delicious this is. So let's get cooking.
Chicken Thighs: Bone in and skin on.
Olive Oil: Adds incredible flavor and helps the chicken cook.
Garlic: Freshly minced.
Salt and Pepper:This is to taste, I used Kosher salt.
Dried Oregano: A staple in greek cooking.
Crushed Red Pepper: Adds bit of heat.
Dried Thyme: Thyme works great with chicken.
Lemons: You will need 2 lemons, one for cutting up and one for zesting and juicing.
Let's Make Easy Lemon Chicken!
The marinade itself couldn't be any easier to make. The secret flavor you'll crave comes from the lemon wedges that roast along side the chicken. Everything cooks in one pan for easiness and quick clean up.
Preheat: Preheat oven to 375 degrees.
Mix: Add the chicken thighs, olive oil, garlic, salt, pepper, organo, crushed red pepper, thyme, lemon juice and zest in a large bowl together and combine well.
Pan: Place the chicken thighs in your cast iron skillet skin side up.
Combine: Toss the lemon wedges in the leftover marinade and add to the skillet in between the chicken pieces.
Cook: Roast for 35-40 minutes or until browned and crispy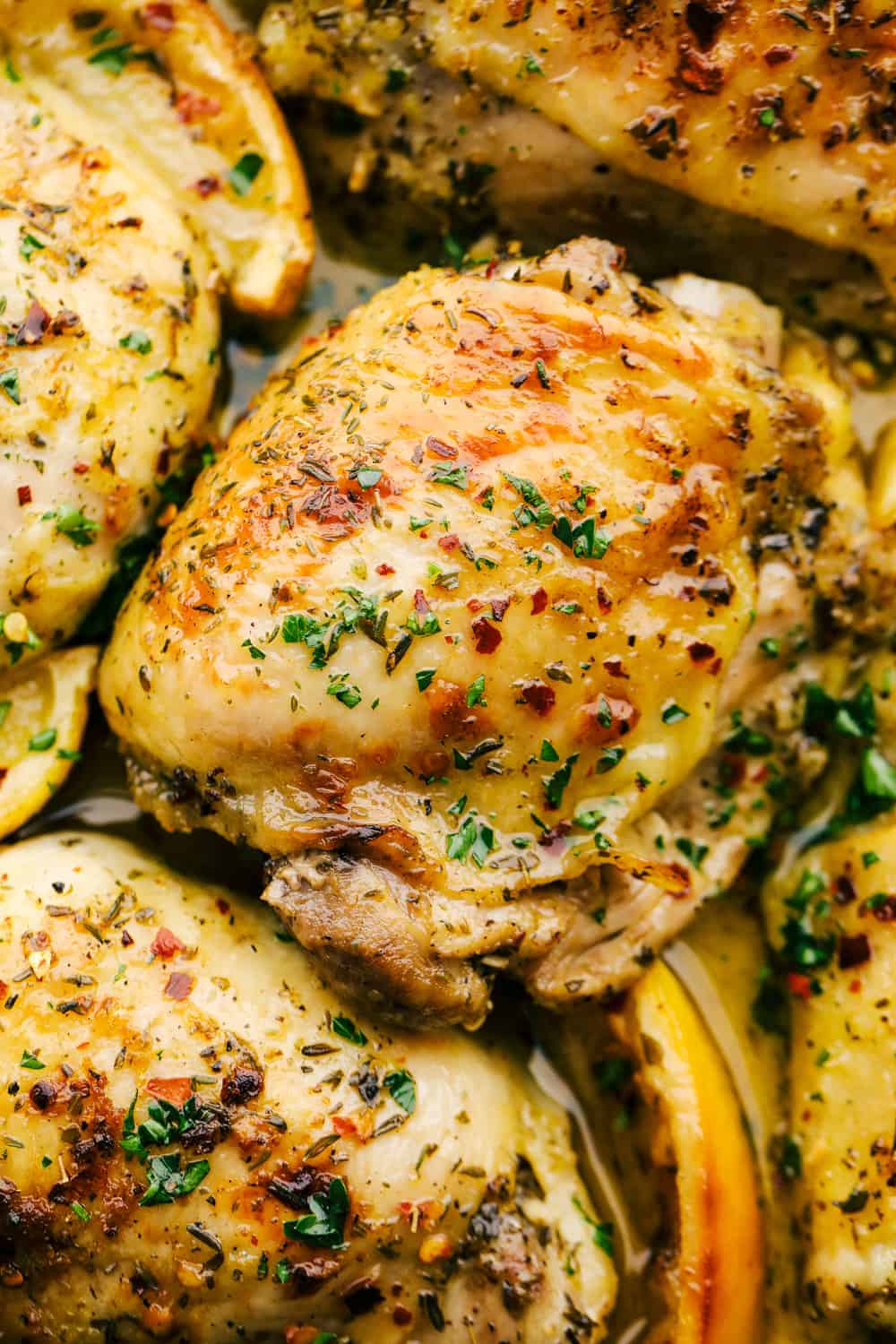 Tips and Variations for the Best Chicken
This greek lemon chicken is so easy and forgiving. It is hard to mess up. I love dishes like that. You can't go wrong with this zesty, bright chicken dinner.
Chicken: Using chicken thighs with the bone and skin on will create the juiciest and most tender chicken. You can use chicken breasts too. I recommend cutting the breasts so they are even thickness. That way they will cook more evenly. Chicken legs would also work.
Marinate: You can marinate the chicken for up to 5 hours before cooking it if you would like. It will intensify the flavors that much more.
Garlic: If you can use fresh garlic you will not regret it. It will give a better flavor.
Serve it with: Make it a middle eastern night to remember and serve it with Homemade Naan,  Hummus,  and this yummy Greek Spinach Pasta.
Store: Keep leftovers in an airtight container for up to 5 days. Reheat in the microwave.
What Makes Greek Food Greek?
Greek food and Mediterranean food share many of the same characteristics, but there is a difference. Even if it is subtle. The base of greek food consists of wheat, olives and wine.  It uses vegetables, olive oil, grains, fish, and meat, including pork, poultry, veal and beef, lamb, rabbit, and goat. Other important ingredients include pasta, cheeses, lemon juice, herbs, olives, and yogurt.
It should be noted here that American greek yogurt, is nothing like true greek yogurt. Bread is usually made of wheat and other grains,such as barley.  Common dessert ingredients include nuts, honey, fruits, and filo pastries. Greece's climate is perfect growing for olive and lemon trees, producing two of the most important elements of Greek cooking.  Herbs and spices that are popular include garlic, basil, oregano, thyme and mint.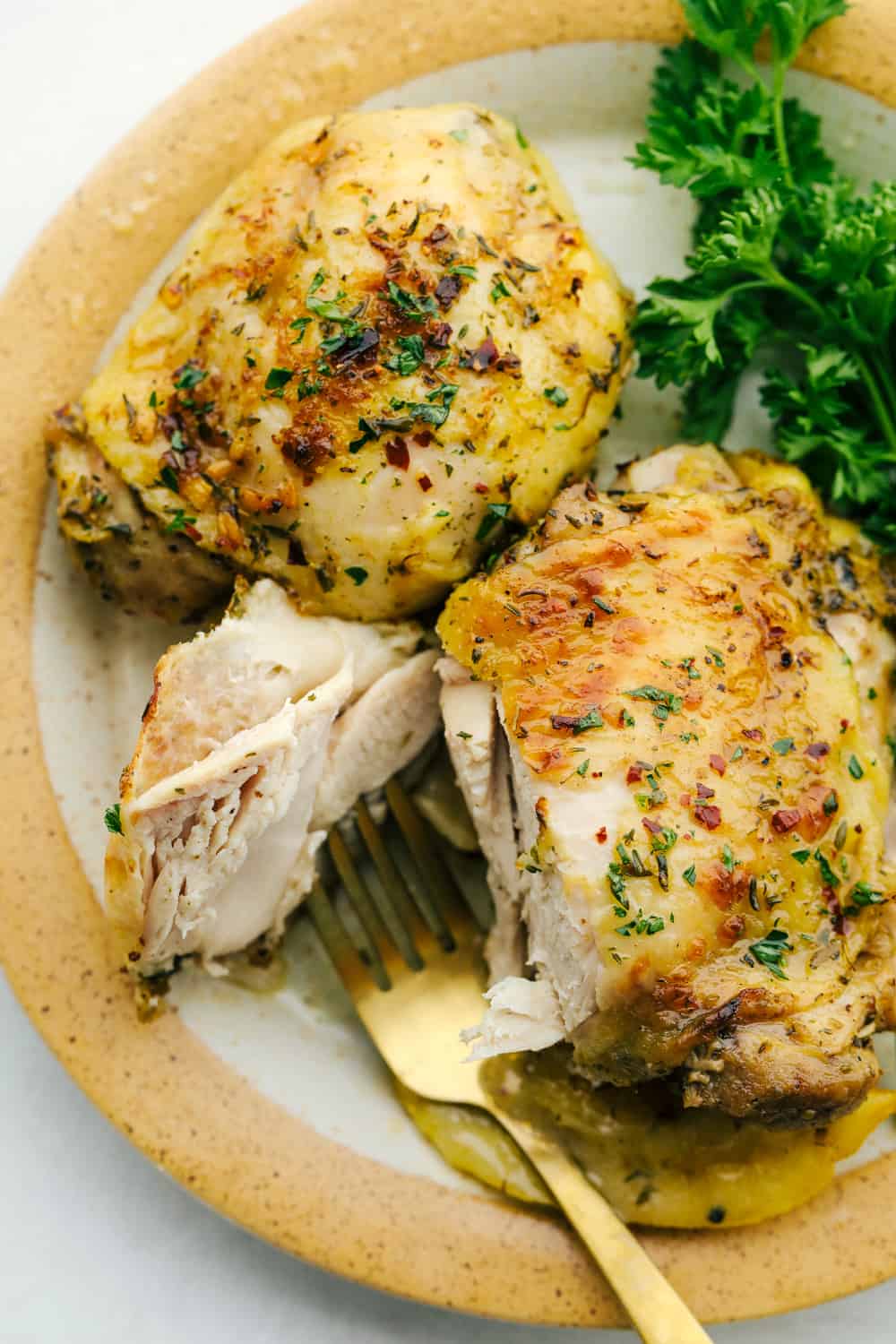 More Chicken Recipes to Love