This website may contain affiliate links and advertising so that we can provide recipes to you. Read my privacy policy.
Easy and Quick Chicken Rice Soup is hearty and tummy warmingly satisfying. A nice twist to a classic chicken soup, this will be a hit with the whole family.
Soup and bread just go together. I love pairing soup with Easy Cheesy Garlic Bread, Grandma's Perfect Homemade Bread or Easy Homemade Naan.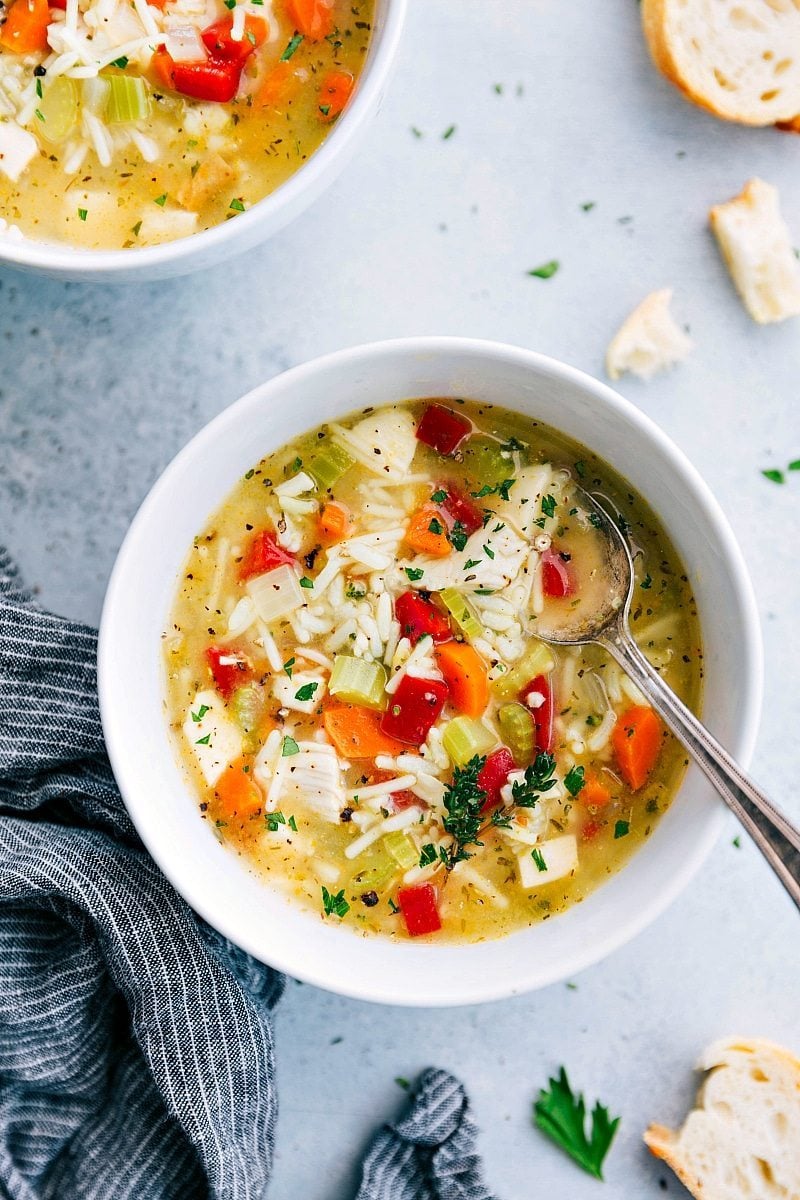 Easy and Quick Chicken Rice Soup
On cold chilly nights nothing beats a warm bowl of steaming goodness to warm you up from the inside out. This recipe is one of the BEST, and this particular soup just happens to be one of the easiest soups ever. AND it's and made all in ONE pot. You are going to love this for those crazy weekdays and lazy weeknights. It's ideal for either. Whip it up when your busy or feeling lazy and you'll be able to have a nourishing, appetizing meal in no time. You and your loved ones are going to love the way it tastes and your going to love how easy it is.
Chicken soup has always been herald for it's healthy properties. This is just another way to get those wonderful benefits. Rice and veggies create exquisite flavor, nutrition and texture. Making this all in one pot, makes clean up easier, but it also you to layer the flavors as you cook them all together. Cook this the next time you need a good pick me up, both physically and emotionally. Soup just always makes everything better in my opinion. It takes a bad day and helps it all melt away. Enjoy a bowl of happiness tonight.
Quick Chicken Rice Soup Ingredients
Most of these ingredients can be found in your pantry and for sure at the store, making it super easy to prepare and have it all on hand when you want it. Whip this up in jiffy tonight.
Butter: This helps the veggies saute and gives it flavor.
Olive Oil: For sauteing
Red Bell Pepper: Dice the pepper.
Onion: Chop the onion to the same size as the pepper.
Carrot: Finely chopped.
Celery: Finely chopped
Dried thyme: Gives the best flavor with the chicken.
Chicken Broth: Make your own or used store boughten.
Water: Needed to create the broth and cook the rice.
Knorr Rice Sides- Chicken flavor Broccoli: This is great shortcut that gives intense flavor and texture.
Chicken: We used rotisserie chicken. It should be pre cooked.
Salt and Pepper: To taste
Making Easy Chicken Rice Soup
Because it's all in one pot, clean up is a breeze. It can't get much easier than throwing this all together. The quickness and easiness of this recipe makes it a fast favorite. You can prep it ahead of time and throw it together when ready to eat.
Saute: Heat the butter and olive oil in a dutch oven over medium-high heat. Once the butter is melted add the pepper, onion, carrot and celery and thyme. Stir occasionally till vegetables are tender about 8-10 minutes.
Add: Stir in broth, water and the package of rice sides. Bring to a boil. Reduce heat and cook covered 10 minutes till rice is tender.
Chop: Meanwhile shred or chop the rotisserie chicken
Stir: Stir in the chicken. Season with salt and pepper. Serve immediately and top with fresh parsley, fresh thyme and parmesan cheese if desired.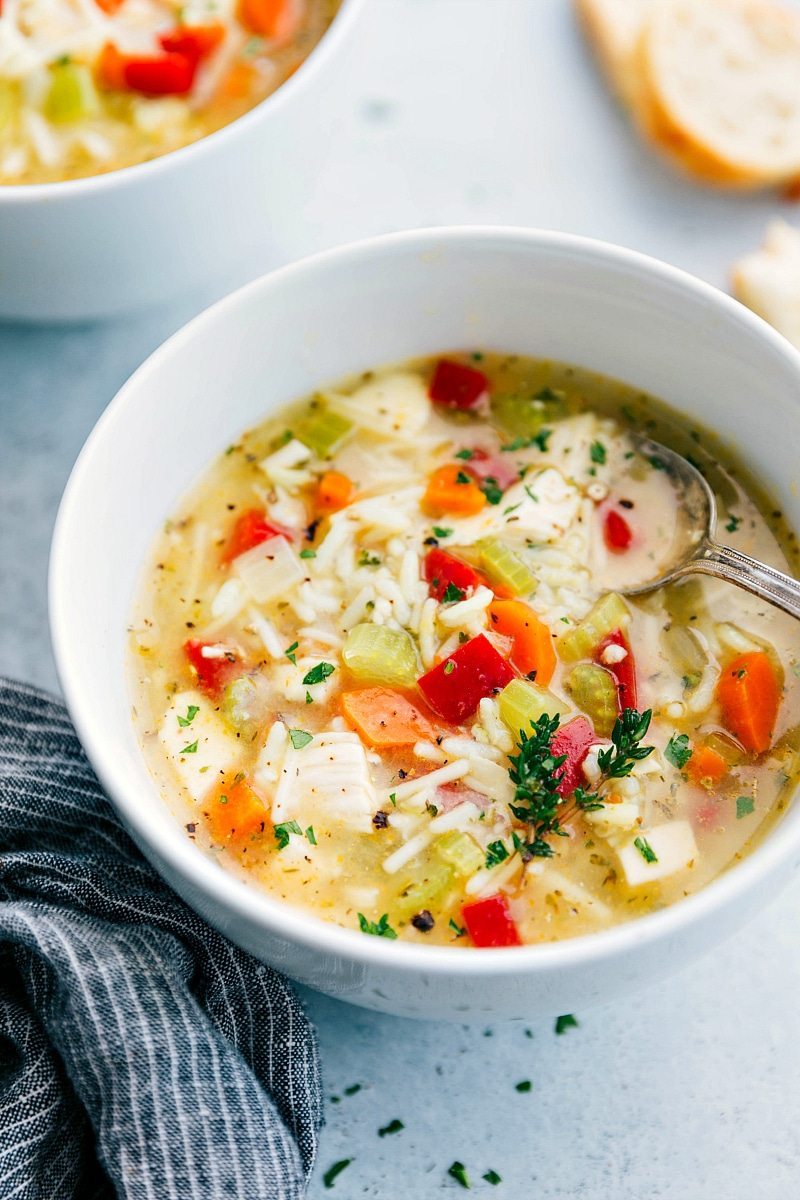 Tips and Tricks for this Amazing Soup
This can't get much easier or much better, but there are a few things to keep in mind.  If you use all these short-cuts the soup can absolutely be ready in 20 minutes or less. And if you don't use all the shortcuts, you can still have a soup ready pretty quickly!
Chicken: There are a few shortcuts that make this soup so quick and easy . The first is using rotisserie chicken. We love rotisserie chicken because it's already seasoned and so flavorful plus the chicken is already cooked making this soup whip up even quicker. That said, if you don't mind spending a little extra time you can cook your own chicken for this soup and then shred it and add it in.
Rice: The second short-cut is a packet of seasoned rice. This serves two purposes — first, the rice can cook in the soup and second, there are a ton of extra seasoning which eliminates measuring out a whole bunch of seasonings.
Veggies: The last short-cut that is totally optional is buying some pre-cut veggies. Most grocery stores sell mirepoix which is pre-chopped veggies (celery, onion, and carrots). If you grab that, you'll only need to chop up the red pepper.
Remember:  This best enjoyed the day you make it because the rice will bloat.
Variations for Easy and Quick Chicken and Rice Soup
There are a few variations you can do that will still keep it easy and quick. It's a great base soup that you can adapt to your liking.
Chicken: If you don't have rotisserie chicken you can use leftover turkey. Chop it as you would the chicken. You can also cook chicken to use before hand.
Veggies: Add different veggies or add to the carrots and celery and pepper.  Try broccoli, corn, peas, sweet potatoes, cauliflower and squash for ideas.
Rice: If you don't have the knorr sides rice you can use instant rice or regular rice. If you use instant rice, besure to boil it for the amount of time directed. If you use regular rice, use 1 cup rice and 2 cups water. Bring to a boil and then reduce heat and simmer for 20 minutes.
Store: This is best eaten the day you make it because the rice will bloat as it sits. But it can be kept in the fridge for up to 3-4 days.
More Chicken Soups To Love
Chicken is a fabulous protein to put in soups. It's mild flavor makes it so versatile and delicious. It's a lean protein that makes super nutritious, and a perfect choice to keep your healthy goals. Soup is divine on chilly nights and it's even better when you can enjoy it without any guilt. Try these recipes the next time you need to warm up.