This website may contain affiliate links and advertising so that we can provide recipes to you. Read my privacy policy.
Cajun shrimp that is insanely delicious and only takes 5 minutes to make is the kind of dinner that dreams are made of! This recipe will knock your socks off and it will be something that the whole family will go crazy over!
I cannot get enough of shrimp recipes because they are all so different and fast to make and thats's what makes shrimp a huge hit at our house! My family loves the variety that it brings the table and if you love shrimp like we do, try this coconut shrimp, shrimp fried rice, or the best ever grilled shrimp!!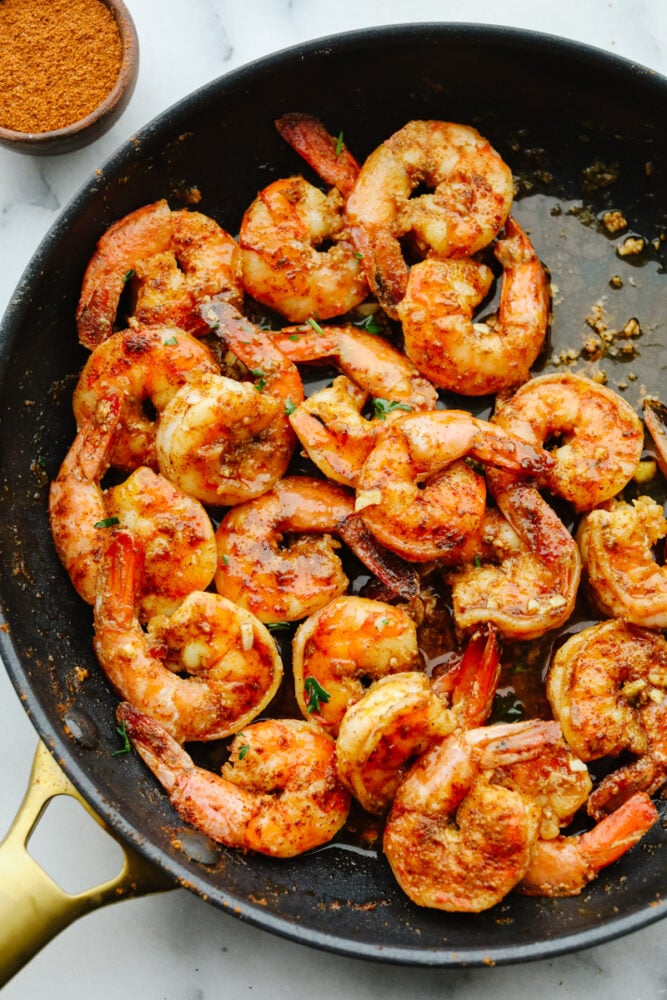 Cajun Shrimp Recipe
Cajun shrimp sounds fancy which leads me to believe it was difficult to make. Surprise! You can impress all of your guests with your amazing cooking skills with a recipe that sounds fancy but is actually super easy. Going into this, I thought cajun shrimp would involve a whole list of ingredients that I wouldn't have around my kitchen but that's not true at all! In fact, before you whip this quick meal up, you can make some of this homemade cajun seasoning with all of the spices that you already have in your pantry, and voila! Your shrimp will be legendary!
I am always inspired to try new recipes and boy this recipe did not disappoint! This dish hails from Louisiana which is home to the famous jambalaya. Known for its amazing seafood, the south knows its flavors when cooking all kinds of crawfish, oysters, and shrimp. This cajun shrimp brings that culture alive with its spicy flavors that have just enough heat to make you love it! You can make the dish yours by adjusting this cajun seasoning to the heat of your liking! I can't wait for you to try this! Let's get cooking!
Ingredients for Cajun Shrimp
I absolutely LOVE it when I have the ingredients for recipes already on hand and in my kitchen. It just makes the process so much less stressful! This recipe is no exception! See the recipe card below for exact measurements.
Butter: Cooking it in butter helps bring out a rich, deep flavor.
Garlic cloves: Adding garlic to any dish adds such a delicious taste! If you don't have fresh garlic cloves on hand, you can use minced garlic from your fridge. ½ tsp equals about 1 clove of garlic.
Large shrimp: THe shrimp should be raw, peeled and deveined.
Cajon seasoning: Use this Cajun Seasoning for a fantastic and delicious homemade taste!
Let's Cook Up Some Shrimp!
Everyone loves a recipe that has a little bit of heat and a whole lot of flavor! This cajun shrimp makes that dream a reality and you will be pleasantly surprised at how simple the process is! This recipe cooks fast and you will soon be ready to dig in and eat!
Melt: In a medium sized skillet over medium high heat add the butter and melt. Add in the garlic.
Toss: Add in the shrimp and cajun seasoning and toss in the butter to coat.
Cook: Once the shrimp is tossed in the seasoning, cook for 3-5 minutes until shrimp is opaque and cooked throughout.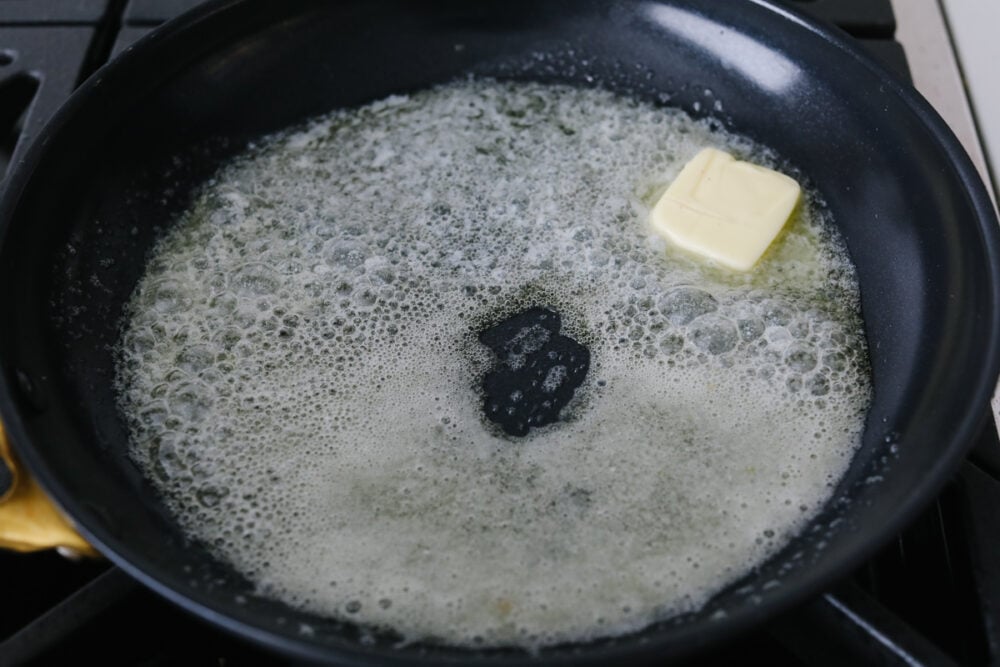 How Do I Know if the Shrimp is Cooked?
Shrimp tastes fantastic as long as you don't overcook it or undercook it. That sounds complicated but it's totally not! Here is how you can tell if your shrimp is done and ready to eat!
Color: Raw shrimp starts out as a transluscent gray color. As you cook it, you will notice the color begins to turn white with some pink and red accents. The sheen is a bit shinier and opaque. The color is going to be your best indicator of if the shrimp is done or not! Don't ever eat shrimp that is gray or transluscent after cooking.
Temperature: The internal temperature of cooked shrimp is 120 degrees farenheit. Not very many people use a meat thermometer on this tiny protein, but it's good to know!
Shape: When the shrimp starts to curl up into a tight c-shape, you will know it's perfectly done!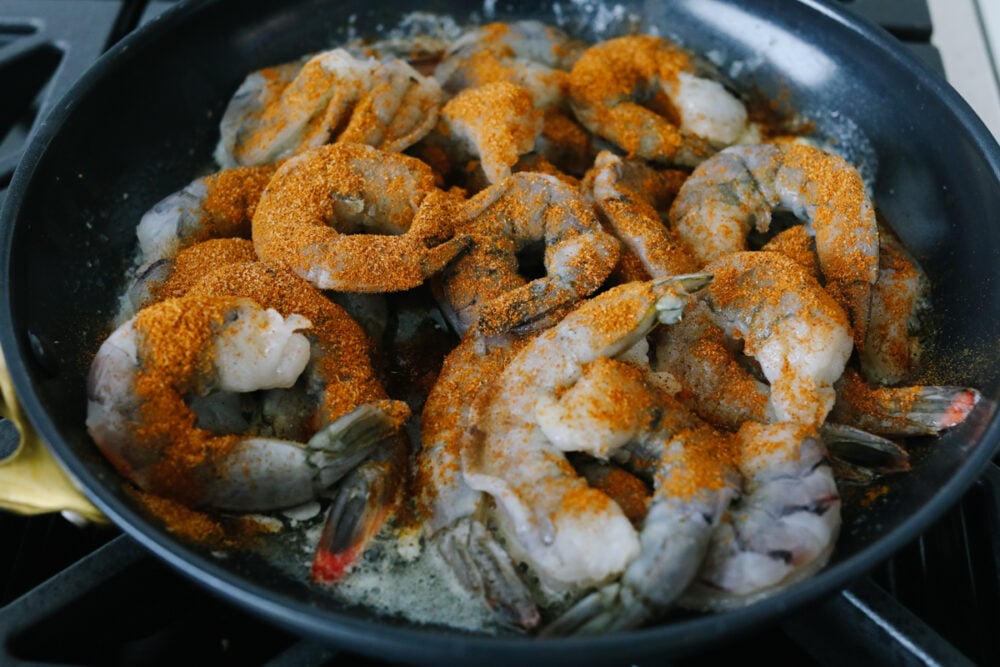 Can I Store Cooked Shrimp?
Yes! You absolutely can store your shrimp leftovers. Shrimp always goes farther than I think and we frequently end up with leftovers! Storing your cooked shrimp is an easy way to have a quick lunch or dinner the next day!
Refrigerator: Place in an airtight container and store in the fridge for 3-4 days.
Freezer: Allow the shrimp to cool to room temperature. After it cools, place it in an airtight container and put it in your freezer. You can store shrimp in the freezer for up to 6 months. Thaw in the refrigerator overnight before reheating.
Reheat: Shrimp is easy and delicious to eat later! To reheat your stored, cooked shrimp first make sure your shrimp is completely thawed. Once you've done that, put some oil or melt a tablespoon of butter in a skillet with your shrimp and simply warm them up until they are hot to the touch!