This website may contain affiliate links and advertising so that we can provide recipes to you. Read my privacy policy.
 Pad Thai is a Thai stir-fry dish made with tender rice noodles, cooked shrimp, crunchy, warm peanuts, scrambled egg and bean sprouts all mixed together with a creamy sweet and spicy sauce. It's everyone's favorite Thai dish!
Thai is a favorite in our home and made weekly. If you love Thai food as much as we do try this Thai Quinoa Salad, Sheet Pan Thai Glazed Salmon with Vegetables or Thai Peanut Skillet Chicken.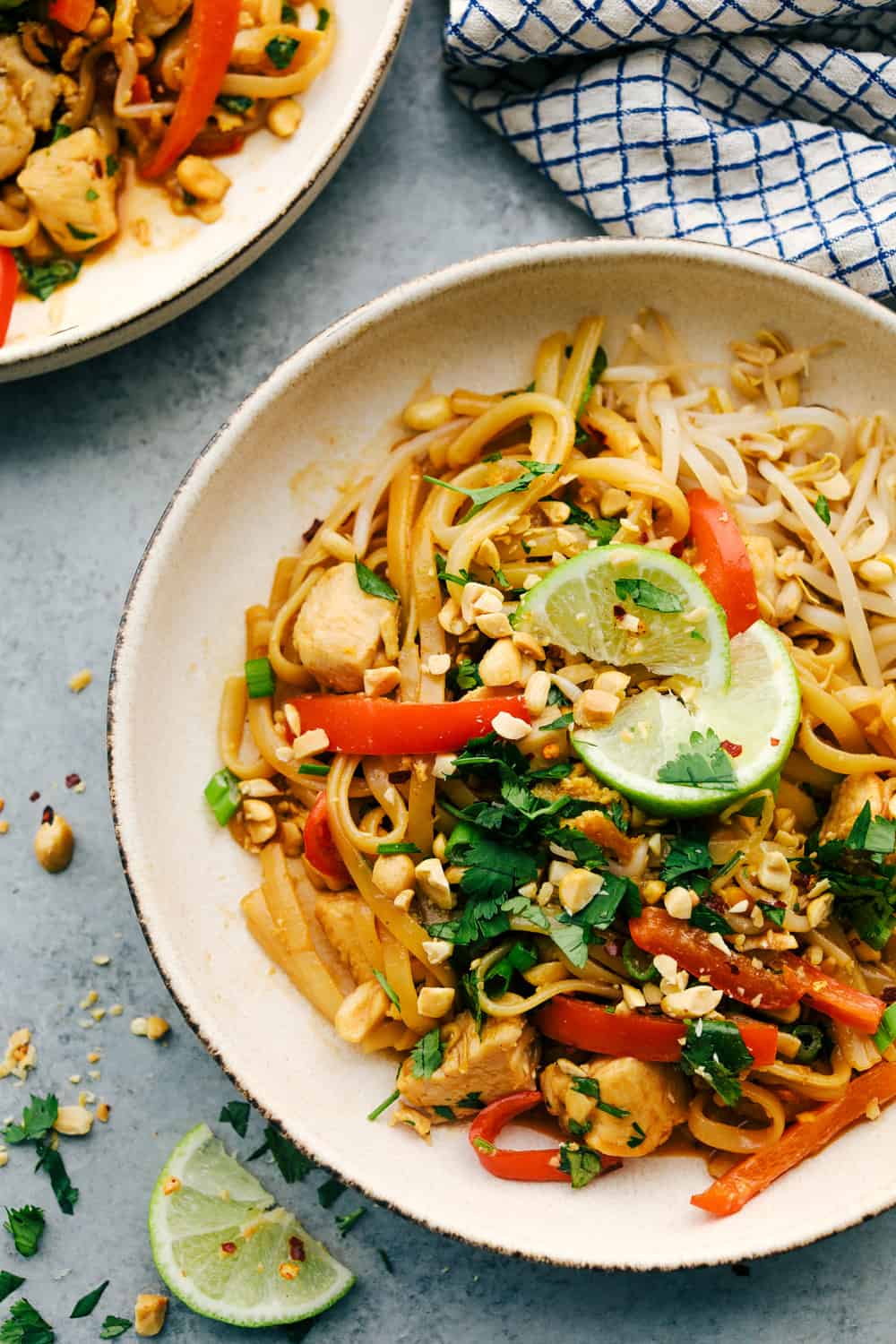 Pad Thai
Pad Thai is my love language! When I get to choose a restaurant for date-night, 9 out of 10 times I'll pick a Thai food restaurant. I love the bold flavors and all of the options, from curry to pad Thai. I also LOVE to make Thai food from home because most of the dishes are really simple, and it's fun to mix up the dinner routine!
This is super simple to make and always impresses my family with how good it tastes and looks when served at the dinner table. The ingredients are simple to put together and doesn't take long at all to enjoy! You can make amazing restaurant-quality Pad Thai from home, in under 30 minutes!
What is Pad Thai?
Pad Thai is a Thai stir-fry dish made with rice noodles, shrimp, chicken, or tofu, peanuts, scrambled egg and bean sprouts. The ingredients are sautéed together in a wok and tossed in a delicious pad thai sauce.
Traditional pad Thai recipes call for tamarind paste but since it's not easily found at your local grocery store,
I substituted for ingredients most people have. However, if you would like to use tamarind paste to make the sauce authentic, substitute about 2 Tablespoons in place of the rice vinegar in this recipe.
How do you make Pad Thai?
This Pad Thai is packed with fresh ingredients and a simple homemade Pad Thai sauce you will love.
Cook or soak the rice noodles, according to the instructions on your package, until they are tender.
Make the Pad Thai sauce by combining the fish sauce, soy sauce, rice vinegar, brown sugar, sriracha and peanut butter.
Stir fry the chicken, shrimp, tofu, bell peppers and scrambled eggs.
Add the noodles, sauce and bean sprouts to the pan and toss everything to combine. Top with peanuts, green onion, cilantro and limes.
What you need to make Pad Thai:
Looks like a lot of ingredients but don't let that scare you! Most of the ingredients you will have on hand and ready to go in minutes. There is no prepping, just throwing it all together to make one impressive meal.
Rice noodles- flat noodles are best but any width will work too.
Oil- you will want a mild oil to use such as, olive oil, avocado oil, peanut oil, coconut oil.
Garlic- added enhanced flavor.
Shrimp- uncooked, small and tail on or off. You can also substitute chicken or beef strips in too.
Eggs- whisked and scrambled together.
Bean sprouts- this is a classic asian vegetable. You can also add shredded carrots along with it.
Red bell pepper- blends well with an asian dish.
Green onions- a little spice, crunch and color.
Crushed peanuts- brings out the crunchy texture in the pad Thai.
Limes- an added touch!
Chopped fresh cilantro- added garnish that brings out color and flavor.
Making the Sauce!
You can make this sauce as sweet and spicy you prefer! These ingredients are fun to play around with to make your own type of sauce that you love.
Fish sauce- you do not want to leave out this fish sauce. It is the main ingredient.
Soy sauce- light soy sauce or low sodium doesn't have that added salty flavor.
Brown sugar- adds a sweet and savory flavor.
Rice Vinegar- has a distinct flavor often described as rich, nutty and slightly sweet.
Sriracha- some added heat. Use little to a lot depending on your preference of spicy.
Peanut butter- creamy peanut butter is best for that smooth taste.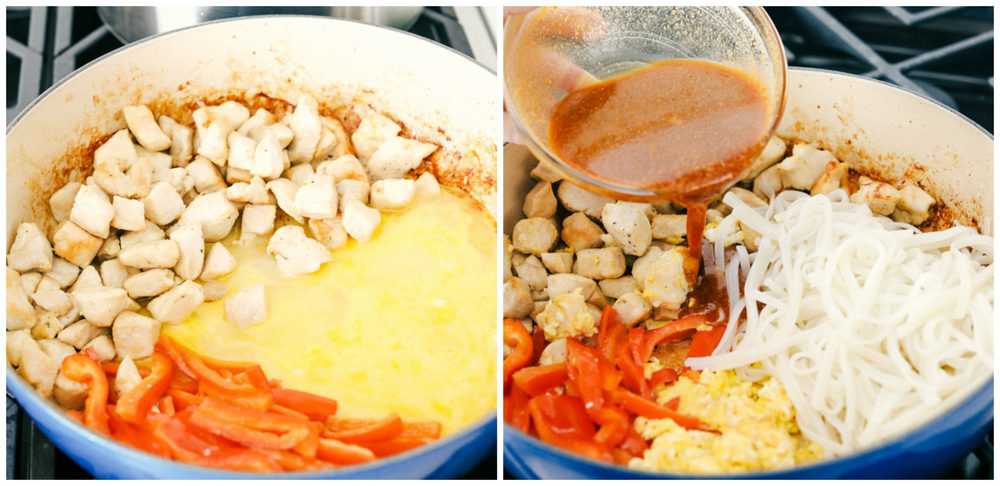 Other Variations of Pad Thai
It is always fun to mix and match different varieties of Pad Thai. The options are endless!
Protein: use other types of protein like chicken, beef, pork or even salmon. To make it meatless add tofu!
Vegetables: adding shredded carrots, peas, broccoli, onions and mushrooms add to the flavors.
Noodles: zoodles works well with this Pad Thai recipe or a flatter noodle to soak up the sauce.
Peanut Butter: add in extra 1 to 2 tablespoons peanut butter for that added flavor and creamy sauce.
Sweeter: like it more on the sweeter side?! Brown sugar will be your best friend. Add in 1 to 2 tablespoons more for a sweet sauce.
Spicy: top with red pepper flakes or add in more sriracha sauce depending on how much heat you prefer.
Looking for more Thai food?! Try these!