This website may contain affiliate links and advertising so that we can provide recipes to you. Read my privacy policy.
Pan seared chicken is smothered in a decadent sauce with spinach and artichokes in this Creamy Spinach Artichoke Chicken. It's a quick simple way to put a gourmet meal on the table any day of the week!
It's so delicious, it's a winner all the way around. I took my ultra popular SPINACH ARTICHOKE DIP and turned it into another main dish Spinach Artichoke Pasta and pair it with this Homemade Easy Cheesy Garlic Bread and the Best Winter Fruit Salad for a complete meal.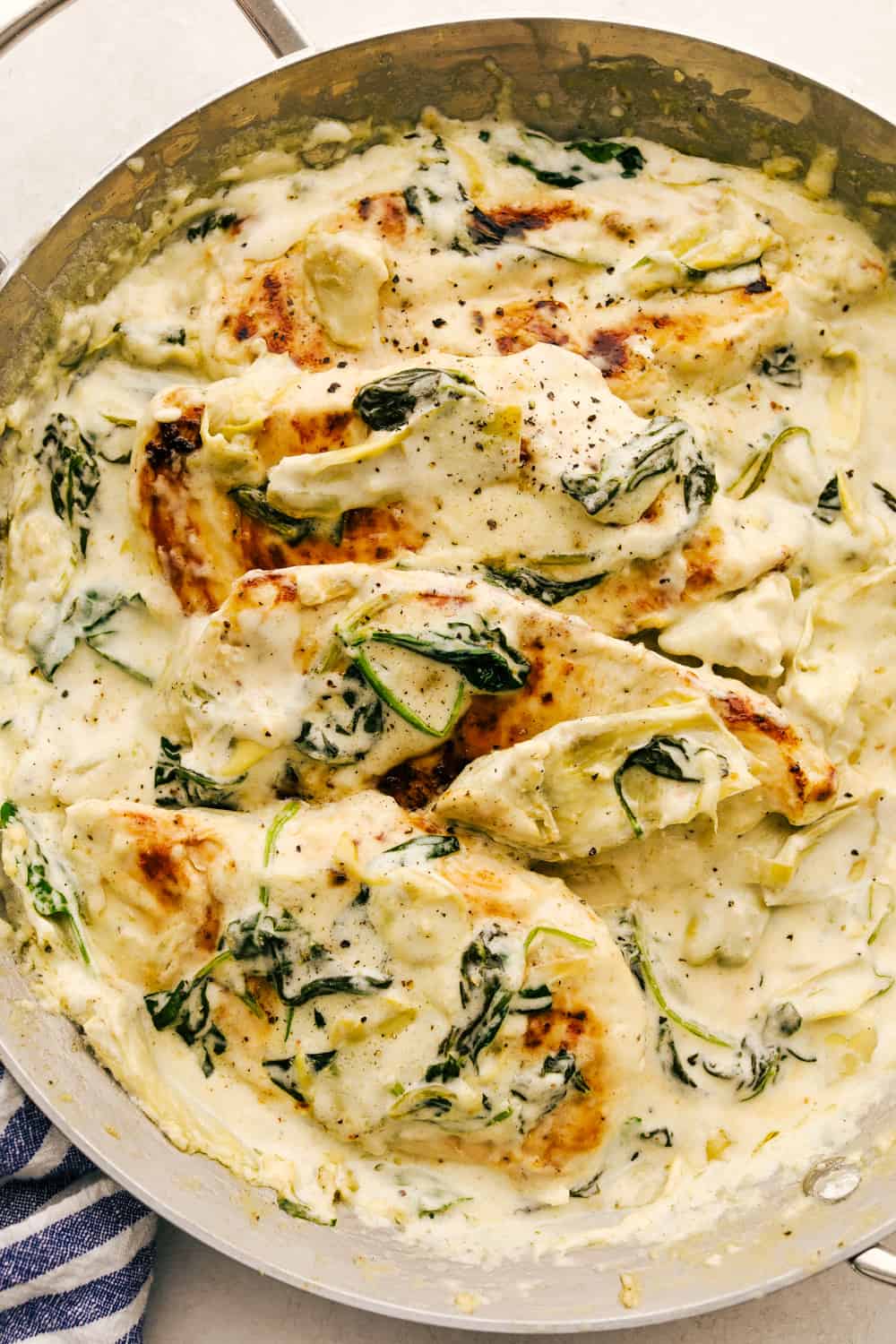 Spinach and Artichoke Chicken
This recipe is literally like taking spinach artichoke dip and turning it into a meal. It's so heavenly. The creamy cheesy sauce is thick and savory. The spinach adds flavor, color and vitamins. Artichokes have such a great tang that brightens the sauce, it's magical. Chicken adds the protein for a complete meal that is sure to satisfy.
It's such an exquisite sauce you're going to want to get every single drop. The best way to soak it up is to serve this over pasta, rice or serve it with a good crusty loaf that can wipe the plate down. It's a recipe you're going to come back to time and time again because of the ease and flavor. You and your loved ones are going to love it! Make it tonight!
Creamy Chicken Ingredients
This is one of those recipes that takes a little planning, but it's totally worth it. Fresh spinach will give you the best texture, so I highly recommend it over frozen spinach. Jarred artichokes can be found in the canned food area of your grocery store, sometimes near the canned mushrooms. If you buy a half pint of cream or half and half you'll have the perfect amount. When recipes call for a small amount of chicken broth I will often make my own using chicken bouillon. It saves me from opening a full carton or can and not using it all.
4 boneless skinless chicken breasts (thinly sliced)
Olive oil: For searing the chicken
Salt and Pepper: Just to taste
Creamy Spinach Artichoke Sauce
Butter: Everything tastes better with butter
Garlic cloves minced: Adds a punch of flavor
Flour: Thickens the sauce.
Chicken broth: Adds a bit of liquid and flavor.
Heavy cream or half and half: Creates the luscious creamy texture.
Grated parmesan cheese: The sharpness of the cheese is a great match with the spinach and artichokes.
Garlic powder: Adds a touch more flavor.
Pepper and salt: Add it to taste!
Spinach chopped: Not only adds flavor but adds a beautiful color to the dish.
Artichokes (quartered): Be sure to drain the artichokes
Making Succulent Spinach Artichoke Chicken
One of the best things about this recipe is that I can make it all in the same pan. I love time savers like this. And it comes together so quickly. I can have dinner on the table in no time flat and it's such a delectable dish. It tastes and looks like I slaved all day. It'll be our little secret that you didn't. Not only is it quick to make, it's made all in one pot so clean up is a breeze.
Sear: In a large skillet add olive oil, salt and pepper the chicken. Cook the chicken on medium high heat for 3-5 minutes on each side or until brown on each side and cooked until no longer pink in center. Remove chicken and set aside on a plate.
Making the Sauce: To make the sauce add the butter and melt. Add garlic and cook until tender. Whisk in the flour until it thickens. Whisk in chicken broth, heavy cream, parmesan cheese, garlic powder, pepper and salt. Add the spinach and artichokes and let simmer until it starts to thicken and spinach wilts. Add the chicken back to the sauce and serve over pasta is desired.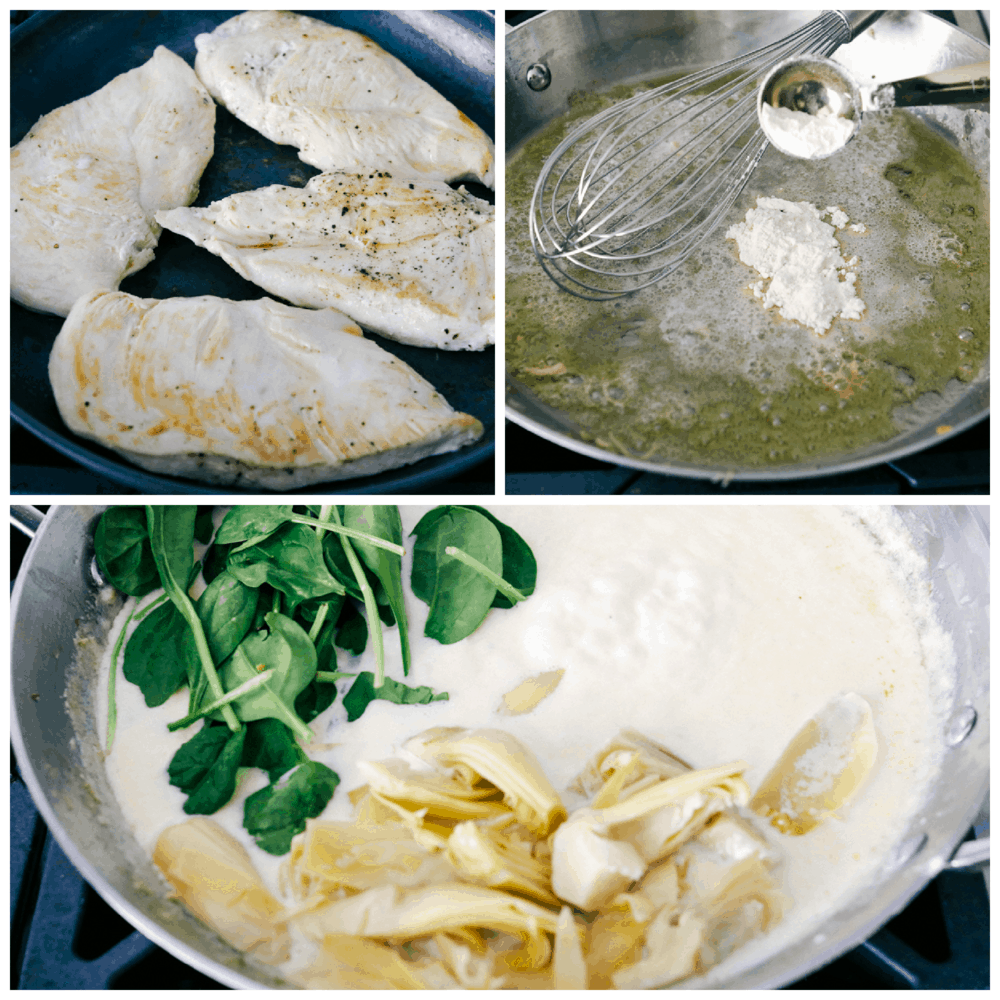 Cooking with Chicken Breasts
Chicken is low in calories and fat but high in protein making it a smart choice for meals. I used chicken breasts in this dish which can be tricky to cook. The breast is thick on one end and thin on the other, creating a cooking nightmare. To make sure the chicken is cooked all the way through, the thin end is usually over cooked. Or the thick end is under done. Eating raw chicken is extremely dangerous, so it's important to cook it till it's no longer pink. To help ensure even cooking without drying out your chicken there are a few tricks to try.
Thinly sliced: By cutting the thick end in half horizontally you can create pieces that are more even.
Flatten: Another trick is to place the chicken between two pieces of plastic wrap and then using a rolling pin pound the thick end of the chicken flat. This will create even thickness in your chicken breast.
Slice: Slicing the chicken in even strips will also ensure even cooking.
Chopping:  You can even chop the chicken if you desire. This could be perfect for feeding little ones.
Temperature:  Make sure your chicken is cooked to 165 degrees F. Insert an instant read thermometer into the thickest part of the chicken to make sure it's at the right temperature.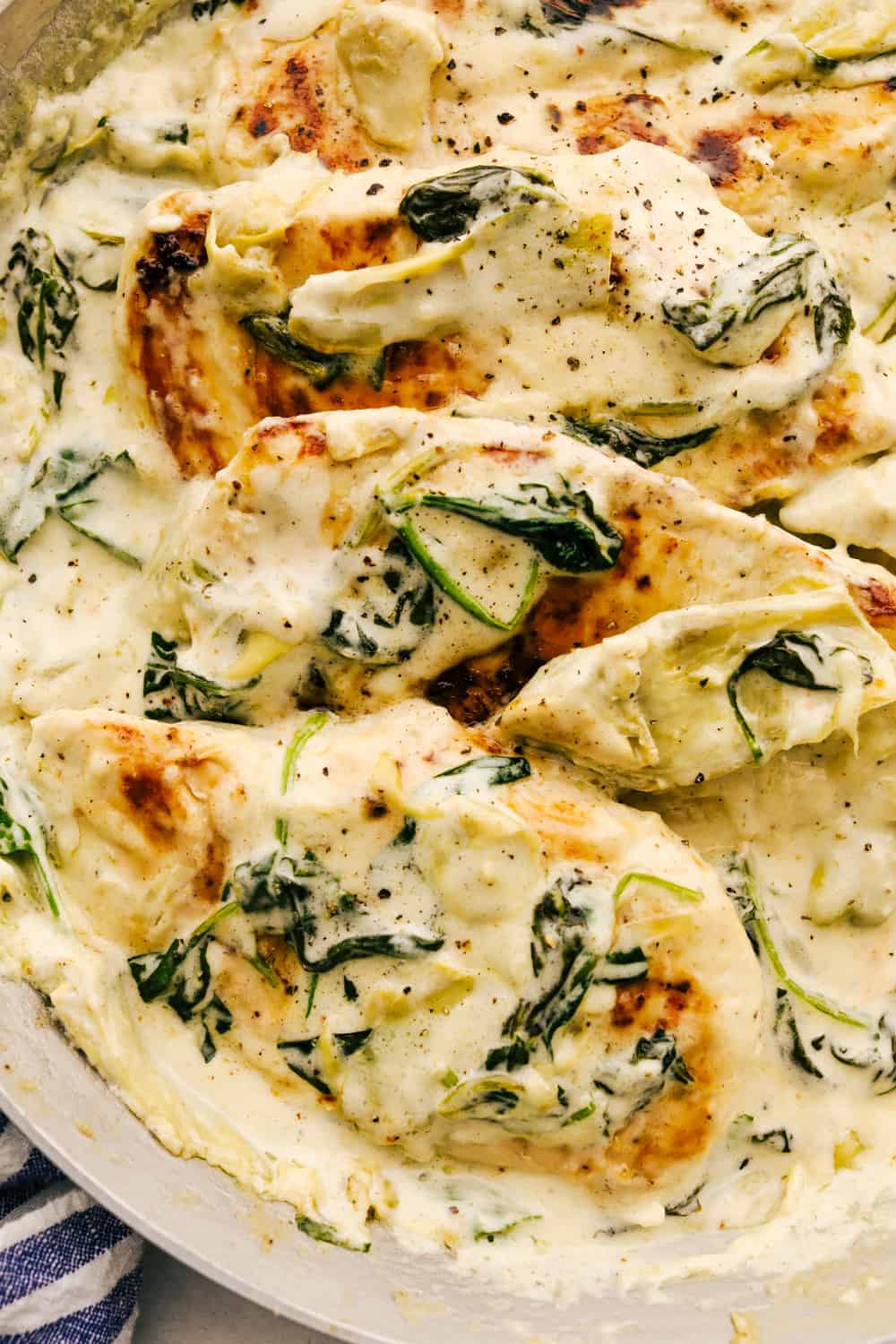 Making Spinach Artichoke Chicken The Best
Making a dish that tastes like it came from a fancy Italian restaurant is easy with this recipe. There are a few tips to make sure it's a definite winner among the family.
Can I use different Cheese?  Yes! Parmesan has a mild nutty flavor that compliments the dish beautifully. To get the same kind of flavor look for similar cheeses like Asiago, Pecorino, or Romano which are similar in both taste and texture.
Can I use Chicken Thighs? Yes! I would use boneless, skinless chicken thighs. Slicing the chicken thighs won't be necessary like it is with the breasts. You will still want to check the internal temperature and make sure the thickest part of the thigh reaches 165 degrees.
Are the substitutes for the cream or half and half? Nope! The cream or half and half is what creates the creaminess and richness of the sauce. Using milk or even milk alternatives will change the consistency and even the flavor of the dish.
Leftovers: If there are any leftovers they keep beautifully in an airtight container in the fridge for up to 4 days. Warm up in the microwave or over medium heat on the stove.
Will I be able to freeze this? No, I do not recommend freezing this dish because of the cream sauce. It will separate once thawed and will not taste or look as appetizing. This is best eaten within the first few days of making. I don't think you'll have any trouble doing that, however.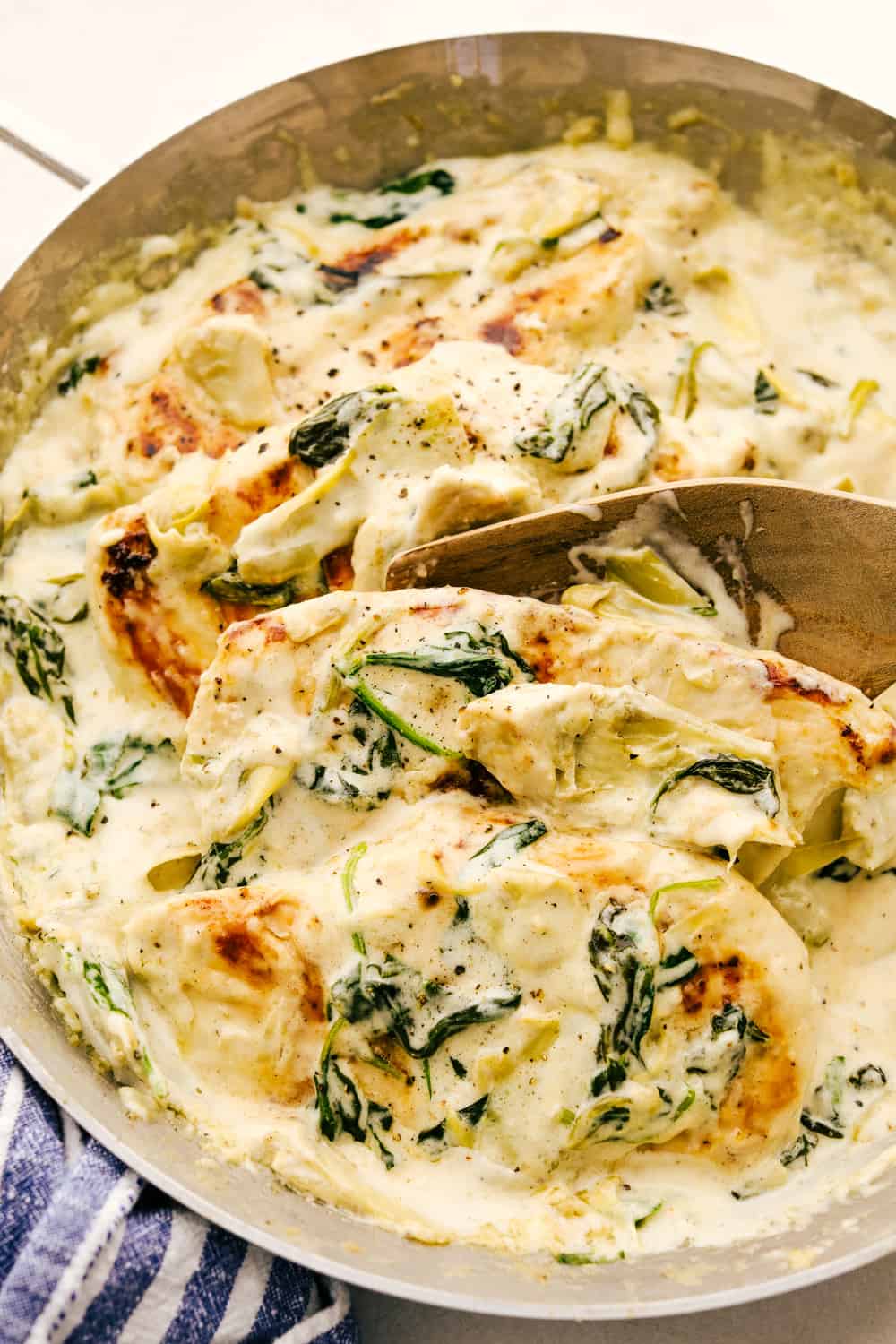 More Chicken Recipes to Enjoy!
Chicken is such an easy protein to cook with. It can be made into so many different kinds of dishes with so many different flavors. It's usually cheaper and better for you than red meat. I know chicken is a staple in our menu planning.