This website may contain affiliate links and advertising so that we can provide recipes to you. Read my privacy policy.
Creamy Chicken Noodle Casserole is comfort food at its finest! Soft and slightly chewy noodles, tender chicken, crisp vegetables, creamy and cheesy sauce and a buttery cracker topping. This will become a family favorite!
There is just something about the combination of chicken and a warm pasta.  There are so many ways to make a hearty meal with just those two ingredients.  I especially love them as chicken and dumplings or chicken noodle soup!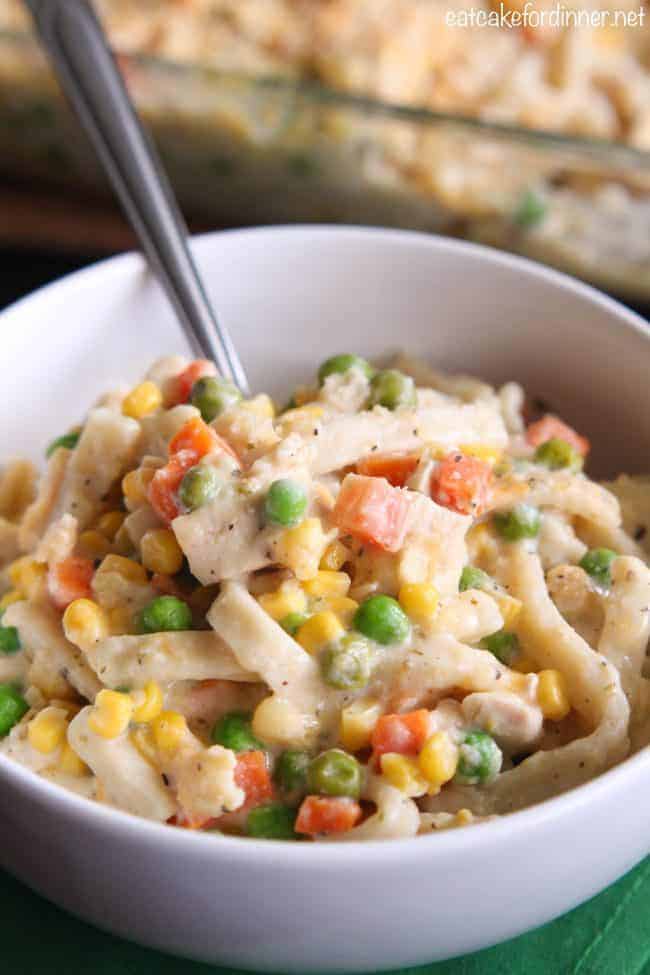 Creamy Chicken Noodle Casserole
This casserole is perfect for busy nights. There is very little hands-on time needed. Other than boiling the noodles and cutting up some cooked chicken, you pretty much just throw everything together in a large bowl, stir until combined and bake.
This casserole is quickly becoming one of my go-to recipes. Not only is it extremely easy to throw together, but it makes a bunch and the leftovers are great to have on hand during the week. Isn't that why we all love casseroles . . . they are easy to make and they feed a bunch of people.
The noodles really are what make this casserole extra-special. I highly recommend following the recipe and using the frozen grandma noodles. There are several brands available, so if you can't find them, others will work too. They taste WAY better than regular dry store-bought pasta.
Seriously, the flavors and textures of this casserole are spot on. Soft and slightly chewy noodles, tender chicken, crisp vegetables, creamy and cheesy sauce and a buttery cracker topping. My whole family loves this and I'm sure it will become one of your new go-to dinners.
Ingredients for Chicken Noodle Casserole:
Frozen Homestyle Egg Noodles: To thaw, place on paper towels on plate or counter for 15-30 minutes separating them as they thaw. 
Chicken breasts: Save prep time and cook and cube ahead of time.  Or use store-bought rotisserie chicken or any leftover chicken meat you may have (grilled chicken also tastes wonderful with this recipe.)
Frozen peas and carrots: I love keeping frozen veggies on hand to throw in whatever recipe I need them in! Thaw for 30 minutes before preparing the casserole.
Corn: 1 can, drained
Cream of chicken soup: Great chicken flavor and gives thickness to the base. Cream of mushroom or creamy of celery work great also!
Milk: Adds a hint of sweetness and smoothness.
Sour Cream: A tangy smooth addition to the casserole.
Dried onion flakes: They will reconstitute with the liquid and add onion
Italian seasoning: Usually a blend of dried Italian-inspired herbs such as basil, marjoram, oregano, rosemary, and thyme.
Garlic powder: I love garlic in everything!
Salt and pepper: To taste
Shredded Cheddar cheese: The cheese gives the perfect crisp taste to the recipe.
Ritz crackers: These will be part of a topping added in the last 10 minutes of baking. Use panko bread crumbs or regular bread crumbs if you prefer.
Unsalted butter:Melted and combined with the Ritz cracker topping.
Grated Parmesan cheese: Optional in the topping.
How to Make Chicken Casserole:
Preheat oven to 350 degrees.
Cook Noodles: Bring a large pot of water to a boil and add the frozen noodles; boil until tender, this should only take 5-7 minutes (always taste a noodle before you drain them to make sure they are the texture you prefer). Right before you drain the noodles, add the package of frozen peas and corn, this will thaw them quickly. Drain the noodles and vegetables.
Combine ingredients: Pour noodles back into the empty pot (or into a large bowl) and add the cooked chicken, canned corn, cream of chicken soup, milk, sour cream, dried onion flakes, Italian seasoning, garlic powder, salt, pepper and grated Cheddar cheese. Stir together until well combined.
Bake: Pour into a greased 9×13-inch baking dish and spread out evenly. Cover tightly with foil and bake for 20 minutes.
Add crunchy topping: Meanwhile, add the Ritz crackers to a zip-top bag and crush until small crumbs. Add the melted butter and grated Parmesan cheese to the zip-top bag and toss together until everything is coated in butter. Remove casserole from oven and remove foil. Sprinkle cracker mixture over casserole, return to oven and bake for 10 more minutes.
Ideas for How to Serve and Save:
Make ahead for your family or deliver to a friend: You can make this recipe up to 24 hours ahead of time. Slightly undercook the egg noodles. Assemble, cover tightly with foil and refrigerate. Write directions on the tinfoil if giving to a friend or leaving for a babysitter. Add 10-15 minutes to the baking time.
Serve with: Shredded brussels sprouts, Tomato cucumber salad, Roasted Vegetables, Wedge salad, Olive Garden breadsticks
Save: To freeze, only boil noodles for 4 minutes. Assemble and bake according to directions, and allow to cool. Cover really well with a double layer of aluminum foil and freeze for up to 2 months. When ready to eat, bake from frozen for 1 ½ hours (still covered with foil.) Then uncover and bake for another 20-40 minutes or so, or until it's hot and bubbly.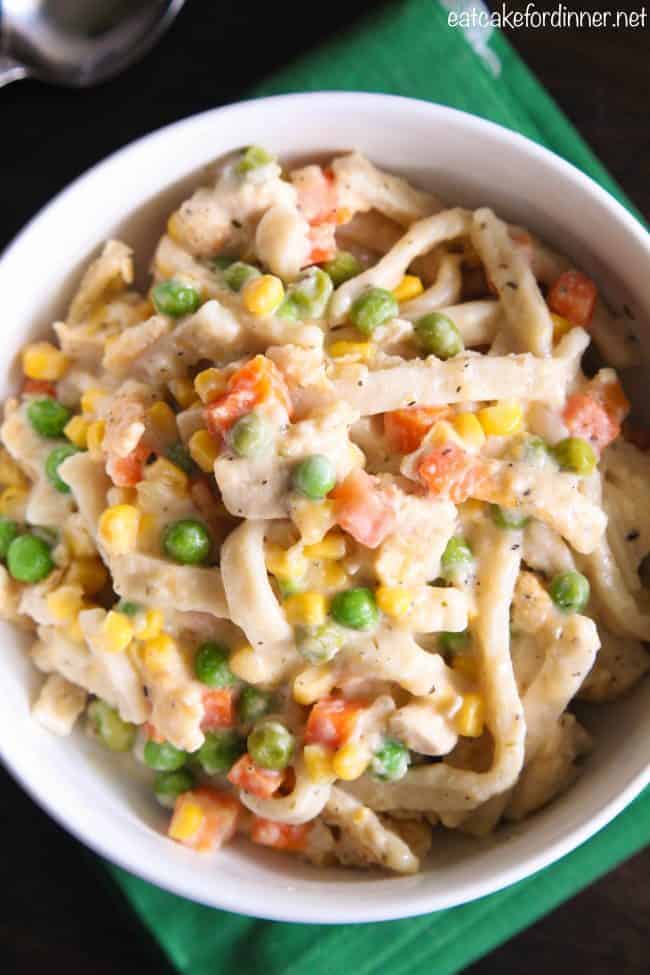 Comforting Casserole Dishes: