Low-carb and vegetarian Chili Rellenos Bake is as good as Chile Rellenos from a restaurant; eat this as a casserole or as an appetizer! If you like roasted green chiles and cheese, you'll make this over and over.
PIN the recipe to try it later!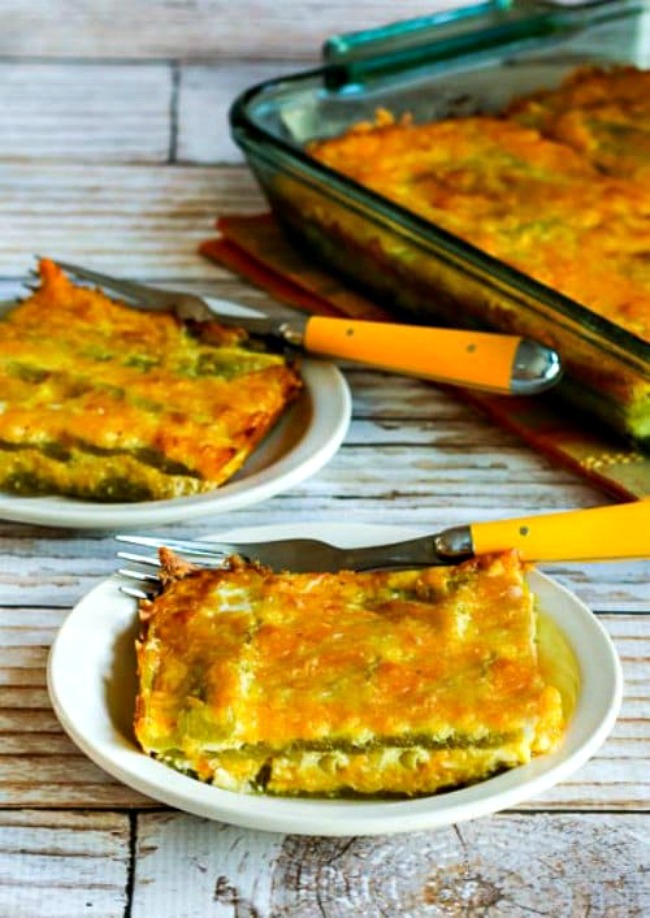 This recipe for Chile Rellenos Bake is a low-carb and vegetarian version of Chile Rellenos, that's healthier and easier to make than most versions of this well-known Mexican dish of stuffed, battered and deep-fried green chiles filled with cheese. This recipe came from my former neighbor Brooke, who shared it with me after I tasted her version at a neighborhood block party. I changed the recipe slightly to make it a bit more carb-conscious, but essentially this idea of layered green chiles and cheese held together with a little egg came from Brooke's recipe, so thanks Brooke!
I've enjoyed this Chile Rellenos Bake many times for a low-carb breakfast dish, but you can also cut it into small squares and serve with toothpicks for a holiday appetizer. And this is so perfect to make for Weekend Food Prep and eat for breakfast during the week! I'm excited to remind you about this favorite as this week's Friday Favorites pick; hope you enjoy trying it!
What ingredients do you need for this recipe?
Where can you buy big cans of roasted green chiles?
If you don't live in the west, the hardest thing about this recipe might be finding the big cans of roasted green chiles. If you have a Mexican market near you, that's the best place to get a good price on the big 27 oz. cans. But if that's not an option you can get whole green chiles in a can at Amazon.com (affiliate link). Of course you can roast your own green chiles for the dish as well, and you could probably make a slightly different version of this using other types of roasted peppers.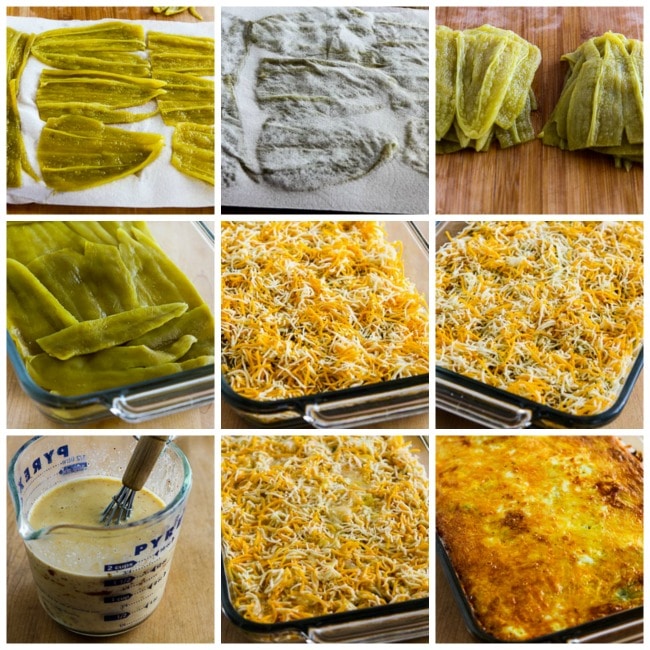 How to make Chile Rellenos Bake:
(Scroll down for complete printable recipe including nutritional information.)
Spray glass or crockery casserole dish with non-stick spray or olive oil. (I used a 9″ X 13″ dish, but anything close to that size will work.)
Drain the chiles well then split them open and remove any seeds. 
Lay chiles on paper towels and blot dry. 
I like to stack them up in two piles so I can make the layers even. 
Make half of the chiles into a layer in a casserole dish that's about 9″x13″ or close to that size.
Top the green chiles with a generous amount of cheese and sprinkle on green onions if you're using them.
Then make a second layer of chiles and cheese. 
Beat eggs, mix in the milk and spices, whisk together, and pour the egg mixture over the top.

Bake about 40 minutes (covered with foil for the first 15 minutes), or until the mixture is set and the top is lightly browned.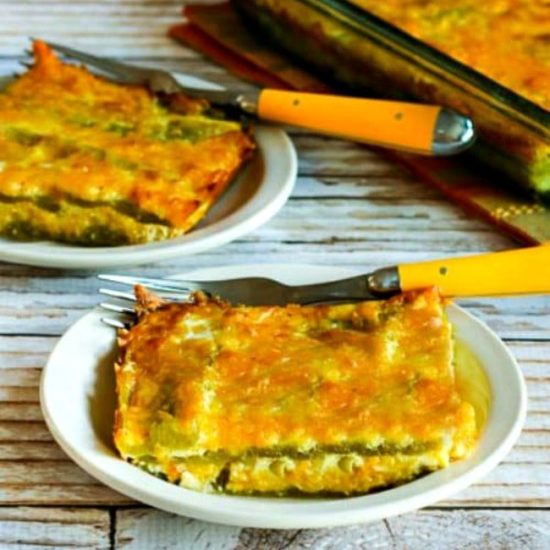 More Recipes with Delicious Roasted Green Chiles:
Weekend Food Prep:
This recipe has been added to a category called Weekend Food Prep  to help you find recipes you can prep or cook on the weekend and eat during the week!
Ingredients
one 27 oz. can roasted and peeled green chiles (see notes)
4 cups grated Four-Cheese Mexican blend cheese
1/2 cup very thinly sliced green onions (optional)
5 eggs
1/2 cup half and half (see notes)
1/2 tsp. ground cumin
1/2 tsp. chile powder
Instructions
Put green chiles in a colander placed in the sink and let drain for about 15 minutes.
While chiles drain, preheat oven to 375F/190C.
Spray glass or crockery casserole dish with non-stick spray or olive oil. (I used a 9″ X 13″ dish, but anything close to that size will work.)
When chiles are drained, use your thumb to split open each chile, scrape out seeds, and spread chiles out on a paper towel to drain more, pressing down with another towel to get them as dry as you can.  (I like to make 2 piles after I do this to get the layers even.)
Make a flat layer of chiles covering the bottom of the dish. (I alternated every other chile facing the opposite way because they're slightly v-shaped.)
Top the layer of chiles with half the grated cheese, then sprinkle on green onions (if using).
Make another layer of flattened chiles, followed by the rest of the cheese.
Put eggs into a bowl and beat well, then add half and half, ground cumin, and chile powder, and stir until well combined.
Pour egg mixture over chiles and cheese, taking care to get it evenly distributed. (The egg mixture will not completely cover the casserole.)
Cover dish with foil for the first 15 minutes of baking time, then remove foil and continue to bake until mixture is bubbling and cheese on top is lightly browned, about 40 minutes total baking time.
You can cook it without the foil, but watch it carefully or the top will get too brown.  Cooking time without foil will be slightly less.
Serve hot, with sour cream and salsa if desired.
This will keep in the fridge for a few days, and reheats beautifully.
Notes
You can use about 24 freshly-roasted and peeled green chiles if you prefer. Use milk or heavy cream instead of half and half if you prefer.
When served as an appetizer, this makes about 32 small squares.
This recipe from Brooke with slight adaptations by Kalyn.
Nutrition Information:
Yield:
8

Serving Size:
1

Amount Per Serving:
Calories: 139Total Fat: 10gSaturated Fat: 5gUnsaturated Fat: 4gCholesterol: 139mgSodium: 159mgCarbohydrates: 4.8gFiber: 0gSugar: 1gProtein: 9g
Nutrition information is automatically calculated by the Recipe Plug-In I am using. I am not a nutritionist and cannot guarantee 100% accuracy, since many variables affect those calculations.
Low-Carb Diet / Low-Glycemic Diet / South Beach Diet Suggestions:
This is good for any low-carb eating plan or any phase of the original South Beach Diet. South Beach would recommend low-fat dairy products while other low-carb eating plans would use full-fat dairy.
Find More Recipes Like This One:
Use Casserole Recipes to find more recipes like this one. Use the Diet Type Index to find more recipes suitable for a specific eating plan. You might also like to Follow Kalyn's Kitchen on Pinterest to see all the good recipes I'm sharing there.
Historical Notes for this Recipe:
This recipe was first posted in 2008. It was last updated in 2021.
We are a participant in the Amazon Services LLC Associates Program, an affiliate advertising program designed to provide a means for us to earn fees by linking to Amazon.com and affiliated sites. As an Amazon Associate, I earn from qualifying purchases.