My chicken Cobb salad with chipotle ranch dressing and grilled pineapple is a fun adaptation of the American classic that is dairy-free and paleo-friendly. It's a satiating, hearty salad that's bursting with flavours and colours. Perfect as the main meal or bring it as a potluck dish to a picnic, barbecue or dinner party. 
---

Why Is it Called A Cobb Salad? 
If you've never tried a Cobb salad or you have but wondered who invented it, the story goes that it is named after a fella called Robert Howard Cobb, who owned a restaurant Brown Derby in Hollywood, CA in 1937.
One night, Mr. Cobb decided to throw a bunch of leftover ingredients together for a late-night meal. Tossed in some French dressing, the Cobb salad was born. Since then, it has become a very popular salad with many variations, often served in a layered fashion on a big platter.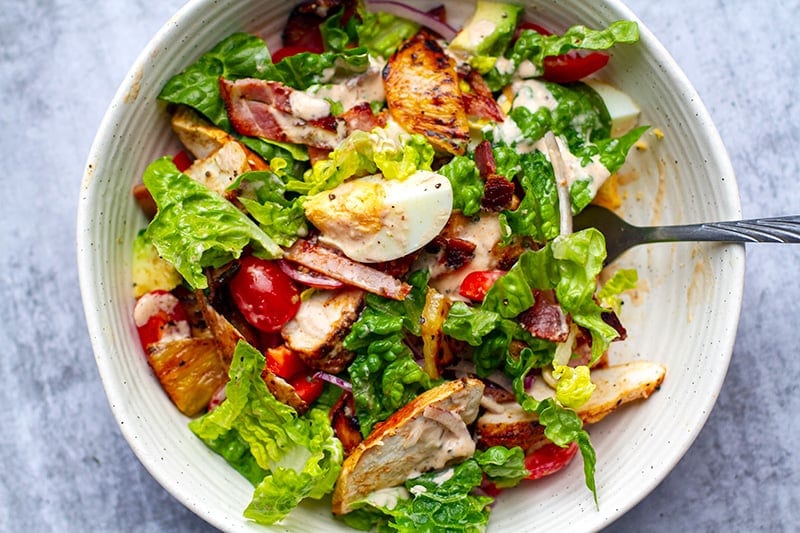 Cobb Salad Ingredients
The traditional Cobb salad is made with chopped salad greens such as iceberg, watercress, endives and romaine lettuce, tomato, crispy fried bacon, cooked chicken breast, hard-boiled eggs, avocado, chives or scallions, blue cheese and a red-wine vinaigrette. 
There are many types of Cobb salad recipes calling for a variety of leafy greens and using different cheeses besides Roquefort blue. The dressings also vary depending on the recipe twist or the cook's cultural influences. 
With my Whole30 and paleo cobb salad, I've decided to go with a little Tex Mex twist by seasoning the chicken with a special blend of spices, and adding some caramelised grilled pineapple (it pairs so well with bacon and poultry) and a delicious, creamy chipotle ranch dressing. I left out the cheese to keep it dairy-free but you're welcome to add some blue or Cheddar if you wish. 
You will find step-by-step photos for this salad below the recipe card.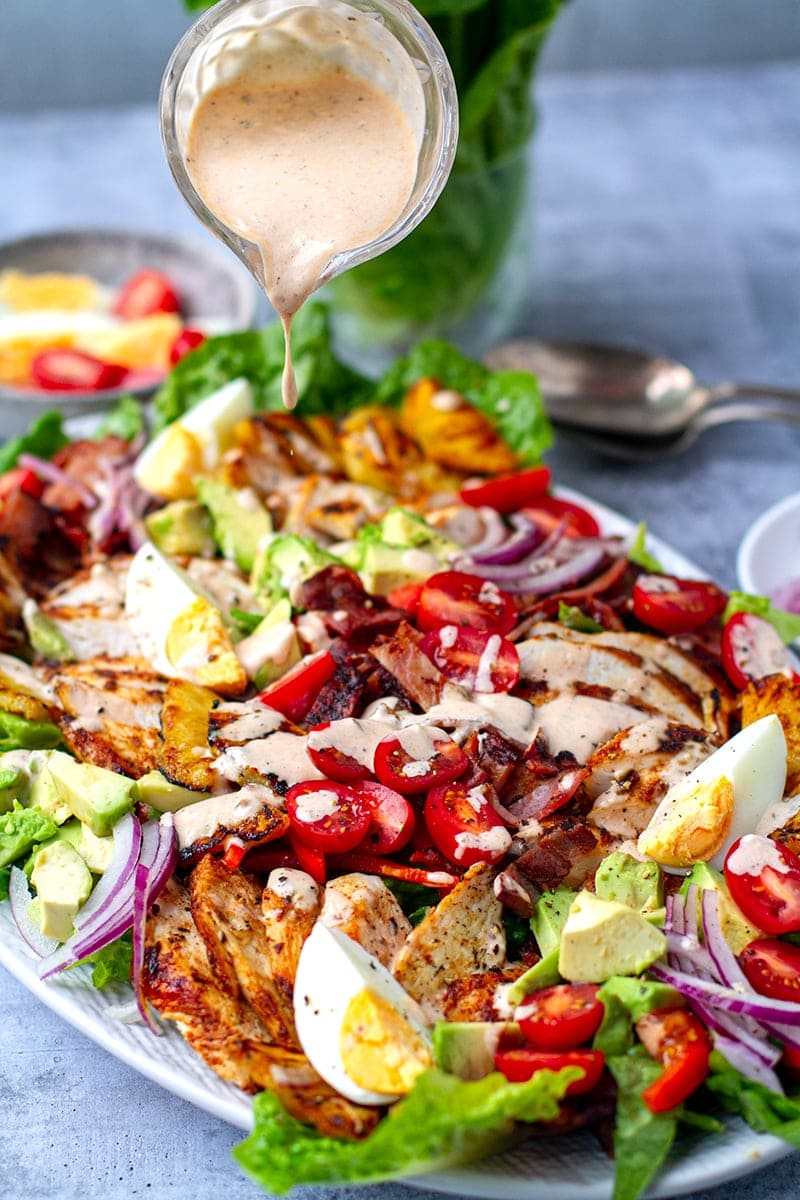 ---
More Hearty Salad Recipes
---
Full Recipe For Chicken Cobb Salad
Find the full list of ingredients, instructions and extra cooking notes below. If you have questions or cook this recipe, please let me know in the comments and make sure to rate this recipe so it's easy for others to find.
Print
---
Description
This delicious and healthy chicken Cobb salad with chipotle ranch dressing and sweet grilled pineapple is hearty and satiating, making it perfect as the main meal. It's dairy-free, gluten-free, paleo-friendly and is full of colours and flavours.
---
---
If using eggs in this salad, pop them in a pot of boiling water and cook for 7 minutes for hard-boiled (with a slightly jammy yolk). Once done, strain and place the eggs in cold water for a couple of minutes. Set aside.
Cut the chicken breasts into three pieces (cut the thicker part into two thinner pieces and cut off the tenderloin). Place on a cutting board or a plate and season with salt, pepper, garlic powder, paprika and cumin. Massage spices into the meat on both sides and set aside.
Heat a large frying pan with a couple of tablespoons of oil (macadamia, avocado, coconut or olive oil) over medium-high heat. Once hot, add the chicken pieces and cook for 5 minutes on each side. The thicker pieces might need 6-7 minutes, or you might even need to cut them a little thinner. Once cooked, allow the meat to rest for a few minutes before slicing into bite-size pieces.
While chicken is cooking, prepare the pineapple. Peel off the skin and remove any brown bits. Cut through the middle into quarters and then cut each quarter into 5-7mm slices. Heat another frying pan with a little oil over medium-high heat. Add pineapple slices and cook for 2-3 minutes on each side until charred. Remove to a bowl.
The final bit of cooking is bacon. Pan-fry until crispy, pat excess oil onto some paper towel and dice into chunky cubes or strips. Set aside.
Whisk all chipotle ranch dressing ingredients in a bowl and set aside.
Now that our cooked ingredients and the ranch dressing are ready, prepare the fresh salad ingredients such as lettuce, cherry tomatoes, peppers, onions and avocado. Peel and cut the eggs into quarters or halves. If making this salad ahead of time, you can pre-cook the protein and pineapple and keep those in the fridge overnight.
Let's build the salad. Start with a bed of lettuce and place sliced chicken in four separate piles. Arrange the sliced peppers all over. Place the remaining ingredients in small piles evenly around the chicken: grilled pineapple, bacon, diced avocado, eggs, cherry tomatoes and sliced red onion. You can also arrange it in strips on a longer platter, which is a very classic way to build a cobb salad; each food is placed on its strip.
By the way, you can also mix it all in a large bowl.
---
Notes
If making this salad ahead of time, you can pre-cook the protein and pineapple and keep those in the fridge overnight.
For the dressing, you can use chipotle peppers from a can such as these or chopped chipotle puree like this. Smoked paprika works well as well.
Nutrition
Serving Size:

1/4 of the salad

Calories:

529

Sugar:

6.2 g

Sodium:

991.6 mg

Fat:

32.7 g

Saturated Fat:

7.9 g

Carbohydrates:

16.5 g

Fiber:

7.1 g

Protein:

42.3 g

Cholesterol:

138.6 mg
Keywords: Salad, Tex Mex, Cobb Salad, Chicken, Chipotle, Ranch, Pineapple, Paleo, Whole30
How To Make Chicken Cobb Salad (Photos)
Here are some step-by-step photos to guide you through the recipe below.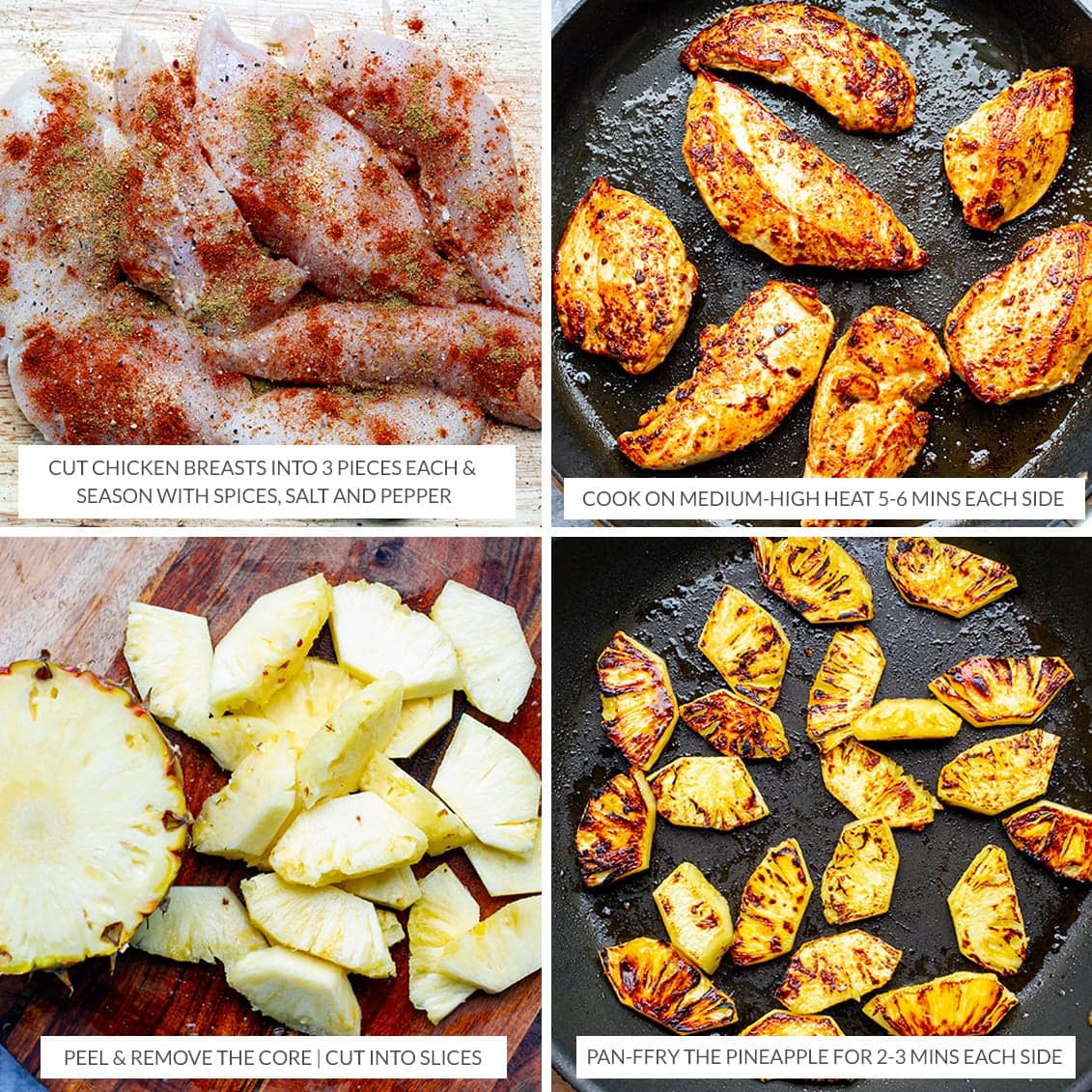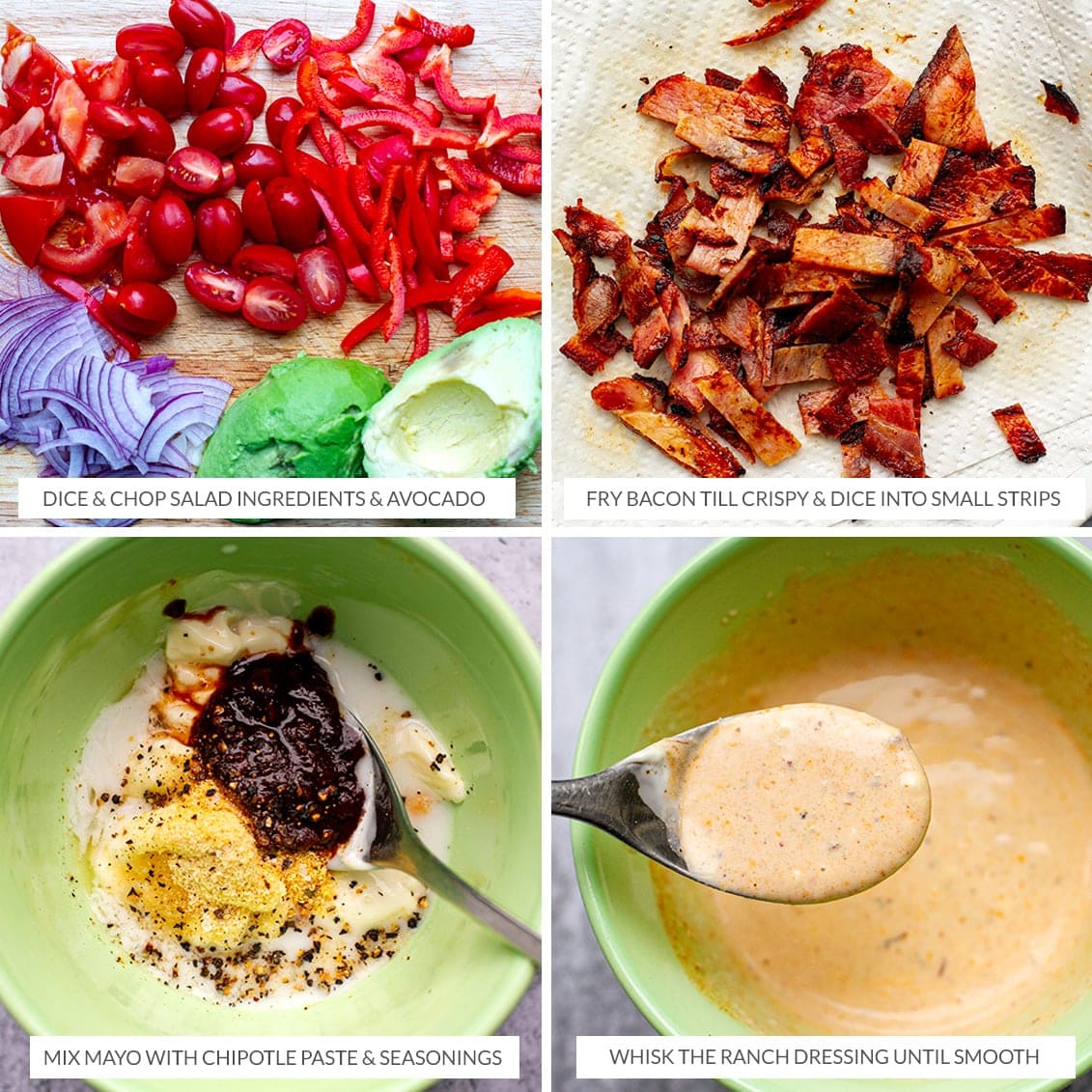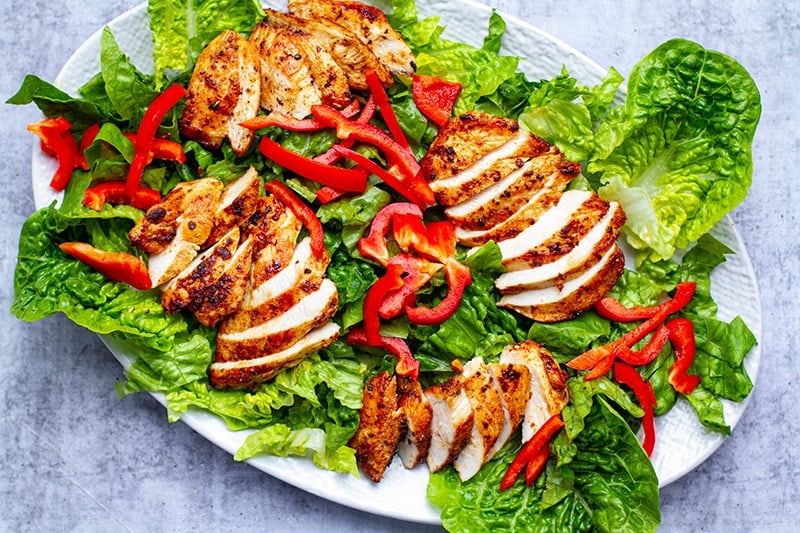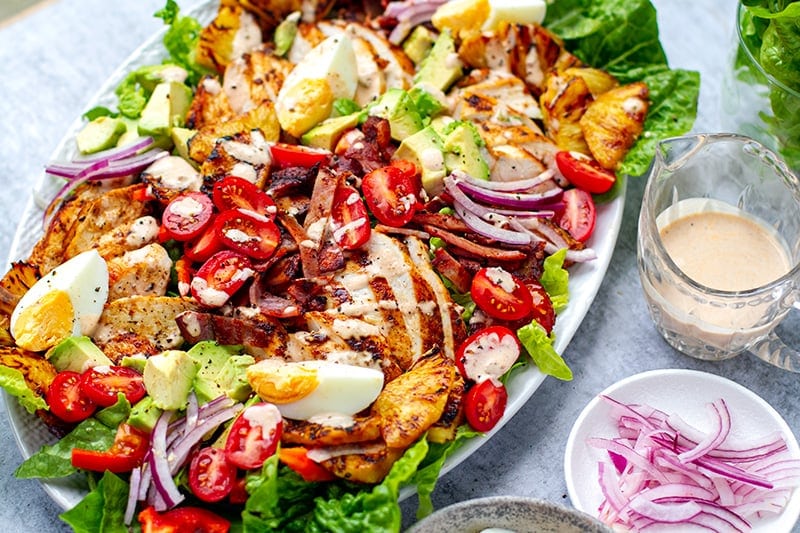 ---