Cheesy Baked Cauliflower Tots are delicious low-carb and gluten-free cauliflower tater tots, and they're perfect for a bite-sized snack! Or you can serve them for a delicious Keto side dish!
PIN the cheesy Cauliflower Tots to try them later!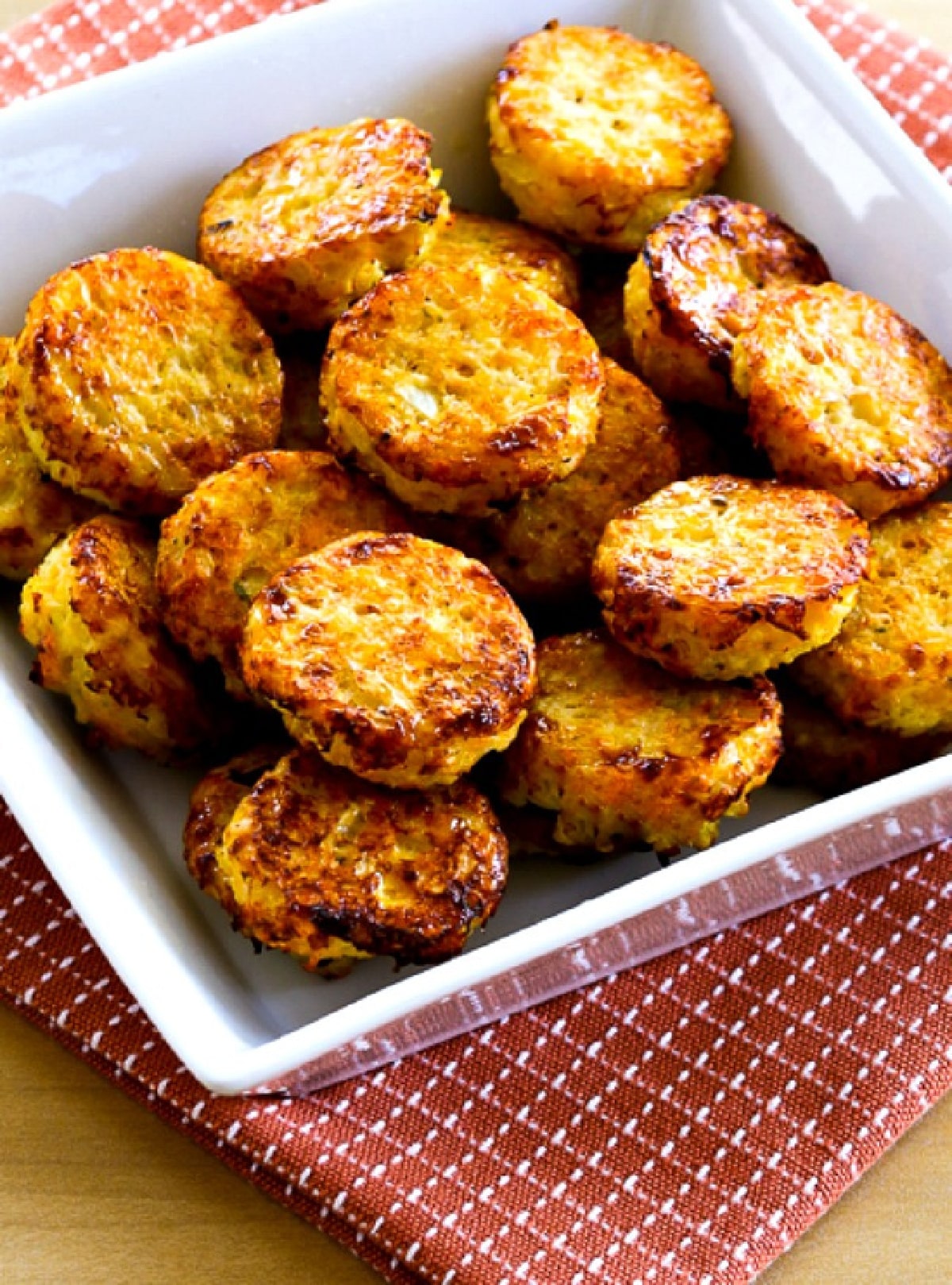 I was probably on Pinterest where I first saw the idea of finely chopped cauliflower made into tater tots that inspired these Cheesy Baked Cauliflower Tots. And how we loved these cauliflower tater tots that are held together with lots of cheese!
Tater-Tots were one of those foods from childhood that I kept liking way into adulthood, and I love the idea of a healthier low-carb version made from cauliflower.
But it took me four tries to make what I thought was a perfect recipe for Cauliflower Tots, with just enough cheesy taste but still a little cauliflower flavor and slightly crisp from the oven. Along the way I had to buy a Mini Muffin Pan (affiliate link) and using a One Tablespoon Cookie Scoop (affiliate link) helped me get them all the right size.
Partly cooking the cauliflower before we chopped it in the food processor also gave a better result, and we drained the chopped cauliflower to keep the tots as crisp as we could get them. And when we tested the final version of these, Jake and I agreed they were delicious!
What ingredients do you need for this recipe?
Will kids like these Cauliflower Tots if they don't like cauliflower?
My nephew Jake was cooking with me when I made the keeper version of these, and although he's NOT a cauliflower fan, Jake kept nibbling on them until he had eaten pretty much the entire batch. And the whole time he kept commenting on how good they were, so even if your family is a little suspicious of cauliflower, you might get them to like the cauliflower tots!
How can you keep the Cauliflower Tots from sticking in the pan?
The only real issue I've had with this recipe is that the tots want to stick in the pan, so I emphasize spraying very well with non-stick spray, and also using a knife to loosen them when you're turning them over.
Can you make this recipe with cauliflower rice?
I haven't tried the Cheesy Cauliflower Tater Tots with fresh or frozen cauliflower rice, and the chopped cauliflower we used was probably a bit more coarsely chopped, so that might impact the cooking time. But there are notes in the comments from people who have made them that way! Please share your results if you try it too.
Want more recipe ideas for cauliflower?
If you're fond of cauliflower for a low-carb ingredient, check out Low-Carb Dinners Using Frozen Cauliflower Rice, Low-Carb and Keto Cauliflower Casseroles, or Low-Carb and Keto Roasted Cauliflower Recipes.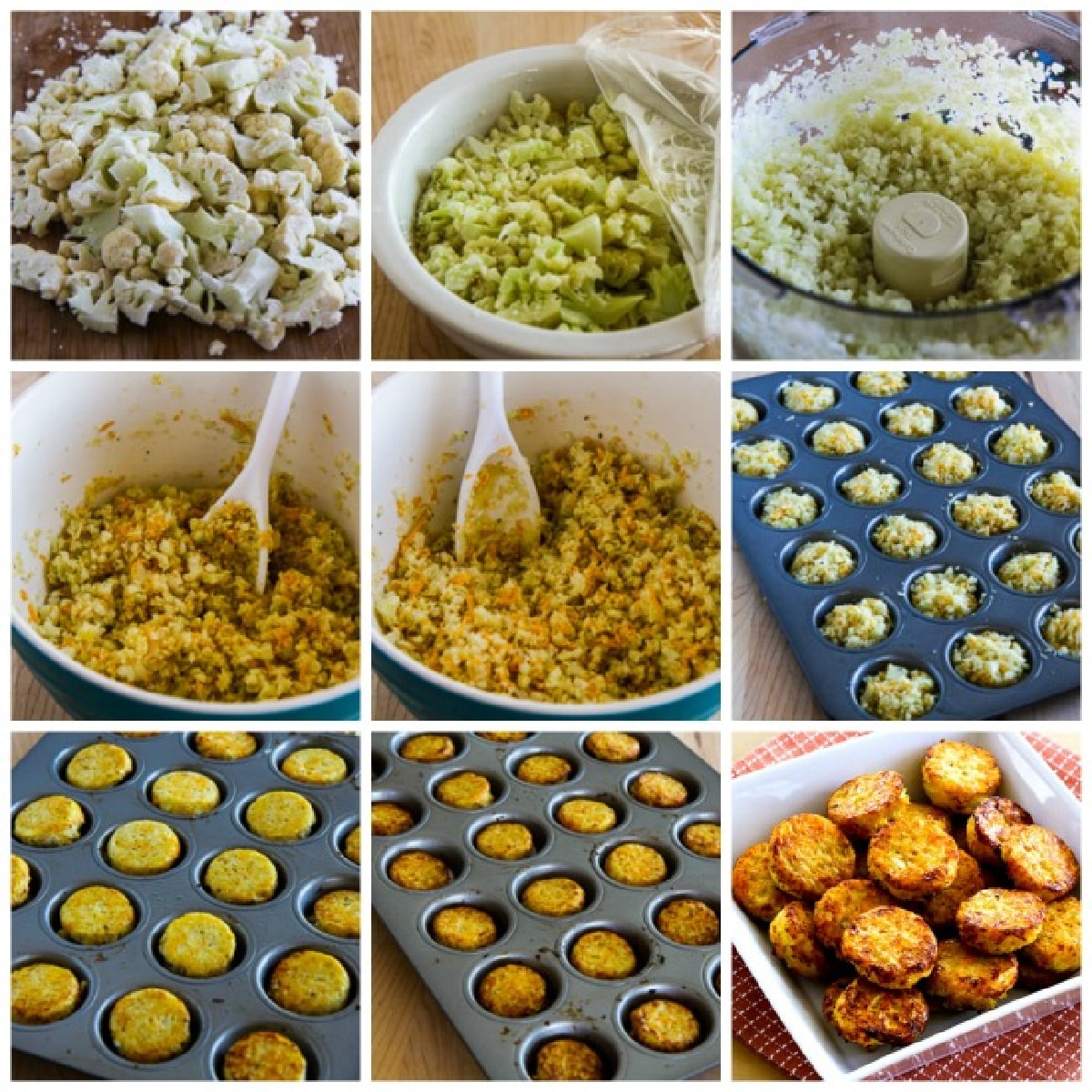 How to Make Cheesy Baked Cauliflower Tots:
(Scroll down for complete printable recipe with nutritional information.)
Coarsely chop up 1/2 large head of cauliflower.
Put cauliflower in a bowl, cover the bowl with cling-wrap, and microwave on high for about 2 minutes.  (If there's any water in the bottom of the bowl, drain the cauliflower before you put it into the food processor.)
Process the cauliflower with the steel blade in the food processor until it's finely chopped (but be careful not to over process so it's starting to get pureed.)  It should be slightly chunky.
Drain it again if you see any water in the bottom.
Stir in the sharp cheddar, coarsely grated Parmesan, Almond Flour (affiliate link), Vege-Sal (affiliate link), Spike Seasoning (affiliate link), and black pepper and mix until it's well-combined.
Then add one egg and mix until the mixture is mostly all coated with egg.
Preheat the oven to 400F/200C.
Spray a Mini Muffin Pan (affiliate link) with non-stick spray and use a One Tablespoon Cookie Scoop (affiliate link) to scoop out rounded scoops of the mixture and put in the muffin pan.
Bake for 15 minutes.
Loosen under them with a knife and then turn each tot over and put back into the oven and bake about 15 minutes on the other side.
Here's how they looked after the second 15 minutes of baking.  Serve hot.
Jake and I ate them all, but I doubt these would reheat that well, and they were definitely best right out of the oven. Enjoy!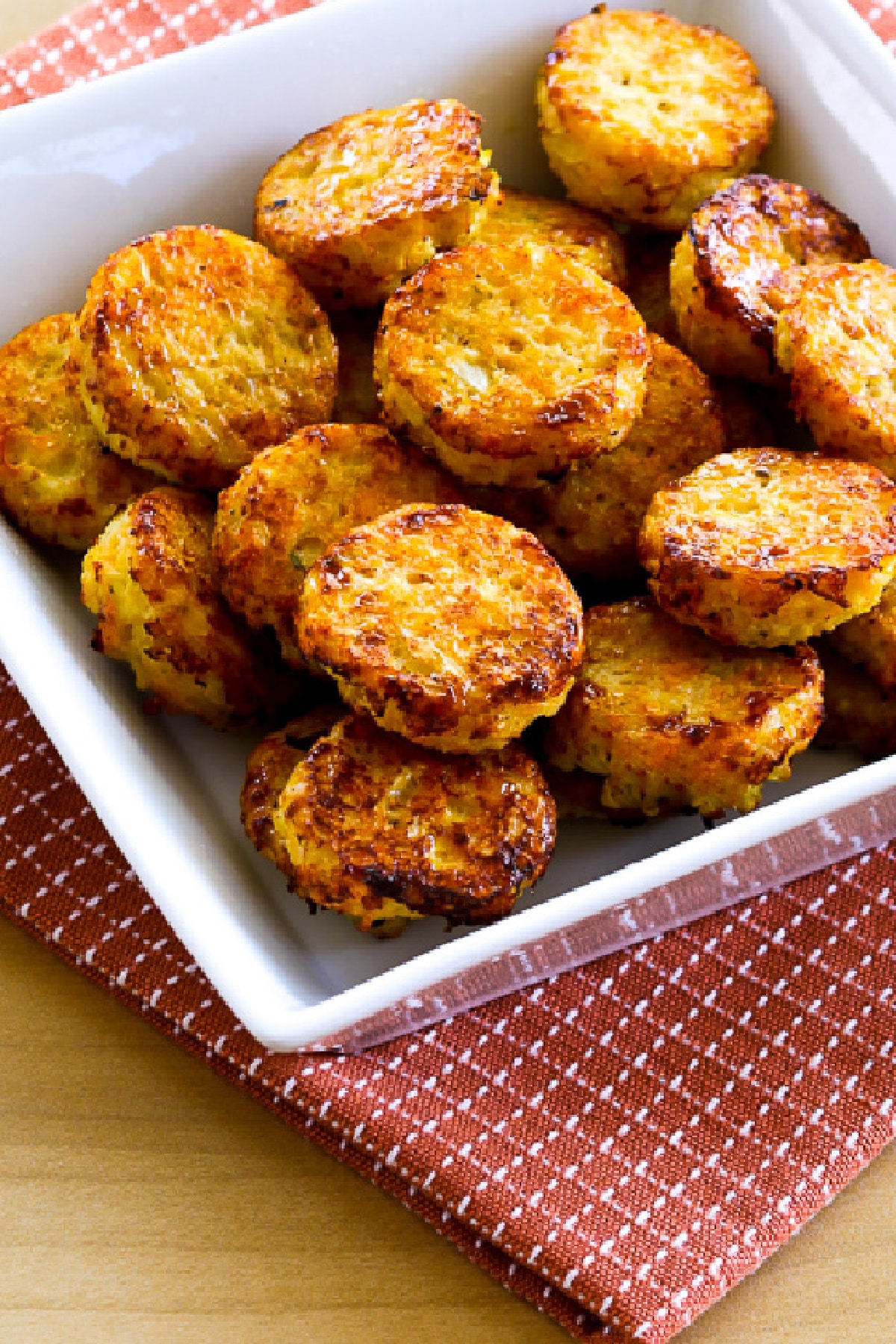 More Cheesy Low-Carb Recipes with Cauliflower:
Easy Cheesy Baked Keto Cauliflower
Low-Carb Twice-Baked Cauliflower
Instant Pot Low-Carb Loaded Cauliflower Soup
Roasted Cauliflower with Parmesan
Cauliflower Gratin
Ingredients
1/2 large head cauliflower, coarsely chopped
1/3 cup sharp cheddar cheese
1/4 cup coarsely grated Parmesan cheese
2 T almond flour
1/2 tsp. Vege-Sal or slightly less regular salt
1/2 tsp. Spike Seasoning or other all-purpose seasoning blend
fresh-ground black pepper to taste
1 egg
Instructions
Preheat oven to 400F/200C.
Spray a Mini Muffin Pan that makes 24 muffins (affiliate link) with non-stick spray.
Cut away the leaves of the cauliflower, but use most of the inner core part.
Coarsely chop the cauliflower, place in a micro-wave proof bowl, cover with cling wrap, and microwave 2 minutes on high.  (Microwaves can vary so you may need to experiment with the time, but the cauliflower should be just slightly soft.)
Quickly take off the cling-wrap and let the steam escape, and if you see any water in the bottom of the bowl, put the cauliflower into a colander and let the water drain off.
Put the steel blade in the food processor, add the cauliflower, and pulse until the cauliflower is finely chopped but still slightly chunky.  (Be careful not to over process so you don't end up with cauliflower puree!)
If there is any water in the food processor bowl, drain the cauliflower again in the colander.
Put finely chopped cauliflower into a bowl and add the sharp cheddar, coarsely grated Parmesan, almond flour, Vege-Sal or salt, Spike Seasoning (or other seasoning of your choice), and fresh-ground black pepper.
Stir until ingredients are well-combined.
Add the egg and stir until the ingredients are mostly coated with egg.  (You might be tempted to add another egg, but don't.  You'll be surprised how well this sticks together.)
Use a One Tablespoon Cookie Scoop (affiliate link) or a steel one-tablespoon measuring spoon to scoop out rounded spoonfuls of the mixture and place it in the mini muffin pan.
Bake 15 minutes.
Carefully turn each cauliflower tot over in the muffin tin and bake 15 minutes more, or until tots are nicely browned on both sides.
Serve hot; these are best served right out of the oven.
Notes
We used Almond Flour (affiliate link), as well as Vege-Sal (affiliate link) and Spike Seasoning (affiliate link). You can substitute another all-purpose seasoning blend that tastes good with cauliflower if you don't have Spike Seasoning. Use a slightly smaller amount of regular salt if you don't have Vege-Sal.
Nutritional information based on 6 cauliflower tots serving size.
This recipe developed by Kalyn with inspiration from several other bloggers who also made Cauliflower Tots. 
Nutrition Information:
Yield:
4

Serving Size:
1

Amount Per Serving:
Calories: 111Total Fat: 8gSaturated Fat: 3gTrans Fat: 0gUnsaturated Fat: 3gCholesterol: 47mgSodium: 305mgCarbohydrates: 5gFiber: 2gSugar: 2gProtein: 7g
Nutrition information is automatically calculated by the Recipe Plug-In I am using. I am not a nutritionist and cannot guarantee 100% accuracy, since many variables affect those calculations.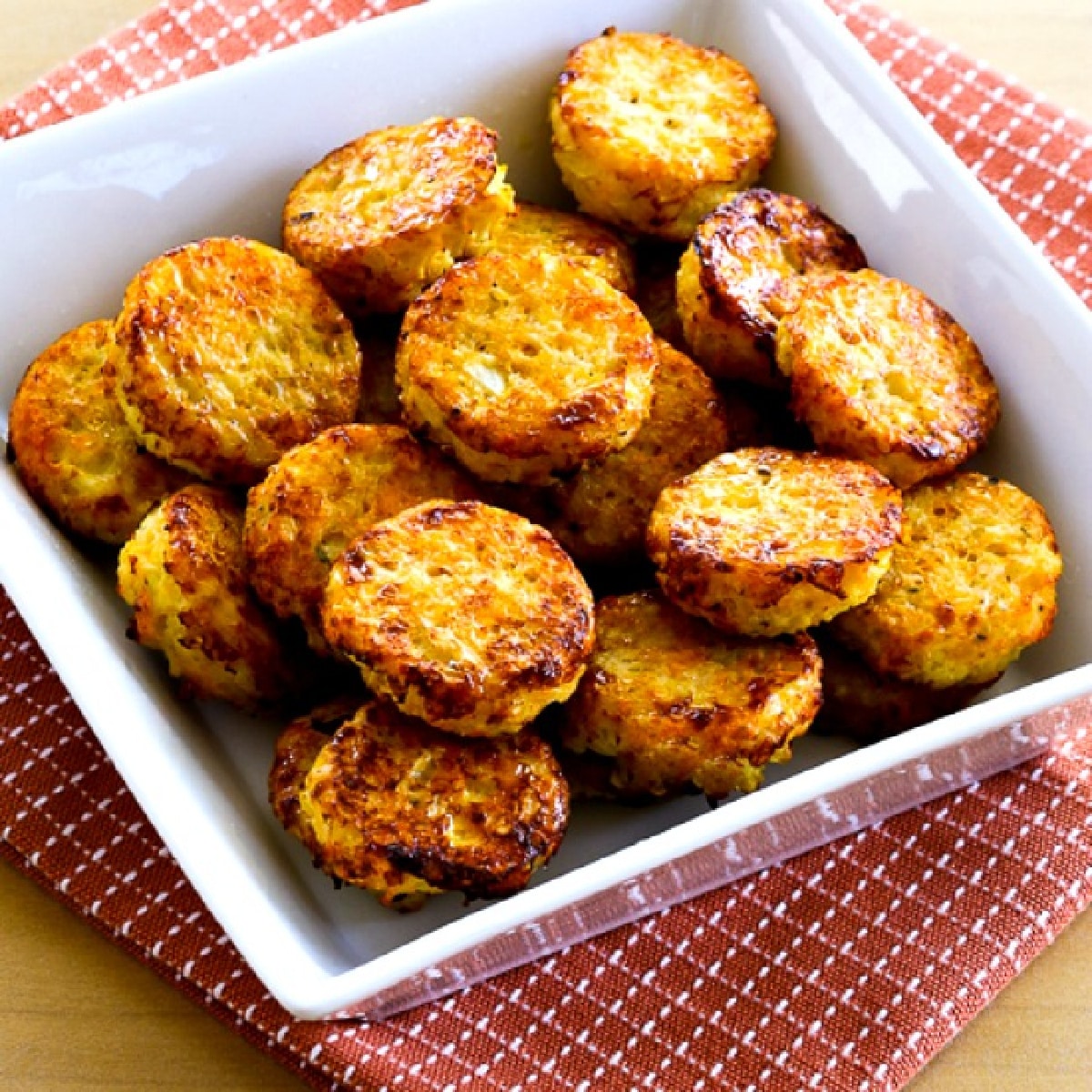 Low-Carb Diet / Low-Glycemic Diet / South Beach Diet Suggestions:
These low-carb and cheesy cauliflower tater tots are great for low-carb diet plans, including Keto. Use full-fat cheese for Keto or low-carb diets. Cauliflower is also a perfect low-glycemic food for the original South Beach Diet, who would recommend reduced-fat cheese, and with that caution this would be a great recipe for any phase of South Beach.
Find More Recipes Like This One:
Use Side Dishes to find more recipes like this one. Use the Diet Type Index to find recipes suitable for a specific eating plan. You might also like to follow Kalyn's Kitchen on Pinterest, on Facebook, on Instagram, or on YouTube to see all the good recipes I'm sharing there.
Historical Notes for this Recipe:
This recipe was posted in 2014 and it's been very popular on the site! It was last updated with more information in 2022.
We are a participant in the Amazon Services LLC Associates Program, an affiliate advertising program designed to provide a means for us to earn fees by linking to Amazon.com and affiliated sites. As an Amazon Associate, I earn from qualifying purchases.