Today, I want to show you how to make an easy, homemade version of Salsa Tatemada or Charred Salsa, using your roasted tomatoes, chilli peppers, onions and garlic, zingy lime juice and fresh coriander. It's a rich and smoky roasted salsa, an adaptation of a recipe I learnt from Gabriella Camara's Mexican cooking masterclass and it's so delicious. You can use it in tacos, burritos, enchiladas, as a dip with corn chips or veggies, or as a spicy condiment with grilled meat, fish or plant-based protein. It's gluten-free, Whole30, paleo, vegan and vegetarian.
---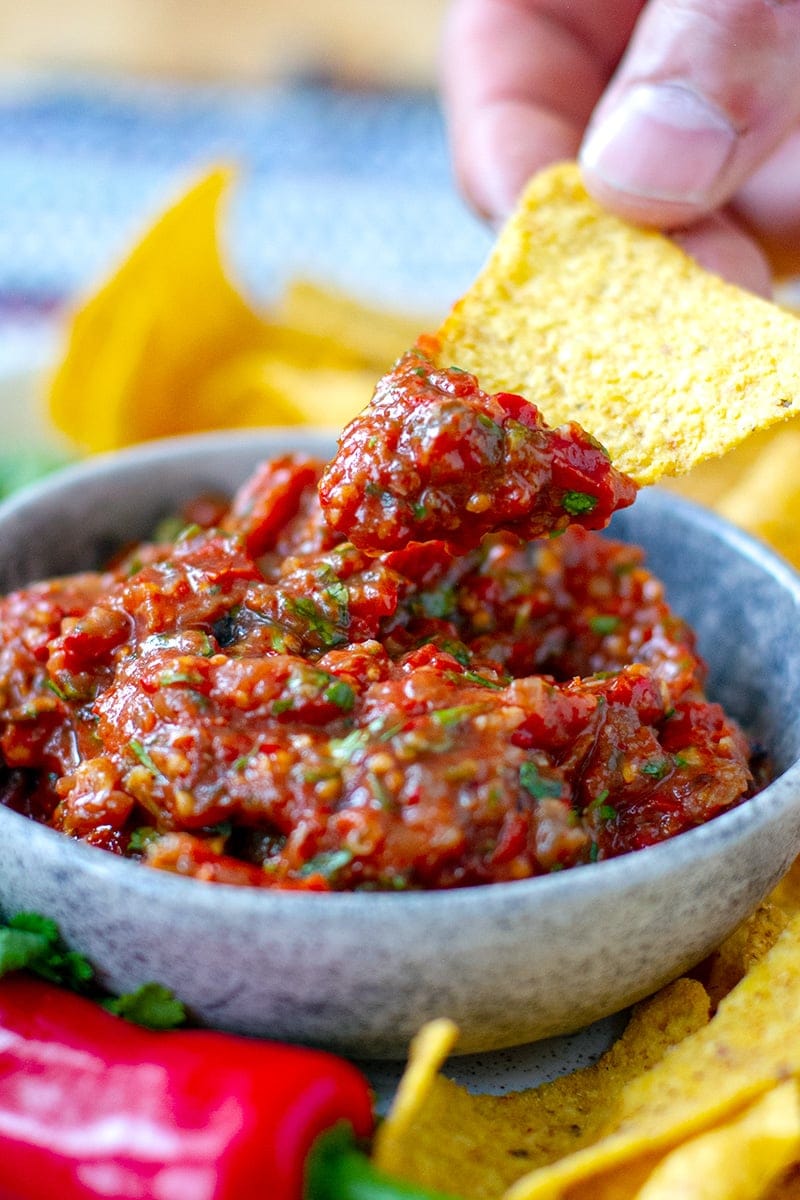 What Is Salsa Tatemada?
A charred salsa, also known in Mexico as Salsa Tatemada, is a rich and smoky mixture of blistered chillies, tomatoes, onions and garlic all combined in a mortar and pestle known as molcajete.
It's a type of 'cooked' salsa that relies on deep flavours of charred vegetables, which are also caramelised during cooking giving this dish a lot of lovely sweetness to offset the heat.
The ingredients are cooked over a hot comal – a round griddle with a flat, smooth surface that's traditionally made from clay but is also available as cast iron or other materials. Comals are used to char and toast foods, cook tortillas and so on, and can be heated on the stovetop. A flat grill pan could also be used.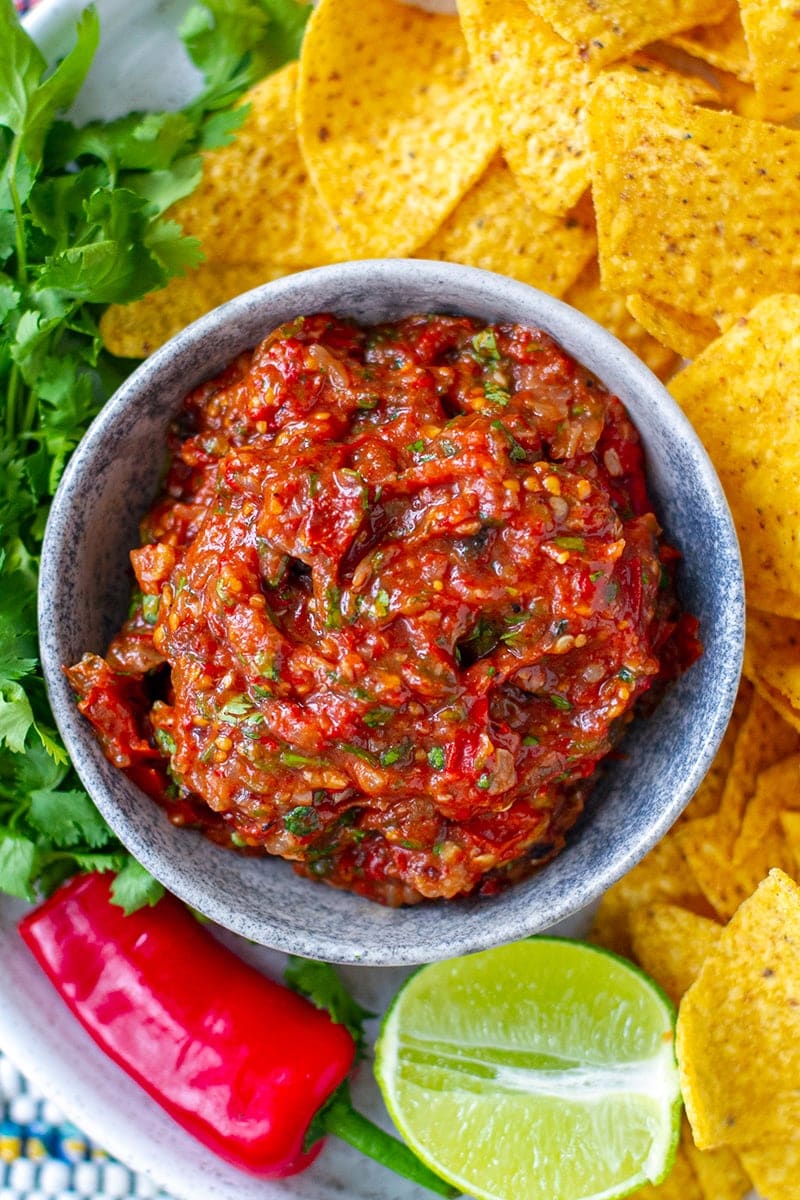 My Roasted Salsa Tatemada Version
As I don't own a comal and didn't have access to a BBQ grill at the time of making this recipe, I decided to roast the ingredients for the salsa. Using a hot oven, I was able to achieve a similar blistered, charred result and finished the salsa in a food processor instead of a mortar and pestle.
Guys, the flavours in this salsa are incredible – rich, spicy, smoky, sweet – and it's super versatile in how you enjoy it. We had it with some corn chips and also as a condiment with some grilled fish. It's also amazing in tacos and I love putting it over scrambled eggs.
How To Make Roasted Salsa
You will find the full list of ingredients, instructions and nutritional breakdown for this charred salsa recipe below. Here are some step-by-step pics to guide you along.
The key to getting that nice charred finish is a hot oven (you could also use the grill element of the oven) and a flat baking sheet/tray. Don't use a deep tray as it will trap the moisture and steam the vegetables, rather than roast them (in fact, that's a secret to any good roast veg). 
You can use any colour cherry tomatoes or larger plum tomatoes; green tomatillos are also great. I used serrano and jalapeno chiles, you can basically use a variety of fresh chiles to roast but don't pick anything too hot.
If you have a good grill pan or an outdoor BBQ, by all means, char-grill the veggies on that until they're nice and blistered as in the picture below. The charring and caramelisation are what gives this salsa such an amazing, complex flavour.  Adding a little chipotle chile will give it an extra smoky flavour. 
To blend the salsa, you can use a food processor, blender or mortar and pestle. The consistency should be coarse rather than completely pureed and smooth.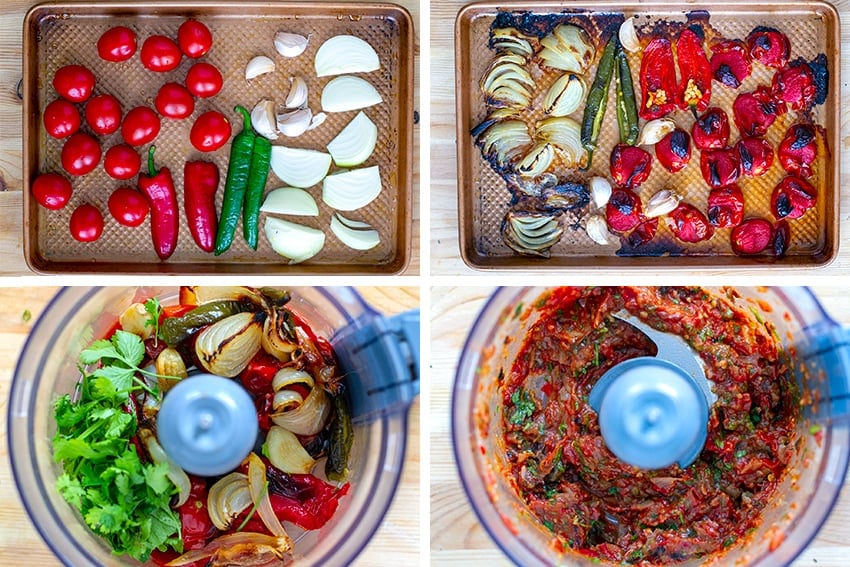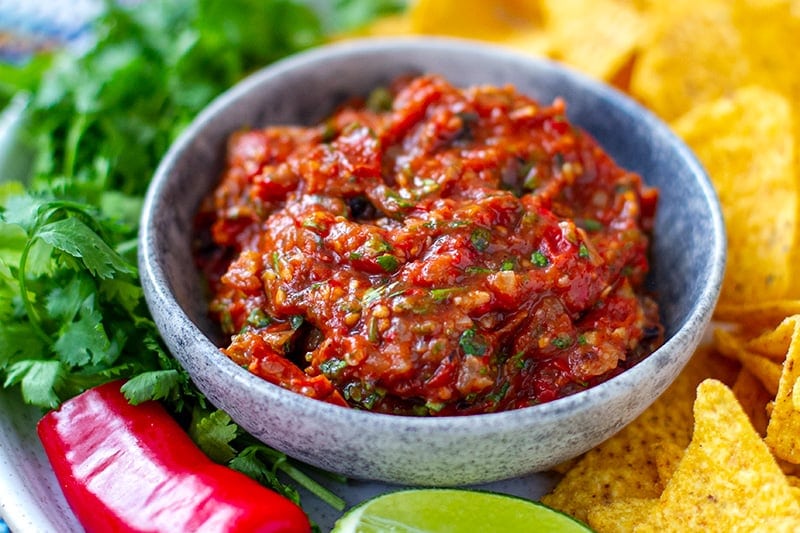 Print
---
Description
Rich, smoky and complex roasted salsa inspired by the Mexican salsa tatemada is made with charred onions, chiles, garlic and tomatoes and finished with refreshing lime and coriander. Use it as a dip or a condiment. Double the ingredients for a larger batch.
---
---
Preheat the oven to 250 C/480 F. Drizzle a flat baking sheet with a little olive oil and spread the charring ingredients evenly: tomatoes, chiles, onions and garlic (in shells). Place on the middle rack of the oven. Roast for 20 minutes, then remove the garlic cloves and put the sheet back for 5-10 minutes.
Remove cooked garlic from the shells. Allow the veggies to cool slightly.
Add all roasted ingredients to a food processor or a blender. You can also use a mortar and pestle to be more traditional. Add coriander, lime juice and salt and puree/blend the ingredients in short pulses as to not overprocess them. We don't want a smooth puree but rather a course texture salsa.
Serve right away or store in the refrigerator (in an airtight container) for up to 7 days.
You can double the ingredients to make a larger batch or add a few more tomatoes.
---
Notes
Depending on the heat level of the chiles you use, the salsa could end up being quite spicy, even after they are deseeded. Have a quick taste of the raw chile to see how hot it is. I found our salsa was spicy but it had a mellow, warm heat to it and was very pleasant. If you want a less spicy finish, add a few extra cherry tomatoes to the baking sheet or use less chile. Adding a sweet red pepper (capsicum) to roasted ingredients can also dilute the heat a bit while adding lots of flavour.
Nutrition
Serving Size:

3 tablespoons

Calories:

72

Sugar:

4.6 g

Sodium:

201.7 mg

Fat:

3.8 g

Saturated Fat:

0.6 g

Carbohydrates:

9.5 g

Fiber:

2 g

Protein:

1.7 g

Cholesterol:

0 mg
Save This Roasted Salsa Recipe To Pinterest