This website may contain affiliate links and advertising so that we can provide recipes to you. Read my privacy policy.
Buttery Garlic Herb Chicken with Zucchini is an easy 30 minute meal that has tender and juicy chicken cooked in a buttery garlic herb sauce with zucchini. This dish is cooked with fresh herbs and is incredible! 
Quick and easy meals are just what is needed at this time! 15 Minute Garlic Shrimp Stir Fry, 20 Minute Skillet Blackened Shrimp Fajitas, 20 Minute Skillet Blackened Shrimp Fajitas or 20 Minute Garlic Beef and Broccoli Lo Mein are minute meals to help make your weeknight easier.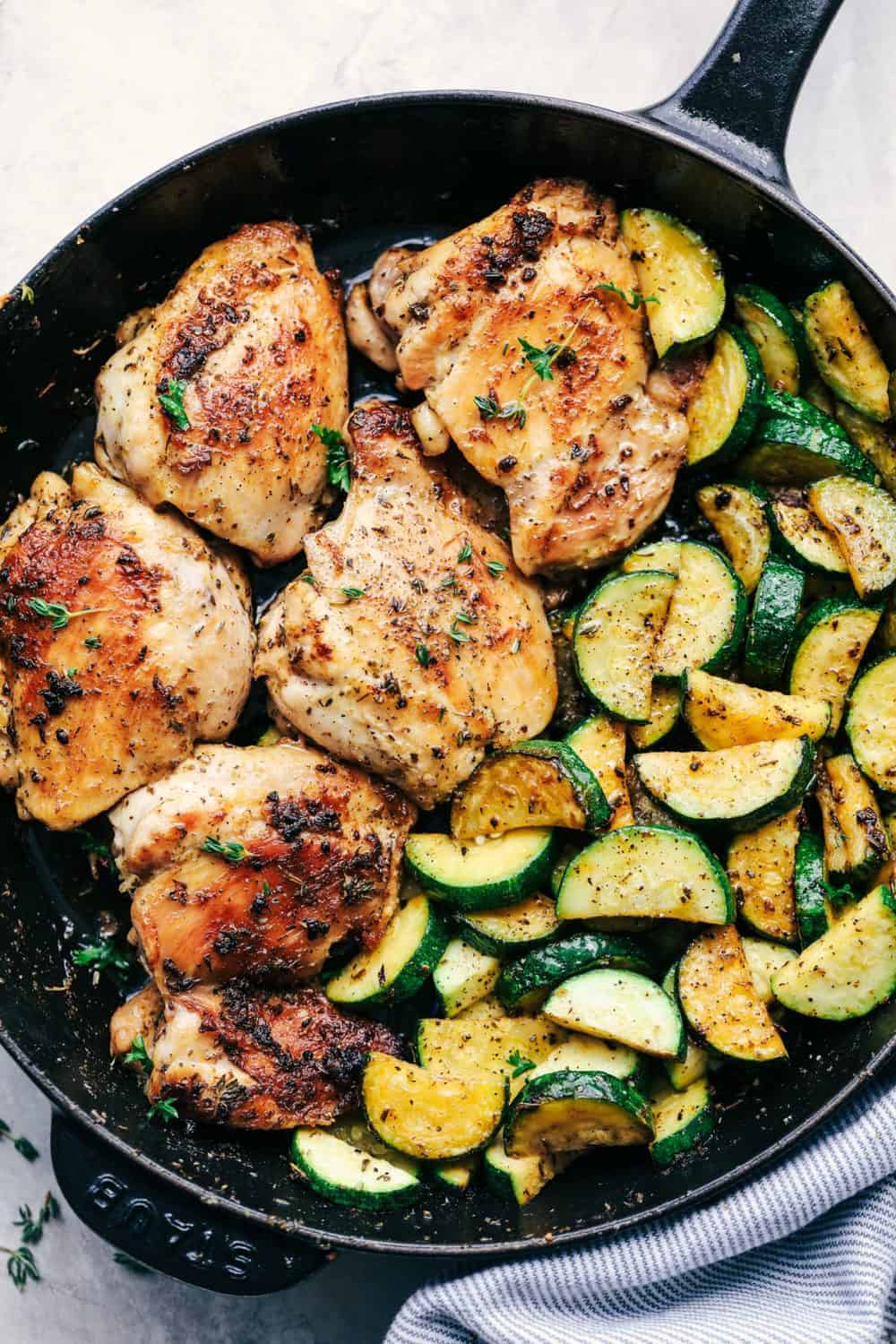 Buttery Garlic Herb and Chicken with Zucchini
I've got a newborn so brace yourself for a lot of 30 minute meals. Even though I have the best and most mellow baby, it seems impossible to get anything done.
It is partly my fault because I snuggle her all day long. But the truth is I am tired and the last thing I want to do is make an elaborate meal for the family.
But the best part about it is that you can make an easy 30 minute meal but still have it be incredible! And you can never go wrong with the butter garlic and herb combination. Am I right?
I L-O-V-E using fresh herbs when I cook. And thyme is always the star of the dish and one of my favorite herbs to use.
The smell of fresh herbs cooking in a buttery garlic sauce is incredible. The chicken was perfectly tender and juicy and then you have the zucchini.
Zucchini is my summer jam so brace yourself for a lot of it as well. It is so so good sautéed in the buttery garlic herb sauce and they are perfectly tender. It was the perfect pairing with the chicken and makes for a complete low carb meal! You are going to love it.
What do you need to make buttery garlic herb chicken with zucchini?
Butter
Garlic cloves
Freshly chopped oregano
Fresh rosemary
Fresh thyme
Boneless skinless chicken thighs
Salt and pepper
Medium sized zucchini
How do you make buttery garlic herb chicken with zucchini?
In a medium size skillet over medium high heat add the butter until melted. Add the garlic, oregano, rosemary and thyme. Add the chicken and cook for 3-4 minutes on each side or until chicken is no longer pink and 165 degrees. Remove chicken and set aside on plate.
Add the zucchini to the pan and salt and pepper. Sauté for 2-3 minutes or until tender. Add chicken back to the pan for a minute or so and serve.
What temperature should juicy chicken be cooked to?
The safe internal temperature for cooked chicken is 165° Fahrenheit (75° Celsius). A meat or instant-read thermometer is your best bet for determining the temperature of your chicken. It should be inserted into the thickest part of the thigh but not touching bone.
Can you use chicken breast instead of chicken thighs?
Yes, absolutely! You will took it all the same but adding a few more minutes still leaving the chicken at a internal thermal setting of 165 degrees Fahrenheit.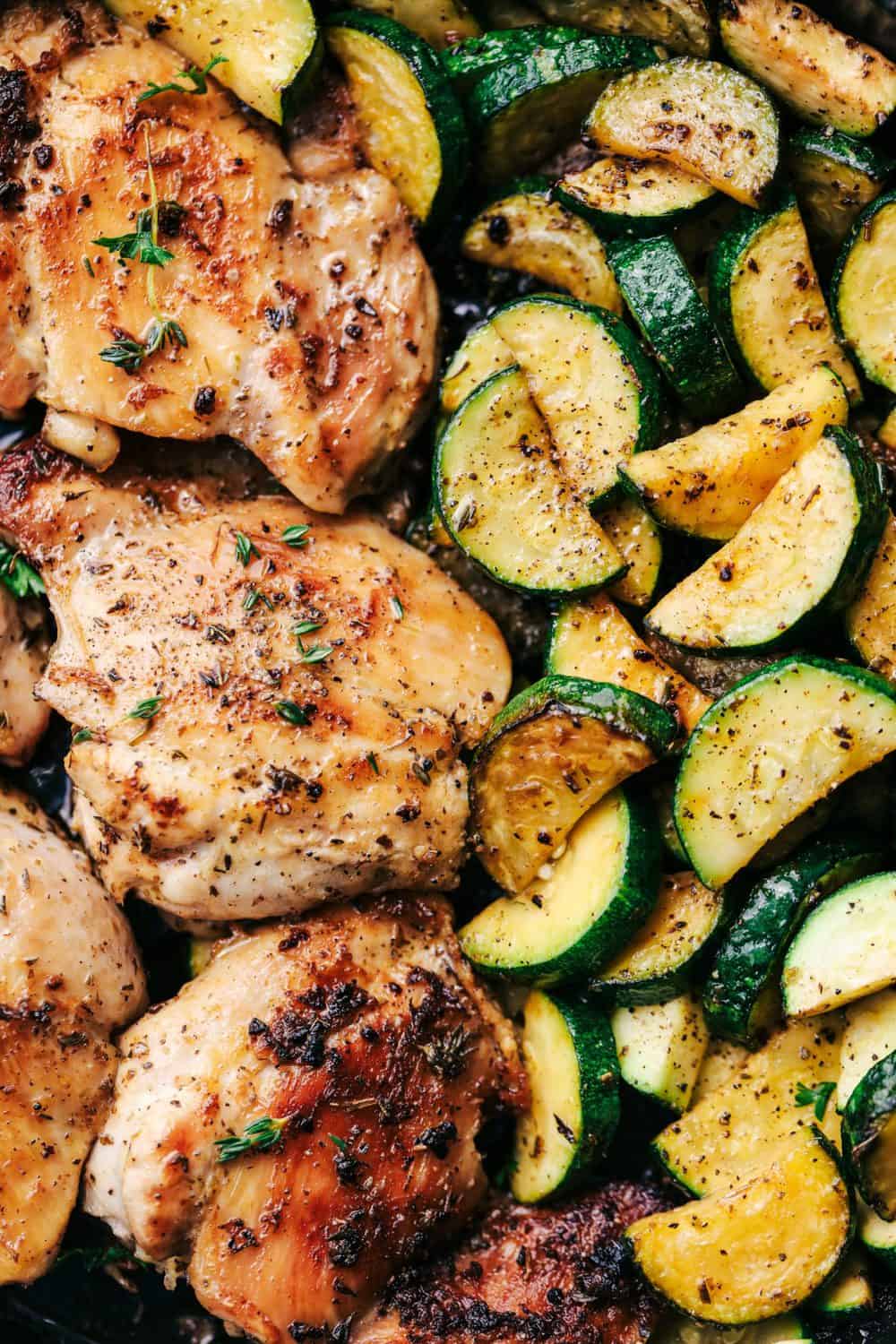 What is zucchini?
The zucchini or courgette is a summer squash. A zucchini is a thin-skinned cultivar of what in Britain and Ireland is referred to as a marrow.
How do you know what is a good zucchini?
The vegetable should feel firm yet tender with shiny or glossy skin. When you cut into a good zucchini, it should have an almost buttery-like texture and the flesh should appear slightly yellow, greenish or white.
How do you cut zucchini?
Wash and dry the zucchini.
Using a sharp knife, slice off ends of the zucchini.
Cut the zucchini in half lengthwise.
Slice into 1 cm slices.
Can you use dried herbs?
Yes! Sometimes it is hard to have fresh herbs on hand. Dried herbs have a stronger flavoring. Each fresh herbs will be half of the amount for the dried herbs substitution.
Looking for more skillet recipes?! Try these!