This website may contain affiliate links and advertising so that we can provide recipes to you. Read my privacy policy.
Brown Butter Lime Mahi Mahi is a tender filet cooked golden brown then soaked in a brown butter sauce and garnished with a fresh avocado salsa. An irresistible Dinner made in less than 30 minutes!
This flavor combination is out of this world, good! If you love the brown butter flavor try this Brown Butter Spicy Garlic Shrimp, Brown Butter Lemon Salmon or if you want to try chicken this Lemon Pepper Chicken with a Brown Butter Sauce.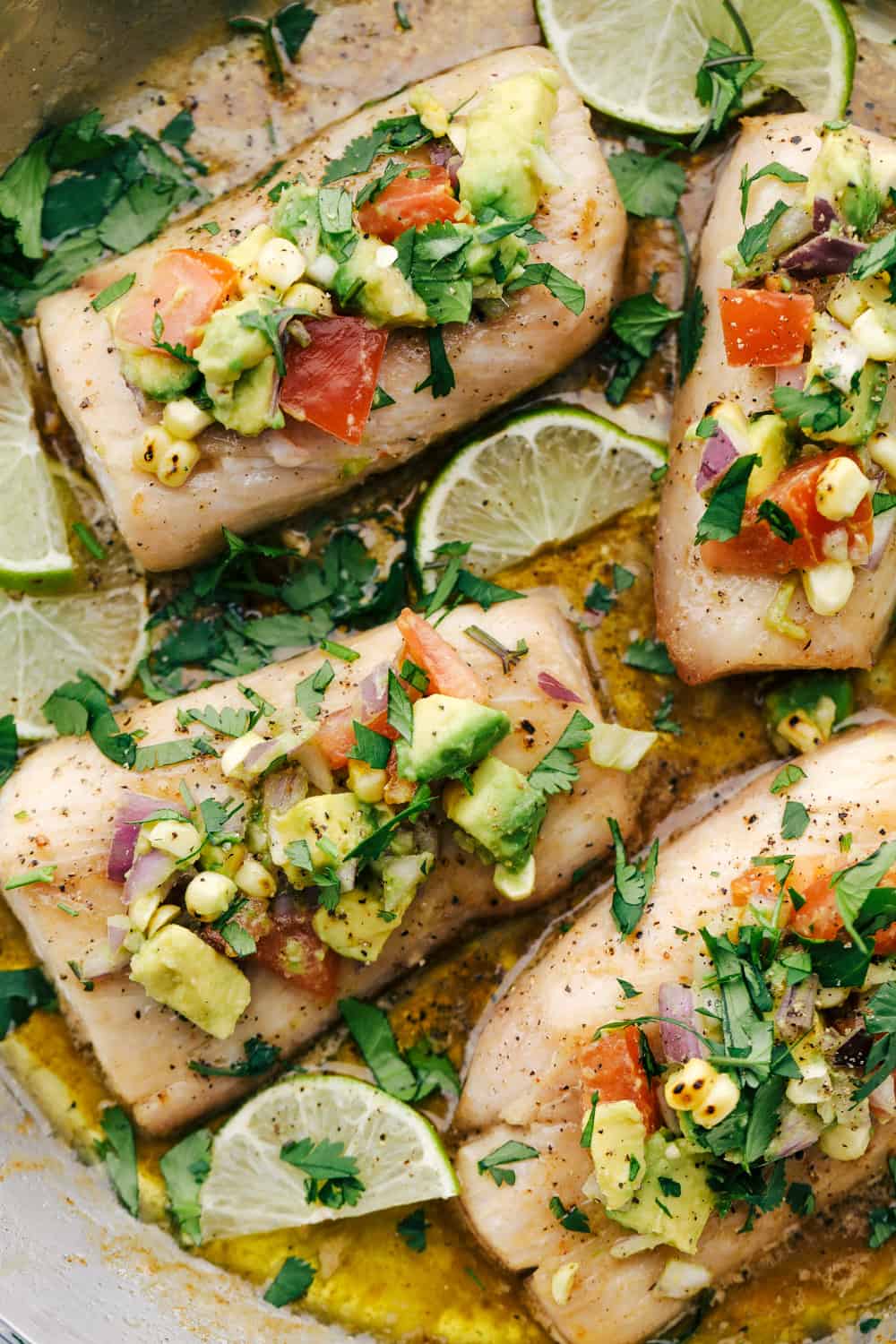 Brown Butter Lime Mahi Mahi with Avocado Salsa
Mahi Mahi is a lean, healthy fish that is cooked tender and doesn't have a fishy flavoring to it. It is light and healthy and tastes delicious with this brown butter lime sauce then garnished with a freshly made avocado salsa. This cooked Mahi Mahi is so simple to make and is cooked in minutes. It is one of our family favorite meals. It is light and healthy but also filling and flavorful.
This combination of brown butter lime sauce, fish filets then garnished with avocado salsa is the perfect combination in every bite. See how quickly and easily this recipe comes to life. Every bite is irresistible and tastes AMAZING! This is a must make recipe and made in under 30 minutes.
What is Mahi Mahi?
The Mahi Mahi is known as a dolphinfish. They are also called dorado or dolphin that dwells in the Coryphaenidae family. It is a surface-dwelling ray-finned fish that is found off shores in tropical areas worldwide.
Mahi Mahi Ingredients:
Olive Oil: Cook the Mahi Mahi filets in a skillet with olive oil in the pan.
Mahi Mahi Fish Filets: Remove the skin on the Mahi Mahi filets before cooking.
Salt and Pepper: Just a pinch for seasoning
Brown Butter Lime Sauce: 
Butter: Melted and added to the
Lime Juice: A fresh squeeze
Honey: Sweeten the sauce and the Mahi Mahi filets with sweetened honey.
Garlic: Fresh is best but minced and marinated will work too.
Salt and Pepper: Just a dash!
Avocado Salsa Ingredients:
Avocado: Diced and cut up into chunks.
Roma Tomato: Sliced to prefered thickness for the salsa.
Red Onion: Minced or cut into slices.
Corn: Canned corn works well or frozen corn that is cooked.
Limes: Fresh lime juice is refreshing and gives it a zest flavor.
Cilantro: Finely chopped fresh cilantro.
Salt: Just a dash for a quick flavor
How to Cook Mahi Mahi:
This is a lean, white fish and must be watched over while cooking. It is easy to overcook the filets. Watch closely to make sure you do not overcook the filets or they will dry out. These filets cook up quickly in just a few minutes per side turning the white filets to a golden brown.
Cook filets: In a large skillet over medium high heat, add the olive oil.

 

Salt and paper the filets and cook until golden 4-5 minutes each side.
To make the brown butter lime sauce: Heat the butter into a

 

small saucepan . Swirl the butter occasionally until it has turned a light brown color and is fragrant. Remove from heat and whisk the garlic, honey, salt and pepper into the sauce.
Add the fish back to the skillet: Cook on low heat scooping the sauce by the spoonful overtop the cooked filets.
To make the avocado salsa: Mix the avocado, Roma tomato, red onion, chopped cilantro, salt and juice from the limes in a small mixing bowl. Top the Mahi Mahi with the avocado salsa.
The Recipe Critic Pro Tip:
Remove the skin of the filet in order to cook more evenly in the skillet. 
How to Pick Good Mahi Mahi:
When purchasing, it is best to have a check list of what to look for to purchase the best and freshest filets. Here are some general tips on how to purchase a good filet.
Smell: This is most important. If you smell a strong fish scent be sure to put it back. The fish has sat out for too long and is not fresh anymore. It is best to have a moist, fresh like neural scent.
Color: Either fresh or frozen, it has a pink coloring with faint red stripes on it. If the edges are brown or blue this is a sign that it has been sitting out for too long and could possibly be going bad.
Skin: Look for moist and shiny looking skin. The shine on the fish will be very clear. The skin color is usually a silver to a dark gray.
Sustainability: The most sustainable choice is troll-caught and rod-and-reel caught fish. These are usually caught in Hawaii or the U.S. Pacific coast. Try to avoid long-line caught fish. These are less shiny and usually packed in ice.
Ways to cook Mahi Mahi:
Bake: Place in the oven at 350 degrees Fahrenheit on a greased baking sheet for 12 to 15 minutes.
Skillet: Follow the recipe instructions below for best results.
Grill: Leave the skin on for grilling the fillets and cook over high heat in a hot grill. The fillets can be cooked on aluminum foil or directly on the grill rack. Cook them skin side down for 7 to 10 minutes.
FAQs about Mahi Mahi:
Is Mahi Mahi dolphin? It is a type of dolphin that is in the Coryphaena fish family but not directly a dolphin per say.
Is Mahi Mahi healthy: Yes! It is a low-calorie fish that has several health benefits which include vitamins and minerals plus the added protein.
What does Mahi Mahi taste like? It is a subtle hint of fish flavor if any. The seasonings and salsa mask any fish flavoring. The skin is a thicker type of meat and when cooked is a moist and a tender meat that is flakey when pulled apart.
Do you cook Mahi Mahi with the skin on? No, it is best to remove the skin unless you are grilling it. Be careful not to overcook it though. It is a very tender type of fish meat.
Is Mahi Mahi high in mercury? No, it is known to not have a long life. Because of this short life of 4 to 5 years old, Mahi Mahi tends to be lower in mercury.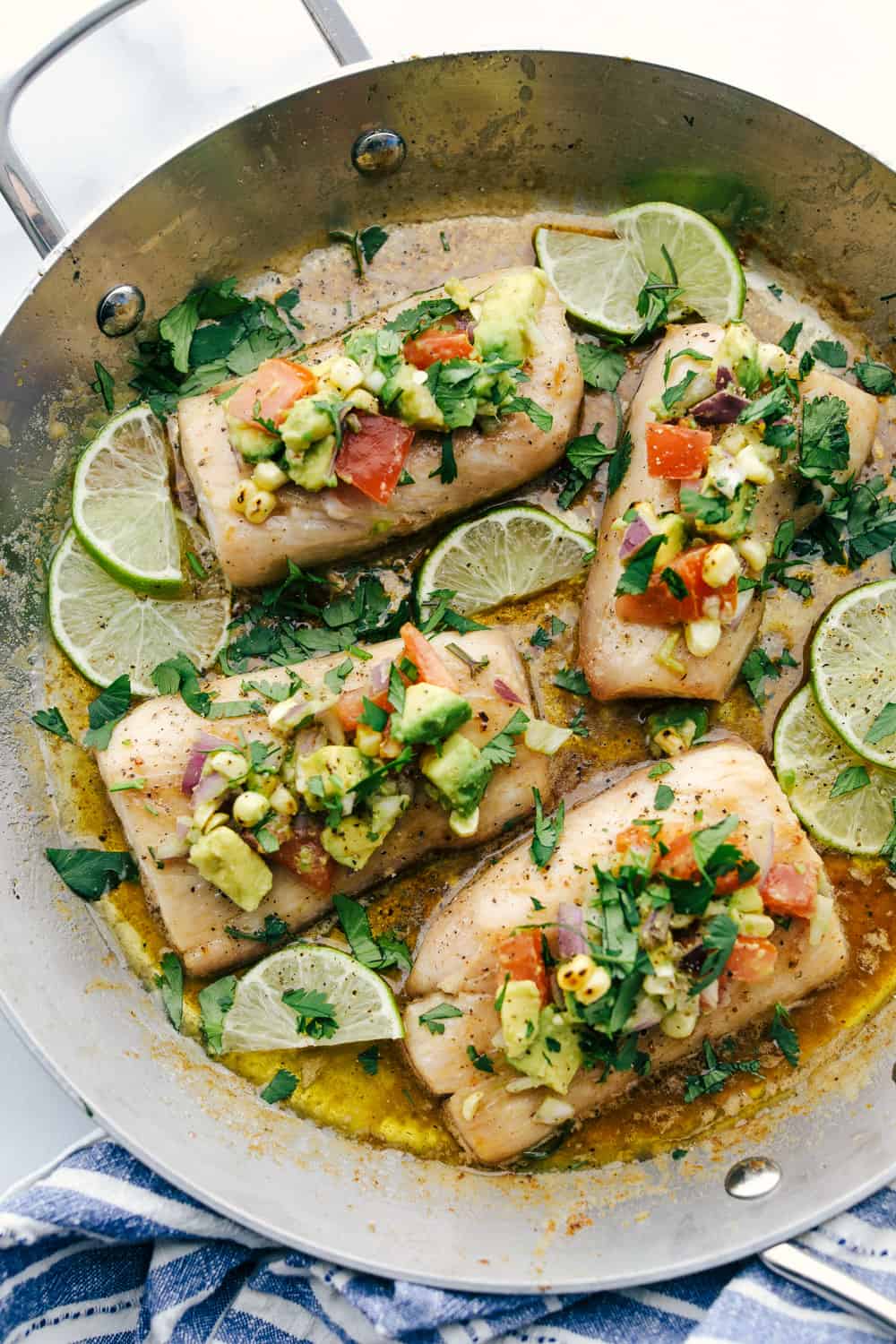 More Tasty Seafood Recipes: